How To Host The Perfect "Welcome To Spring" Brunch This Weekend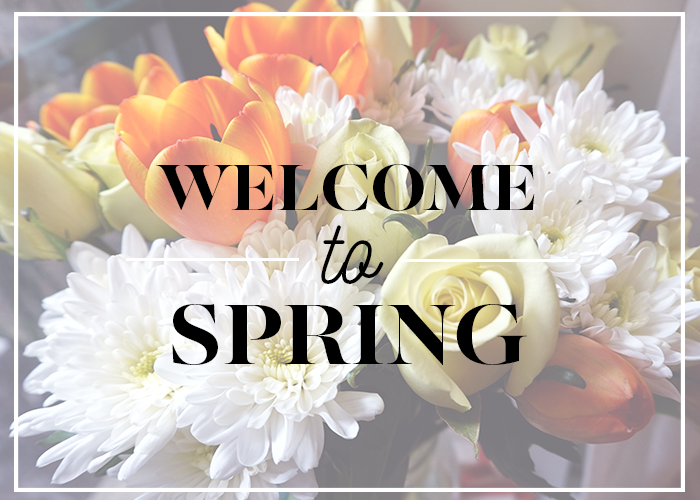 Spring is here! Sort of. At least it's here in New York City, where the sooty snow caps atop the ten-foot dunes of garbage have finally, officially dissolved. This by no means means it is warm here, or even sunny most of the time. But it does mean that days are consistently above 50 degrees, and the flowers blooming on the spindly smaller trees are not going to be punished ruthlessly by mother nature for coming too soon. It's safe for things to start coming back to life, and in New York City, perhaps no ritual is more reliable, or more consistent in signaling the end of the endless grey winter, than brunch.
Yes, of course, brunch exists in the winter, but there is a distinct sadness and desperation to it. Who can truly enjoy their bottomless mimosas when they've been pummeled by sheets of wet ice as they scuttled in from the metro station? Brunch in the winter is 60% rushing in while rubbing your hands and shivering, apologizing for being late, and 40% ordering the heaviest, most bechamel-drenched thing on the menu in order to reheat yourself from within. It's still good, of course, but it's not a thing in the way brunch is in the spring.
But the thing about brunch is that it is ridiculously expensive, for food and drink that nearly everyone is capable of making at home with a little effort. Make it a potluck, and you have guaranteed yourself a beautiful spread for a fifth the price of a restaurant brunch, and if you assign yourself the least-involved item, you've basically had to put forth no effort in the process. I'm a huge proponent of observing the brunch meal each week, but 90% of them are at home, and many are just me and Marc, giving ourselves a reason to make a ton of bacon while lazing around the house on a late Sunday morning.
And for brunch with friends, I've absolutely never regretted proposing a home brunch, instead of meeting up somewhere. The food is always just as good, the drinks more copious (and not $10 each), and no one is harassing us to get up from our table so a bunch of glaring tourists can have their turn at prosecco and pancakes.
Plus, the home brunch allows for one of my favorite things ever — the home bloody mary bar. The thing about this bar is that 90% of the ingredients are things you have to buy once, and will last you for a dozen bloody mary bars over the course of at least two years. I fill mine with spices, peppers, hot sauces, and copious amounts of Old Bay. But you can essentially put out whatever you like — all that matters is tomato juice and vodka. (I'd go with low-sodium tomato juice, too, just cause you're putting so much salty shit in it.)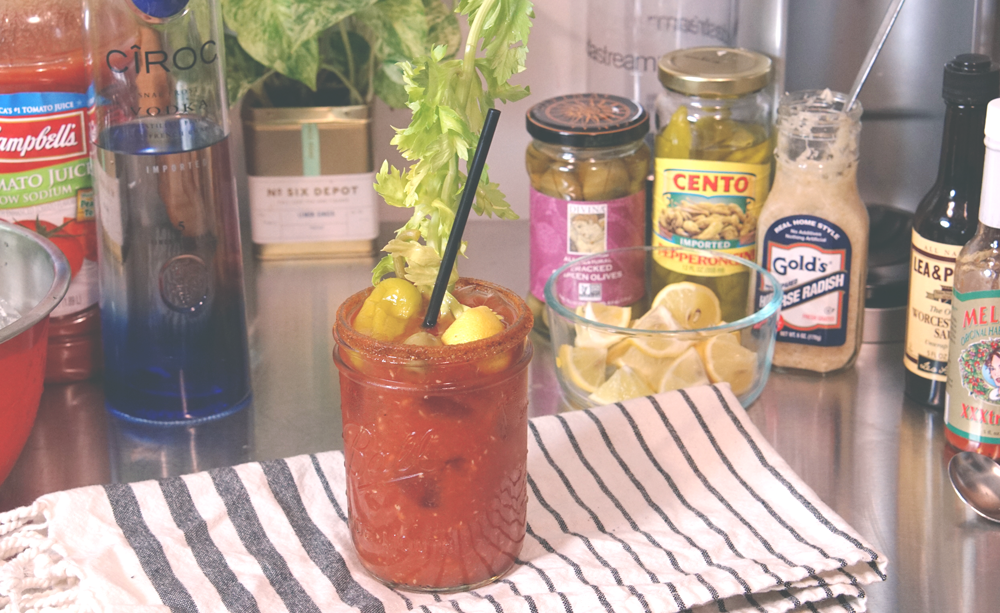 My go-to bloody (though everyone else's was different):
-Rim glass with Old Bay
-Shot and a half of vodka
-3 times as much tomato juice (this filled up the mason jar to about halfway)
-1.5 teaspoons jarred horseradish
-Half-teaspoon worcestershire sauce
-4-ish shakes habanero hot sauce
-2 shakes celery salt
-2 shakes Old Bay
-3 cracks black pepper
-1 wedge lemon, squeezed and added
Stir very well, fill with ice, garnish with olive, pepperoncini, and lemon wedge. So spicy, so good.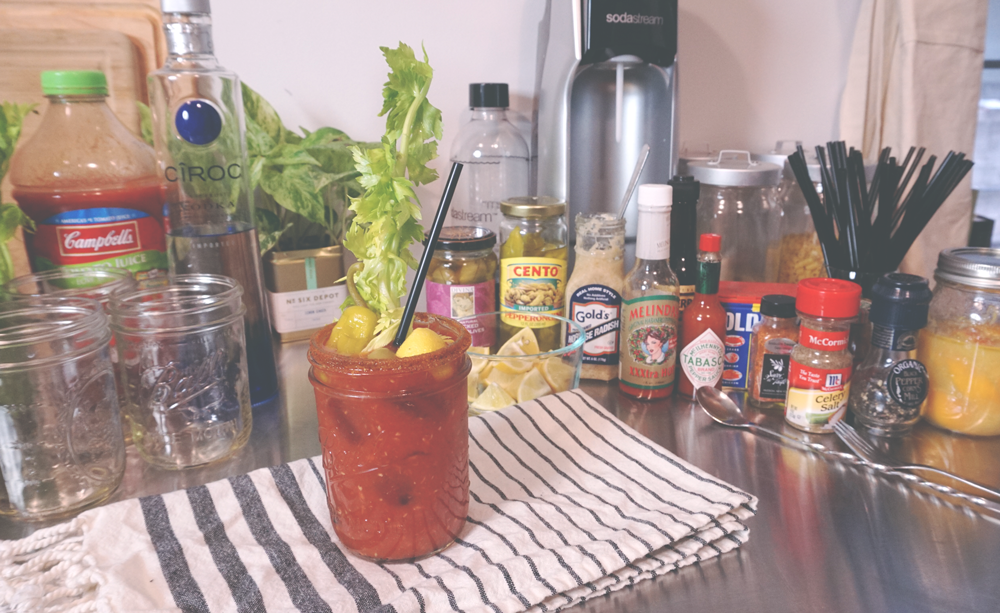 Now, while we're talking about the setup of things (like this bloody mary bar, which you should set up on whatever available counter or table space you have), just setting things out for your brunch is what I find makes all the difference to making it feel fancy and restaurant-like. Set up your table with some snacky things like bread with butter and jams, put out your coffee/tea with a little thing of milk and sugar, set up your mugs and glasses. It doesn't matter what you're serving, it just matters that you take a few extra minutes to make everything feel put-together and self-serve, so that people can mill while enjoying their various beverages. Walking in to a table with flowers, candles, and a do-it-yourself drink setup is downright magical.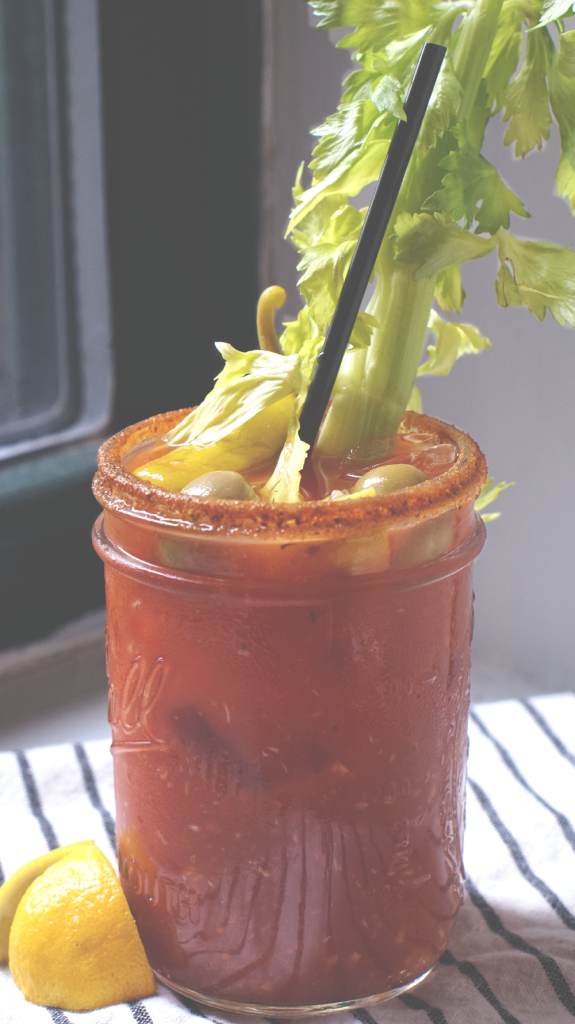 I also always say, for a home brunch, you should invest in some flowers and candles. I got a big spring bouquet, and then took a few flowers of each to make another mini-bouquet, which you can put anywhere (I put it on my bar cart). I then scattered some tea candles throughout, to make it feel warm and special, without being heavy and dark (which large candles can often be).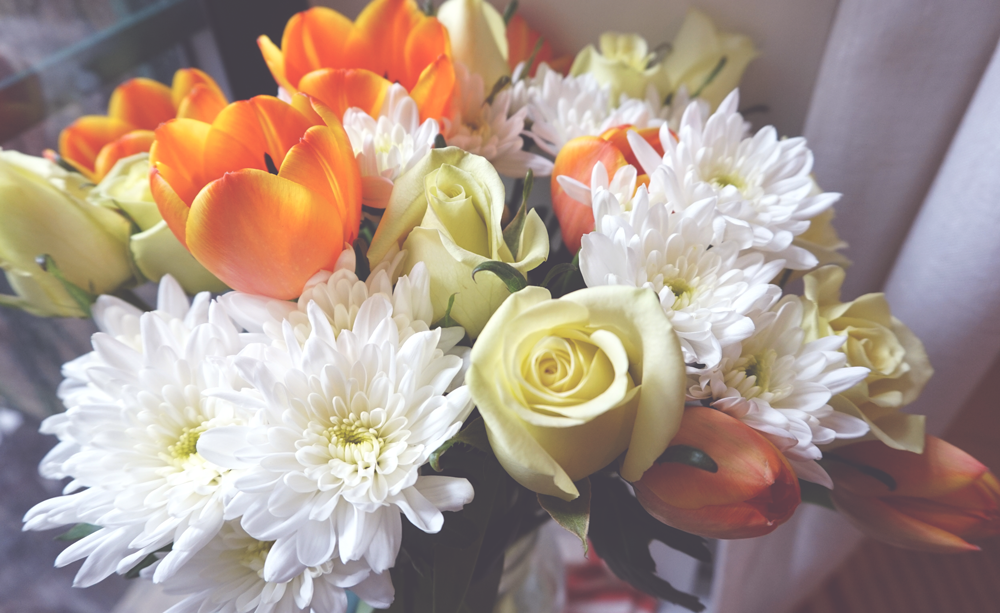 On to food. We went with a potluck, where I made something savory and Lauren made something sweet. I wanted to do something that was as minimal-effort as possible, and something everyone can do. This meant a mixed-green salad with my ~famous vinaigrette, and a croque madame. This is probably the brunch item with the most impact/wow-factor with the absolute least skill involved. (And it's fucking delicious.)
To make four, you need:
-8 large slices of bread, ideally some kind of sliced round bread
-1 stick butter
-a few tablespoons flour
-1/2 pound sliced gruyere (and some pecorino or parmesan to grate if you want it even cheesier)
-1/2 pound sliced ham (I went with honey ham)
-1 cup milk
-4 eggs
-French mustard
-Salt and pep to taste
All you need to do is make a bechamel (I'm linking a recipe here, but all you do is melt a few tablespoons of butter and brown a few tablespoons flour into it so it becomes a golden-brown paste, then you add milk bit by bit and whisk it until it becomes a thick, creamy sauce).
You then add about half your gruyere, and grate in your optional pecorino or parmesan to taste, as well as salt and pepper to taste. This is how you make a basic cheese sauce, and it's just as good on pasta as it is on this, and it can be made with essentially any cheese.
To assemble, mustard your bread on one slice and bechamel it on the other (you should use about half your bechamel for this, I ended up with about 1.5 cups of it total). Layer on your ham and close. Melt a little butter in a large pan and sauté your sandwiches as if you were making a grilled cheese, and set them onto a lined baking sheet. Cover each sandwich with another layer of bechamel and a layer of the sliced grueyere, and put them in the oven at 400 degrees until nice and melty and golden-brown and bubbly.
While those are baking, fry off your eggs until the yolks are runny but the whites are cooked, and when your sandwiches come out, top each with a fried egg. Voilà!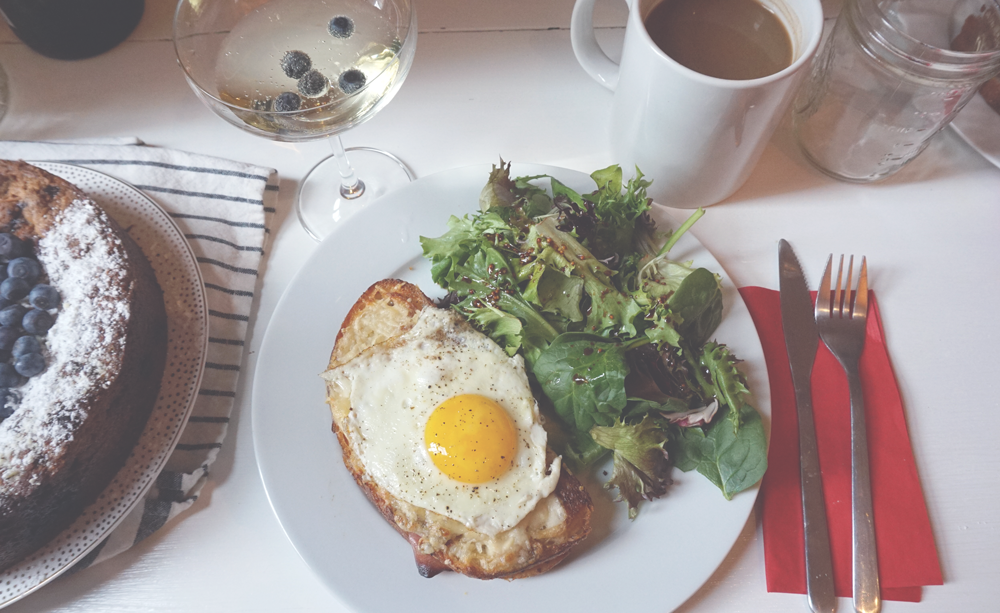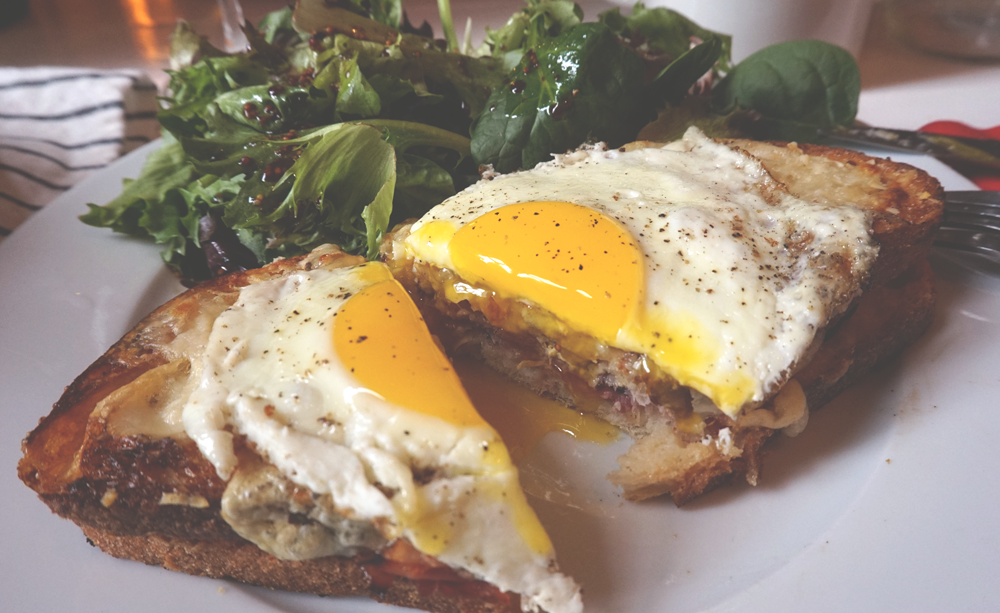 (And yes, we moved to prosecco for the meal, because it's generally much more plesant to drink something crisp and bubbly with your savory dish than something salty and thick, like a bloody mary. But you can of course make your own executive decision here.)
Lauren brought an incredibly-delicious blueberry coffee cake, which she found the recipe for here. To make it fancy for serving, we put a piece of wax paper over half the cake and powdered the other half, and added some fresh blueberries. It was an incredibly easy way to make something look beautiful and food-bloggy, while still being incredibly delicious!
The cake: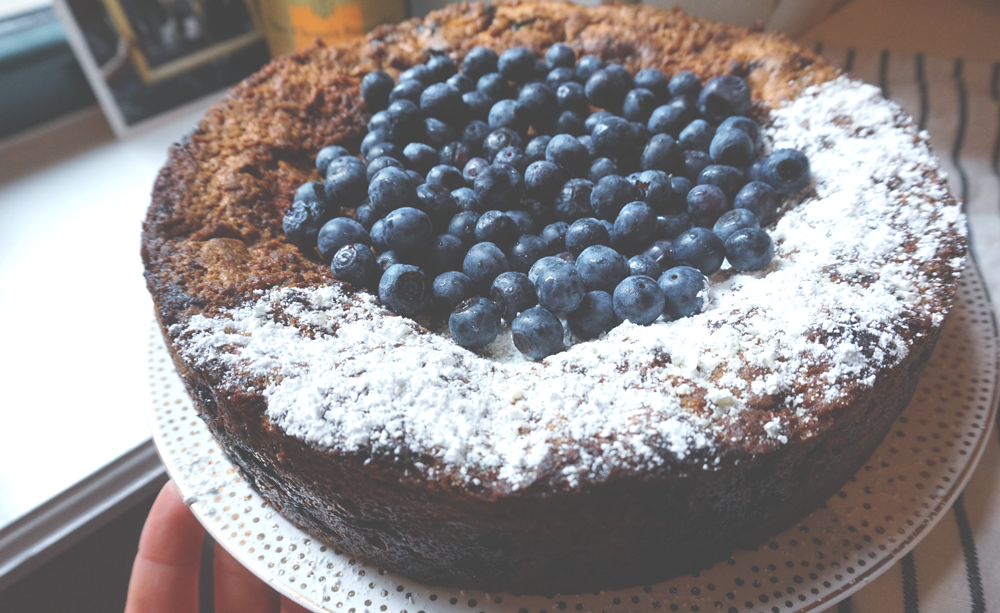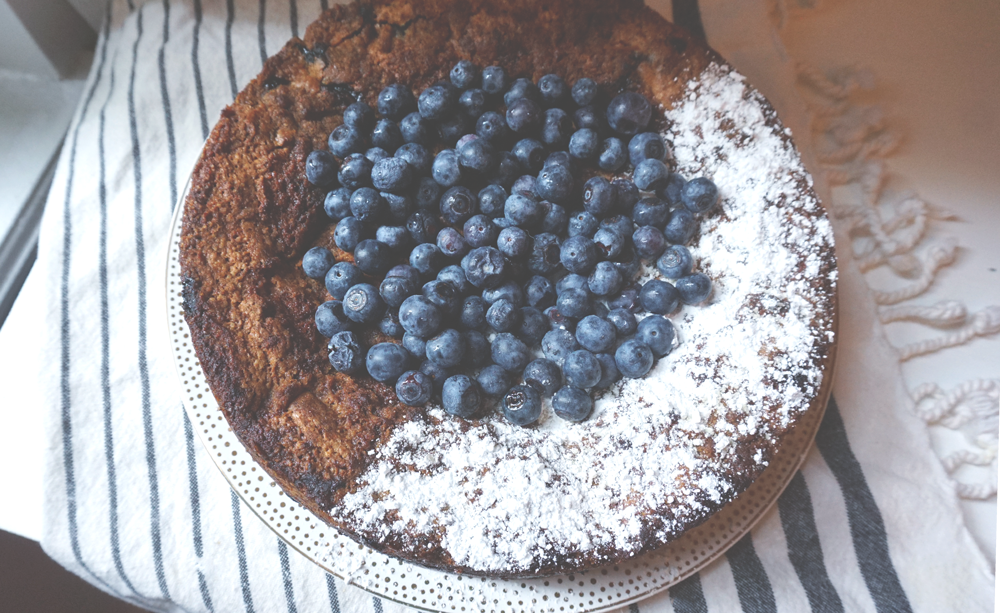 This weekend, we encourage you to welcome spring with a beautiful potluck home brunch, full of friends, inexpensive brunch cocktails, and the general sense of pride that comes from not having to go to a restaurant to have a luxurious experience.
It's the perfect way to welcome spring, and the perfect way to spend time with friends without having to pay a ton of money for the privilege.
Bon appétit!