20 Items To Try Selling Online Before You Donate Or Throw Them Out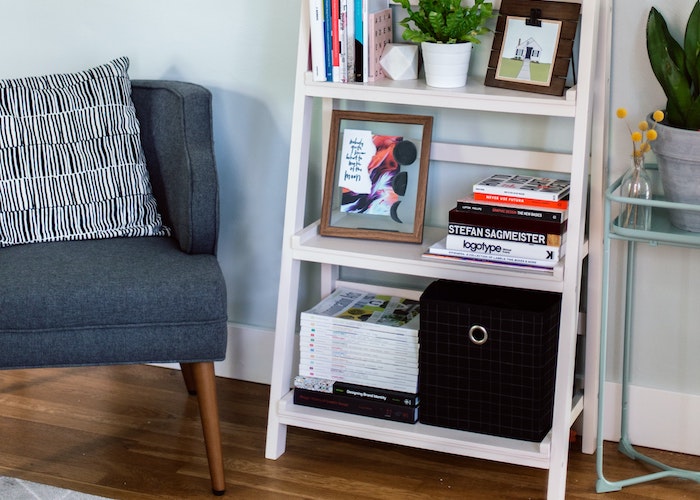 There's something about the summer heat that makes you want to shed extra weight. Whether it's freeing up your calendar or ditching layers of clothing to lay by the pool, less is more this summer.
If you're feeling inspired to lighten the load by finally cleaning out the clutter in your home, consider going the extra mile by selling, rather than trashing, the things that you're ready to let go of.
Believe it or not, you can make some serious bank selling these old items. Although, it's normal to feel overwhelmed by the prospect of cleaning AND posting online sales. To make the process less intimidating, here's a room-by-room guide for your virtual summer yard sale!
Kitchen:

Give your kitchen a scan and ask yourself "how many whisks do I

really

need?" Have you recently moved in with someone and now have two sets of everything? What about all those free plastic cups and mugs you've picked up over the years? Package these items and sell them together on Facebook marketplace, targeting college students who are heading back to campus this fall!

Closet:

Start by pulling out all your hangers and throwing them on your bed. Only put each item back if it's an item that fits and that you truly love! Some hot items this summer are bridesmaid dresses, wedding guest dresses, and professional attire. List them on Poshmark and instead of simply writing "red dress" or "black blazer," include descriptions such as "great for a wedding" or "professional attire" to get more interest.

Garage:

Be honest with yourself about your hobbies and interests. Were you once an aspiring knitter but have since found a love for needlepoint? Did you try using a weight rack and now look forward to outdoor hikes? Head over to Facebook marketplace and let your trash become someone else's treasure this summer!

Basement:

Used furniture is especially desirable this summer considering the delayed manufacturing and shipping many are experiencing with online purchases! Take advantage of this by posting your furniture on Craigslist and Offer Up. Be mindful of hidden gems though and Google search your items to see if you have an antique!

Desk:

Is your desk drawer full of flip phones which could belong in a museum at this point? Were you in high school the last time that you used your TI-89 calculator? Even though these items might seem like relics from ancient times, they may sell on eBay for the electronic parts!
Though I already wrote a full article on how I made $5,000 from my last summer declutter, here is a refresher on how to get started:
1. Do the research
Look up your item online using the brand name, serial number on the back, or even by typing a description of it into Google. This will help your audience know how much the item costs when new and reassures potential buyers that they are getting a fair price based on the condition of your item. Even if you can't find an exact match online, using something similar as a benchmark is always helpful.
2. Be as detailed as possible
Include as many item specifics as possible in your listing including the brand, the year purchased, the model number, color, etc. Measurements are particularly important to share so potential buyers can estimate how the item will look in their home and more importantly if it will fit in their car when picking it up. If it's an electronic, be sure to state how it operates when plugged in and if any important accessories, such as a charger, are included.
3. Be honest in your descriptions
It is essential to be transparent about any and all imperfections. But don't let this deter you from trying to sell a less-than-perfect item, as you'd be surprised what people will purchase for the right price! Whether it's a coffee table with a scratch on it or an armchair that's been loved by a furry friend, the quickest way for a buyer to back out is if they find out about these flaws too late.
4. Take great photos
 You don't need professional training or fancy equipment to take great photos. Try your best to take birds-eye instead of mid-angle shots of your items as these are typically more appealing to buyers. Place the item in front of a blank wall or on a clean floor so that the buyer isn't distracted by the background when looking at photos. Also, the more the merrier! Take close-up shots of any imperfections or serial numbers and strive to capture your product from every angle.
5. Don't underestimate reviews
Whenever I need a little confidence boost I know I can always turn to my eBay seller account reviews. I have twenty 5-star ratings and have received comments including "Great eBayer" and "As described love it. Thank you very much A++++++ seller." These reviews are essential to ensure the success of your future sales, so don't be afraid to ask your buyers to write one after they have received your product.
With lighter storage bins and a heavier wallet, your summer just got sunnier! What will you spend your extra cash on to reward yourself for a successful purge?
Me? Maybe I'll finally just stop by the ice cream truck to cool off.
Check out my personal check-off list, below: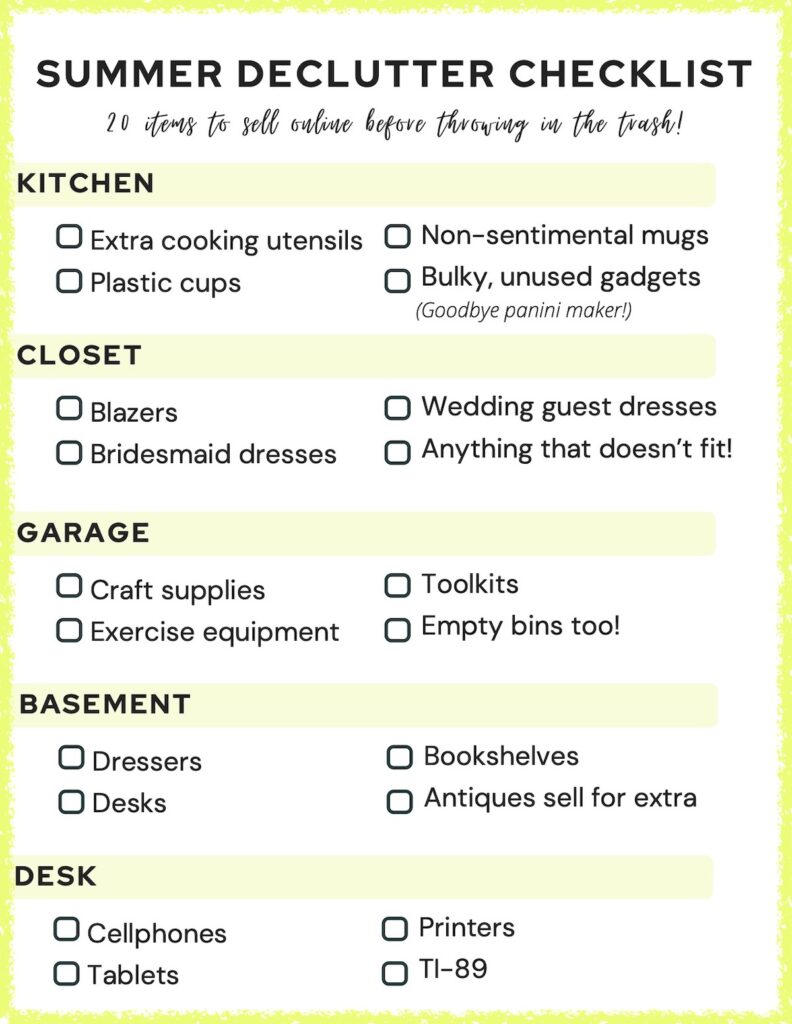 Kathleen is a recovering MBA student located in Washington, D.C. who has rediscovered her love of writing with her newly recaptured "free-time." Continue the conversation and connect with her on Instagram.