How To (Safely) Sell Your Car On Craigslist Without Getting Ripped Off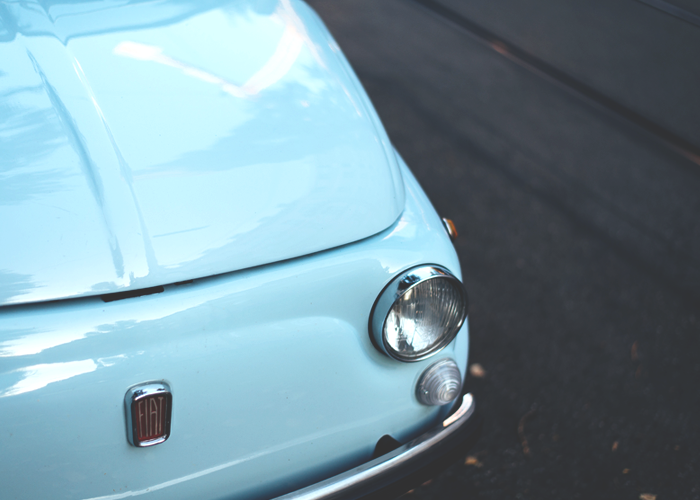 One late spring afternoon, when I put my car into reverse, attempting to straighten out while I parked on the street in front of my apartment building, I felt something snap inside the engine. I knew I was done for as a car owner. "Shit." I knew this day had been coming for quite some time. Despite my best efforts (OK, my adequate efforts) to keep my 10-year-old Acura running, car ownership had finally become an impractical lifestyle choice.
Selling my car (and moreover deciding to go carless for a while) was certainly a difficult and emotional decision, but it was ultimately freeing. Cars are embedded into the American psyche as a symbol of freedom and independence – what could be more freeing than cruising down the open road? – but my car had become an albatross about my neck. Regular and expected repairs were taking substantial bites out of my savings account, and every little creak or rattle set me on edge. Still, it was difficult for me to arrive at that decision.
I had spent pretty much my entire young adult life in a little town in North Central Connecticut. There was no public transit, virtually nothing within walking distance to do for fun, and even riding a bike to work was out of the question. You needed a car to get around. When I graduated from college in 2007, I took out a car loan at 8.55% interest (a steal at the time) to buy a little 2004 Acura RSX.
It wasn't a bad investment back then. The car had had one previous owner and under 30,000 miles on its odometer, the economy hadn't crashed yet, and I was just beginning my first "adult job," as a reporter for a local newspaper. I needed a good car that would last me a while before making any major repairs, and this one fit the bill.
Around 2009, when I decided I would pack up most of my life up and move away for grad school, I hustled to pay down the rest of that loan. I sure as hell wasn't going to carry a car loan through school. I moved to New York and left my car in storage at my parents' house. I thought I might need it when I finished school, and eventually, I was right (sort of). After grad school, I moved to Boston, where it seemed somewhat reasonable to have a car.
But by this point, my car wasn't so new anymore and it began to need some basic repairs. First, the alternator went (that was about $600, plus another $200 just to get it towed off the Massachusetts Turnpike). Then, I needed to get the brakes done ($400). Then, I had to get the oxygen sensor repaired ($500), because it set off an engine light that would make it impossible to pass state inspection. Then came the big-ticket item: The clutch. I'll spare you the gory details of that one.
Begrudgingly, I made that repair. I heeded the advice of family members, who insisted that I needed a car and that fixing this one would be cheaper than buying a new one. Well, they weren't exactly wrong on the second one. Repairs aside, it was still a good car. But right after I fixed the clutch, Mother Nature dumped a thousand tons of snow on the city of Boston and I spent the next four months digging my car out of the snow every weekend, just so the weight of the snow wouldn't collapse the windshield. I cursed my foolish investment.
By the time the city thawed, I had done some serious thinking about whether I needed a car at all. I lived near a T stop and took the subway to work every single day. Whenever I did use my car, it was for a work-related trip, to see my friends on the other side of town, or for the occasional weekend out-of-town to visit family. Sure, sometimes I made the occasional trip to Target or the grocery store, but did I really need a car for that?
And more than the cost of insurance (around $130/month) or the cost of gas (maybe $50/month), I was getting financially stressed out by the $500 hit to my savings account every two months or so. When the clutch cable finally snapped, I went inside and did some math. Meticulous record-keeper that I am, I totaled up all my repair receipts from the previous three years since I moved to Boston and taken the car out of storage. I did not add in minor stuff, like oil changes or new air filters, but I did include tow fees incurred every time I broke down on the side of the road.
It was ugly. I'd sunk about $5,000 into fixing my car, into just keeping it running. And sure, this would have been fine if I lived in a small town without public transit, or if I needed a car for my daily life, but I didn't. Evaluating the actual cost of maintenance sure helped take a lot of the sentimentality out of the process. Before dragging it down the hill for one last look by the mechanic, I weighed my options:
I could donate it to the local radio station and take the tax write-off.
I could sell it to a dealership.
I could sell it myself on Craigslist.
The tax write-off option turned out to be surprisingly complicated and my car wasn't a total junk heap, anyway, so I ruled that out from the start. I figured then, that selling it to a dealership would be the path of least resistance. I wouldn't have to worry about meeting up with strangers, the dealership would handle the paperwork and surely they would offer me at least a decent enough chunk of change for it, right? Wrong.
The floor manager at the local Acura dealership took one look at my car, pointed out some minor body damaged and remarked that "this cah's been Boston'd" before offering me $500 for it. My face must have betrayed how I felt at the time: mildly insulted. I'd done my research and even after factoring in the body damage and a little other work it needed, I figured I should be able to get about $2,000 for it. Not a fortune, but certainly enough to recoup some of what I'd sunk into it in the prior year. "Listen, I mean, you can try to sell it yourself if you want to go to the trouble," he said to me. And that was that. A week later, I handed the keys and the title over to a college kid with a penchant for fixing up old cars, and I walked away with a bank check for $2,000.
Here, in nine easy steps (and one hard step), is how I sold my car on Craigslist without getting murdered:
Appraise your car online. You can estimate its Kelley Blue Book value online. Check your local listings, too, and see what similar cars in similar condition are going for.
Photograph your car. Front, back, side profile from both sides, interior, odometer. Edmunds.com also recommends you pop the hood and snap a photo of the engine and angle the wheels slightly left so you can take a photo of the tire treads. Use a decent camera, and shoot in bright light. Try to photograph your car without any other vehicles around, and don't include any other stuff (pets or babies, for instance) in your photos.
Have your title in hand and any necessary paperwork to complete the sale. Some states do require you to use a special bill of sale or a limited liability release. Massachusetts requires you only to sign over the title, but I printed up a generic bill of sale anyway, just to be on the safe side.
Clean your car. Consider having it detailed and fix any minor issues if you want to up the resale price.
Be honest about the stuff that's wrong with it. My car had some body damage, it needed some work on the suspension, and one of the engine lights was on. Before you list it, make sure the car is in good, drivable condition and will pass a state vehicle inspection. Aside from this just being the ethical thing to do, you could also run afoul of any lemon laws in your state if you sell a car that's in unsafe condition. You also reduce your negotiating power if you aren't upfront about its flaws
List it! Check out other listings for examples of how to write your. In general, I would say don't get overly flowery in your language, but do include lots of pertinent details (odometer reading, title status, recent repairs, etc.). I listed my car through both Craigslist and my insurance company's website, but Craigslist yielded a lot more inquiries and that's how I ultimately sold it.
Pick a good meeting spot. You might be able to deal with a local business that will let you leave your car in their parking lot
Suffer no fools. Do not deal with anybody who tries to negotiate with you on the price before even seeing the car, and if a potential buyer seems pushy or shady, don't do the deal. You can wait for somebody who doesn't give you a case of the stage four heebie jeebies.
Close the deal. A cashier's check from a major bank should suffice, and I made copies of everything: the bill of sale, the buyer's driver's license, the signed-over title, everything. Make sure you have the right screwdriver or wrench to remove your plates and dispose of those in accordance with your state's laws. Cancel your insurance.
More (really helpful) Resources: 
Edmunds' Quick Guide To Selling Your Car
Laura is a financial journalist living and working in Boston. Follow her on Twitter.