4 Instagram Ad Splurges I Regret— & 3 I Don't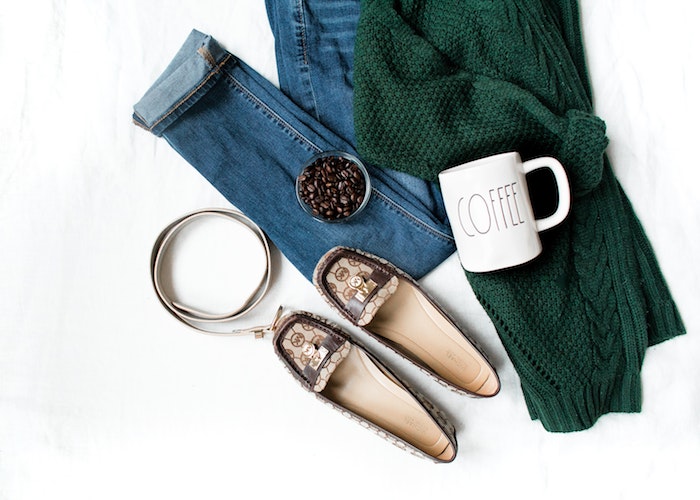 We've all been there — scrolling through Instagram, mindlessly, until we quickly scroll back up to see an advertisement or promotion that caught our eye. While I've rarely ever made an impulsive purchase by clicking on an ad the first time, I've certainly seen the same ads multiple times a day, eventually buying the item (or a similar-enough one). And while, for the most part, Instagram knows me well enough to customize my feed, there have been times when the algorithm has suggested an item I absolutely regretted spending my money on later.
With that said, check out the most recent items that I regret purchasing off Instagram — and others that I don't.
Regret: Shawls/Ponchos/Circle Scarves – $25
No pun intended, but this "falls" into the category of cute fall wear that just looks so good on a certain type of woman — but that woman is not me  (or at least, that's what I believe.) I love how cozy these items look but ultimately, given that I tend to already be top-heavy, these items just make me appear to be even larger on top, and it's not a look I personally find flattering for myself. Also, in particular, the circle scarves always get tangled in with my curly hair, causing more frizz than I want. So overall, my experience buying these items for fall has been a fail. 
Win: Knee-High Boots – $85
Over the years, I've become adept at avoiding fashion trends that just won't work for my body type. As much as I yearned for knee-high boots, I was convinced that they looked best on women with thinner legs, only further elongating their figure and height. But, I saw such cute pictures of women styling these boots that I gave in and bought a pair — and I'm so glad I did. While I admittedly don't wear these boots as much as I told myself I would when I splurged on them, I absolutely love how they elevate my tired and true jeans-and-a-shirt outfits. I live on the West Coast, so they work perfectly to keep me warm in the "winter," allowing me to wear skirts past their traditional shelf life and, what's more, they're incredibly comfortable — an added bonus! 
Regret: Sweater Dress – $39.99
Naturally, if I bought knee-high boots, I needed to get a sweater dress to go along with it! While I do appreciate the sweater dress I own, the problem is that it's too long and doesn't particularly look good with my knee-high boots. So, of course, I had to buy another pair of shoes just for this dress. Though the black heels I picked up to pair with this outfit are arguably a wardrobe staple, I hate how uncomfortable they are. Ultimately, I regret this sweater dress since it started me on a string of other, unnecessary purchases. In addition to the black heels, I wound up buying a few different belts to pair with the dress and, at the end, I still haven't achieved the effortless look of the Instagram models I've seen wearing their cute sweater dresses and knee-high boots at a pumpkin patch. Oops!
Regret: Pumpkin-Spiced Tea – $5.99
While I typically drink chai, or coffee, I enjoy a cup of Earl Grey or Green Tea in the fall. When I saw an ad for a tea subscription kit on Instagram, I couldn't help but be curious. I didn't buy the subscription kit, but I did go out and pick up some of the teas I saw on the website, eager to try a few new flavors. Honestly, to no one's surprise, I wasn't a fan. I still have beautiful, barely opened tins of tea sitting in my cabinet from this purchase, and though I offer a cup to unsuspecting friends who visit, I've still barely scratched the surface of the tin. Alas. 
Win: Steamer – $19.99
I can't be the only one getting targeted ads for a travel-sized steamer, right? Either way, this is exactly the type of compact, multi-use tool that I rave over and just had to bite the bullet and get for myself. While I concede that an iron is still best for really tricky materials and to flatten out stubborn wrinkles, my steamer still does the trick — and this is coming from someone who works in finance! I'm enough of a Type A perfectionist that I genuinely use this every week and its compact nature makes it perfect to travel with for work trips too.
Regret: Coffee Bean Grinder – $12.50
I'll admit I bought this at the same time I bought a French press and, while I adore the latter, the coffee bean grinder was maybe a tad unnecessary. In envisioning my life as a coffee connoisseur, saving money on an expensive cup from a café I can't even sit at these days, I figured this would be a worthy addition to my kitchen. But, no, I hate the loud sound of the coffee beans grinding, and though I often try to grind up enough beans to last me the week, buying a bag of ground coffee just seems easier and cheaper. So my advice would be to splurge on the French press but ditch other "necessary" items for your coffee shelf. 
Win: Allbirds/Birdies/Rothys – $100
We've all seen the ads for these overly popular shoes and, I'm here to tell you, they're worth it. I'm lucky enough to live in a city with stores for each of these brands, but without the Instagram ads, I wouldn't have even known about these shoes, let alone tried them on and bought them. 
Ultimately, we all fall prey to Instagram ads — even those of us with strict budgets and a tight grip on their wallet, like I pride myself to be. While some of the purchases mentioned have been worth it, others have certainly been regrets, costing me anywhere from $10 for tea to $50 for an underused coffee bean grinder. At the end of the day, keep your receipts, check the return policies, and be proactive about sending back items that simply just don't work for you. Better yet, take a break from social media and do your research before spending on an item. Instead, think through whether purchasing it may cause you to buy other items to pair with it, increasing the total cost of that purchase. Hopefully someday the Instagram algorithm will get good enough that none of us have Instagram-ad regrets, but until then, it's just an inevitable part of living through this century. 
Keertana Anandraj is a recent college grad living in San Francisco. When she isn't conducting international macroeconomic research at her day job, you can find her in the spin room or planning her next adventure.
Image via Unsplash
Like this story? Follow The Financial Diet on Facebook, Instagram, and Twitter for daily tips and inspiration, and sign up for our email newsletter here.