How I Lived In Florence For 6 Months On $3,600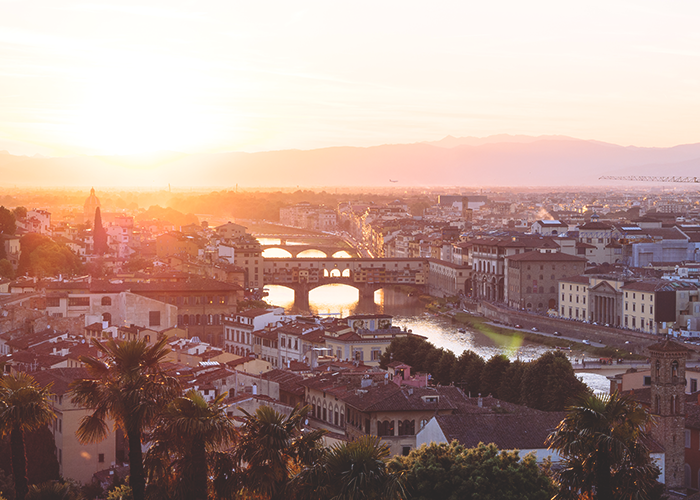 1. What city do you live in, and when did you move there?
I lived in Florence, Italy, during my junior year of college. That was in 2014.
2. What did you do for a living abroad?
We weren't allowed to work as waiters or tutors because our student visas limited the ways we could make money. Most people saved cash the summer before the trip or took out loans. Luckily, I was able to do freelance writing. WiFi isn't widely available in Italy, so I had to sit at the local Burger King or tap into the public library's internet. It was especially difficult to do this in November and December because the library's internet only worked in the courtyard, and my fingers would get slow from the cold.
3. How exactly did you get that job, and how did you afford to move there?
I was already freelancing for an online newspaper before I moved — originally, I found the job on Craigslist. The study abroad program was offered in partnership with my college in America (New Hampshire Institute of Art) and the round trip flight to Italy was included in my tuition. There was also an arrangement with a cafe (Quelo's near Piazza Santa Croce) across from my Italian school where lunch was included with tuition like a meal plan.
4. What were your monthly expenses?
I lived in a three bedroom apartment with four other people. My college roommate and I shared one room, two boys from a Long Island university shared another room, and an Italian student from another city had his own small room. Luckily, I was able to cut costs on groceries by splitting them with my roommate. For most of the trip we spent $25 each on groceries per week, including toiletries and other non-food items. By the end of the program, we lowered our bill to as little as $7 each per week. In Italy, a bag of pasta sells at 35 cents. The cheapest way to make it is with pesto or salmon — whole aisles of the grocery store offer salmon products, by the way, including anything from sauces to crackers to vodka.
My transportation costs were low because I walked everywhere. The grocery store was a ten minute walk from my apartment and it took me twenty minutes to walk to school. There weren't many bars or restaurants near my neighborhood, so that was often a deterrent in going out. When I did go out, I saved money by eating and drinking during aperitivo — this is a distinctly Florentine ritual of buying a cocktail for 6 or 7 dollars, then gaining access to an unlimited buffet of meats, cheeses, pasta and other finger food. The most popular drink during aperitivo was an Aperol Spritz, a mixture of prosecco and Aperol.
5. What did you like about the culture of your city, and what made it easy to acclimate?
Only delivery trucks and a few cars with special permits are allowed to drive in the city center of Florence, so most people walk in the street instead of on the thin, uneven brick sidewalks. This is especially funny when the occasional car drives by and everyone yells at it instead of the car honking at pedestrians to move. I love that everyone walks instead of driving, since I've never owned a car and prefer my feet for transport. So much of a city can be missed by driving instead of walking — plus, you never know who you'll run into as you pass a sidewalk cafe. In fact, I'd sometimes pass by bars so full of young people that they spilled out onto the street. They didn't mind making seats out of piled bricks or a wooden stool so long as they could socialize. In Italy, you're never without a drink or a friend. During my first day in Florence, I distinctly remember my Italian roommate offering me a beer and talking broken English as if we had always been friends.
6. What is the biggest challenge your new culture presented? Did you experience "culture shock"?
I experienced more culture shock after returning to America than when I arrived in Italy. It's jilting how big everything in America is compared to Europe. The grocery stores, houses, roads, and people are all petite in Italy.
7. What obstacles did you face when moving abroad, and how did you deal with them?
One of the big guffaws I faced was during a trip to London and Paris during Fall break. A friend and I had planned on returning to Florence from Paris on an overnight train in a sleeper car. Unfortunately, the train never made it to the station and we were forced to pile into a bus. No bed. No bar car. To top it off, my phone was stolen near Montmartre while I was distracted. I may or may not have been eying a chocolate sculpture of Notre Dame in a candy shop when it happened.
8. What advice do you have for someone looking to move to your city?
Save as much money as you can and make friends with locals. Europeans are friendly and generous if you can make them laugh, especially Italians. I also recommend opening a credit card or two before leaving in case there are any unexpected bills. Keep in mind, however, that Italians deal primarily in cash and only some places will accept credit and debit cards.
9. What was the process like for acquiring a visa before moving? How much did it cost?
You can have a visa delivered (at an additional cost), but it takes less time to visit your local consulate. The closest consulate to me at the time was in Miami, so I got to spend an hour filling out paperwork in an office between Nordstrom and a Lamborghini dealer, then spend the rest of the day on South Beach. Italians are nothing if not chic — even their consulates. The student visa application cost me $130.
10. Were there certain expenses in your country that surprised you?
The expenses themselves weren't surprising so much as the way the expenses were delivered. To buy a bus ticket, you have to visit the local tobacco store (like a convenience store) and buy one with cash instead of inserting cash into a machine on the bus. Museum tickets are also sometimes difficult to obtain – instead of buying them from a teller and entering the museum, there's a lottery process that requires tourists to wait in long and often tedious lines. If you aren't a member of a museum, expect chaos and odd fees.
Emily is a Contributing Blogger for Ploughshares. Her writing has appeared or is forthcoming in The Rumpus, Bustle, Brevity, Luna Luna and others.
Image via Unsplash