Living Abroad Without Going Broke: London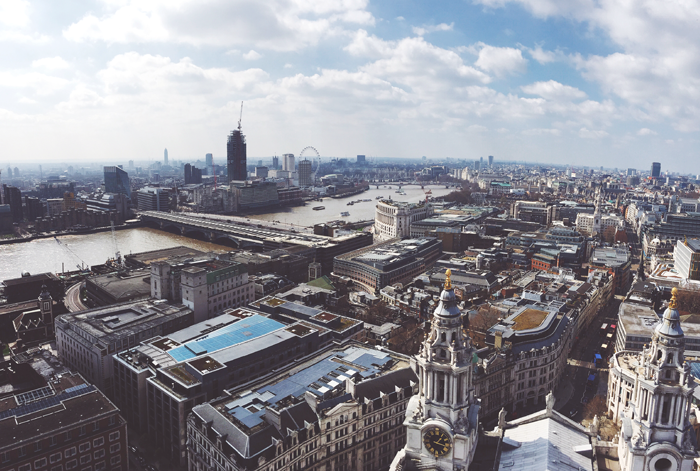 Each week, TFD is taking an in-depth look at the cost of living in other countries, to learn how people like us are able to fund their worldwide dreams. Moving abroad is something many of us regard as an unattainable goal, but it shouldn't be reserved solely for people who don't have to worry about money. We have an incredible lineup of people who have moved to every corner of the globe, and are more than willing to explain what their expenses are, and what it took to take the plunge and move abroad. If you live abroad, or have lived abroad recently, and would like to participate in this exploration, email maya@thefinancialdiet.com.
Last week, we explored the costs of traveling around Europe for six months. This week, "foreign correspondent" Pippa Boehm, an Australian living in London, answered the following 10 questions:
1. What city do you live in, and when did you move there?
I live in London, in the east end. Just after my 21st birthday, I went traveling around Europe for a few months, and then settled here in December of 2014.
2. What do you do for a living abroad?
I didn't come over with any sort of plan for work, though I did have savings. I've had a few different jobs since living here. When I first I arrived, I very quickly picked up a job in a bookstore as a temp for the holidays. The bookstore was a great way to settle in, but London retail pays terribly. Now I'm an operations associate at a credit rating agency in the city. I'm essentially an administrative assistant for the company — my tasks include travel booking, meeting management, assisting HR, and doing general paperwork.

3. How exactly did you get that job, and how did you afford to move?
When I moved over here I joined the "Aussies in London" Facebook group, and through the group I found a number of job agencies posting administrative positions. I had never considered using agencies before, but the job hunt was getting a little dire, so I sent my CV through. I signed up with three agencies, but only found work through one. The agency, Office Angels, was very friendly and welcoming, so I immediately felt like I had a support system. I spent about three weeks doing various admin jobs for a few days per week, and from there was asked to do a two month temp reception job at my current company. Before the two months were up, they created a new role for me, and signed me on as a permanent staff member.
Fortunately, I lived at home while I was in university, and worked part-time for the duration of my degree. Although this was just in a bookshop, in Australia, the minimum wage is high enough to make most Americans cry, and I managed to save quite a lot of money. When I graduated, I went on a three week vacation around Southeast Asia with my friends, and in the six months following that, I continued to work three or four days per week at the bookstore whilst taking up internships. So, I'd saved enough to travel for a couple of months, and then had a cushion to rely on while settling down and finding a job. 
4. What are your monthly expenses?
London is notorious for having ridiculously high rent for incredibly small flats, which can be off putting to a lot of Australians, who are used to a nice big backyard and a spacious living room. I live in an amazing location, surrounded by cafes, parks, pubs and markets, all full of people my age— and I pay about £700 per month ($1,070), including utilities, for my double room in a (tiny) three bedroom flat. My phone and internet are around £20 per month ($30.60) combined.
I save money on transportation, which is also extremely expensive in London, as I walk half an hour to and from work each day. If I were to move further out of the city, I could have more space or pay less rent, but I love the area and not having to catch a train every day makes a big difference in quality of life.
Groceries, drinks and eating out are all fairly similar prices to what I've experienced in any major city— so, quite expensive. But I save by packing my own lunch every day and eating at home during the week. My groceries for the week cost about £30 ($46).
5. What do you like about the culture of your city, and what has made it easy to acclimate?
Not having a language barrier. I know that having such an easy time finding work was largely because I spoke English, and it made everything less daunting. People come and go from the city so often that everyone's used to various accents and people looking a little lost. Even when you feel like a newbie, it's nice to know there are several others like you on the same street, or others who have been in your exact position at one point.
I really do love London. There is every type of person here, from everywhere. I love that people from all over the world come to London trying to chase or change something. It's full of opportunities in many career paths, and just being here does make me feel more creative and motivated. It has such a fast culture of art and progression, and there's always something happening, if you know where to look.

6. What is the biggest challenge your new culture presents? Did you experience "culture shock"?
I didn't really experience culture shock, as the UK (in general) has a very similar way of living to Australia. The biggest change that I found was adapting from living at home in a big house in Western Australia, to suddenly living in an extremely expensive city and adapting to the lifestyle change that comes with that. I have to admit that London is sometimes not as comfortable as my hometown. The weather, size of living space and size of the population made for a big adjustment.

7. What obstacles did you face when moving abroad, and how did you deal with them?
The main obstacles I found was making friends, and finding a place that felt like home. I've always been a fairly solitary person, and I had been fine traveling alone, but I wasn't quite prepared for just how lonely I could get going out on my own in a new city. I stayed with a friends when I first arrived, which was such a welcoming and warm vibe, that it was a harsh shock when I moved into a new house, in a different area with strangers who I didn't have a lot in common with. I lived in a fairly uninteresting, residential area (the rent is cheaper), and it just didn't feel like a long-term home.
After a couple of months I decided to just move out. I found girls around my age on flat-share websites, I found a flat in a vibrant and young area, and put the two together. Fitting in with an existing roommate situation is hard, so I decided to start fresh. Since then I have been much happier, and I now come home to a place where I feel comfortable, and I get to hang out with my closest friends every day.

8. What advice do you have for someone looking to move to your city?
You will have to open yourself up to people and opportunities more than you have before— friends, work and things to do won't just roll onto your doorstep, but it doesn't take more than a few steps outside to find them. You'll make friends in the most unexpected places, and you might even surprise yourself at how much you change. Persevere, because it's hard to find your place in such a big, busy city. But once you get to know the city and find a handful of friends, London is the best place to be. And of course, save as much as you possibly can before you get here!
9. What was the process like for acquiring a visa before moving? How much did it cost?
Like many Australians of my generation, neither of my parents were born in Australia. As my mum was born in England, I qualify for both an Australian and a British passport. That means that I can live and work here, or anywhere in the EU, without worrying about a visa or a time limit, which I am eternally grateful for.
There are a huge amount of Australians in London because of the Tier 5 Youth Mobility Visa. This allows anyone under the age of 30 within the participating nations to live and work here in the UK, or in Canada, Australia, New Zealand and a few other places, for two years. As far as I have heard, the process isn't too involved, but it requires savings. You need enough in your bank account to provide a security deposit, first month's rent and to support yourself while you look for a job.
10. Are there certain expenses in your country that surprised you?
Aside from the astronomical rent prices, which I was somewhat prepared for, the cost of transportation surprised me. The cost of public transportation is well over £100 per month if you live further out, and need to get the train in every day. To be honest, I still probably save money compared to owning a car and paying for petrol and insurance, but paying so much to sit on a sweaty, crowded tube carriage every day was somewhat of an unpleasant surprise to me. My advice to combat that (and this is just personal preference): live somewhere that you want to spend time, so you don't spend all of your money and time on a train.
Pippa is an Australian who is deeply in love with London. You can find her reading in parks and overstaying her welcome while writing in coffee shops. She writes here and is on Instagram.
Image via Unsplash