Living Abroad Without Going Broke: Ireland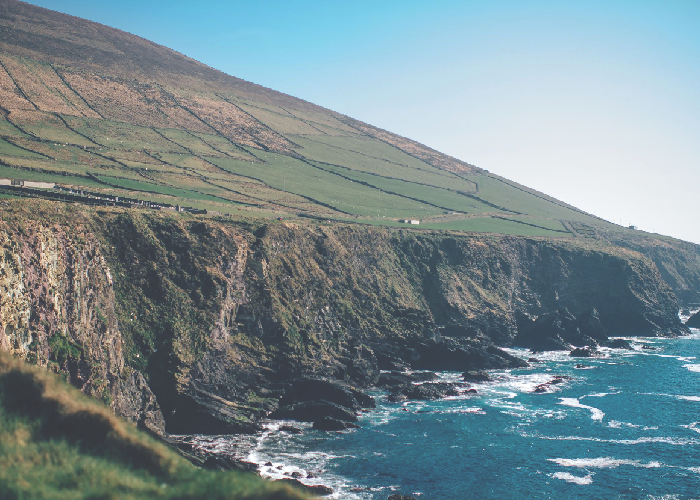 Each week, TFD is taking an in-depth look at the cost of living in other countries, to learn how people like us are able to fund their worldwide dreams. Moving abroad is something many of us regard as an unattainable goal, but it shouldn't be reserved solely for people who don't have to worry about money. We have an incredible lineup of people who have moved to every corner of the globe, and are more than willing to explain what their expenses are, and what it took to take the plunge and move abroad. If you live abroad, or have lived abroad recently, and would like to participate in this exploration, email maya@thefinancialdiet.com.
Last week, we explored Berlin. This week, "foreign correspondent" Lauren Mateer, an American who studied in Galway, Ireland, answered the following 10 questions:
1. What city did you live in, and when did you move there?
I lived in Galway, Ireland from August 2013 to February 2015. I moved in order to do my master's in literature and publishing at the National University of Ireland, Galway. The program ran from September through August, and then I stayed for a while longer because I loved the city so much.
2. What do you do for a living abroad?
I worked as an academic writing tutor at the writing center on campus. That was during the school year, and once I completed my master's, I did freelance writing and editing work.
3. How exactly did you get that job, and how did you afford to move there?
As it was a position through the college, the head of the writing center sent an email to our course director asking if any of us were interesting in applying. She was particularly interested in American students because of our school system's strong focus on grammar, and there was a need for it because many of our students learned English as a second language. I got my freelance work through a combination of freelancer sites such as Elance, and word of mouth through professors and other contacts. Very fortunately, my parents agreed to pay my tuition (for the one year program, which is much less expensive than a year of school at an American university), if I paid all my living expenses. I used money I had saved during undergrad (thanks to scholarships) and savings from summer jobs to support myself. I also applied for and received a scholarship from my university for non-EU students, which helped with some of the costs.
4. What were your monthly expenses?
As you might expect, my main expense was rent. I paid 325 euro per month for a room in a four-bedroom house a few minutes' walk from the city center. Utilities varied a lot because Irish homes have a water heater called an "immersion" that you turn on and off, and if you forget for a week or so, which we may have done, the electricity bill can skyrocket. We also had oil heating which was about 200 euro per person during the winter. I was lucky in that Galway is a very small city, so I definitely didn't need a car or even public transport, unless I was traveling outside of the city.
Public transport in Ireland isn't too expensive; it generally cost about 40 euro round-trip from Galway to Dublin. Locations that were a bit more difficult to reach were more expensive; when I would visit my boyfriend in his hometown of Killarney it would cost more because I had to take a bus to Limerick first. Of course, you could definitely save money on other types of travel — flights can be very cheap. Everyone complains about Ryanair, but you can't complain too much when you can travel to Spain on 30 euro. The phone plans were also great. I paid 20 euro per month for a very limited number of minutes and text messages, but the payment also gave me unlimited data — very different from the States, and much better I think.
5. What do you like about the culture of your city, and what has made it easy to acclimate?
Galway has a lot of arts and culture, and while it's definitely a very small city by American standards, it's the fourth largest city in Ireland, so there's always a lot going on. Some of the best pubs in Ireland are in Galway, and there are great venues for live music. There's a big film festival, plenty of other festivals, and always something to do. Also, outside of the city there's so much to see—you can visit the Cliffs of Moher on a day trip, or travel through Connemara. I had actually never visited Galway before I moved there, but friends told me that it was the best place in Ireland, and I'd say they were right.
Because I went as a student, it was definitely easy for me to acclimate. My housemates were also students or recent grads, and everyone in my master's program was around my age, so it was easy to meet people. NUI Galway is a large university, so there were plenty of other students around as well, and with Galway being a fairly international city it was common to see other non-Irish people (especially Canadians, due to the working holiday agreement between the two countries).
6. What is the biggest challenge your new culture presents? Did you experience "culture shock"?
The first big challenge was probably finding a place to live. I arrived in Galway with a week booked at a hostel, and my fingers tightly crossed that I would find a room available to rent in time. Luckily, I did, and I liked the house so much I stayed there the whole time I was in Galway. I think one reason I probably didn't experience too much culture shock is because I like to research things ahead of time; I would imagine that an American student who hadn't looked into the Irish grading system would get a huge shock when they received a 60, but in reality that's equivalent to a B or B+, rather than a failing grade. My lecturer sat me down before she returned my first paper, so I'm sure that's a shock she's seen before.
7. What obstacles did you face when moving abroad, and how did you deal with them?
In all honesty, I didn't encounter too many obstacles. This is probably because I was a student, and therefore I didn't need to worry about being sponsored for a work visa, even though I did have to go through a standard immigration process. I did notice that there was a lot less organization in the way the school handled things, but it wasn't that they wouldn't give you information or didn't have it; I just had to be a lot more proactive in seeking it out. In the U.S. they tend to send you a lot of brochures with every detail you need to know.
8. What advice do you have for someone looking to move to your city?
It's very much a student city due to the large university and other smaller schools such as the Galway-Mayo Institute of Technology (GMIT), so if you're looking to save money, living with roommates is definitely the way to go, but be aware that if you try to move there mid-term you might have trouble finding a room because students aren't going to be moving out in the middle of the year. Also, there are a lot of great little towns around the city, but public transportation can be unreliable so if you're not driving (and I wouldn't really recommend driving). So living close to or in the city center is the way to go. Daft.ie is sort of the Craigslist of Ireland when it comes to housing; everyone I know (myself included) found their accommodation there. If you're flying in, I definitely recommend Dublin over Shannon or Knock because even though it's further away, there are buses that go directly to Galway from the airport.
9. What was the process like for acquiring a visa before moving? How much did it cost?
Unfortunately, it wasn't cheap. Because I was going as a student, it was very simple for me to get a visa. When I entered Ireland, the immigration officer stamped my passport to allow me a 90-day tourism stay. Then when I arrived in Galway I got a letter from my school acknowledging that I was a student, and I took it to the immigration office where I received my visa and identification card. The visa cost 300 euro. After graduation, I was allowed to turn this visa into a working holiday visa, allowing me up to 12 extra months in Ireland, which cost another 300 euro. On a student visa, you're only allowed to work 20 hours per week, and on a working holiday visa you can work a full 40 hours. In Ireland, there are a number of countries eligible for working holiday visas. Americans are eligible for a year if they apply within a year of graduating from college.
10. Are there certain expenses in your country that surprised you?
Well, I definitely didn't expect to adopt two cats that I would then want to bring back to the United States! I was lucky in that I was able to get a direct flight from Dublin to New York City, and that they were allowed to travel in the pressurize and heated section of the plane's cargo hold, which cost me about 200 euro in addition to my own ticket. Other than that, Galway is a very reasonably priced city, and while relocating across an ocean is always expensive, it was nice to pay 350 euro in rent while my friends in NYC were paying $1,000 or more.
Lauren Mateer is a writer and editor who traded one rainy west coast for another and is currently living in Seattle. She is on Twitter.