Living Abroad Without Going Broke: Rome (As A Student)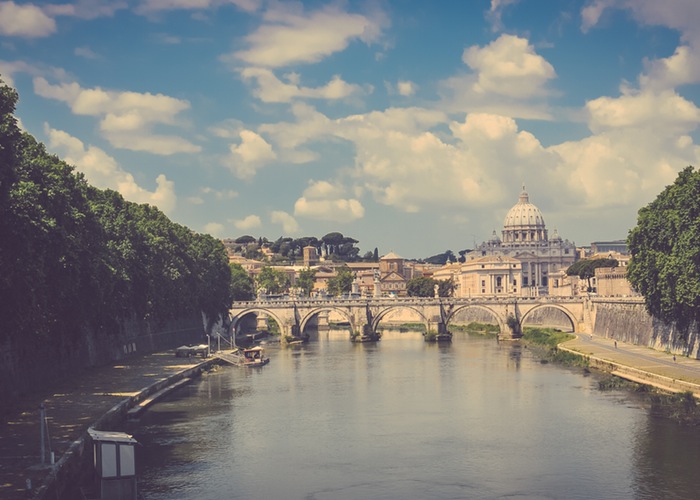 Each week, TFD is taking an in-depth look at the cost of living in other countries, to learn how people like us are able to fund their worldwide dreams. Moving abroad is something many of us regard as an unattainable goal, but it shouldn't be reserved solely for people who don't have to worry about money. We have an incredible lineup of people who have moved to every corner of the globe, and are more than willing to explain what their expenses are, and what it took to take the plunge and move abroad. If you live abroad, or have lived abroad recently, and would like to participate in this exploration, email maya@thefinancialdiet.com.
Last week, we explored Dijon from an American student's perspective. This week, in keeping with the student theme, "foreign correspondent" Alexis Willey, an American who studied abroad in Rome, answered the following 10 questions:
1. What city did you live in, and when did you move there?
I studied and lived in Rome from January to May, 2014 at the American University of Rome.

2. What did you do for a living abroad?
I went to school full-time while I was abroad so I actually didn't have a temporary job.

3. How did you afford to move there?
I saved up money from a summer newspaper job, and my tuition actually wound up costing much less than at my university in the U.S., so I saved money that way.

4. Can you talk us through the monthly expenses as a student, and how they compared to your American university?
My university didn't offer a dining hall or any kind of food stipend, so most of my money went to food. And honestly, living in a city like Rome, it was hard not to eat out at amazing restaurants every night. There were a lot of weeknights I spent eating one-euro bags of powdered soup mix in order to keep my bank account in check.

My room and board in Rome ($5,221 for the semester) included an apartment with a full (and tiny) kitchen/washing machine (score!) in the Trastevere neighborhood, so I was surrounded by restaurants, cafes, bars, and supermarkets. At Hofstra, room and board is $5,625 for the semester, and my meal plan costs another $850.
My monthly budget was $500 for groceries, local travel expenses, and going out. I had a separate budget for bigger trips and weekends away, which mostly went toward post-semester travel. I had saved for travel in advance of leaving for the semester.
5. What did you like about the culture of your city, and what made it easy to acclimate?
I lived just outside the main Trastevere neighborhood, so I think a big part of my experience living abroad was handed to me by the awesome location I wound up in. It was very local and residential, which made acclimation really easy. The emphasis on your life as separate from your work was really interesting. It felt like I was surrounded by people who cared more about spending time with people they loved than making sure they were in bed early for work the next day. It's completely different than the American culture I grew up in.

6. What was the biggest challenge your new culture presented? Did you experience "culture shock"?
The study abroad lifestyle, where everyone expects you to be partying and traveling all the time, is exhausting and expensive. I had planned a six-week backpacking trip after the semester ended, so I spent a lot of my semester in Rome (in order to save), while a lot of students spent every weekend in a new European city. It felt like I was supposed to be traveling and spending more, but my weekends in Rome led to the discovery of great neighborhoods, art galleries, and restaurants that I would never have found or had time for otherwise.
I didn't actually encounter any culture shock, but reverse culture shock is REAL. Being back in the U.S. (and in school), where I wasn't exploring or traveling constantly, was difficult for a while. I felt bored and unhappy, but also guilty for feeling that way when I was finally around family and friends again.
7. What obstacles did you face when moving abroad, and how did you deal with them?
I didn't go abroad with a program from my home university, so I didn't know anyone at all in Rome. Most students came with a handful of friends, or on a big partnership program with 40 students. I really had to put myself out there, which was a challenge. But it was sink or swim, and I decided that I was going to have a lot more fun if I had some friends to drink cheap wine in the park with. The first few weeks were tough, but by the end of the semester, I had grown incredibly close to the people I met.

8. What advice do you have for someone looking to move to your city?
Embrace the culture. A big issue Italians have with Americans, and especially American students, is that we tend to expect things to be a certain way. We are very set in our own ways, and in Italy, you have to go with the Italian flow. Dining service is slow because it's supposed to be, people will steal your phone if you leave it sitting on a cafe table, trains aren't going to wait for you if your bus is running late. Just try to embrace the differences and difficulties you're going to face, and try to be open to the culture. And make an effort with the language, even if you don't know a lot.

9. What was the process like for acquiring a visa before moving? How much did it cost?

When it came to applying for my visa, I wasn't as prepared as I should have been. I didn't realize how long it would take to get an appointment with the Italian consulate, so when I set up my appointment in November, I wasn't able to get in until early January (a few weeks before I was scheduled to leave for Rome). That meant I left my passport with the consulate and had to hope it got back to me in time. It arrived about a week before I left. The visa itself was free, because it was a student visa.
10. Were there certain expenses in the country that surprised you?
The exchange rate caught me off guard. It was not at all favorable when I was abroad. I know it's beyond your control, but try to keep an eye on it, just so you can be aware of the fluctuations. That's something I wish had been on my radar more. 
Alexis Willey is a publishing studies and journalism student at Hofstra University. She loves traveling, free refills, and noodle-y soups.
Image via Pexels