Living Abroad Without Going Broke: Singapore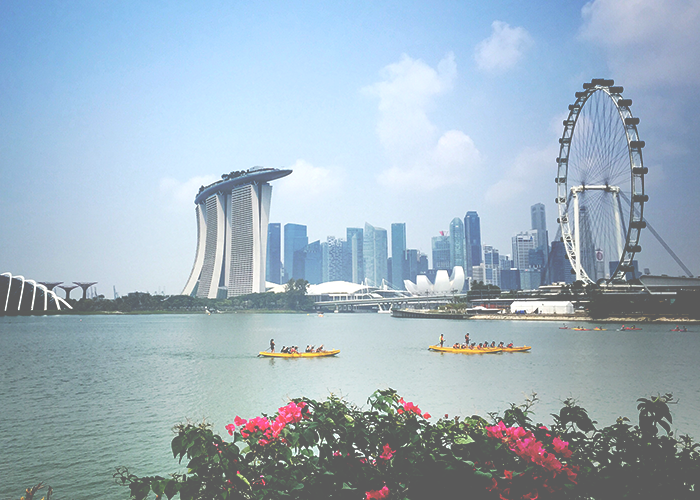 Each week, TFD is taking an in-depth look at the cost of living in other countries, to learn how people like us are able to fund their worldwide dreams. Moving abroad is something many of us regard as an unattainable goal, but it shouldn't be reserved solely for people who don't have to worry about money. We have an incredible lineup of people who have moved to every corner of the globe, and are more than willing to explain what their expenses are, and what it took to take the plunge and move abroad. If you live abroad, or have lived abroad recently, and would like to participate in this exploration, email maya@thefinancialdiet.com.
Last time, we explored Southern Spain. This week, Jennifer Lien, who lived in Singapore for four years,  answered the following 10 questions:
1. What city do you live in, and when did you move there?
I recently relocated to Hong Kong, but I spent the last four years in Singapore.

2. What did you do for a living abroad?
When I first moved to Singapore, I worked as a research assistant at a research institute within the National University of Singapore. After one year there, I transitioned into an entry-level role at a British academic publishing house in Singapore.

3. How exactly did you get that job, and how did you afford to move there?
I found the research assistant job through a friend of a friend who had worked for the same research institute during a university co-op term; the institute had a partnership with our university and hired co-op students for each academic term. I was offered a year-long position, and I'll forever be grateful for that first opportunity to move abroad. This first position paid a monthly salary that covered my expenses with a bit of money left over for fun. I wasn't able to save much at that point, though. Before the move, however, I needed to save enough to cover two months worth of rent (first month's rent and the deposit), and enough money to cover my flight from Toronto to Singapore.
During the end of my year at the institute, I was working with my boss on a book submission for the aforementioned British publishing house. The process was really interesting, so I reached out to the editor asking if they were hiring, and there happened to be an opening within the academic journal's editorial team. After two interviews, I was thrilled to find out I had the job.
4. What were your monthly expenses?

Enjoying life in Singapore on a budget was relatively easy. There are many free or subsidized events (concerts at the Esplanade concert hall, Singapore Writer's Festival, nights at the museums, and public lectures at the universities). Public transportation (buses, MRT, and even taxis) is cheap and efficient. I spent about $100 topping up my EZ-link card each month, which can be used for both buses and MRT rides. Just thinking about the food options still makes me salivate. Singapore is a cultural melting pot with Chinese, Malay and Indian influences. You can find hawker centres, or outdoor food courts, all over the city, which offer fresh, tasty meals for about $3. Also, tap water is safe to drink.
My biggest expense — and the biggest source of stress at the beginning of the move — was rent. My first place was one room in a three-bedroom flat in Queenstown, which cost about $520/month and included all my utilities. When I left, I was renting a room in a private condo in Paya Lebar, which cost $800/month with utilities. These places were comfortable, clean (a maid service was included in the rent, which is quite common for Singapore), and centrally-located, but certainly not luxurious. Most places will want you to sign at least a six-month lease, but one or two-year leases are the norm. 
5. What did you like about the culture of your city, and what made it easy to acclimate?
English is one of the official languages, practically everyone speaks it, which makes it easy to both work and play in Singapore. It's also clean, safe, and full of globally-minded young professionals. There's also a large expat population, so it's easy to make friends. In my friend group, there were expats from France, Lebanon, Egypt, Malaysia, Hong Kong, the US, the UK and, of course, Singaporeans. Generally, most people you meet are open-minded, forward-thinking, and passionate about making a difference both in their work and personal lives.
6. What is the biggest challenge your new culture presented? Did you experience "culture shock"?
I wouldn't necessarily call it "culture shock," but I was excited to realize that Singapore was just as multicultural and welcoming of different cultures as my home country of Canada. One aspect of life that shocked me was that so many people take pictures of their food. When dishes come out at a restaurant, it's not uncommon to see groups of friends spending two to three minutes photographing dishes at different angles, being hand models for their friend's food photo, asking a friend to shine their iPhone flashlight at a dish so the lighting is better for their photo, etc. It's all in good fun. And admittedly, I'm a total convert now.

7. What obstacles did you face when moving abroad, and how did you deal with them?
Finding accommodations was easily the most stressful part of the move. I'd checked Craigslist listings while I was still in Canada, but the majority didn't have photos and were for rooms in a flat with a live-in landlord (very common, especially if you have a small budget). Most landlords are also hesitant to rent a place to tenants without having met them, which was a hindrance. It's much easier to be in the city when looking for rentals because you can set up viewings quickly. However, even once I arrived in Singapore, finding a decent place was still like finding a needle in a haystack. I ended up paying for a housing agent (which cost half a month's rent).
8. What advice do you have for someone looking to move to your city?
If you're interested in working in Asia but don't speak an Asian language, Singapore is a great option because you can easily get around with English. I recommend getting involved in the community, whether it's joining a sports league, a worship community, or a networking group, because it is a great way to starve off any pangs of loneliness. 
9. What was the process like for acquiring a visa before moving? How much did it cost?
I was lucky in that my employer handled my visa application process and fees. The process took a few weeks and was quite straightforward. For those 18 to 25, the Work Holiday Programme could be an option. I also know of quite a few people who came to Singapore on a tourist visa and found a position during that time (after which, I believe, their employers took over the visa application process).

10. Were there certain expenses in your country that surprised you?
Singapore imports nearly all the food it consumes, which means familiar products from home are heavily marked up. For example, at the time of writing this article, the grocery store was selling one 12 oz box of Cheerios for about $7.50. A single serving cup of Chobani Greek yogurt was $2.75. I'd say the pros of living in Singapore definitely outweigh the cons, though! After all, you could always get kaya toast, two soft-boiled eggs, and coffee at the hawker centre for the price of that Chobani yogurt.
Jenni is an expat in Hong Kong by way of England, Canada, Taiwan, and Singapore. A lover of words, she is passionate about getting fresh content into curious minds, and spends her days working in academic publishing and her nights (or, well, early mornings) writing about careers, culture, and all things wonderful about living life abroad. She is on Instagram and Twitter.
Image via Flickr