How I Maintain (And Justify) My Fashion Obsession On a Tight Budget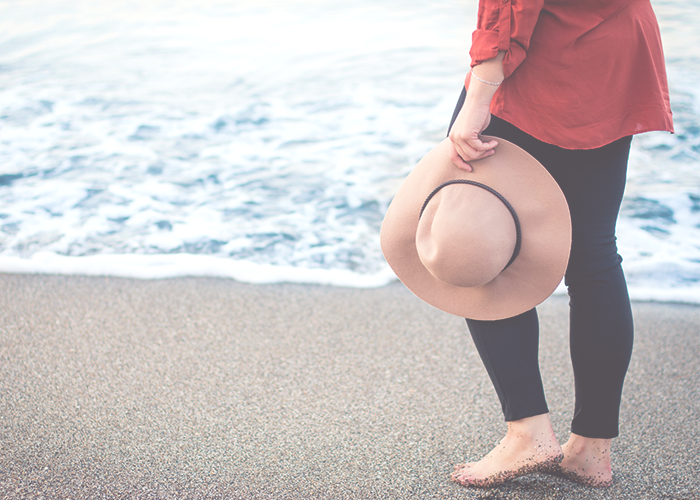 Although I am wholly on board with the idea of a full-on shopping ban during desperate times, and despite the fact that I've gotten sucked deep into more than one seemingly-unachievable minimalist blog post about owning seven items of clothing and that's it, I will probably never live in a world where my own closet isn't extensive. For me, fashion
is a budgeted-for hobby that I will always justify spending time and money on (provided that I have both time and money to spare), for no reason other than the fact that I genuinely love it. This is not to say that I'll steal my mother's jewels and pawn them so I can go hard on a shoe sale; it just means that when I have a little extra cash to throw around after I've taken care of all of my ~real responsibilities~, I'm very likely to spend it on a cute outfit rather than happy hour drinks, or even a good restaurant meal.
However, this hobby, like all others, requires a certain amount of strategic planning. Over the past few years and a few too many regretful shopping mistakes, I've developed system of rules I shop by to make sure I'm always getting the biggest bang for my buck, and not missing out on all the little Pinterest-perfect outfit ideas my heart so deeply desires. These are the few things I've found that sincerely help me get my fix and satisfy my forever-obsession with new clothes.
I got a credit card that earns reward points for my favorite stores.
The very first credit card I ever got was a Visa with Old Navy that rewarded me 5 points for every dollar spent at Old Navy, Gap, or Banana Republic (yas), and 1 point for every dollar spent elsewhere. When I started paying for bigger things with my credit card (I should also add that I never actually spent money I didn't have; I just did it through the card to build credit/to earn points), I started earning an insane amount of rewards, which basically just translated to free money to spend at stores I loved. That way, I was able to get a little shopping fix free of charge while all of my real money was tied up in bigger things, like school and car payments. People do this so much with travel credit cards, but for people like me who don't love travel, but really like fashion, this is a great way to actually get something useful out of your credit card deal and earn free shopping money on all the boring purchases you have to make.
I found a clothing warehouse in my area.
My shopping life was changed forever when I discovered Retail 101, a warehouse that opens up one weekend a month in a town nearby to where I live, and sells some of my favorite name-brand clothes (sometimes slightly damaged or irregular, but usually nothing noticeable) for ridiculously low prices. Every time I'm tempted to buy an absurdly expensive Free People dress, or a badass pair of Jeffery Campbell shoes, I tell myself to check the warehouse next month where I'll probably be able to snag the glorious item I covet for around $15. Of course, these types of magical fashion warehouses don't exist everywhere — but it is definitely worth a Google search to find out.
I use Ebates to get cash back on basically everything.
Recently, I became annoyingly obsessed with Ebates — a site that earns you cash back on every online purchase you make. I don't do a ton of online shopping, but whenever I do, I feel super #blessed to receive an email minutes later with my cash back statement — even if it is just $3, I get all giddy like a child. Usually I only shop online for things I know I need, and don't need to browse around for, like makeup products I use religiously, or textbooks for school — and since things like makeup and textbooks aren't usually items that go on sale, Ebates is basically my magic way to get a hefty discount on them, which makes it that much sweeter when the package hits my doorstep.
I sell clothes on Poshmark — and only shop with the money I make there.
Every good ~minimalist~ or decluttering-fanatic knows the golden rule of keeping insanely organized: one in, one out. In general, this would mean not adding an extra possession to your life without first editing out those which you do not want or need anymore. There is something freeing about decisively picking through my wardrobe and editing out the pieces which I no longer find any attachment to or use for. However, in terms of shopping, I have established a "money in, money out" system to go along with the "one in, one out" system that has always treated me so kindly. Besides just eliminating an item from my closet whenever I want to add a new one, I also sell the unwanted items on Poshmark, an app for buying and selling used clothes. Then, I set the money my Poshmark closet earns aside to be my designated "shopping money" and only use the money I make selling old clothes to buy new clothes. This is my secret-weapon way to keep my hobby up under a tight budget, ensure I'm only spending a certain amount on clothes, and make sure I'm living within both my financial and spatial means.
These tips by no means make my undying love of beautiful clothing a particularly inexpensive hobby, but it is nonetheless a hobby that I love and have, for now, figured a few ways to make sustainable. I've been repeatedly reminded that no one needs that many clothes (but, if we're going there, does anyone really need most things?), but will continue to justify, unwaveringly, my love of fashion and decision to continuously invest in an extensive wardrobe. Personally, I will never adopt a minimalist lifestyle, or anything close to a capsule wardrobe. I will live forever in defense of my love for collecting clothes that I love to pieces, and feel comforted by the fact that, if nothing else, I had my few little shopping secrets to help me acquire them in the most financially responsible way possible.
Mary is the summer Media Fellow at The Financial Diet. Send her your summer intern stories (your lessons, failures, triumphs and good advice) at mary@thefinancialdiet.com
Image via Pexels