My Year-Long Challenge To Level Up My Home-Cooking Game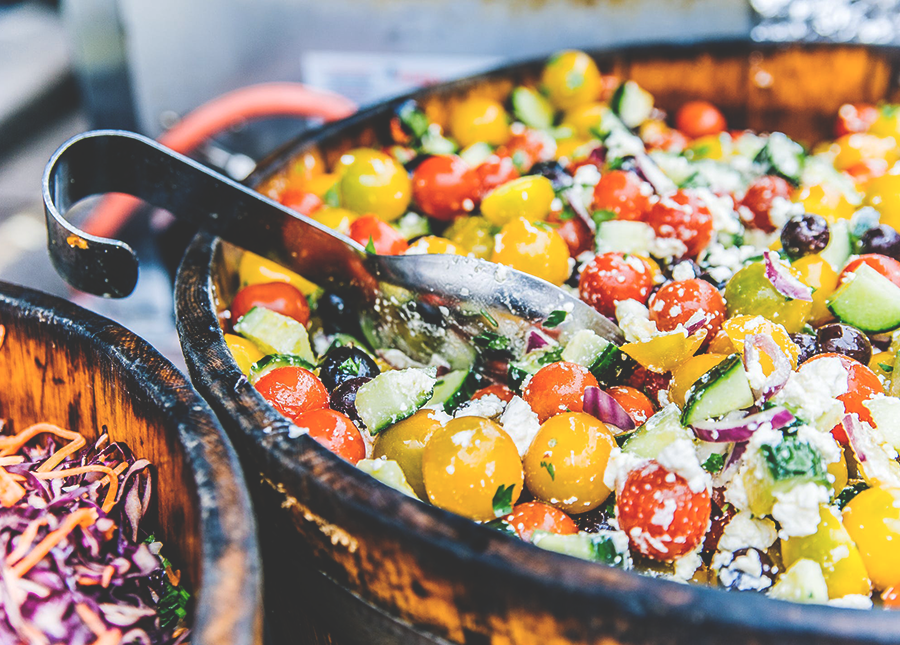 The apartment I live in now has a tiny galley kitchen. So tiny, in fact, that once I bought a microwave (because the apartment didn't come with one) and set it up, I was left with precisely one two-and-a-half-foot section of counter that I could use while cooking. This adds a layer of difficulty to basically any meal I prepare, and complicated recipes that require extensive prep can border on logistical nightmares. But since I enjoy cooking (and since it is far cheaper than constant takeout), I make do.
But the restricted space made me fall into a rut with my meals. It was just easier to make recipes that I had memorized instead of trying to figure out where to place a cookbook/my laptop/my cell phone so it wouldn't get in the way or get dirty. Sometimes I would print out a recipe I found online and use a magnet to stick it to the fridge, which was workable, but that ultimately just kept me cycling through all the recipes I'd already printed out, loved, and kept for years. (Right now I have 18 recipes on my fridge, plus another stack of printouts and recipe cards in the nearby cupboard.)
I did a bookshelf purge at the start of the year, and it made me realize just how many cookbooks I had that I hadn't touched in months, if not years. I had everything from an old roommate's spiral-bound collection of family recipes to The Complete Cooking for Two Cookbook by America's Test Kitchen. Some of the cookbooks still had the little tabs on them I'd used to mark recipes I wanted to try back when I first got the books. And that doesn't even count all of the recipes from food blogs that I've bookmarked over the years and never actually gotten around to making.
So I decided that 2018 was going to be the year for expanding my culinary experience by adding 20 new-to-me recipes to my repertoire, either from my bookmarks or my cookbooks. They could be anything from side dishes to desserts, just so long as they didn't require me to buy new kitchen implements. I decided that the first quarter of the year I would pick from my bookmarked recipes, and I ended up making five:
1. Spaghetti with Mushroom Herb Cream Sauce. I forgot to buy spaghetti, but I happened to have fettuccine in the cupboard and used that instead. This meal was delightful, and it's on my list to make again someday.
2. Roasted Garlic Cauliflower. I used olive oil instead of coconut, but it was a decent vegetable side dish. If I make it again, I need to cut the cauliflower into more evenly sized florets so the dish cooks better, and I'll probably add more cheese and toss in some other herbs, like oregano or chives.
3. Creamy Garlic Mushroom Soup. Serve this with sliced baguettes and an assortment of fancy cheeses. It was super easy to make, and I used four cups of broth and omitted the water and soy sauce.
4. Clean Eating Coconut Steel Cut Oats. It would probably be more accurate to say that I was inspired by this recipe instead of following it. I ditched the coconut and the maple syrup and instead added a tablespoon of raw sugar and a sprinkling of raspberries to each serving, and I substituted olive oil for coconut. The oatmeal freezes well, so it was easy to make a pot of it on Sundays and eat it the rest of the week.
5. Artichoke Heart Tapenade. This was a fun way to dress up baked chicken thighs and couscous. I substituted dried basil and parsley instead of fresh (because the price of fresh was outrageous at my local grocery store), and I used much less olive oil than they recommended (3 tablespoons to two cans artichoke hearts). I will definitely make it again.
Picking and making these recipes was honestly a lot of fun. There really is a simple joy in making something new and having it turn out well. Expanding the variety of food in my diet helped me look forward to cooking, even if my cooking space is limited. That variety also meant I didn't get bored of my regular go-to meals so quickly since I didn't circle back to them as often.
This challenge also made me realize how lucky I am to have been able to build a solid foundation and confidence in cooking. My mother taught me how to cook when I was young, including how and why she deviated from recipes, and I've often had roommates who liked cooking together, sharing meals, and trying new things. Because of all of this experience, I was able to make several substitutions/alterations to brand new recipes due to preference or cost and have them turn out okay. I also have ideas on what to change the next time to get better results.
For the second quarter, I'll be picking recipes from my collection of cookbooks. I've already started flipping through some of them, which led me back to some old favorites that I hadn't made in a long time. (So, of course, I ended up detouring to make a few of those dishes, too.) Sitting down with a cookbook and reading through the recipes until you settle on the perfect one is a lovely way to spend a rainy afternoon. I want to pick at least one new dessert (because I have two entire cookbooks dedicated to desserts) and one fish-based dish. Fish is something I never had much of when I was growing up unless you count canned tuna, so that's a gap in my cooking experience I would like to fill in a little. I'll definitely need to follow any fish-based recipes exactly instead of getting ambitious with alterations.
Doing this challenge also had an unexpected consequence: it has made me seriously consider moving to a place with a better kitchen when my lease is up. I have several other reasons to consider moving, but my lackluster kitchen has climbed up several spots on my complaint list. How much more enjoyable would experimenting with new recipes be if I had more than one counter to work with? That's a lifestyle upgrade I'll have to check against the reality of my finances. In the meantime, I'll make the best of what I have so I can continue leveling up my home-cooking game.
Audrey is an editor and writer who spends her free time on young adult books, Korean tv shows, and video games. You can reach her on Twitter or through her website.
Image via Pexels