The $3 Treasure Hunt: Healthy Office Drawer Snacks (That You Can Order Online)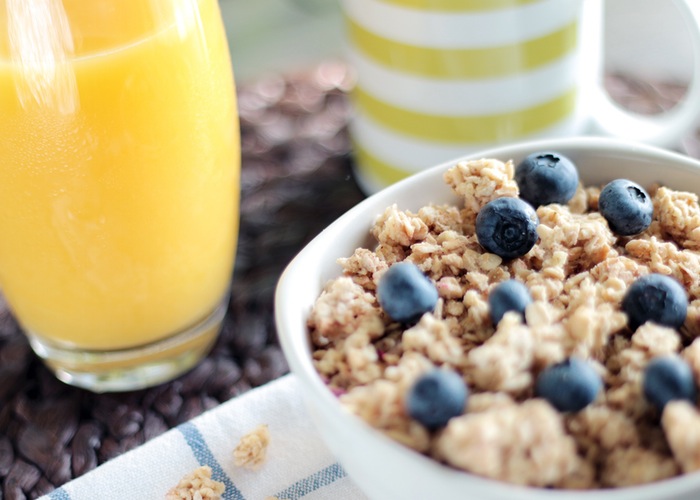 We are on the 12th $3 treasure hunt, and recently got a request to focus on healthy snacks. Finding snacks that are actually filling, and will satisfy your cravings, without being packed with fat, is a tall order. And somehow I've never craved sodium more than when I'm sitting at a desk, counting down the hours until 6 PM (okay, 8 PM). We've hunted through Trader Joe's and Whole Foods, but I realize that when so much of your time is spent at the office, it would be much easier to order snacks online and get them delivered straight to your office. In fact, most healthy snacks are cheaper in bulk, so if you and your cube mate/work wife/favorite coworker wanted to join forces and both chip in for a mass shipment of granola bars, more power to you. If you see something you like on this list, most of the "price" bullet points bring you to an online purchase link.
Here are 16 delicious and healthy snacks to consider for your office snack drawer:
Oatmeal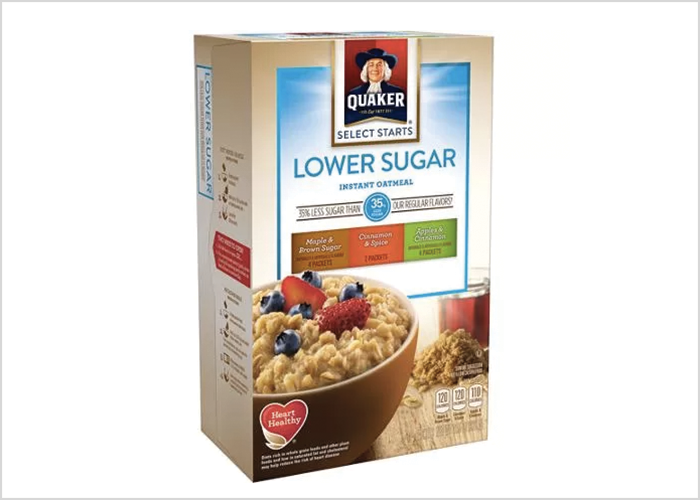 Price: $2.88 for one box
Oatmeal is rich in protein, and fiber, and is incredibly filling. Mix it with milk to increase your protein and calcium intake, or mix it with yogurt to add live active cultures and beneficial probiotics to your diet.
Babybel Cheese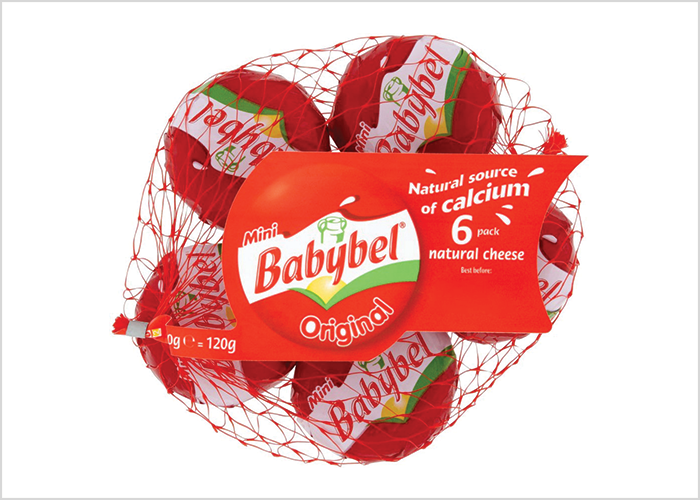 Price: $1.98 with this coupon
Remember the cheese you used to eat as a kid? Well, turns out, you were onto something. It's rich in calcium, and comes in a light alternative to cut down on calories. The light version has 50 calories, and 15% of your daily calcium.
Luna Bars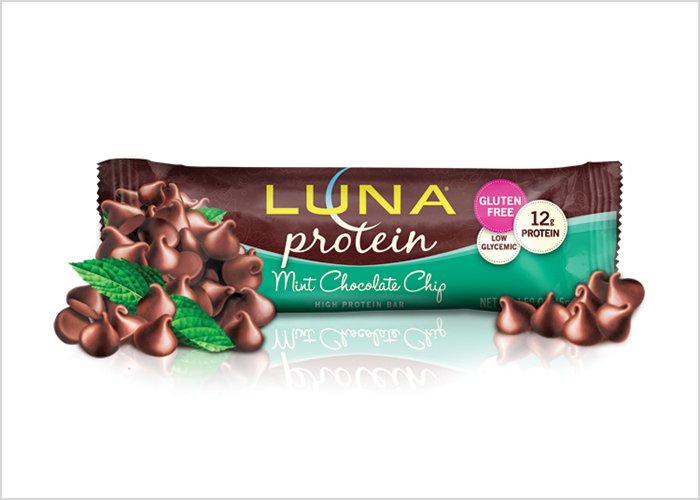 Price: 99 cents (varies and can be purchased in bulk)
They are now gluten free, and each bar has three grams of dietary fiber. They're one of the health bars that will actually fill you up, and each bar has nine grams of protein. You can also order them in bulk here.
Laughing Cow Cheese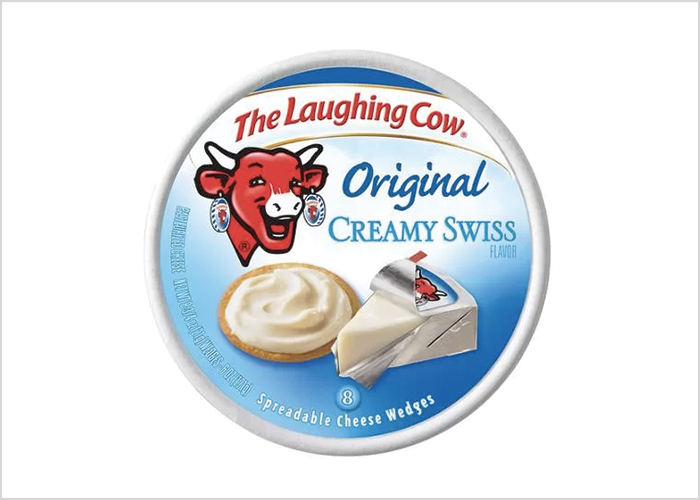 Price: $2.98
One wedge has 35 calories, but will satisfy your craving for savory foods. A lot of people who are counting calories or are watching their Weight Watchers points swear by these (because they're only one point).
Baked Cheetos 100 Calorie Mini Bites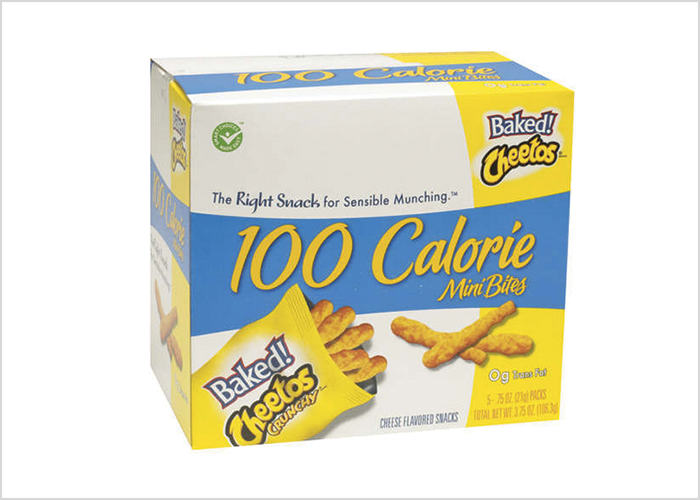 Price: $2.75 for one box
One bag has 100 calories, so they make it easy to track and regulate your consumption. If left to my own devices, I can eat an entire bag of Cheetos. So, if the bag ended after 100 calories, that might not be a bad thing for me. They also have 0 trans fat.
Hummus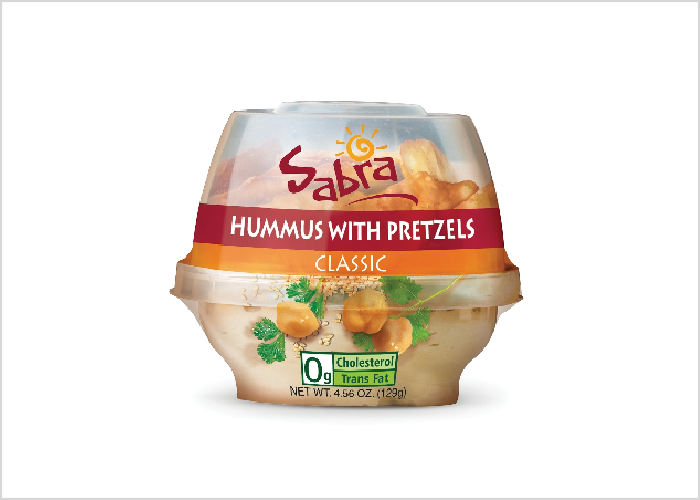 Price: Single serving Sabras hummus for $2.99 (in stores)
A quarter of a cup of hummus and three carrot sticks is only 80 calories. Sabra is low fat, Kosher, gluten-free and a great substitute for cream cheese, butter, ranch dressing, or mayo.
Popcorn Kernels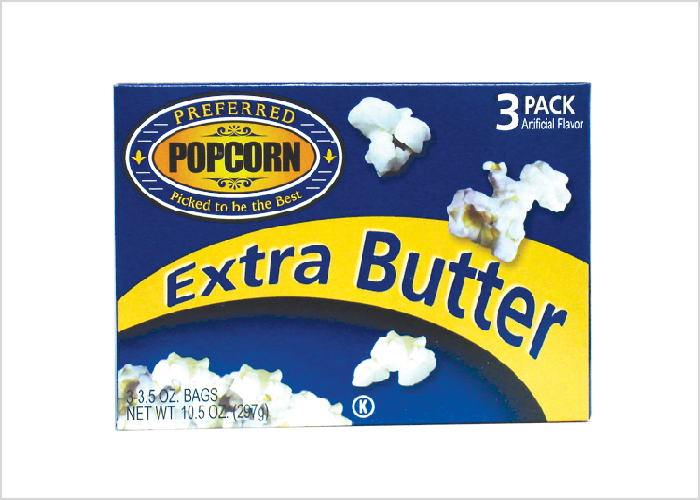 Price: $2.00
I will admit that this only works if your office is fine with you cooking on the stove. So, basically, this only applies to people that work at Silicon Valley start ups. Half a cup of popcorn kernels has 12 grams of protein. And while many of the pre-made bags (pictured above), or movie theatre popcorn options can be high in fat, when you're popping the popcorn yourself, you have full control over what you're putting in your popcorn, and can keep the calories down.
FruitBu Fruit Leathers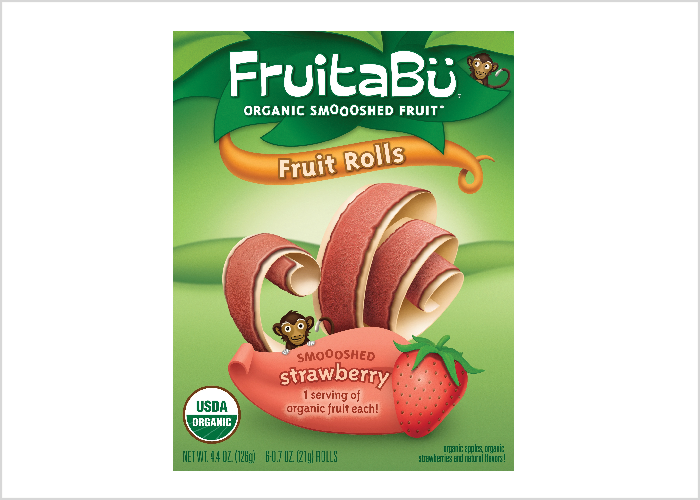 Price: 79 cents for one fruit leather
Each fruit leather has one serving of fruit. One leather has about 40 calories, but will satisfy your post-lunch dessert craving. It's a great way to put a sweet taste in your mouth without grabbing something from the vending machines.
Raw Peanuts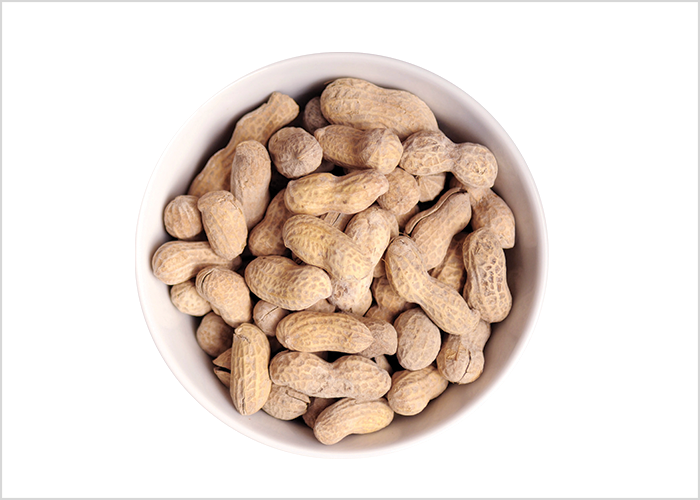 Price: $2.29/lb
One cup of peanuts contains 37 grams of protein, which is unheard of. If you're cutting meat out of your diet (so you can cut down your grocery bill), raw nuts are a great way to keep your protein up.
If you're not a fan of peanuts, try sunflower seeds.
Price: $2.99 for a 1lb bag
Sunflower seeds have vitamins E and B-1. One ounce of sunflower seeds contains 10 milligrams of vitamin E, which is two-thirds of your recommended daily intake.
Turkey Jerky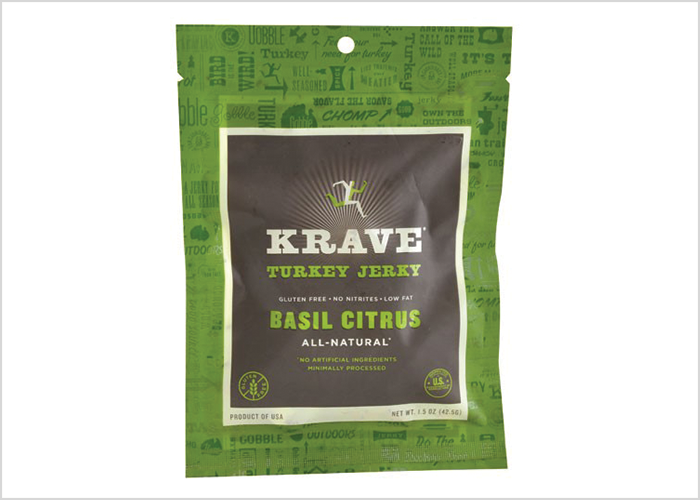 Price: $3.09
This is nine cents over our limit, so forgive me for I have sinned. Krave uses exclusively lean cuts and their jerkey is high in protein, yet a serving size is under 90 calories. It's all-natural with no nitrates or artificial flavors.
Beef Jerky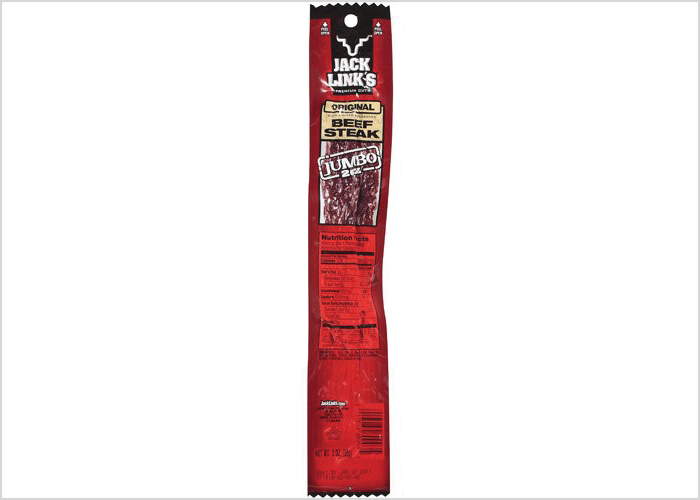 Price: $2.59 for one
A lot of my friends eat jerky about an hour before a workout in order to keep their energy up. It's a quick dose of protein, and fills you up without weighing you down. There is a little too much sodium for my taste, but only one gram of fat and only 80 calories. I used to struggle to run, or go to the gym, right after work. If I had one of these about an hour before I left the office, I might've followed through on those evening runs I always planned to take.
Sweet Potato Chips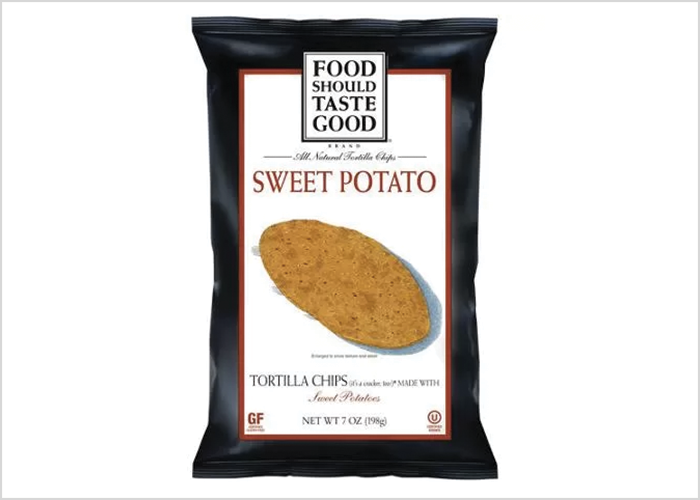 Price: $2.98
What makes this brand appealing, to me, is that there aren't a whole host of additional ingredients. There are no weird phosphates I can't pronounce. It's just sweet potato, oil, and salt.
Annie's Granola Bars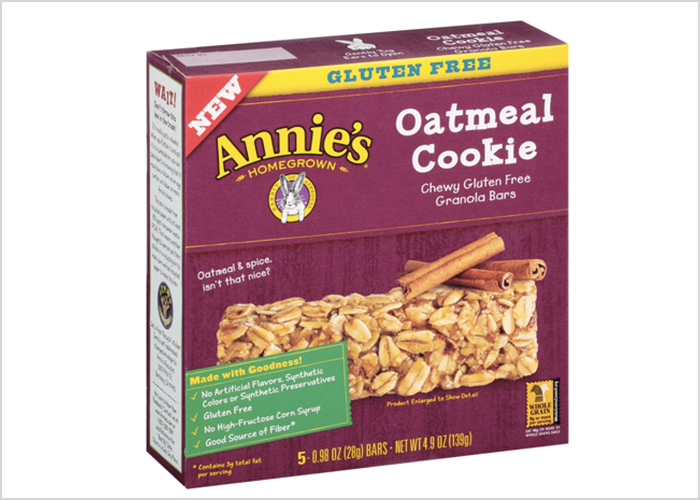 Price: $2.42 for one box
These have eight grams of whole grains, and no gluten or artificial fat. It's like a non-guilty oatmeal cookie.
Veggie Chips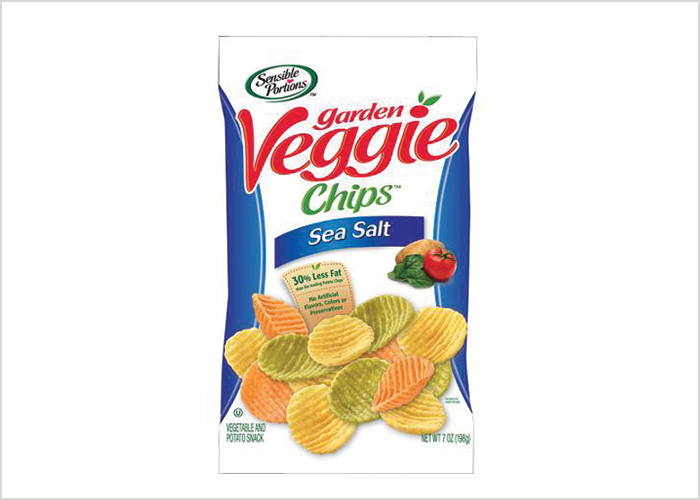 Price: $2.88
While I understand this isn't the healthiest snack on the shelf, I look at it as my go-to snack when I'm craving potato chips (which happens more often than not). They still have a lot of sodium, but less fat than chips. (I try to limit myself to one serving, nonetheless.)
Image via Pexels