The 7 Personal Finance Articles We Loved This Week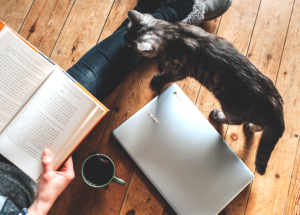 How exciting is this? I've never gotten to write up this weekly post before, so although I'm missing Holly dearly while she's on vacation (boooo, I'm jealous) I was happy to get this duty passed to me temporarily!
While looking through ESI's picks for the week, one of them stopped me dead in my tracks (and maybe not in a great way): this post by Jessica Sommerfield about the Recency Bias. The article explains exactly what that means:
It works the same way with our memory of past experiences — we tend to emphasize the most recent data and use it as a baseline for how things will continue to happen in the future. Unfortunately, this recency bias leads us to make decisions based on the assumption that things will continue as they have, indefinitely.
Maybe this isn't the most fun piece from this batch of articles, but damn, I needed to hear it. I definitely have the tendency to get a little too comfortable with how things are going in life, without ever reevaluating or considering the fact that things might not be smooth-sailing forever, and you should always be on your toes and planning accordingly for possible shifts. If you find yourself with the same tendencies, you may not be realizing how they're holding you back, or possibly setting you up for future disaster when things change in a way that you simply weren't prepared for. Luckily, this article has you covered with so many great tips on how to beat this possibly-dangerous money mindset — so definitely check it out below! With that, here are the rest of this week's picks:
1. What I Won't Teach My Daughter About Hard Work — Cait Flanders
"We have limits to our time and energy and we must be intentional about how we invest ourselves, or we risk unintentionally sacrificing the things that matter most. Many of us, myself included, have prioritized 'hard work' over our relationships or even over our own health and as a new mum, these beliefs don't feel right anymore. My daughter is only seven months old, but of course, I've already started to think about her future."
2. Less Rocks, More Stocks: How College Failed Me — Apathy Ends
"Maybe one of the goals is to be a well-rounded student, and I don't necessarily disagree with that notion. But paying with time, money and lost wages to study something I have no interest in is a mega waste of resources."
3. How Driving A Tesla Saves Me Money — Dr. McFrugal 
"For the next six years, my car payments will be $770 a month. How exactly is this saving me money???"
4. Job Hopping Helped Me More Than Double My Salary—and My Skills — Rockstar Finance
"Job hopping didn't just help me find interesting work. It also sharpened different skills and significantly increased my income. From page to PR, I jumped from a $23,000 salary to $37,500. The next hop bumped me up to $50,000. Negotiating with a new employer often yields better results than hoping for significant bumps at your current position."
5. The Recency Bias: How to Keep This Mental Trap from Sabotaging Your Finances -MoneyNing
"Just because things have been going well for us, financially, doesn't mean they will continue to forever."
6. 14 Financial Experts Share Their Advice For Life After Debt — Chain of Wealth 
"Whether it is a car loan, mortgage or student loan, there is no denying that paying off debt is a big deal. But even though you have paid off debt, does not mean the bill collector is out of your life yet. I recently learned this the hard way."
7. What's the most important asset? — Retire Early Helen
"As an early retiree, I got a lot of time to do day dreaming and self reflections.  Lately I keep asking myself: 'What's the most important asset to me?' In my case, money is NOT the most important asset."
Image via Unsplash