Shopping Smart
The 8 Commandments Of Shopping Smart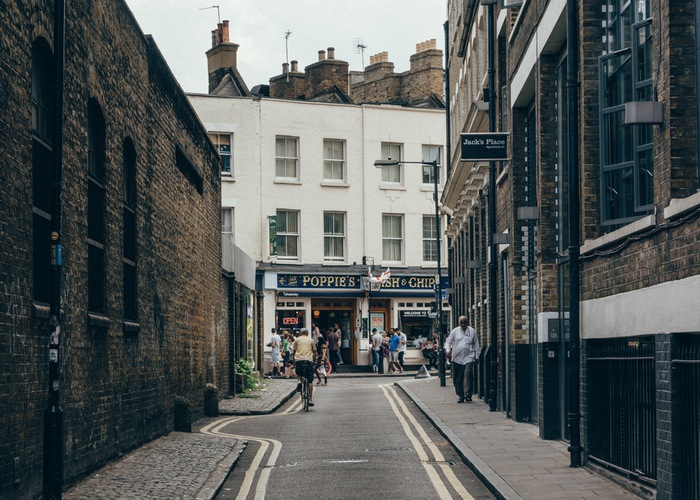 As someone who has always loved clothes and shopping, it's easy for me to lose entire days trying to find the cutest thing amidst the wreck of stuff. I also have very early memories of flipping through the pages of Vogue and seeking out international fashion magazines for inspiration and to study the concept of style. But because I have never exactly had a load of money, I couldn't ever just buy those clothes (and when you're a growing kid, you shouldn't be buying luxury brands, anyway) and have always had to improvise.
Over the years, I've learned a few tricks to navigate fast fashion stores like Forever21 and H&M, and how to nab much nicer articles of clothing for a lot less than they normally retail.
1. Go straight to the sale section. I never buy anything full-price at solid stores like Zara and J.Crew if I can help it. (Obviously sales at Forever21 are a bit of a crapshoot, so that doesn't really count here. H&M's sale section is usually navigable, however, and worth sifting through things.) Keep an eye out for 40%-off-the-sale-price sales, which usually happen a few times a year, and sift through every single rack when these discounts happen. I've also been known to go to a few different locations of the same brand just to make sure that I found the best option before committing fully (as most clothes discounted that deeply are final sale).
It's also much better to actually go to stores to see what they have, because often there's a one-off item that they no longer list online just waiting for you.
2. Wait 24 hours. If a store has a hold policy, I always ask someone to put some things aside so I can think on them. If I want something badly enough that I will go back the next day to pick it up, it's proof that I'll probably actually use it. If they don't offer holds, or if you're really unsure about a piece, leaving it on the rack and coming back to see if it's still there is proof that it's meant to be. (If somebody else grabbed it up, wish it a good life in its new home.)
3. Develop a uniform. Or, if a uniform is too austere for you, at least pare down your wardrobe so you know what you're working with in the first place. I recently went through a massive wardrobe purge, and gave away multiple garbage bags' worth of clothing. I got rid of a lot of my prints, a lot of the fast fashion stuff I'd picked up for nights out and wore just the once, and stuff that didn't fit or was too worn through. The thing is, I was still left with a lot of clothing (I shop that much).
Save for a few pieces like a plaid shirt or a special dress, 90% of my clothes are either white, gray, black, or denim. Keeping to a color palette makes getting dressed in the morning a lot easier, because almost everything matches and goes together, but when I'm shopping, I can make a mental list of things that a piece I'm considering might pair with, and I get the most use out of my clothes that way. Moreover, a lot of fashionable, trend pieces often come in colors other than what I call my Core Four, so I'm able to decide what's going to last me through the seasons, or what will look dated a year from now. I make exceptions every now and again, but otherwise, having a uniform also keeps me from buying really crazy articles of clothing I love at first, but wind up never wearing.
4. Shop consignment. Scour eBay, go to a thrift shop like Buffalo Exchange or Goodwill, or find a good consignment store in your area. (Make friends with the salespeople, and they'll alert you when stuff they think you'd like comes in.) I can't handle eBay because I get too distracted by everything I don't actually need, but I often spend an afternoon every few months hopping between the consignment shops in the East Village to see what they have. (I've gotten a pair of black patent Louboutin wedges, a Louis Vuitton bucket bag, and black Manolo Blahnik BB pumps on consignment — the latter for $50.) Most days, you're going to wind up empty handed, but keeping your eyes out for a really good find will result in something good eventually.
5. Know what you should invest in. I'll spend good money on bras because those are an everyday thing and a properly fitted bra changes the way all your clothes fit. White T-shirts and tanks, however, are something I'd need to replace eventually, so it makes more sense to buy them cheaply from fast fashion retailers. (Don't let 'luxury' T-shirt labels fool you; you're still buying a white cotton shirt.) Crop tops especially fall under this umbrella, because they're such a trend that I don't know if I want to have that for longer than a $6 investment lasts me. But pencil skirts, dress pants, blouses, and other things I'd like to wear to my job are important to me, and I'd rather buy quality pieces that last and look good for the long haul.
6. Play up your makeup and accessories. Even the simplest, most basic cotton dress from H&M can be made to look special with the right touches. Doing your hair, adding a swipe of bright lipstick, changing your shoes — all these little things (either alone or in combination) add up to take something mass-produced into something that's just for you.
7. Only wear what fits. I don't mean to stick to certain styles that you think are flattering, because often, there's a trend you're afraid of trying that will wind up looking great on you. Whatever you do, buy the size your body is. Even the most expensive clothes look cheap when they don't fit right. Take things to a tailor if you need to, play with cuffing and tucking things in, use control-top tights if you really want to, but buying your size in the first place will save you a lot of deliberation in front of your mirror later.
8. Ask your friends. If you think your friend's bag is cute, ask her where she got it. I'm always surprised where friends scored jackets or shoes I really love, and would have never thought to look at those stores had they not told me. It's not copycatting their look if you take the piece and mix it in with your own wardrobe, accessories, and (most importantly) attitude.
Image via Pexels