The Groceries You Should Stock Up On During Coronavirus (And What You Should Skip)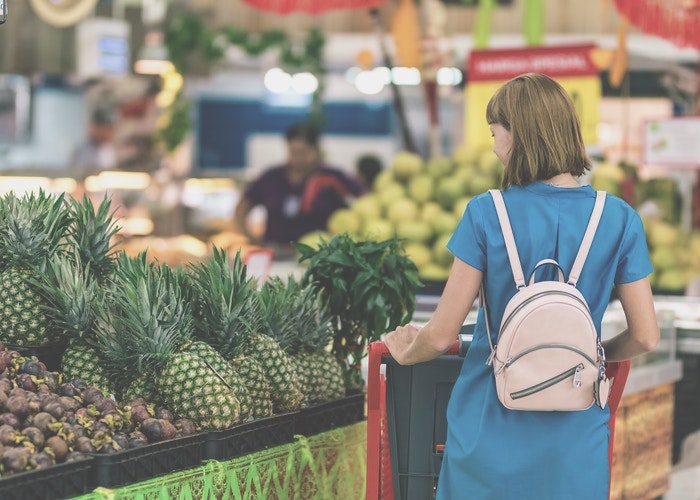 Across the globe, populations are being asked to stay at home and only leave the house for essential reasons, like picking up prescriptions, veterinarian visits, and, of course, grocery shopping,
But with photos of empty shelves and greedy stockpilers, you might be wondering what to buy and what to skip — or at least limit — during these shopping trips. (I don't know who needs to hear this, but please stop stockpiling toilet paper.) Here's a suggested list of what you need to help guide you through your preparation. 
Emergency kit essentials
This may come as a surprise, but generally, the items you should have on hand during the COVID-19 pandemic are about the same as the items you should try to keep stocked in your home year-round. 
According to the CDC, family emergency kits should include medical necessities like soap and antibiotic towelettes, gloves, antibiotic ointment, bandages, a thermometer, your prescribed medications, and nonprescription drugs, including non-aspirin pain relievers, period products, and stomach relievers. The CDC also recommends that families keep household products like disinfectants, bleach, paper towels, and writing supplies on hand. Don't panic if you don't have those items right now — you can purchase them at a local grocery store or online and shelves are still being stocked, so don't hoard. Many stores are setting limits on the amount of these items customers can buy, and they're doing this to ensure there's enough to go around.
Groceries and non-perishables
Given the 14-day quarantine period for COVID-19, you'll want to purchase a two week supply of groceries, just in case. For that reason, if you can help it, don't focus only on foods that perish quickly like fresh meats, fish, and fruits. Frozen fruits and vegetables are an easy alternative for healthy sides and canned goods can keep for years. Beans are a great source of protein, and frozen chicken or turkey can last for months. 
The U.S. Department of Agriculture offers the MyPlate app to help you figure out what a healthy, balanced diet looks like for you. In general, you'll want to focus on getting enough oils (a great source of nutrients) and the five main food groups: Vegetables, Fruits, Protein Foods, Grains, and Dairy. 
Caretaking supplies
If you live with roommates, family members, or other people you may need to take care of in the event they become ill from COVID-19, you should also have caretaking supplies on hand. 
The CDC notes that caretakers will benefit from using disposable face masks and gloves (which, of course, are hard to come by right now), cleaning wipes and sprays, hand soap or an alcohol-based hand sanitizer, and laundry detergent. If your local grocery store is out of hand sanitizer, you may be able to make your own with rubbing alcohol (99%), aloe vera gel, and essential oil of choice. Other supplies, like tissues and extra hand towels, are also useful.
Supplies for remote education and work
If you have children, it's worth thinking about essential school supplies they'll need for remote learning, like books and writing materials. If you're working from home and absolutely need a desk or monitor, now might be one of your last opportunities to buy in-store for a bit. With cities enacting "shelter in place" restrictions, you may not be able to purchase these items at the store soon. 
Hopefully having the above items on hand will help you feel a bit more in control during a very difficult time. With the anxiety felt by so many Americans over COVID-19, there is also a wealth of misinformation, which can cause us to panic and buy items that we otherwise wouldn't. Here's what you don't need to stockpile.
Items You Don't Need To Stockpile
When you step into a nearly empty grocery store, it can be tempting to buy anything left on the grocery shelves, whether or not you'd actually cook with it. While there may be shortages due to a huge spike in demand, overall, these essential items will be available throughout the quarantine. There's no sense in hoarding gallons of milk you won't drink.
Many Americans have stockpiled an enormous supply of toilet paper. While the concern to meet this basic need is understandable, you don't need to stockpile a year's supply. Try starting with enough for two weeks.
If you typically drink water from your tap, COVID-19 is not a reason to suddenly switch to plastic bottles. We must remember to stay calm and buy what will actually help us in this circumstance. According to the Environmental Protection Agency, "The COVID-19 virus has not been detected in drinking-water supplies. Based on current evidence, the risk to water supplies is low. Americans can continue to use and drink water from their tap as usual." Of course, if you always drink bottled water due to water safety concerns in your home, continue to do so.
*****
Preparing for COVID-19 is easier for those fortunate enough to have a secure job or disposable income. As a result of the pandemic, many individuals in hard-hit industries have experienced layoffs, resulting in a major increase in Americans seeking unemployment benefits. Hopefully, a potential stimulus check will be in the hands of those who need it most soon, but in the meantime, keep calm and make a list before heading to the grocery store. 
Simplicity Bryan is deeply entrenched in the worlds of self-help, gratitude, personal finance, and organization. She's happiest paddleboarding with her pup and storytelling with a purpose. You can follow her here.
Image via Pexels
Like this story? Follow The Financial Diet on Facebook, Instagram, and Twitter for daily tips and inspiration, and sign up for our email newsletter here.