The Items Worth Splurging On To Make Your Home Feel Absolutely Luxurious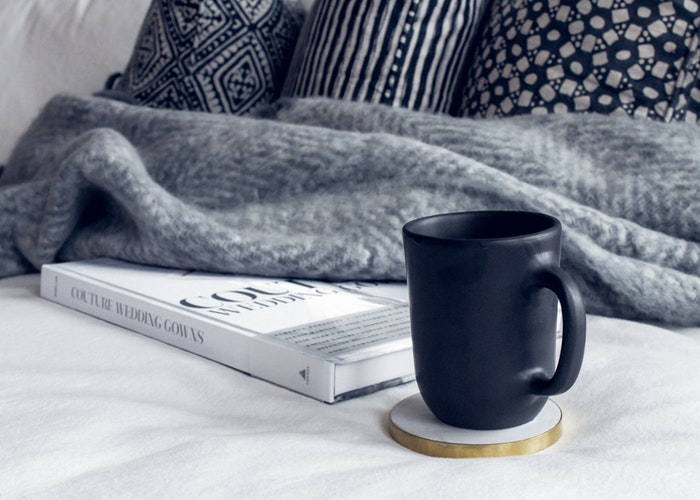 Have you ever walked into Target and left with a cartful of household items you had no intention of purchasing — and $100 missing from your bank account? Or, perhaps, a better question would be, have you ever walked into Target and not done this? 
It's not always a bad idea to splurge on your home. Keeping on top of your budget doesn't mean you can't have a home that feels lavish and comfortable. However, instead of the grab-and-go Target approach, which can add up quite a bit, you could add a bit of method to the madness. And I've found there are a handful of home furnishing items that will give you the best bang for your buck, transforming your home into a luxe retreat.
An ultra-soft throw
Snuggling up on the couch is not the same without a super cozy blanket. Having a blanket in a material or color you love laying on the couch can bring you a smile. A nice throw made of fabrics like acrylic, cotton, linen, or viscose, or a combination of materials might cost you between $40 and $60. If you want a handknit item, you can pay closer to $150, but the end price depends on the size of the throw and the retail place you buy it from. As far as cost-per-use goes, however, this is a piece that you will likely use every day, making the splurge worthwhile.
Towel warmer
A towel warmer is a game-changer for your bathroom. The warmer hangs on your wall and has one or more horizontal bars that you place your towels on before or after you use them. It dry towels quickly, too, so you'll have no more mildew smells, and can work with electricity or through radiant heating.
On chilly days when you hop out of the shower, having a warm towel to wrap around you is the ultimate treat. It's quite the splurge, though and can cost between $130 to $200 for a good-quality and well-reviewed towel warmer. But again, since it's something you'll use and enjoy every day, I think it's worth it.
Essential oil diffuser
An oil diffuser can make your home smell like your favorite essential oil. It works by releasing a mix of water and essential oils into the air, allowing it to soak into the air you breathe. An essential oil diffuser typically costs between $20 and $40, and you'll also have to buy the oils themselves, which cost around $8 per bottle but last forever. The good news is, you can usually find both the oils and the diffuser for significantly cheaper at your local Marshall's or T.J. Maxx. Whether you prefer an uplifting scent like rose or a calming smell like lavender, an essential oil diffuser can help create whatever atmosphere you prefer in your home.
Robot vacuum
Okay, a robot vacuum is quite the splurge, but if you have pets, you know that not having your home covered in fur is the ultimate luxury.
Since a clean space can make you feel more relaxed and less stressed, one step in creating a luxurious home is keeping it clean. If you don't have time to clean, consider investing in a robot vacuum. What's easier than turning on a robot to clean your floors? Get ready for no more grit underneath your bare feet. A basic model costs between $200 to $300, but it can be worth all the time saved. Plus, you can even add on a mopping attachment to some brands.
Rain showerhead
Although fancy shower attachments can seem super luxe, a rain shower head doesn't have to cost you an arm and a leg. Sure, you can find options for $250, but there are well-rated choices online for only $20 to $30. A new shower head is easy to install, too. It's a relatively cheap upgrade that can make a big difference in your bathroom.
Good lighting
Instead of buying the cheapest lightbulb you can find, figure out what kind of lighting you prefer you in your home: Do you prefer a blueish daylight setting or a yellow, warm light setting? And what kind of lighting goes best in which room? Do a little lighting research and give your home a lighting makeover. Figure out what specific bulbs you need in terms of color and hue and what type of lighting — task, overhead, ambient — you need depending on the room.
For example, if you have a reading nook, place a table lamp there with task lighting so you aren't straining your eyes. Adding a diffused floor lamp in your bedroom creates ambient lighting and allows you to avoid using a bright overhead light when you're winding down. 
Soy candles
Lighting candles in your home can create a feeling of calm and serenity, and the soy version can give you a better bang for your buck. A candle made out of soy typically burns longer and cleaner than one made from paraffin wax. A soy candle can cost between $10 and $20 a pop, but since they last longer than standard candles, you'll be buying them less frequently. Light a few of these around and you'll likely find they relax the heck out of you.
*****
You don't have to spend thousands of dollars to feel pampered in your home. Splurging on one or more of these items can help you indulge in the good life while you're in your sweatpants. Keeping a clean, well-lit and comfy home can be worth spending a couple of extra bucks, and buying quality items often can save you money in the long run. Especially now that so many people are expected to stay home more often, we might as well make our homes as lush as we can. 
Tiffany Verbeck is a freelance writer and storyteller who helps small businesses and entrepreneurs tell their brand story. She runs a professional blog on personal finance at www.tiffanyverbeck.com and a personal blog on growing up in Indiana called Midwestern Transplant. She can be found on Twitter at @tiffanyverbeck.
Image via Pexels
Like this story? Follow The Financial Diet on Facebook, Instagram, and Twitter for daily tips and inspiration, and sign up for our email newsletter here.