The Psychological Reason Cleaning Your Home Should Be Your Biggest Form Of Self-Care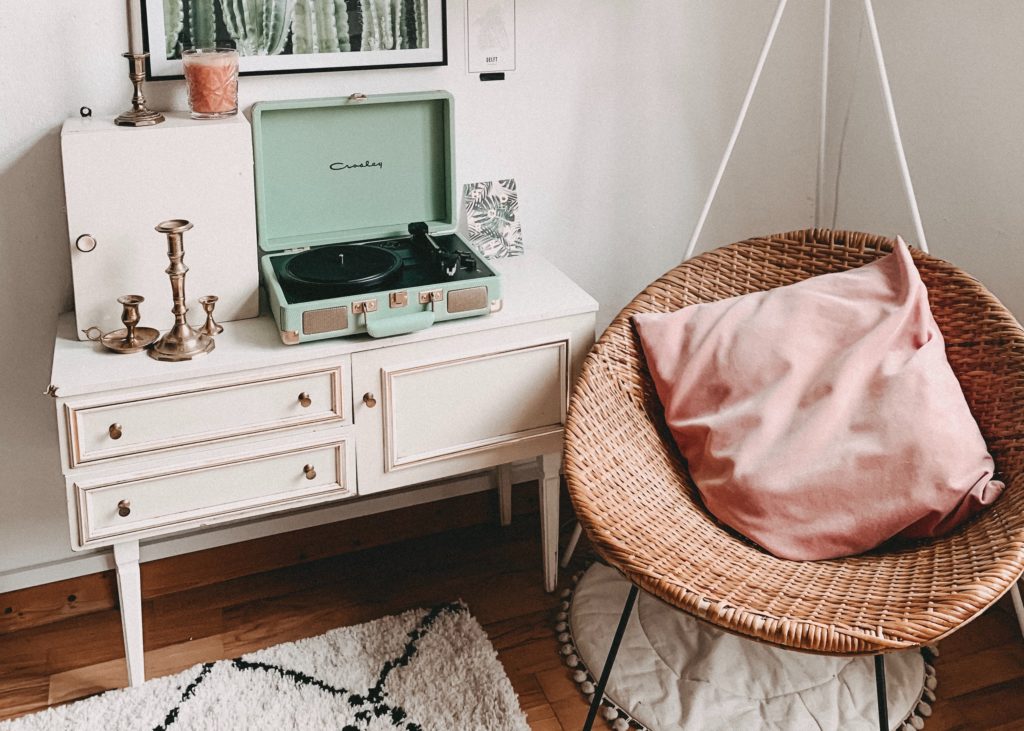 Sometimes, we all need a little help organizing the chaos. I know this more than most, as I often burst into a fury suited to Poseidon over the messy state of my apartment when I'm stressed or upset. As it turns out, I am not the only who links stress to my living space. 
During a 2010 study published in the Personality & Social Psychology Bulletin, women were asked to choose adjectives to describe their homes. The results found that "women with higher stressful home scores had increased depressed mood over the course of the day, whereas women with higher restorative home scores had decreased depressed mood over the day." 
To see what my results would be, I recreated the exercise the women in the study were asked to do. I wrote down different adjectives that I believe describe my apartment. "Messy," "cluttered," "ongoing projects," and "disorganized," were the first thoughts that came to mind. When I matched them to the descriptions in the study, I found that the words I chose fell under two categories: "clutter words" and "house unfinished words." I always describe my apartment as a perpetual work-in-progress because it makes the messiness and disorganization seem less permanent. Perhaps it's because I've never lived somewhere long enough to justify investing in it, that I've grown accustomed to waking up in disarray. But this eventually felt weak to me — indifference is just an excuse, so I looked for ways to overcome my stress with self-care.
As great as my energy flow feels after a morning of yoga, reading at a coffee shop, or coating my face in a pore-refining mask, my messy apartment still exacerbates my less-than-Zen moments. After reading Karen Kingston's Clear Your Clutter with Feng Shui, it's clear to see why. "Whenever I come across clutter, its energy field is unmistakable," she writes. "It presents an obstacle to the flow of energy and has an unpleasant, sticky, unclean feel to it." Kingston discusses how personal spaces are an extension of our own energy, and in order for our lives to work well, there needs to be a good flow of energy in the home.  
Clutter, go figure, is a major disruptor of energy flow. In turn, stuckness and/or confusion occurs in the lives of the occupants, according to Kingston. The best advice I learned for tackling clutter came from Clea Shearer and Joanna Teplin of The Home Edit, a celebrity-loved home organization company. "Start with a drawer," they write in their recent book, The Home Edit: A Guide to Organizing and Realizing Your House Goals. "It's pretty much the ideal space for getting your organizing feet wet…Completely emptying out a drawer is a lot less daunting than emptying out a closet: you'll be able to see the light at the end of the tunnel much more quickly."
Starting small is something I can handle. Too often, I've come home with a spurt of motivation to clean and organize the entire apartment, only to make more of a mess. Doing everything is impossible, not to mention overwhelming. When I put the method of starting with one drawer into practice, I noticed that little by little, things were changing for the better. I began with my nightstand. Between old boarding passes, dried out pens, college planners, engagement announcements, and expired coupons, I was able to toss plenty away in a "throw away" box without the least bit of hesitation. Even though this is only one drawer, the transformation was undeniable. What started as a bulging drawer I could hardly open without getting it stuck on something became an organized space where I can easily identify everything in it. 
According to a study conducted by Clorox measuring the impact cleaning has on emotions, "in a clean space, the majority of people are more relaxed, less stressed, and more productive." While I don't rely on my apartment to make me happy, I do believe it can be a source of joy, somewhere peaceful that is both relaxing and comfortable. To me, the point of self-care is to feel like I am in control of my own self-preservation and feel at peace, focused, and relaxed. While other forms of self-care provide these feelings, they are only temporary. If my space provided the same effects, I believe I'd feel the benefits on a more ongoing basis.
Shearer and Teplin feel similarly, writing that, "When you're in a space where clutter is minimized and systems prevail, you feel more grounded, like you can take a breath." The duo's method of home editing is successful because the process is simple and approachable. They break cleaning and organizing into the following steps:
Take everything out

of the space you're organizing, whether it's a cabinet, the fridge, or your entire closet. 

Create groupings

of similar items so you can see what you have multiples of.

Pare down

belongings that you no longer use, wear, or like.
When I applied these steps to various drawers in my apartment, getting rid of things became a simple game of "keep" or "toss." I threw away expired sunscreen, medicine, koozies that go unused, random wires, t-shirts with holes in them, junk mail, promotional swag, etc. 
While undergoing this process, I couldn't help but think of how much more complex all of my extraneous items are making my life. The items I use daily are already in the right place; anything there isn't a place for is just clutter. I don't need to keep extra stuff around when my life is simpler with just the necessities. My apartment is nowhere close to the organizational godliness of Mandy Moore's pantry, but I am cleaning and decluttering drawer by drawer. With each completed project from the to-do list, I feel more energized to keep going. I can't wait to finish the process and wake up in a space that feels restful, calming, and soothing.
When she's not writing about the money-saving hacks that helped her save $25k in a year, Sasha is taking to the skies with her sister Melissa. Their Instagram account, @JetsettingJunkies, and website feature their travels from all over the world. DM Sasha for money tips and advice on traveling often and cheaply!
Image via Unsplash
Like this story? Follow The Financial Diet on Facebook, Instagram, and Twitter for daily tips and inspiration, and sign up for our email newsletter here.