The 11 Gifts I Still Love 2 Years After My Wedding — & 5 I've Never Touched Once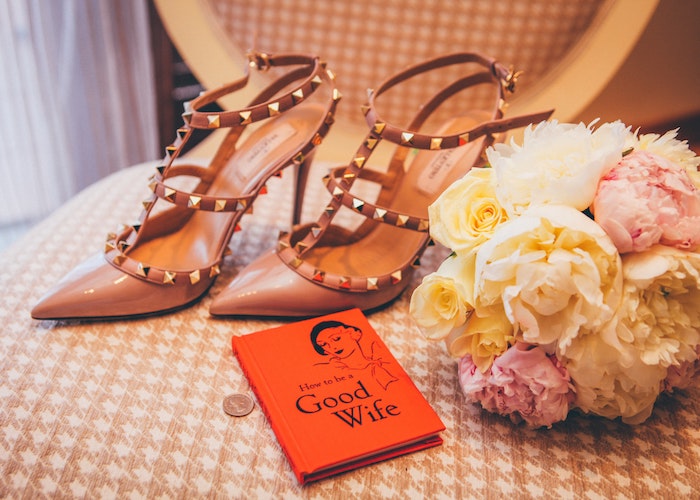 Whether you're newly engaged or buying your first home, congratulations! Welcome to some of the most exciting and stressful moments of your life. 
Once you get past the mountains of contracts, vendors, venue selection, and so on, you get to the fun stuff — like your registry. Everyone has a story, so here's ours: We got married while we were still living in a small apartment, so we decided to keep our wedding gifts in their box until we purchased a home. Five months after we got married, we bought a house that required a complete gut renovation, which we did ourselves and required six months of work before we could move into it. But now, we've had a chance to dig into some of our gifts and try them out. 
Don't worry, this isn't another list urging you to register for expensive items like a Vitamix or a Kitchenaid mixer. Instead, I want to share the simple, everyday items that have been truly essential to our household.
An Immersion Blender 
If I was forced to choose only one thing to keep from the list, it would probably be the immersion blender. I use this constantly. I've blended soups, dips, sauces, marinades, whipped cream, hummus, and pretty much exclusively make salad dressing at home now (my favorite is olive oil, garlic, lemon, honey, and Dijon mustard).
A Microplane Grater-Zester 
Quite honestly, I don't even remember registering for this thing or why I did. All I know is, I don't remember life without it. Easy to clean and sharp af, the Microplane does everything from zesting lemons and limes to finely grating ginger and hard cheeses. 
The Perfect Wooden Spoon 
I know, I know, but hear me out. There are a lot of wooden spoons out there. But sometimes they're too short, oddly shaped, easy to splinter, and so on. Not this one. This bad boy is a perfect size and can be used in any cooking vessel regardless of material. Maybe I was also sold on the "French tasting spoon" name, but at $6, it's still in perfect condition despite constant use and runs in the dishwasher.
Washable Cloth Napkins 
Call me old fashioned, but there's something about using a cloth napkin that elevates every meal, regardless of whether you're having a dinner party or you're eating on the couch while watching TV. Plus, cloth or reusable napkins are cost-effective and way better for the environment.
Marin "Low Bowl" 
When looking for dinnerware to add to the registry, we had a list of criteria: nothing fancy or delicate, but also not typical or boring. We found exactly what we wanted in the Marin collection from Crate & Barrel, with the real hero being the "low bowl". We tend to eat a lot of grain-based meals and salads, so these have just enough of an edge that nothing spills over. While we have the set, we almost exclusively use these.
Linen Sheets 
An old coworker of mine taught me all about the finer things in life. She lives a fabulous life and had a career working at various fashion magazines and traveling the world before our paths crossed. In addition to great career advice and exposing me to foods I would have never tried on my own, I remember her telling me that linen sheets were the absolute best. and despite my hesitation — she was totally correct. Breathable, durable, and softer with every wash, I will never go back to regular old cotton sheets.
Mini Oven Mitts 
I'm a sucker for two things: black & white stripes, and anything miniature in size. Enter these adorable mini oven mitts! They're easy to store in smaller kitchens and protect your hands just fine. It almost makes you wonder why you ever used giant lobster claw oven mitts.
A Do-Everything Dutch Oven 
Remember all those soups and sauces I mentioned with the immersion blender? I cook them all in this. Most dinners and one-pot meals call for a heavy-bottomed pot, and it doesn't get much heavier than this. Added bonus, you can throw this sucker right in the oven, too. While Le Creuset is the gold standard in dutch ovens, the one we have is a fraction of the cost and is just as good.
All-Clad Cookware 
My former boss was one of those people who seemed to have lived several lives despite being in his early 30's. Luckily for me, one of those lives was as a burgeoning chef in culinary school. He recommended this set, promising that it was worth the price tag and we wouldn't need much else. We were lucky enough to receive this cookware and I can confidently say after two years of regular use, these pans will last us a very long time. Between the dutch oven and these pans, we are totally covered.
A Handheld Vacuum Cleaner
One of the most stressful yet hilarious moments of registering was my husband taking the scanner gun and weaving through the aisles of Bed Bath & Beyond like a storm-trooper, shooting every barcode in sight. We share a love for all things miniature, and when he saw this mini-Dyson, he knew he had to have it. We use this around the house multiple times a day and bring out the larger vacuum for a deeper clean on the weekends.
Items That Are Still In The Box
While the items I mentioned above have become everyday staples, we've had a harder time incorporating the next five into regular rotation. That could be because of our living situation over the past couple of years, but for one reason or another, these are the least used items that were on my registry.
A popcorn popper:  We are a no-microwave household, but we love popcorn, so we thought we would use this all the time. Turns out, we would rather just buy a bag of kettle corn than make it at home, but we are hoping to change that, especially because I'm sure cooking it this way is much healthier.
A wok: We cook a lot of Asian-inspired food at home, so we imagined we would use this all the time. But there is a plastic coating on the pan that is tough to remove (even the reviews say so!) and it needs to be seasoned. if I'm being honest, I think we're a bit intimidated by it. Perhaps 2020 will be the year of the wok.
A wine carafe: We didn't actually register for this. Crate and Barrel does private registry events before the store opens that are SO fun. They serve breakfast and mimosas and have door prizes with a larger monthly drawing. As we were leaving, we found out we won a wine carafe! Except we hardly ever drink, and I honestly forgot we had it until I was writing this post.
A panini press: We were so excited for this, but we have never used it. I think part of the reason is we have an outside grill that we use pretty often, but I'm now feeling inspired to look up fancy sandwiches to try.   
A crockpot: This is another thing I thought we would use all the time. I love the idea of throwing in ingredients and coming home to a meal, but my husband and I both work long hours and worried we would come home to a burnt mess. Now that I work from home full-time, I look forward to finding healthy recipes to try. 
*****
While there are thousands of registry lists out there pushing roasting pans, gravy boats, and glass figurines, (it's okay to want these things!) the items listed have truly become workhorses in our home. 
I would love to know, fellow TFD readers, what are the home essentials you can't live without? Tell us in the comments.
(This post was originally published on February 4, 2020 and has since been updated)
Daryl Carr is a marketer based in New Jersey working for a tech company focused on high volume hourly hiring. When she's not commuting coast to coast, she can be found taking guitar lessons, watching The Office, or doing home renovation projects with her husband.
Image via Unsplash