The Simple Food Swap That's Saving Me $100 A Month On Groceries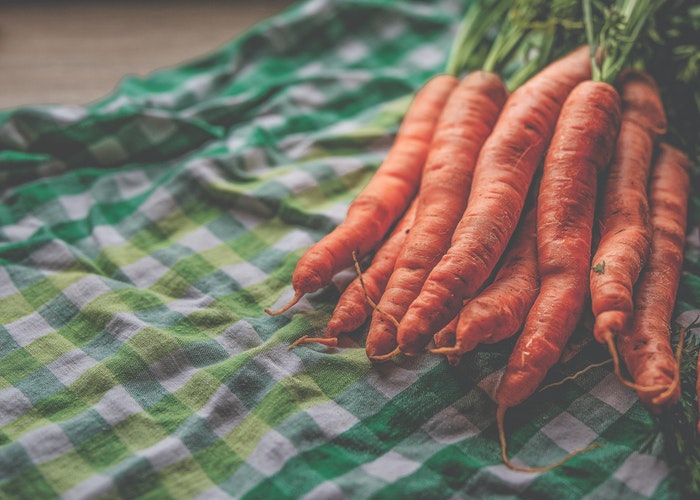 I don't know about you, but pre-quarantine I didn't think too deeply about the effects of my grocery consumption. With so much time on my hands, however, I've begun to research and better understand where my produce comes from.I've also begun to support local grocers more intentionally. While farmer's markets are obviously an easy way to do this, especially in the summer, I've recently discovered a number of low-cost companies that claim to reduce food waste by selling "imperfect" or "misfit" produce to consumers, directly. These are items that are OK to eat but often get discarded by grocery stores since they don't appear as perfect or ripe as other items. Instead of tossing these perfectly good products, however, a multitude of different companies have rebranded these food items and deliver them to food-conscious customers at a lower cost. 
Over the past month, I've received three boxes from Imperfect Foods and not only managed to save money on my groceries, but I've also been able to consume more high-quality produce than I typically would. I normally never buy organic produce, but Imperfect Foods made it possible for me to do so, at a price-point I could afford. What's more, Imperfect Foods allows you to purchase dairy items, such as milk or yogurt or eggs, and even meat! Due to the coronavirus pandemic, many restaurants have donated excess meat products that they ordered to Imperfect Foods, allowing them to re-sell it to consumers for a lower cost. Moreover, Imperfect Foods additionally sells snacks, such as Imperfect Potato Chips, made from "imperfect" potatoes. 
But, Imperfect Foods and other similar food delivery services, like Farmbox Direct, Misfit Market, Hungry Harvest, or Full Harvest, come with their own set of pros and cons. While it has worked for me, it's definitely not a one-size-fits-all solution to saving money on groceries. 
Pro: You save money.
For me, the biggest pro of this service has been saving money on my groceries. With Imperfect Foods, I'm able to have everything I want delivered to my door and access better quality produce than I typically would at a cheaper price. On average, I've been able to save $15-25 a week on groceries, but given that the quality of the produce I'm receiving is higher–namely organic, which I typically never buy–the savings are even higher. 
Con: You can't always get what you need.
However, a big con of Imperfect Foods is that the night before your box is about to be delivered (or sometimes the morning of), you will receive a message that certain items are no longer available. As such, I've run into a situation where essentials I've ordered for the week, like milk or eggs, don't get delivered and I have to run out to the grocery store, anyway. This is particularly an issue if you're planning your meals for the week and a key ingredient isn't delivered since it doesn't save you a grocery trip. 
Pro: You can customize your order somewhat.
You can still pick and choose the items you want in your box, though. With other similar companies, such as Misfit Market, you often receive a mystery box of an assortment of vegetables and fruits. You don't get to choose the produce you receive and you don't have the option of adding on snacks, meat, or dairy products. I'm not an adventurous enough cook for this to work for me, but certainly, with all the time we have on our hands with the coronavirus, this is an opportunity to experiment with different foods and change up your grocery routine! 
Other companies that operate similarly to Misfit Market are Farmbox Direct and Wonky Veg Box (UK-based) but Hungry Harvest and Full Harvest allow you to customize, similar to Imperfect Foods. You can even find similar deals from your local farm, too! While I live in a city and lack a car, if you have access to nearby farms, many will sell a box of their produce, weekly. And while you likely can't customize your produce directly from the grower, it certainly helps support food sustainability. 
Con: Your zip code can make things complicated.
Depending on where you live, this could be a pro or a con. For example, since I reside in Northern California, my Imperfect Foods selection is excellent. I can order fruits like mangoes and vegetables like cilantro in addition to meat selection that includes shrimp and fresh mahi-mahi. 
For my parents, however, their zip code offered much fewer items. As such, depending on your zip code, the quality and selection available in these boxes could vary. 
Con: The practice is somewhat controversial.
All this being said, there is plenty online debating the genuine impact of these organizations. Moreover, as the popularity of these businesses has grown, so have questions about whether farmers are now selling produce to these companies versus donating them to food banks, which would help resource-insecure communities. However, as one author from The Atlantic put it, "…just because ugly-produce start-ups aren't doing all of the good doesn't mean they can't do some of it. Maybe both things are true: These businesses, if well run, can serve genuine needs for farmers and consumers that current agribusiness can't. They're also trying to retrofit a for-profit solution onto a supply chain that's classist, racist, and opposed to the integrity of community-based food systems. The only real, long-term answer to those problems might be to rebuild the American food system as a whole." 
Ultimately, it's up to you to decide whether you want to support these companies or not. . Personally, the selection is wide enough in my area and the savings are enough that I feel it's worth it. During the summertime, I'm lucky enough to have access to multiple farmer's markets, so I still plan to buy the bulk of my produce from those sources directly. But companies like Imperfect Foods can help during the off-season. 
Keertana Anandraj is a recent college grad living in San Francisco. When she isn't conducting international macroeconomic research at her day job, you can find her in the spin room or planning her next adventure.
Image via Pexels
Like this story? Follow The Financial Diet on Facebook, Instagram, and Twitter for daily tips and inspiration, and sign up for our email newsletter here.