Living / Mental Health In Quarantine
The Simple Investment That Helped Me Way More Than Therapy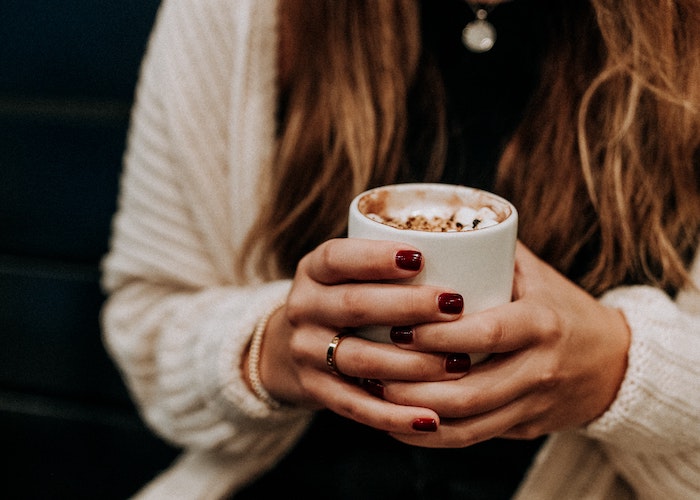 I quit therapy about two weeks after I signed up for the virtual service. It was the summer of 2020, and I couldn't get out of bed. I ate sour gummy bears for dinner, I didn't care that I needed a haircut, or that the pile of dishes needed to be washed. I had a full-time job (and was lucky to have that) that I supplemented with four or five other freelancing gigs because my husband was out of work. The only event I looked forward to was my weekly Mcdonald's delivery, a la Uber Eats. My relationship with my husband had become so fractured, that slowly sipping on a McFlurry was the only form of intimacy I could partake in. I was lonely, anxious, depressed, and I knew I needed to talk to someone.
While I liked my first online therapist, I noticed that she kept ending the sessions 30 minutes early and that it was almost impossible to book a weekly appointment with her. So, I tried a different therapist. I wrote about the second therapist in an earlier essay for TFD, describing how she asked me what my hobbies were after I confessed to her that I was so consumed — and exhausted by —work that I could barely remember to shower. It was the final straw for me. After this session, I canceled the $260 membership. I was already worried that the monthly fee was frivolous, and I couldn't deal with someone asking me something as passive as what my hobbies were, after being candid about barely having time to shower.
For a while, I managed. And I got better on my own. My husband got a new job, our relationship healed, I eased up on my moonlighting (we still needed the extra income to afford our LA mortgage, since I wasn't making nearly as much as I used to pre-COVID layoff), and I slowly started to tape my life back together. I saw friends, I had time to cook again, I took the dog on longer walks, I wore makeup for fun. 
Things got better until they didn't. Everyone's experience with anxiety and depression is different, but several friends have admitted to me that they've also experienced near-paralyzing feelings of self-doubt, sadness, and panic attacks in waves. 
I knew I had to try therapy again when I stopped seeing a future for myself. There was no future family, future career, future house, or future me because all I could envision was the present. That whatever terrible moment I was stuck in would never pass. I was like a human GIF, replaying my movements in a box, over and over again.
"I knew I had to try again once I stopped seeing a future for myself.  All I could envision was a stressful present that would never pass. I was like a human GIF, replaying my movements in a box, over and over again…"
I had a little bit more disposable income, but I wanted to try a different service. So I signed up for 7 Cups, an online therapy service that pairs you with a therapist, and also gives you access to group support chats and even a one-on-one chat with (unlicensed) volunteers. It's all super anonymous, totally online (no face-to-face video with anyone, which may or may not be a good thing for some), and it's $150 a month. 
It felt like a doable way of easing back into therapy. Even though I know I can benefit from in-person therapy, this current solution was (and is) nourishing. I felt heard, even though I wasn't physically speaking. I check in with my assigned therapist every day, sometimes multiple times a day, and she generally responds within a few hours. The support groups are beneficial since it can be helpful to see how other people are coping with similar issues. And the one-on-one chats felt most cathartic of all. It was like venting to a friend over text message but not feeling bad that you were maybe unloading your life onto them a little too much.
I also decided to start seeing a career coach, and reached out to fellow TFD contributor, Jazmine Reed-Clark, a creative and career wellness coach who I know supports her clients with empathy and actionable steps forward. We've followed and cheered each other online, and I felt like, Why not? It's an investment in myself and my future (yes, one that exists) that I felt was worth it. So much of my anxieties, fears, and resentments stem from my career (not my job per se, but my trajectory in general), and I realized I was spending most of my time typing away to my therapist about these feelings, and when I wasn't doing that, I was venting to my husband. While 7 Cups is helpful in that I'm given overarching tools to use and advice to follow, it's not exactly a personalized diagnosis. And my therapist is likely not familiar with the industry I'm in (and nor does she know what it is, since 7 Cups users are instructed not to give away personal information). 
Talking to an expert such as Jazmine, who has helped others navigate their way around high-stress, competitive creative fields, was what I also needed. So I scheduled several sessions. We talked about my current situation, where I wanted to be, and she empowered me through some of the roadblocks I'd been experiencing in the last year. It's been less than a month since we started working together, and I'm feeling more confident about what I'm worthy of. I hope confidence-confidence is something I can possess one day. At the end of the day, I feel less like a gigantic question mark at all times, and in turn, this has quelled the anxiety.
"These days, I feel less like a gigantic question mark at all times, and in turn, this has quelled the anxiety. I'm  someone with a plan. Someone with a future."
The big takeaway here is: Therapy isn't a straightforward path. It didn't work for me the first time, so I tried a different route. And then another. And I'll probably try something new once I can book a physical appointment with someone, too. Booking time with a career coach is something I feel lucky about for two reasons. First, that I have the means to do so. And second, that I understand which areas in my life I need to work on the most (as well as which areas in my life affect me those most).
I still feel anxious and unbearably sad sometimes, but I also feel hopeful because, for the first time, I think I've actually fortified the support system I've budgeted for. I'm someone with a plan. And a future.
Gina Vaynshteyn is an editor and writer who lives in LA. You can find more of her words on Refinery29, Apartment Therapy, HelloGiggles, Distractify, and others. If you wanna, you can follow her on Instagram or Twitter.