The Smart Engagement, Part 2: 15 Ways To Save Money On Your Videographer & Photographer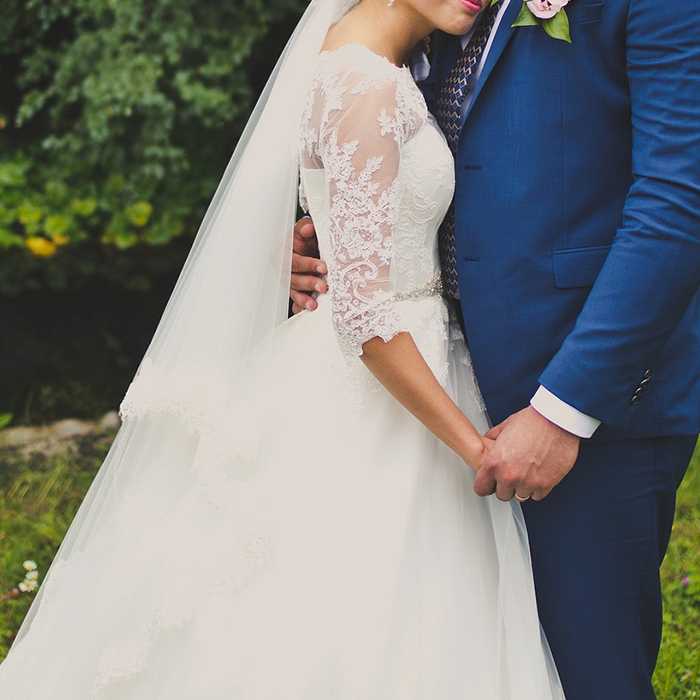 Your wedding is an incredibly special day and happy affair, so it's fitting that you should have equally special documentation of it. You only get one chance to have photos and video footage captured, so it's important that you work with a professional who knows what he or she is doing. The decision to hire a professional gives you one less thing to stress about that day, and will allow you to more fully enjoy the experience. That being said, some weddings can seem so overrun with multiple photographers, assistants, videographers, camera and lighting men that it can end up feeling a bit like a production. I was once at a wedding where there was a photographer standing in front of me nearly the entire length of the ceremony and as a guest I was unable to even see what was going on. =(
There is absolutely NO reason for you to stretch your budget too thin in order to accommodate a pricey photographer and videographer who charges an exorbitant amount of money. The average cost of a wedding photographer in 2014 was $2,556 and the average cost of a videographer was $1,700. I'd like to say that those prices sound insane but I'm in the midst of trying to find a photographer and videographer myself and the initial quotes I received back were shocking. In doing my research into what it costs to hire a photographer and videographer, and some of the best pieces of advice to keep in mind when booking, I thought I'd share my findings here. Below are 15 tips everyone should follow to make sure you're getting the best deal you can!
1. Hire someone local.
Reaching out to photographers and videographers in your area will cut travel costs that you might incur from bringing people in from out-of-state by removing the cost of flights, trains, accommodations and meals.
2. Ask if the season or day of the week influences price.
Sometimes photographers and videographers offer discounted rates for shooting weddings out of season and on off nights like Thursday, Friday and Sunday. Don't be afraid to ask!

3. Always mention your referral.
This is an easy way to save money! Be sure to name-drop whoever referred you to him or her and this will usually result in either a price reduction or getting more included in your package with no additional charge.

4. Select a freelancer.
When professionals are freelance as opposed to being a part of a larger photography or videography studio it generally translates into lower prices for you. Since there is little overhead the savings gets passed directly on to you. It's also a good way to ensure that the person who's portfolio you're basing your decision on is the person who actually works the wedding.
5. Opt for smaller packages.
This goes without saying but if your budget is a strict one than selecting the most basic package is the way to go. No one needs the same day video edit included in their videographer package no matter how nice it would be to have. I know couples who have had full on movies made of their wedding day which play at the ceremony as guests are walking in. Those bells and whistles seem tempting but at the end of the day is just not worth it. 

6. Book as soon as possible.
By booking your photographer and videographer waaaaaaay in advance you get to lock down today's prices. Having a two year engagement? Book someone relatively new to the industry to snag a lower price and then they'll have two years to gain more experience. When they show up the day of your wedding they will effectively be worth more than what you paid the day you booked them.

7. Ask for raw footage.
If this is something that the photographer or videographer is open to (sometimes the aren't or they might even charge you more for handing this over) consider it an option. By having access to raw footage and a complete set of unedited photos you essentially take a very DIY route that provides you with the maximum amount of control over how you turn your materials into visual keepsakes from that day.
8. Ask around family/friends for assistance.
You never know what hidden talents your family members have. Ask around to see if anyone knows Photoshop to find someone to do quick edits on your favorite photos, or see if anyone knows video editing so that they can cut the footage down to a five minute bit. Although paying people you know to do this kind of work will most likely not yield professional quality results you'll save a ton of money.
9. Reduce the coverage.
A lot of photographers and videographers charge by the hour so see if you can work something out with them in terms of length of time you book them. You can also consider breaking coverage out by time blocks: hiring photographers for just the ceremony and hiring videographers for just the reception.
10. Get multiple quotes.
You can only make an informed and knowledgable decision by having a range of pricing options and multiple quotes from different people. You want to know if you're getting industry standard pricing or if someone it quoting too high. You can use these numbers when negotiating by saying, "X photographer charges this price for these prices but I really want to work with you…if there anyway we can work these numbers a little bit?"

11. Look for a package deal.
Some places will offer combo packages where the photographer and videographer come as a package deal. This can sometimes mean lower prices and less stress on your end because you will most likely be working with one point person as opposed to multiple.
12. Make your own DIY wedding album.
Upon receiving the USB of photos from the wedding it's easy to create your own wedding album online with website like Blurb and Keepsy. Set aside time to do this yourself and you'll save BIG by taking it off the photographer's hands.
13. Limit the number of assistants.
Before you sign any contracts be sure that you agree to the number of staff they intend to bring to the event. It's smart to limit the number of assistants so that you can reduce any additional fees and save money on having to feed them at the venue. Some venues only offer up small discounts to feed staff and if you have five individuals working the event these costs can add up quickly. 

14. Learn to negotiate.
When someone first offers up their pricing think of the number as a jumping off point rather than the final offer. There's always wiggle room to cut costs if you are open to eliminating certain things from what's being offered. Being open and honest about what you can afford and what you can get for that price point is a smart way to handle a negotiation.
15. Supplement professional photos/video with material taken by guests.
When all else fails, count on family members and guests to contribute their own footage from the special day. Leaving out disposable cameras will encourage everyone to snap pictures the entire evening which will mix in nicely with the professionally shot footage.
Make sure you bring knowledge and a list of questions with you to any meeting with potential photographers and videographers to be sure you're getting ALL the information you need to make a smart and financially fit decision.
image via Flickr