The Unexpected Way I'm Saving Money On My Bridesmaid Costs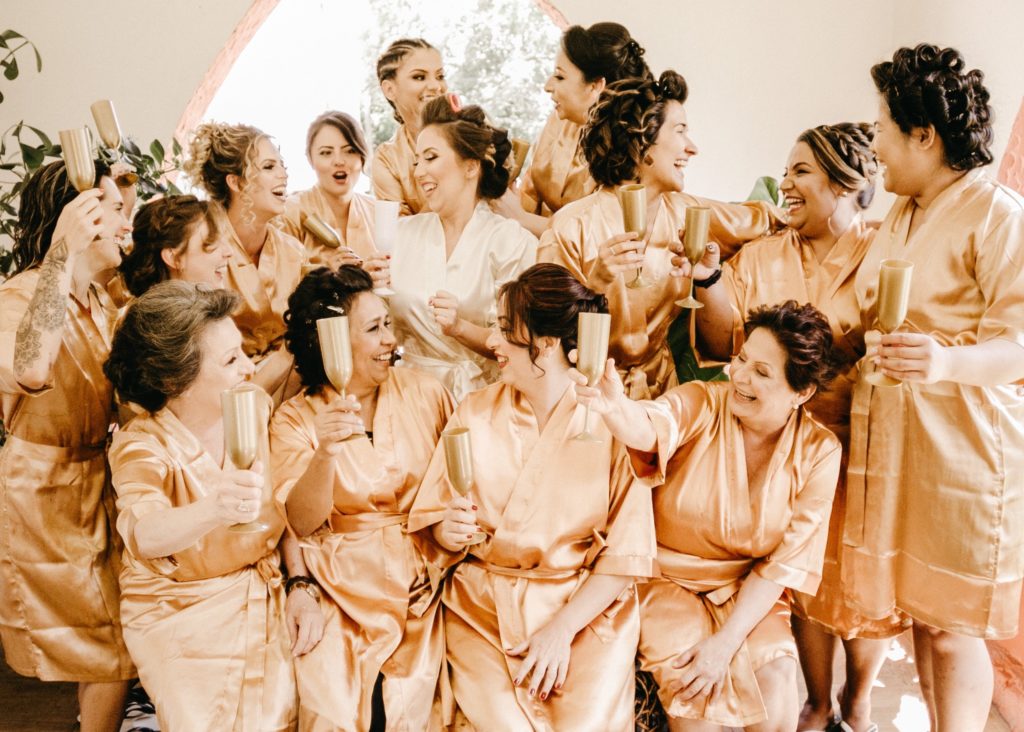 This post is sponsored by Rakuten. 
This is a little naïve of me to admit, but it's the truth: I didn't think being in an American wedding would cost that much money. I'm South Asian, and we're known for lavish, multi-day weddings. So when a close friend of mine from college asked me to be a bridesmaid at her wedding, the first American wedding anyone in my family would even attend, I didn't hesitate to agree. I'd seen enough weddings on TV, and while they looked expensive, they were also just one day. A few hours, even! How much could I, a bridesmaid, possibly be expected to spend? 
Quite a lot, it turns out. The wedding is in October, just outside of Boston, and I currently reside in San Francisco. While flights are a large and substantial cost, I figured they'd be my biggest expense. After all, I went to school in Boston and had a number of friends living in the city who I could crash with the night before the wedding. But as it turns out, there's a rehearsal dinner the night before the wedding. So, I'll need to fly in two nights before the wedding…no problem! I can just use a nice cocktail dress and heels I have in my closet for the dinner and ask a friend if it would be alright if I crashed for two nights. 
But then: the bachelorette party! Another roundtrip flight around the country I hadn't anticipated. And, what's more, the bachelorette is being held in an Airbnb in Cape Cod, arguably one of the most expensive summer regions in the country. The cost of the Airbnb would be split among the girls invited to the bachelorette, along with the cost of gas to and from the Airbnb to Boston, where the majority of the bridal party resided. What's more, a weekend bachelorette trip would mean a variety of other expenses: food, alcohol, cute clothing for a number of posed pictures, sandals, etc. 
Honestly, I wasn't thrilled about these expenses racking up, but I figured they were fairly typical. The large expense I didn't anticipate, though, was the bridesmaid dress. You have to understand: we don't have bridesmaids in South Asian weddings. I sort of figured that a bridesmaid was just a close friend of the bride who helped them get ready on their wedding day and partied with them at the bachelorette beforehand. I never really gave much thought to where the bridesmaids' dresses came from. Or who picked them. Or how much they might cost. Naïve, I know. 
The bridesmaid dress is the one component of this entire wedding situation in which I, as a bridesmaid, have the least amount of control. I can always choose not to attend the bachelorette. Or to re-wear a tried and true staple from my wardrobe for the rehearsal dinner. I can save up on points and miles to get a deal for an October wedding. And I can find friends to crash with so I don't have to deal with the hassle of a hotel room (an advantage I possess as I am currently attending this wedding solo and don't need to stress about finding a friend with space enough for two people). But, I really can't choose the bridesmaid dress. Or shoes. Or jewelry.
Luckily for me, my friend is extremely meticulous and chose the bridesmaid dress in early February. Ever since, I've scoured the internet for deals on the dress and have been tracking deals on Rakuten to ensure I'm able to receive the maximum possible cashback percentage on my purchase. With Rakuten, I can see every possible sale that a store is having on one convenient page — a real game-changer, since I don't have to go searching for promo codes on sketchy websites — and can also see how much cashback I can receive on a purchase online or in-store.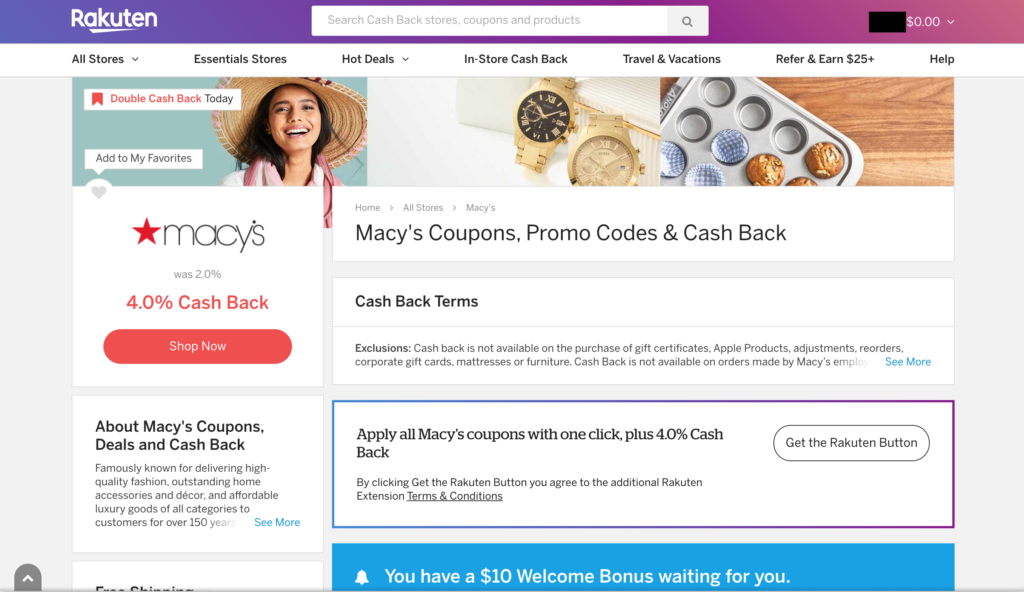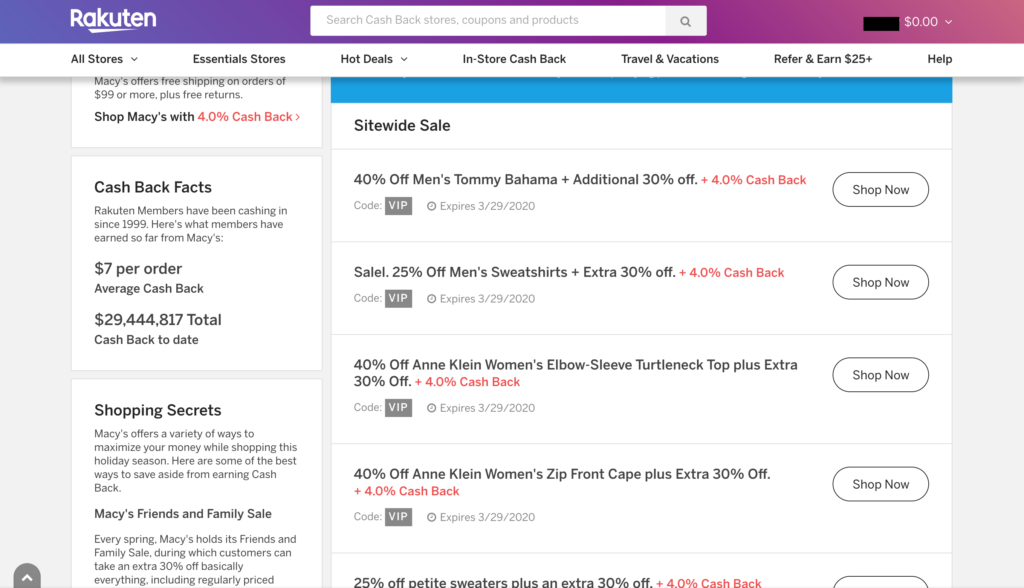 Often, Rakuten will run promos in which the cashback deals double, or even triple. Sometimes, those promos are solely for in-store purchases, which I've been able to capitalize on by having items, just as shoes or jewelry, sent directly to the store where I can receive much more cashback than I would have if I had ordered the items online and had them shipped to my door.
Currently, I am subscribed to Rakuten's emails solely so that I can check and see when the stores which carry my bridesmaid's dress will run cashback specials. I then plan to use first-time shopper promo codes to save even more money on the dress so that I (hopefully!) manage to spend under $100. Even if I decide I need a separate outfit for the rehearsal dinner, Rakuten has partnered with Rent the Runway so I can receive cashback on any dresses I rent and almost definitely fall under my $100 threshold. 
Rakuten is useful even for other aspects of my bridesmaid journey: I can book flights and hotels through deals they have for websites like Expedia and save more than I would normally be able to. In the surprise situation in which I happen to have a plus-one for the wedding, I plan to use Rakuten to get cashback on the best hotel deals possible, too.
Attending a wedding can often be a much larger cost than one anticipates, especially if it's your first wedding. But there are ways to minimize those costs and save money if you're willing to spend a little time perusing the best cashback deals and have some patience to wait on companies like Rakuten to offer additional specials. Even being able to save $15 on a dress or shoes that I didn't have too much choice in purchasing (and honestly might not be able to wear again!) is a huge save. After all, every dollar counts.
Image via Pexels
Like this story? Follow The Financial Diet on Facebook, Instagram, and Twitter for daily tips and inspiration, and sign up for our email newsletter here.