The Upgraded Cooking Skills I've Learned Since Quarantine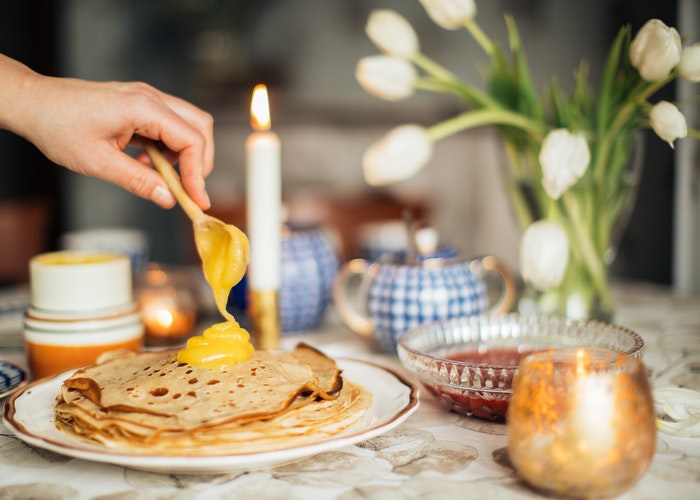 When you work a regular schedule, free time doesn't come easy. Whether you have to stay at the office late, you have plans to meet up with friends for happy hour, or you're just exhausted when you get home from work, most of us don't have a whole lot of energy floating around. So when it comes to food, convenience is king. Your go-to food habits become quick meals and takeout. Even if you love food, trying new things in the kitchen may not be a top priority. 
While I don't subscribe to the idea that isolation should translate to productivity, I'm staying sane during this crisis by keeping myself busy. With more time at home, I wanted to up my cooking game. But I also know that taking on something overly ambitious would be discouraging, especially since I'm relatively new to cooking. Instead, I worked on mastering a few seemingly intimidating cooking skills. In an effort to create small goals for myself during quarantine, here are the upgraded cooking skills I've recently learned.
Poaching an egg (and trying a new recipe)
Eggs are one of my grocery staples: They're a cheap source of protein and are incredibly versatile. While I fry or boil an egg almost daily, there's still room for experimentation. After watching this Bon Appetit video on Every Way to Make an Egg, I realized that I still have much to learn.
First up: The Poached Egg. Why is this such an intimidating endeavor? Poaching an egg had been on my cooking to-do list for a while now, but the gourmet element of this method had me stalling. Well, not any longer! Everyone who had ever told me not to fear egg poaching was correct — it's incredibly, almost embarrassingly easy to poach an egg. Simply boil the water, crack the egg in, and create a whirlpool effect in the pot to keep the whites from stringing. Turn the burner off and let the egg sit for five minutes with the cover on, and voilà! You've got a perfect bougie egg. 
My more adventurous, but still relatively simple, egg adventure was Shakshuka. With origins in North Africa and the Middle East, this classic egg and spiced tomato-based dish that's traditionally breakfast could easily be lunch or dinner, too. Made from inexpensive vegetarian ingredients, Shakshuka is hearty, healthy, and made in a single skillet. I recommend this recipe! 
Pickling food
With infrequent trips to the grocery store, we have to stretch the life of our produce. Pickling extends the shelf life of food and can preserve it for months. Plus, it's a delicious way to bring variety into our meals at home. 
With these reasons in mind, I decided to give it a shot with the easiest version of pickling I could find: pickled onions. This was a good choice because it can be done very quickly and in one step, as opposed to something like kimchi, which requires several stages of lacto-fermentation. Quick pickled onions are ready to eat in 1 hour — the optimal amount of time for my not-too-ambitious approach to the kitchen. 
When they turned out well, I got the rush I was after. For a week, I added them to everything from fish to crackers, recalling my victory with each crunch.
Making crepes
There's no time like the present to make you miss travel, and nothing like a crepe to make me nostalgic for my days studying abroad in France. Romanticizing these traditional thin pancakes, I got out my cast iron pan and coated it with butter on a Sunday morning. With minimal ingredients and prep needed, crepes proved to be an excellent, fancier alternative to pancakes. 
My partner and I enjoyed the crepes — one served savory, the other sweet — outside on our balcony at a bistro-style wooden table. We had fresh coffee in hand and the sounds of an Ella Fitzgerald record singing through the screen door, and we could have convinced ourselves for a moment that we were on a terrace in Europe. Little joys like this are getting us through quarantine.
No-bake baking
Like so many others, I thought I could use this time to finally learn some baking skills. My Instagram feed is flooded with first attempts at sourdough and decadent cookies —  surely this would be my new hobby too, I thought. But after a few grocery trips, I quickly realized I was too late to the trend. I couldn't find any flour, and since I'm generally not a baker, I didn't have any stashed away. 
Enter peanut butter balls: a childhood favorite that's both nostalgic and foolproof, with no flour required. My grandmother always brings these addictive sweets to holiday gatherings, and I missed them this Easter. While the recipe she sent me was a little elaborate, a Google search showed me that you can easily make peanut butter balls with 4-5 ingredients. Plus, there's no oven involved. Just mix the filling, dip the balls into chocolate and let them set in the fridge. A recipe for success. 
Making bone broth 
Food trend skeptics might roll their eyes at this one, but bone broth is becoming a popular food in the West for good reason. Praised for health benefits like detoxification and digestion, it's also full of collagen that's great for bones, joints, and skin. 
I've learned that bone broth is simple to make but requires time. If you're willing to put in a bit of TLC, there's just as much comfort in making this soup as there is in sipping it. 
My partner and I make our broth with a variety of beef bones, which you can find frozen at any grocery store. The process begins by roasting the bones for about 30 minutes, and then comes the main step: simmering them in the soup. Depending on your equipment (Instant Pot, Slow Cooker, etc.), it can take between 24-48 hours until the nutrients are released and the flavors have completely brewed. With the conventional stovetop pot approach, we let ours simmer for a few days. During this time, we developed a bit of a relationship with the soup, affectionately naming it "brothy." A labor of love, bone broth is the ideal minimal effort cooking project. 
Amidst the mass uncertainty and anxieties in the world right now, cooking is an act of care that is healthy and meaningful. Not only is it self-care in that making food for yourself is a basic need, but cooking can also encourage creativity and patience. It can trigger positive memories, like my grandmother's baking and my time spent abroad. For me, learning these new skills made me feel accomplished, created focused my spiraling mind, and even transported me elsewhere when I needed an escape. 
Ashley Corbett is a communications professional and freelance writer based in Halifax, Canada. An avid traveler, she recently settled on her native Atlantic Coast where she loves to read, try new things in the kitchen, and get outside. You can follow her adventures on Instagram @ashley_corb. 
Image via Pexels
Like this story? Follow The Financial Diet on Facebook, Instagram, and Twitter for daily tips and inspiration, and sign up for our email newsletter here.