This Career Shortcut Helped Me Land A Lucrative Job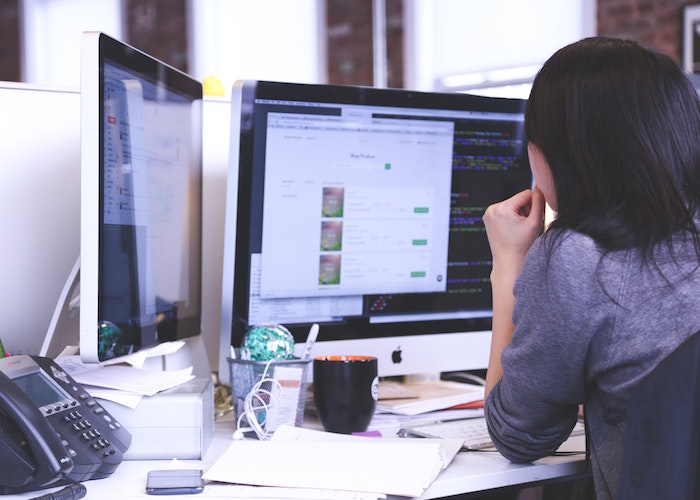 Graduating from university didn't prepare me for the working world. Halfway through studying law, I realized a legal career wasn't for me. However, I kept studying for the sake of finishing my degree, and I had a vague plan to apply to various internships afterward.  But whilst living in London and dating an engineer, I discovered a genuine career lifehack. 
The firm where he worked was desperate to take on more computer-aided design (CAD) technicians who could use a particular type of software to edit existing building layout plans. The technicians would be expected to make small tweaks in 2D using the software and did not require a relevant technical background. The work would be straightforward, contract-based, and exceedingly well-paid. I browsed CV Library and discovered many, many other firms offering upwards of £18 ($23) per hour for 40-hour weeks, with the upper range reaching as much as £42 ($55) per hour for those who could also edit schemes in 3D.
I realized that if I could learn this very specific skill, I could command a decent salary fairly easily.
I'd stumbled upon an in-demand, accessible, and lucrative niche.
And as it turned out, the software in question, Bentley Microstation, was offered as a free download for a trial period of one month. I set myself a target of mastering 2D Microstation within that time using the online tutorials available on YouTube and a DVD series I bought on Amazon. 
Once I updated my LinkedIn profile, recruiters began to contact me. I was surprised by the level of demand and how quickly things moved. I had two recruiters working on my behalf and three interviews planned within a fortnight of finishing my DVD tutorials. The first was with a small engineering agency based near the central area of King's Cross. The other two were with large, multinational firms. 
Learning the software was easy. After all, it's designed to be intuitive. The real hurdle would be convincing potential firms that I was — or had always wanted to be — working in CAD as a career choice. It wouldn't sound great if I simply told them, "I've taught myself within a few weeks and am here for the money." 
I was honest about my inexperience without focusing on it.
During my interviews, I positioned myself as an eager self-starter — which was true  — looking to get hands-on right away. Fortunately, I received an offer from the small firm immediately and decided to go for it. They only needed someone for a six-week contract at the lower end of £18 ($23) per hour, and I figured it would be a good start. In hindsight, perhaps I should have negotiated more. 
The work was easy if a little dull. But I was still processing the fact that I'd started a lucrative job with zero work experience. At first, I did feel a bit anxious about this. However, by the end of the first month, I felt much more comfortable. I was able to do the job, and I realized nobody cared about my work history as long as I could do the work.
I leveraged the smaller gig to work for larger companies.
Once I finished my contract, I got back in touch with recruiters who again lined up several interviews, this time only with large companies. A week later, I landed the £24 ($31) per hour role with another firm based in Central London. There were optional opportunities to work extra hours on the weekends, which I sometimes took advantage of. My highest-paid week during that time involved working 60 hours and earning £1,440 ($1,885). Not bad for a 23-year-old. This was more than what I would've earned in a legal career after the expensive one-year training course that every prospective lawyer must complete after graduation. 
Whilst working at the second firm, I completed a course in 3D Microstation, which would allow me to move up to the £35+ ($45) per hour range. However, around that time my partner and I decided to make a lifestyle change and move abroad to the countryside. This meant moving away from the cities where these niche opportunities are often found. 
It was lucrative while it lasted, and I check back on job listings every now and again just to see what skills are in demand. What I learned from this experience was that golden opportunities exist if you know where to look and you're willing to learn a specific new skill.
Inexperience isn't always a barrier.
When there is high demand for a niche skill, experience is less important than whether or not you can do the job. Some of my interviews involved doing a CAD-based exercise then and there, which was a bit daunting. However, most firms are happy to give you a shot if you have a good attitude and come across as quick to learn. 
Look at opportunities where there are likely to be more vacancies than there are candidates to fill them and that allow you to teach yourself the desired skills quickly. What skills are in demand at the moment?  To find and learn these skills, make the most of free online courses and trials. At the moment, Skillshare is offering two months' membership for free, and you can cancel anytime. They offer courses on everything from digital marketing to various CAD software such as Adobe Illustrator and Solidworks. They even have tutorials on how to ace your job interview. I've heard that LinkedIn Learning (formerly Lynda.com) is also a good option, and they offer a month for free too. I signed up for Skillshare in the new year and am currently going through all their courses on finance and investing. 
*****
What excites me the most about the internet is how it gives us much more autonomy when it comes to our own professional development. We no longer have to rely on traditional education to get a high-paying job and can direct our own learning wherever we choose. It's also much easier to identify profitable and in-demand skills by searching online job boards.  Being able to teach ourselves new skills shows adaptability, which is a huge plus in employers' eyes. 
Siobhan is a digital nomad who can be found exploring the Austrian Alps in her spare time, whilst touting the financial benefits of a vegan lifestyle. You can catch up with her on Twitter at @siobhan_writer. DM Siobhan for tips on creating a work-life balance on your own terms.
Image via Pexels
Like this story? Follow The Financial Diet on Facebook, Instagram, and Twitter for daily tips and inspiration, and sign up for our email newsletter here.