This Is Exactly What I've Spent On Clothes In Six Months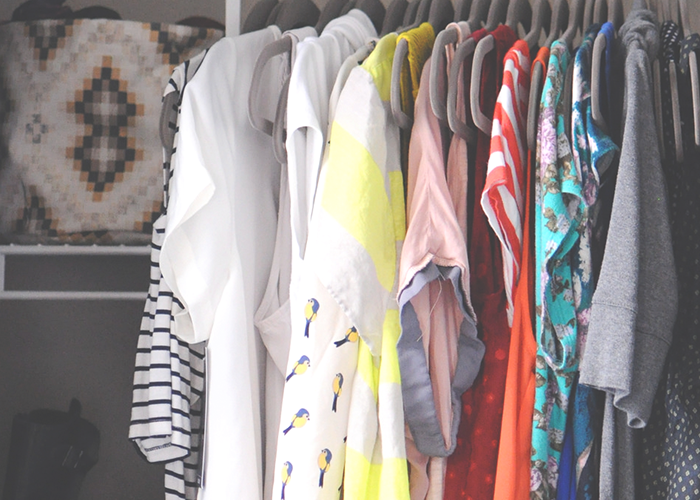 When I first wrote about my goal to not buy clothes in 2015, I was still on a purging high after using the KonMari method
on my wardrobe, and probably set the bar too high. Buying absolutely no clothes in a year is tricky. There's always one sale or another going on, and each sale (if you believe the ads) is the last sale that will ever happen, so you better buy that striped sweater! Or at least that's what goes on in my head.
So far in 2015, I've spent $91.91 on clothing for myself. That's significantly more money than if I had followed my goal to a T, but I'm ok with it. I certainly know I've blown $91 on a single shopping trip more than once in the past, so this is still improvement.
Here's how it breaks down:
$6 top and jacket, second hand
$15.96 WalMart swimsuit
$4.95 shipping for "free" (using points) sports bra from Fabletics
$40 two tank tops from Everlane
$13 Gap dress (originally $59) (similar dress)
$12 WalMart short sleeved cardigan (similar)
A few thoughts.
The WalMart Swimsuit vs Everlane Shirt Issue
Fifteen dollars is very cheap when it comes to women's swimsuits. The suits that I drool over are in the hundreds. And yes, there's a lot of middle ground between my WalMart suit and a luxury suit, but I deferred to practically in this purchase. (Limited local options, hate shopping for swimsuits online, just wanted one now.)
In contrast, twenty dollars is a lot (for me) to spend on a single shirt. I bought the two Everlane shirts because I 'needed' some tank tops and wanted higher quality because I knew I'd wear the shirts constantly. I'm very happy with the shirts (and would buy everything Everlane sells, especially this dress, if I had the $$$$.)
The Unfabulous Fabletics Issue
I've called to cancel my Fabletics account multiple times (the account entails a discount, "curated picks" each month, and points). Each time the customer service guy gave me extra points (500 each time) so I stayed. I redeemed the points for a sports bra and headband (about $40 value) and paid the $5 for shipping. Meh. I think I'm going to really cancel the account now. In late 2014, I bought a pair of running leggings from Fabletics, and they're great, but everything else has been lackluster at best, and I don't want to deal with the monthly decision to buy or not buy one of the curated outfits. (And I can pick my own outfits, thank you Kate Hudson.)
The Thrift Store is my Best Friend Issue
Six dollars for a blouse and a lightweight, army-green moto jacket. Need I say more? Embrace the thrift store.
The Last Issues
Even though I have bought clothes this year, the original goal has stuck in my mind and encouraged prudent purchasing. It's made me realize how many times I randomly browse Old Navy or Zulily without a predetermined need, or any need at all. Currently the only item I almost kinda truly "need" is a pair of shorts. The only pair I have I love, but I've had them for over two years, and threadbare is in their future. (I slightly kick myself for not buying shorts at Gap, but there weren't any on sale.) My revised goal is to make it to the end of the year and only spend a total of $200.
Also, I've pretty much abandoned Pinterest, unsubscribed from store mailing lists and unfollowed Anthropologie/Madewell/etc on Instagram because all that just makes me want to go buy cool stuff.
A big part of getting smarter about shopping has been removing temptation, and I've found that when it comes to unnecessary clothes shopping, it's out of sight, out of mind.