4 Tips For Reselling Your Clothes, From A Former Buffalo Exchange Buyer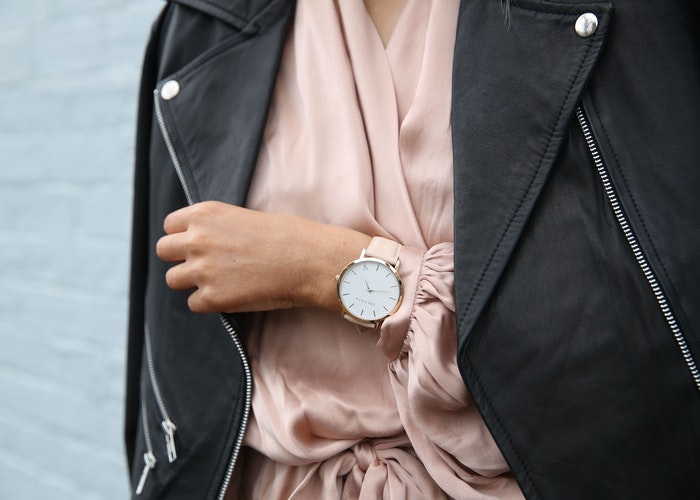 When I was in college, I worked as a buyer for Buffalo Exchange, a well-known resale clothing store in the US. The store operates under a "buy-sell-trade" model where customers bring in clothes to receive store credit or cash, based on the value of the items the store decided to buy from them. This model is different from thrift stores like Goodwill, where inventory is generated from free donations, and consignment shops like TheRealReal, where you must wait for an item to sell before you receive cash.
Selling your unused clothing is a great way to earn extra money, and services like Poshmark, Letgo, and good-old eBay make reselling more accessible than ever. If you're interested in making the trips to your local reseller more effective, here are some things that buyers and customers are asking themselves when they look at your clothing:
1. Is it an on-trend or classic piece?
When I first got to college, I needed bubble necklaces in every color. And remember that summer when everyone was wearing high-low skirts? Today, a buyer would reject these items immediately. If you aren't wearing an item anymore because it's out-of-date, chances are, no one else wants to wear it, either.
Secondhand clothing stores are looking for that top you got from Zara last month that was a little out of your comfort zone, so you stopped wearing it — but someone else might. They're also looking for those timeless pieces: a crisp blazer that no longer fits, a floral sundress you wore to a wedding, a wool cardigan you got as a gift, and sneakers that don't fit your office dress code are perfect items to sell.
2. Is it in season?
90% of the items we took would hit the floor within 48 hours, which meant we were looking for items that would sell immediately. We told sellers that we always take in "the best of the best" of every season. In other words, if you had a brand new-with-tags Canada Goose parka, we might buy that in the middle of August because it's a great find. But for the most part, people are looking for clothes to wear in the season they are in, so we're mostly looking for shorts and tank tops in August.
Pro tip: The best thing to do is to sell at the beginning of a new season. When you are swapping out your winter wardrobe in March, pull out the spring blouses that don't fit anymore. Everyone is shopping for new spring styles, and your florals will be perfect for someone else. Set a reminder to cull your wardrobe at the start of each season, when these resellers are actively looking for fresh items.
3. What condition is this in?
Perhaps this is obvious, but the condition of your clothes is the first thing buyers look at. Does your white blouse have pit stains? Did you forget about that cherry ice pop you sat in last summer? Have the hems of your bell-bottoms started to fray? Is your jacket missing a button? Secondhand clothing stores have a stigma for being "dirty," and a rack full of pilling sweaters does not build customer loyalty. 
Clothes do not receive any treatment before hitting the floor, so sellers are expected to only bring clean, well-kept clothes. That being said, you don't have to go crazy dry-cleaning and ironing everything before you bring it in–wrinkles fall out, but cigarette smoke does not. Before bringing in your items, give them a quick refresh to improve your chances of selling. 
4. What's the original value?
We had one woman come in regularly with a massive suitcase of clothes. She was a stylist from a prominent New York family and sold very high-end items that she used once and then no longer had a need for. We almost always took everything that she brought in, and she would walk away with around $250 in cash — which was the original retail value of maybe one thing she sold. 
But she sold to us because it was the fastest way for her to clean out her always-expanding closet. And while she didn't necessarily need the money, she thought it was nice to have some extra cash on hand. Being in the center of New York, the store frequently saw designer brands which meant we needed to fairly price their clothes against an old GAP sweatshirt. The lesson here may be obvious — clothes with a higher original value are going to be valued higher in the secondhand market too — but it's worth pointing out if you wonder why your trade-in value is so low. 
*****  
The beauty of shopping secondhand is you can get some great deals on high-quality items. But as a seller, someone's great deal can feel like your short change. We typically priced items around 25% of their original retail value, and then sellers could choose to get 50% of that price as in-store credit or 30% in cash. (For example, a sweater from Madewell retails around $100, so the store would price it around $25 and you could receive $7.50 in cash.)
I know what you're thinking, "only seven dollars for my beloved Madewell sweater?" But remember, these stores run as a business. They donate a portion of their profits to local charities, but otherwise, they are in it for profit, just like Madewell. You may get a little less cash for your used clothing, but consider the upside: You don't have to spend an entire weekend taking photos, writing catchy descriptions, printing out shipping labels, or waiting for your item to sell in order to receive your cash. You walk away with an empty bag and, if you're lucky, enough cash to treat yourself to a nice lunch.
Riley is an eCommerce coordinator and aspiring plant mom in New York. You can follow her on Instagram for outfit inspiration, studio apartment hacks, and opinions on the Oscar nominees at @rileyoh_.
Image via Pexels
Like this story? Follow The Financial Diet on Facebook, Instagram, and Twitter for daily tips and inspiration, and sign up for our email newsletter here.