The Totally-Doable Way I Scored My Designer Wedding Dress For Free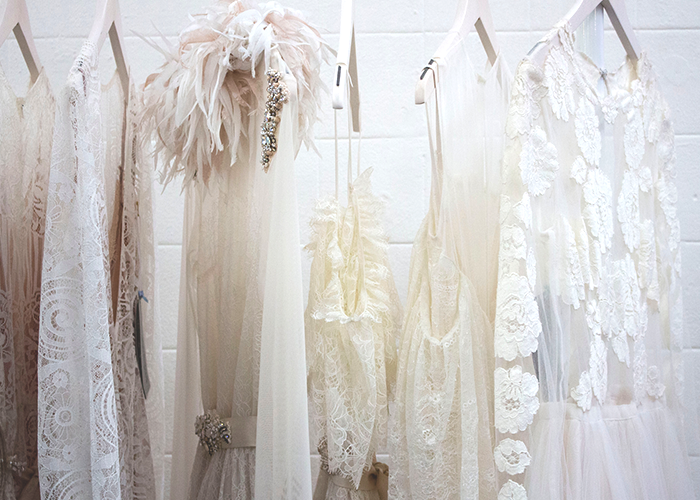 Growing up, I was never one of those girls who salivated over weddings, frilly ball gowns, and the idea of throwing a huge party in which I'd have to forcibly mingle with my parents' old co-workers who I hadn't seen in years. The only superficial aspect of weddings that I was even sort of enamored by was looking at engagement rings. They're beautiful, timeless, sentimental, and an investment that retains its value over time — unlike expensive gowns and fancy bouquets. That's not to say that I was repulsed by weddings, though. I frequently watched Say Yes To The Dress marathons with my roommates in college, and boy did I have opinions of my own. (Pnina Tornai, you are doing too much.)
When I got engaged myself, I shuddered at the thought of spending so much money on a party. I'm not a cheapskate by any means; I frequently splurge on designer handbags and spontaneous travel. But something about weddings still irked me. Perhaps it was the expectation that you put your guests' preferences ahead of your own. Perhaps it was the offensively inflated prices for catering, DJs, and photographers as soon as the word "wedding" leaves your lips. Perhaps it was apprehension that my love of luxury would overtake the rational part of me that knows that being needlessly frivolous isn't pragmatic. Perhaps (and most likely) it was all of these things and then some. I looked at sample wedding budgets, talked with my partner about what kind of wedding we had in mind, and buckled down to throw a great wedding without spending way too much money.
After booking our venue, settling on the menu, and deciding on a videographer and photographer, it was time to pick out The Dress. Admittedly, I originally went dress shopping just to please my aunt and grandmother who were in town for my brother's graduation and wanted to be involved. Going into it, I had no interest in leaving the boutique with a gown; I was simply going to create some fun memories with family.
As my appointment went on, my preconceived notions were confirmed. I watched brides-to-be try on dresses around me, and I felt as if I was living in a hellish episode of Say Yes To The Dress. I will say that part of this was my own fault; I went into the appointment thinking that if I were to find a dress, it would be a delicate lace number with sleeves. Something timeless, romantic, and sweet. Unfortunately, I hated those types of dresses when they were actually on my own body. They were beautiful, yes, but too restrictive and not at all "me." For fear of turning this into a diatribe about my personal wedding dress experiences, I'll skip ahead to the part after I tried on a bunch of horrible dresses (including a sweetheart-neckline-strapless-trumpet-gown that literally every #basic bride wears, and a subsequent dress that looked like I was going to a toga-themed frat party).
Towards the very end of my appointment, I finally found a dress I loved. Although I originally booked the appointment at this specific boutique because they were one of the few retailers in the area to carry Hayley Paige gowns, I ended up nixing about every Hayley Paige dress I tried on because it fell into the "I love gowns with lace sleeves in pictures but actually I freaking hate them on myself" category. But there was this one gown that was different from the rest. It was brand new to the store, and my consultant (bless her heart) brought it into my room after I told her to scrap any ideas I had prior to my appointment and to bring in something random. (Side note: friendly reminder to let the experts be experts, or you'll end up trying on dresses that look like togas.) The dress she pulled at the last minute was gorgeous, unique, and embodied my personality. Even my family — who was originally sold on the aforementioned sweetheart-neckline-strapless-trumpet-gown for #basic brides — fell in love with this Hayley Paige stunner. I couldn't believe my eyes. I came in here with one idea for a dress (but totally not intending to seriously purchase), and I ended up wanting to leave with a dress that would have never caught my eye on the rack.
So here came the tough part: looking at the price tag. I had reluctantly given my consultant a budget after she pestered me. It was something like, "There's not really a budget, but I'd like to be under five grand, but like I'm also not opposed to a really inexpensive gown that looks beautiful because I realize spending thousands of dollars on a gown I'll wear once is excessive." (Yes, I basically worded it in a haphazard string of nonsense just like that.)
I'd refused to let her tell me the prices when I was trying them on. I didn't want to let the numbers sway me either way: by convincing me one dress was nicer than another because it had a higher price tag, or that I should automatically buy the least expensive dress because there are children and homeless people starving across the country. When I'd settled on The Dress, I finally let the consultant tell my family and me the price. It was within my "budget," although double what the hippie in me was hoping to spend. I hemmed and hawed with my family — and my handy dandy maid of honor — about if I should spend that much on The Dress.
Spoiler alert: I bought it. My reasoning was that my dress was not so bridal that I couldn't wear it again to a black tie event or charity gala — although my mom jokingly rolled her eyes at that statement and bet me that I'll only wear it once. I also don't want flowers at my wedding (I mean c'mon, they die immediately and aren't even keepsakes), so my fiance and I willingly slashed that line item from our budget. And lastly, I could get the dress for free. Yes, for free.
No, I am not an influencer who gets comped clothing, and no, I didn't have family purchase the dress for me. I got my Hayley Paige wedding dress for free through the beauty of credit card rewards. I've talked before about how I swear by the three credit cards that I strategically make purchases with, and because of that, I've racked up thousands of dollars in cash back rewards.
I know what you may be thinking; to rack up that much money in cash back, I must be spending major dough on my credit cards. And that's true, as I make 100% of my purchases on credit cards. Car insurance for three cars? It goes on my credit card. A huge group trip with friends and family? I'll volunteer as tribute to put it all on my credit card (as long as you vow to Venmo me soon after). Dinner with my besties? I'll cover it! (See previous statement re: Venmo.) Basically, every excuse I can use to rack up rewards, I'll take it. Sure, it is sometimes a risk on my part — especially when I have to hound a friend's boy toy to Venmo me his share of this trip — but it's worth it to have all that money piling up in an extra rainy day (slash spontaneous wedding dress) fund.
And as an added benefit, I have a card from my preferred credit card account issued to my brother. He's just entering college, and it's an opportunity for him to learn about reasonable spending under my wing. Sometimes he spends an obnoxious amount of money on video games, frozen yogurt, and gas for his car…but he has a job and faithfully pays his share. So as for me? Once again, I just sit back and collect the rewards.
I realize this strategy won't work for everyone. Depending on the credit cards you have, you may not be able to collect cash back rewards or, if you do, you can only claim them in statement credits and gift cards. But for anyone who is a faithful credit card user like myself, it's worth it to find a great cash back card that meets your needs. You never know — you might just end up scoring enough rewards to get a designer wedding dress for free.
Alexis Dent is a poet, essayist, and the original White Collar Dropout. Her first poetry collection, Everything I Left Behind
, is out now. Read her newsletter for dreamers, doers, and hustlers by joining the White Collar Dropout collective. 
Image via Unsplash