8 Delicious Trader Joe's Items That Taste Homemade For $7 Or Less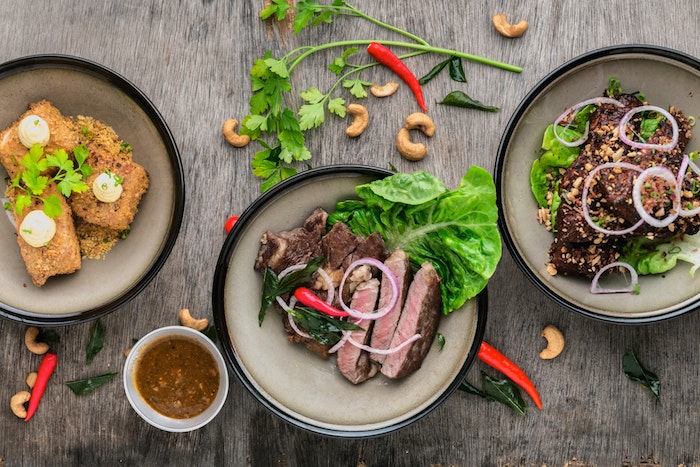 When I'm feeling kitchen stuck (like, writer's block but with meal ideas), or know I just won't have any spare time to cook meals from scratch, I make a trip to Trader Joe's and try to get creative with all the frozen and pre-made products. Having a bunch of these ingredients on hand keeps me from reaching for my phone and scrolling through Uber Eats or Doordash, or just settling for eating Doritos for dinner.
All of the below ideas are ones I've already tried, and go back to time and time again. Trader Joe's is so good about variety and flavor, that I never get bored with their offerings. Whether it's pre-made meat, pasta, or sauce, all I need to do is wander down the aisles at TJ's for some food-inspo (and no, this isn't sponsored, although, @TraderJoes, if you ever want to collab, DM me!). I also follow @traderjoeslist, which keeps me updated on all of the new items and gives me ideas.
Here are eight hack-y buys from Trader Joe's that make for super easy and fast meals.
1. Easy Gyros – $4
View this post on Instagram
Did you know that TJ's sells pre-sliced gyros that take only a couple of minutes to fully cook using a skillet? Well, they do — and they are so delicious. All you need for a cheap and quick gyro meal is the aforementioned gyro slices (find 'em near the meat section), pita bread, TJ's tzatziki, tomatoes, and onions. You can also make a Greek salad if you want extra greens in your life.
2. Cauliflower stir fry — $3
TJ's has pre-made cauliflower stir fry "rice," and all you have to do is add some extra protein (if you want). Pre-made grilled chicken is also an option, as is some tofu you can quickly sautee. I usually have some kind of Asian-inspired sauce from Trader Joe's hanging around that I toss in (or I just use sriracha).
3. Ravioli with veggies — $3
Ravioli is pretty much always in rotation in my kitchen since Trader Joe's has such a great variety of them (and ravioli is comforting and delicious). Choose whichever kind you love; currently, I'm digging the pumpkin ravioli because, well, Fall! Next, add a veggie (or veggies) of your choice; I typically choose peas, because they cook so fast in boiled water. Afterwards, add a sauce of your liking. Trader Joe's has a bunch, and if you do go the pumpkin ravioli route, you can always make an easy brown butter sage sauce or get TJ's Autumnal Harvest Creamy Pasta Sauce.
4. Taco salad — $7
Trader Joe's has pretty decent pre-made carnitas I'll use for tacos and taco salad. For tacos, you just need tortillas, lettuce, tomato, onion, and salsa. For a taco salad, swap the tortillas for some rice and voila — presto taco!
5. Curry — $3
Trader Joe's offers several types of Indian-inspired simmer sauces, which essentially are just pre-made jars of ready to use curry. To whip up a quick meal with this, you can sautee some chicken or tofu, or even get pre-made roasted chicken and use a skillet to heat everything up. Then add your vegetable(s) of choice, like peas and/or spinach. And of course, naan. Always naan.
6. Lentil salad — $3
Trader Joe's has ready-to-eat lentils, which make a great side or entree-portioned salad. For my dish, I'll add avocado and cilantro to lentil prep, along with cilantro dressing. If you want extra protein, you can always add tofu, chicken or any other protein of preference.
7. DIY Pizza — $2 – $4
Sure, Trader Joe's has a plethora of frozen pizzas to choose from, and that's great. But if you want to make your own, it doesn't call for many ingredients, and you can generally assemble a pie it in less than 30 minutes. While I've been really into their butternut squash crust lately (which runs upwards of $4),  TJ's also sells regular pizza dough you can roll out and DIY for as little as $1.19. To complete, get pizza sauce and your toppings of choice. For the butternut squash pizza, I've been doing mozzarella cheese, spicy sausage, and sage, but the possibilities are endless!
8. Burgers — $7
No need to get ground beef/turkey, or make your own veggie patties. TJ's has a bunch of yummy different types of frozen burgers, and all you need for a full meal is a bag of buns and frozen French fries if you're feeling fancy. If you're feeling extra fancy, substitute regular puns for potato buns, and regular frozen fries for waffle fries or sweet potato fries.
(This story was originally published October 2020)
Gina Vaynshteyn is an editor and writer who lives in LA. You can find more of her words on Refinery29, Apartment Therapy, HelloGiggles, Distractify, and others. If you wanna, you can follow her on Instagram or Twitter.
Image via Pexels