How I Traveled to Iceland, Amsterdam, & Spain For 3 Weeks For Under $2,000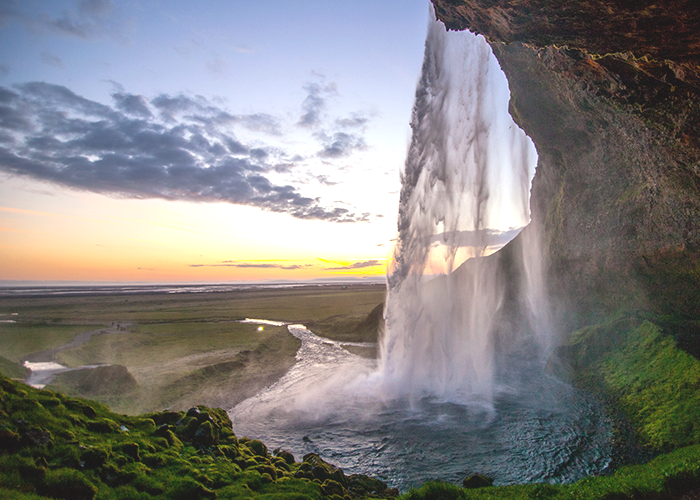 Last fall, I spent three weeks traveling through Iceland, Amsterdam, and Spain for the reasonable price of $1,879.97. This number includes airfare to and from Europe, plus every cent spent on transportation, accommodation, food, and entertainment during my stay. Not only did I get to spend five nights in Iceland, six nights in Amsterdam, and 11 nights in Spain, but I also saw my first geyser, got to know some genuine Viking descendants, ate warm stroopwafels, and fell in love with Barcelona.
I almost didn't write this piece, because I considered the trip to be a huge splurge. I know $85 per night is unattainable for many, and even $60 per night (excluding airfare) is not exactly a steal. Then I realized the experience easily could have cost me double what I paid. I want to share the strategies I used to have the time of my life while still maintaining a budget.
Here's how I kept costs (relatively) low:
I was flexible.
Having flexibility was definitely most important in the planning stages of the trip. I'd just quit my job and had a fantastic rent-free living situation that I could leave at any moment. I had heard from multiple friends and the entirety of the internet that Iceland was the place to go, with its sweeping landscapes and natural hot springs. Thanks to Skyscanner and a huge push on the Icelandic government's part to increase tourism, I booked a one-way ticket from Seattle to Reykjavik for just $284.90. I should also mention that the trip had no real end date, but I imagined it could last anywhere from a few weeks to a few months. I ended up booking another affordable flight home from Barcelona only a few days before my departure, and just in time for Thanksgiving with the family.
Obviously, not everyone can quit their day job and take an open-ended trip to Europe. If they could, I would say go for it and end the article right here. My suggestion is to keep an open mind when it comes to traveling. Search for cheap flights by entering flexible travel dates. Explore multiple possible destinations, and research a city you may have never heard of. See that country you've always dreamed of, but go during the off season when it's quiet and the locals are out. Finally, if your goal is to see the world and save money, avoid going on school breaks.
I went with a partner.
Traveling with a partner can do wonders for your budget and your sanity. I found having someone to split the rental car, research load, and hostel room with to be invaluable. We took advantage of some great deals on two-person private rooms in Amsterdam and Barcelona hostels that even had their own bathrooms. After a 16-person mixed dorm, that kind of privacy felt like a complete luxury.
Traveling with a friend is not always easy, though. You may encounter stressful situations, and have to work together to problem-solve. Because I am a huge advocate for solo travel, I only partner up with someone if I genuinely enjoy my experience with them more than I enjoy being on my own. Make sure your travel goals, budgets, and priorities align. The friend from school that you always need to take care of at the end of the night or the foodie with her parents' credit card might not be the best choice. Discuss your budget openly, where you are willing to compromise, and how you prefer to spend your time and money before you head anywhere.
I used my network.
Once I had a few plans in mind, I started telling friends and acquaintances about my upcoming trip. I decided to take a long shot and ask my one Icelandic friend if he could find me hosts over in Reykjavik. Shockingly, he got back to me the same day with contact information for an amazing couple with a guest room. A few Facebook messages later, and I had a place to stay and a list of recommendations from the locals. My accommodation in Amsterdam worked out equally well when I learned a friend of a friend was now living in the city with her husband and infant daughter. I offered to babysit in exchange for a place to crash, and was welcomed with open arms.
I was amazed that so many people were willing to open their homes to me. I also loved getting to see the cities from a local's point of view, hearing about the history of the Vikings from genuine Viking descendants, and feeling as if I had future friends waiting for me at each destination.
I'm sure you've heard the old saying, "If you don't ask, the answer is always no." This could not be more true when it comes to making connections in foreign places. You might be surprised who's willing to host or show around a wide-eyed American for the day. Of course, remember to be a good guest, clean up after yourself, offer to cook dinner one day, babysit the kids, and invite them to stay at your home next time!
I knew my priorities.
Remember that 16-person mixed dorm I mentioned earlier? It's really not the end of the world if you're prepared and optimistic. Sometimes trading a little comfort for savings is well worth it — like using earplugs and a sleep mask in a hostel, researching dorms with curtains around the beds, and using your legs or the public transportation system to get around. I traveled light to avoid the fee and hassle of checked baggage, bought groceries when I could, and packed lunches or fruit when the hostels offered free breakfast.
If you're on a budget, you have to be willing to trade some comfort for savings, but also know when to trade some savings for comfort (for example, I only took non-stop flights). This trade-off is so much easier when you know your budget and priorities well. If you're a huge foodie but couldn't care less about art — then head to the restaurants and skip the museum. If you hate nightlife but love nature — skip the pub crawl and head to the countryside. Don't fall into tourist traps, and definitely don't just "do it for the Insta." I never even saw the "I amsterdam" sign, and I don't regret it one bit.
What I spent:
Transportation:
Flight from Seattle to Reykjavik: $284.90
Rental car and gas in Iceland: $154.79
Flight from Reykjavik to Amsterdam: $89.99
Flight from Amsterdam to Barcelona: $95.41
Flight from Barcelona to Newark: $268.32
Trains, buses, and taxis: $71.15
Accommodation:
1 night at a hotel during a road trip in Iceland: $51.99
3 nights at a hostel in Amsterdam: $104.64
8 nights at various hostels in Barcelona: $149.99
3 nights at a hotel in Barcelona: $0 (gift)
Food
Iceland: $89.94
I shopped mostly at the grocery store, since eating out was extremely expensive in Iceland.
Amsterdam: $58.68
This is so low because I had free breakfast at the hostel, I packed lunches, and my hosts fed me a few times.
Barcelona: $335.22
Barcelona was a gastronomic dream. Not only did I spend the most time here, but I also relaxed my budget a lot towards the end of the trip.
Entertainment
Cover charges, museum admissions, and tips for tour guides: $124.95
That is exactly how I spent $1,879.97 over the course of three weeks in three different countries. It all came down to being flexible, networking, and sticking to my budget and priorities. Instead of running around checking off every tourist destination on the imaginary 'must-see' list', I opted for some great meals, slow dances, and Ferrero Rocher gelato.
Meghan is a recent college graduate blogging about travel and personal finance at hertinyatlas.com. She likes slow dancing in a burning room and hates cats. Follow her on Instagram.
Image via Unsplash