How Bail Funds Work & Where To Donate To Them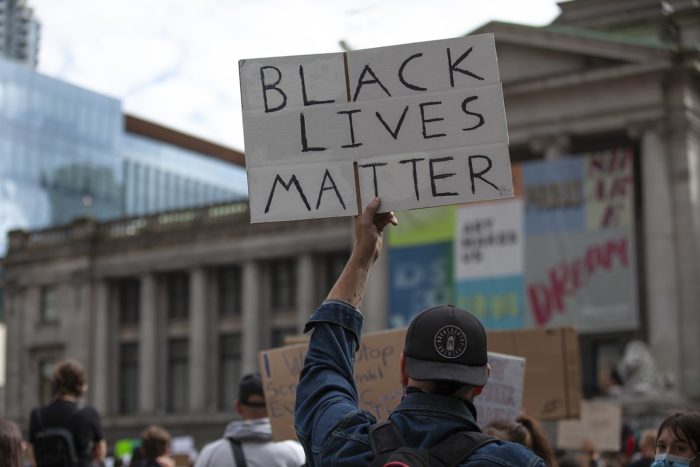 In light of the ongoing Black Lives Matter protests, sparked by the recent killings of George Floyd, Breonna Taylor, and Ahmaud Arbery, bail funds have emerged as a useful way to donate to support the cause. But what are they, exactly, and why are they so important?
(You can read more about supporting Black colleagues here, affordable resources for Black mental health here, and ways to support the Black Lives Matter movement here.)
Basically, bail funds are a way to pay bail for those who can't afford to pay on their own. When someone is released from custody on bail, that person had to pay their set bail in order to leave. They'll still have to show up in court, but in the meantime, they remain free. If you're wealthy, you have no problem paying bail and going free, which makes the system inherently unjust. Also, when an individual acts in accordance with the terms of the bail (generally meaning they appear on their court date), the bail is repaid. In other words, at the end of a client's case, the bail fund gets replenished so it can help someone else who might need it. 
Why are bail funds important? 
According to the Minnesota Freedom Fund (MFF), a community-based nonprofit that pays bail for low-income people, "There is nothing 'normal' about cash bail — the United States and the Philippines are the only two countries in the world where someone has to put up cash to avoid being imprisoned before their trial."
Again, one of the biggest problems is this entire system is based on wealth. The idea is, why should economic factors play a part in who gets to walk free and who doesn't?
Bail funds have come to light recently, as peaceful protestors across the country are being arrested and unable to afford their bail. As the Guardian reports: "More than 3,000 protesters have been arrested in Los Angeles county during the demonstrations against the police killing of George Floyd in Minneapolis, police said, the overwhelming majority of them for non-violent offenses." There are also incidents of non-protestors being arrested for walking home from work. "There's a lot of protesters who are basically disappearing into these jails," Tyler Crawford, the director of mass defense at the National Lawyers Guild (NLG), told TIME.
The price of bail itself can be hefty–MFF research of their locality found that bonds can go well past $3,000, with the media misdemeanor bond being $300. Consider studies that show almost half of Americans can't cover a $400 emergency, and you can see how bails are a huge burden for some individuals.
How you can support bail funds
If you're looking to support a bail fund, The National Bail Fund Network (NBFN), is a great place to start. It is made up of over sixty community bail and bond funds across the country. You can find a list of bail funds to support by state on their website, here. NBFN is also behind the Protest & COVID-19 Emergency Response Fund, the contributions of which will be "distributed across the 60+ community bail and bond funds of the National Bail Fund Network who are posting bail and bond for individuals in immigration detention and local and county jails." 
It is clear now more than ever that we must do the important work of educating ourselves on the systemic injustices present in America and beyond. Even if you can't contribute financially, there is still much you can do. You can find a list of resources via Black Lives Matter here. 
Simplicity Bryan is deeply entrenched in the worlds of self-help, gratitude, personal finance, and organization. She's happiest paddleboarding with her pup and storytelling with a purpose. You can follow her here.
Image via Wikimedia Commons 
Like this story? Follow The Financial Diet on Facebook, Instagram, and Twitter for daily tips and inspiration, and sign up for our email newsletter here.