What To Do, Where To Donate, & How To Support Black Lives Matter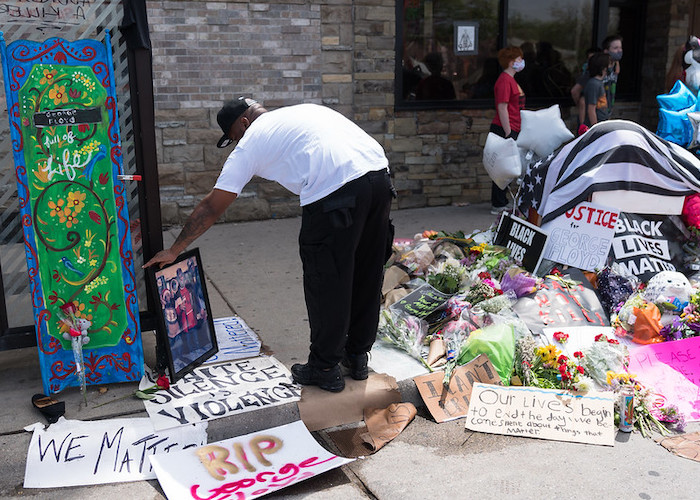 Over the weekend, protests broke out around the world against the ongoing threat and injustice toward Black lives, sparked by the recent murder of George Floyd.
If you consider yourself an ally, now is the time to step up. Maybe you're watching everything unfold, and you want to help but aren't sure how to get started. You probably already know you can donate to the Minnesota Freedom Fund and sign this Justice for George Floyd petition. We've rounded up some additional ways to help and take action. This is in no way an exhaustive list, but we'll keep adding to it  — if you have suggestions, please leave us a comment below.
Being an ally means offering your support even after the hashtag is trending. While we are collectively outraged now, it's easy to overlook this injustice when our social media feeds return to their regularly scheduled programming — not everyone has the privilege of forgetting. So remember: This is an ongoing fight. 
Donate to victims' families.
The families of victims have to pay for funeral costs and, often enough, legal fees, both of which are highly expensive. Many of these families turn to crowdfunding to afford these costs — for example, George Floyd's brother has set up a GoFundMe page to donate to the family. You can search the GoFundMe database for other accounts from victims' families. Additionally, there are bail funds you can donate to (and here's a list of funds by city) for protesters who are arrested and may not be able to afford bail. But these funds aren't just about the protestors — many of them also have a mission to reform a criminal justice system that allows more freedoms for the rich and disproportionately affects lower-income people.
Donate to groups supporting Black communities.
You can also donate to organizations working to empower Black communities. Here are a few:
Speak up.
Fighting for equality doesn't stop at donating money and signing petitions. It's also about figuring out how to be better allies in our ongoing, day-to-day lives.
hey non-black folks, if your parents/relatives/partners/roomates say some anti-black shit while watching the protests / news coverage, take your time to correct them.

that goes further than your tweets and social media posts.

— Yesika Salgado (@YesikaStarr) May 28, 2020
Test your own unconscious bias.
Racism isn't always blatant  — systemic racism and discrimination often get brushed off because well-intentioned people don't want to admit their own unconscious biases. Take Harvard's Implicit Association Test to learn about the biases you may have toward marginalized groups.
Also, you can listen. If you really want to help initiate change, one of the best things you can do as a non-Black ally is to listen without being defensive and with the goal of understanding and empathizing as much as you can.
Not sure where to listen? Author Ibram X. Kendi put together an antiracist reading list over at the New York Times. Here are some additional resources:

Contact your local representative about policies to end police violence. 
Campaign Zero has a 10-step plan of action to reduce police violence, including limiting use of force and requiring body cameras. There are pending policies written to address each of these ten issues. You can find out where your state stands on these policies and issues  — and contact your local representative about them  — using Campaign Zero's interactive tools. 
Image via Flickr
Like this story? Follow The Financial Diet on Facebook, Instagram, and Twitter for daily tips and inspiration, and sign up for our email newsletter here.