What The Bold Type Gets Right — & Wrong — About Money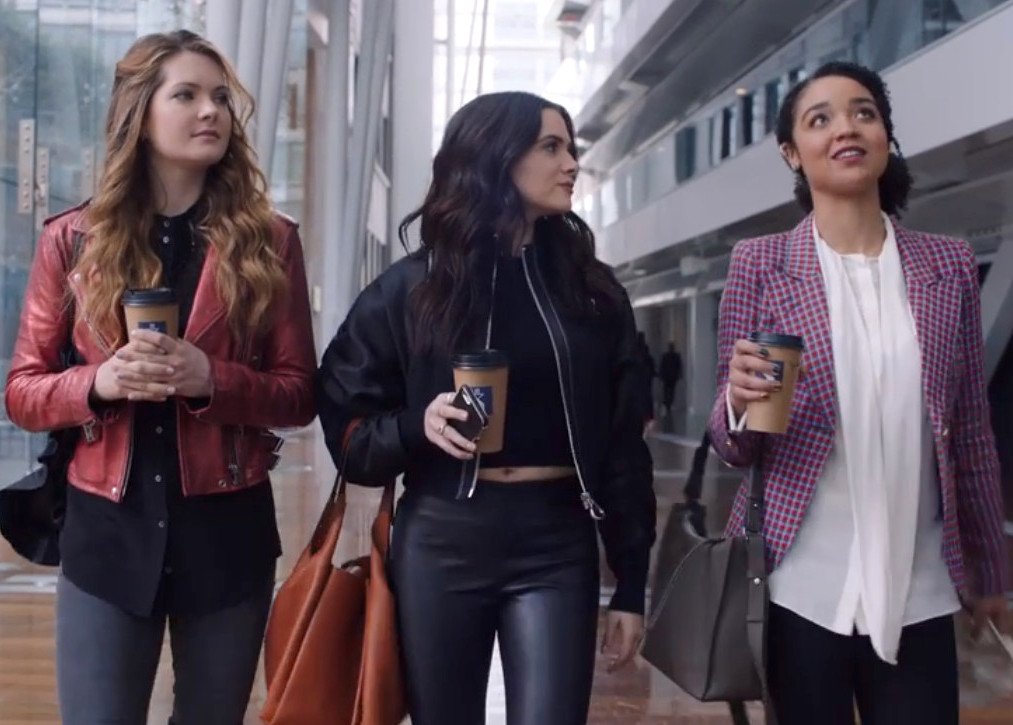 Over the course of its three seasons, Freeform's hit series The Bold Type has garnered quite the dedicated fan base, as do most shows from the network. For those unfamiliar, the show chronicles three women making a name for themselves in the magazine industry. The gals — Jane, Sutton, and Kat — work at Scarlet, a fictional version of Cosmopolitan Magazine that covers everything from designer fashion to progressive politics. And unlike other shows and movies that have attempted to accurately depict the world of magazine journalism in the past — Sex and the City, The Devil Wears Prada, and Beauty and the Briefcase, to name a few — what The Bold Type does best is making its storylines and characters real. That includes when it comes to money.
Journalism has long been portrayed as a glamorous, lucrative career path, which is certainly not the case for most who spend their days chasing bylines and checks. Sex and the City led viewers to believe a writer could afford a lavish life from writing just one column; The Devil Wears Prada made it seem as though entry-level assistants could afford designer clothing. Money is something that television and film seem to always get wrong, and that includes when it comes to journalism
But The Bold Type aims at doing better than the precedent left before it. Of course, that's not to say it doesn't get things wrong. An accurate depiction of journalism — as hard as it may be to admit — might not be entertaining enough for network television, so embellishments are thrown in. Many things about working in the industry are fictionalized on the show, but its depiction of money is a step in the right direction. So what exactly does The Bold Type get right — and wrong — about money?
Most of what the show does right regarding money has to do with Sutton, the rising fashion assistant at Scarlet with dreams of becoming a designer. Throughout the whole show (but especially season three), we see her struggle financially in a relatable, honest way. In the first season, she struggles to decide between a low-paying fashion job and a high-paying advertising gig. This episode (titled "No Feminism in the Champagne Room") showed the conundrum many writers face: Take a journalism-adjacent job for more money, or pursue what you really love? Sutton sticks with the latter and gets a job as a fashion assistant at the magazine. But the salary is less than what she's currently making as an editorial assistant. She doesn't just say "screw it!," taking the lower-paying job and acting as if she'll work it out by buying less Starbucks. Instead, Sutton thinks hard about her decision and makes sure to negotiate her perks in order to make up for the loss of wages so she can balance her life expenses. That lesson is one of the best money-related ones found in the show.
The show also strays away from the all-too-common trap of giving its characters lavish apartments. In New York City, as we all well know, rent is sky high. Jane and Sutton live together, but not in a two bedroom. Rather, Sutton sleeps on a bed in the living room (likely because she pays less) while Jane gets the bedroom. The apartment is small and located in Greenpoint, somewhere that's a little more relatable for most NYC writers than Carrie Bradshaw's Upper East Side home.
In season three, Sutton faces a handful of more money-related challenges. After getting accepted into an esteemed fashion program, she pulls together her money to buy a brand new sewing machine. But unexpectedly, her mother calls and needs financial assistance. Sutton opts of the new machine and lends money to her mother. This kind of scenario is something many of us can relate to and shows how Sutton has to deal with the unexpected hiccups of life all the time, which includes financial issues.
The same goes for many of the other characters on the show as well. Jane, for instance, is jobless at one point and decides to give freelancing a try. But with no solid salary yet, she's not spending time in SoHo at a sample sale or eating an expensive lunch. Instead, Jane is in a coffee shop drinking water and eating a small biscotti (she had to pay for something to keep her seat, after all), waiting to be paid for her freelance pieces.
In season two, Jane is confronted with a large challenge: After discovering she is positive for a BRCA gene mutation, she must decide whether or not to freeze her eggs. The problem, however, is that her insurance does not cover it, and Jane cannot afford the procedure on her own. Instead of the series' writers making up a way for Jane to make some cash, she instead fights for her insurance company to change their policy in order for her to afford the procedure. And yes, she wins.
Kat, on the other hand, is explained to have everything paid for by her parents, which, to the surprise of many, is quite likely for New Yorkers. A report released by The Real Deal claims that nearly 14% of millennials in New York City are receiving financial assistance from their parents when it comes to paying rent. Kat certainly represents that faction and does not have to struggle in the ways Jane and Sutton do, allowing her to offer to pay for things when her friends cannot (like celebratory champagne in the first episode).
Of course, The Bold Type doesn't always do the best. Like other media-focused shows, all of its main characters, even when struggling with finances, are dressed to perfection. Someone who can only afford a small biscotti probably can't have a closet full of trendy tops. The girls also take cabs often, which seems like a huge waste of money when they're commuting to Midtown from Greenpoint and taking the subway is clearly the much cheaper option. Additionally, Kat's financial privilege is exaggerated to a point that becomes unrealistic. Although living in a loft apartment paid for by your parents might be true for some New Yorkers, it appears as though Kat doesn't pay any bills (Jane even calls her out for this in one episode). At the end of season one, in an episode called "Before Tequila Sunrise," Kat spends $11,000 worth of her parents' airplane miles to buy a ticket in order to be let in to the terminal to see her girlfriend. She buys it without a second thought — and without even stopping to realize she could get into the terminal on a much cheaper ticket.
Like any depiction of the magazine industry, The Bold Type has its flaws. But more often than not, it has left viewers — myself included — pleasantly surprised with how it handles money and with how relatable it makes its leading ladies and their finances out to be.
Gianluca Russo is a New York-based freelance writer published in GQ, Glamour, Teen Vogue, NYLON, Vice, The Huffington Post, Yahoo! and more. He is also the co-host of Generation Slay, a podcast centering on influential Gen Z'ers. For more about his work, visit www.RussoG.com or find him on social media at @G_Russo1. 
Image via IMDB
Like this story? Follow The Financial Diet on Facebook, Instagram, and Twitter for daily tips and inspiration, and sign up for our email newsletter here.