What To Know To Be Really Good At Buying Wine, From A Sommelier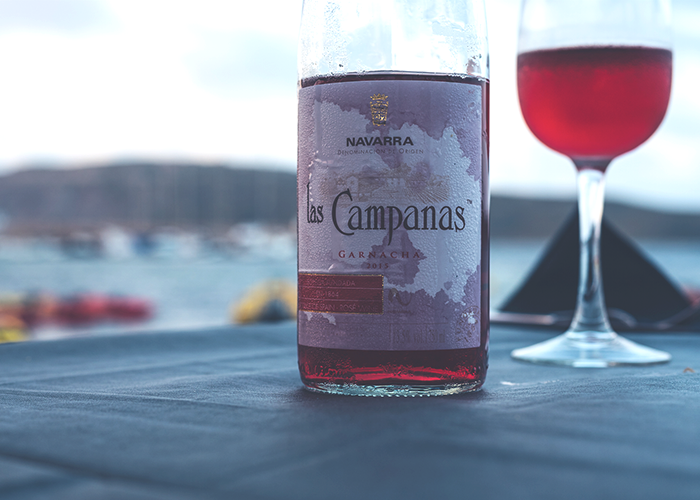 When I was younger, I couldn't wait until I was old enough to drink wine. It seemed so sophisticated, fancy, adult. My dad's side of the family (the Italians) would drink red wine while standing in a circle around the kitchen island while cooking dinner. I couldn't wait until I was a part of it.
Fast forward a few years (or 15): I've developed a bit of a hobby. I taught myself
about food pairings, which were pretty rudimentary in the beginning: white for fish and chicken, red for pasta and red meats. I taught myself to notice the difference between full, medium, and light bodied wines. It wasn't until I met my future mother-in-law, who regularly attends tastings and invited me and my now-fiancee for a learning series at my local package store, Julio's Liquors. Once a month, we explore the history of wines from different regions, and taste a selection. Wines have varied in price from below $10 to over $80, all completely free.
I have been attending these tastings for the past year, all of which have been hosted by the wine director Toni Deluca. Wine tastings, especially if you're a wine newbie, can be intimidating. But Toni, with her bubbly personality and high spirits (see what I did there?), always makes tastings fun, educational, and welcoming to everyone. She was the perfect person to ask about buying wine on a budget.
1. So I guess first things first, what goes into the price of a bottle of wine?
There are SO many factors that can drive up the price of a bottle of wine. At the end of the day, in my humble opinion, the most significant factor is the land where the vines are grown. There is a trickle down effect that determines a wine's price, but it all starts with where the grapes came from, and the quality of the land. In various parts of the world, there are specific parcels of land that are known for producing high quality grapes. This has been established over decades (and in some cases centuries) of testing and trial and documentation. These micro-regions are coveted for their grapes, and of course, there is a finite supply that can be harvested from these parcels, which drives up the demand.  
The demand is even greater in vintages where the weather is very good or very bad. If there is a difficult vintage (for example, if a hail storm destroys a portion of the vineyard), there is less wine produced, and the demand is even greater. By far, the reputation of the land will dictate consumer demand, which then drives the prices up and up. The price will then continue to go up depending on winemaker intervention and the tools the winemaker uses to perfect the wine (such as the decision to use new oak barrels as opposed to older oak barrels), costs of production, resources for packaging, shipping, and marketing, etc.
2. But does price necessarily dictate quality?
I am a huge advocate for "Drink what you like!" Every person has a different opinion of quality, because everyone's palate is different. You can most definitely find delicious wine out there for very reasonable prices. I don't think it is necessary to spend a lot of money to get a beautiful bottle of wine. Sometimes it is fun to splurge on a fancy bottle of wine, as it is sometimes nice to go out to an expensive restaurant for a steak dinner instead of cooking it at home, but that doesn't mean it is necessary.  
Of course, there are very expensive bottles of wine that are absolutely delicious, but most of the time these wines are misunderstood. Most consumers do not realize that these wines are meant for long-term aging, and end up buying an expensive bottle, opening it before it's ready to be served, and having a bad experience because the wine tastes too bitter and astringent. I would recommend asking an expert at your local wine shop for advice before purchasing high-end wines, especially if you intend to give the bottle as a gift to someone who is not a collector.  
3. How does aging affect the taste of wine?
Not all wines benefit from long-term aging. The wines that benefit the most are hearty, full bodied, tannic, red wines that are closed with cork. As the wine ages very small amounts of air finds its way into the bottle through the porous cork. The oxygen slowly breaks down the wine. Pigmentation binds together into more solid sediment that gradually sheds out of the liquid with the help of gravity and in turn changes the color of the wine over time. Also, the tannins in the wine are very aggressive when the wine is first bottled and can feel harsh, bitter, and astringent on the tongue. After time in bottle, the tannins begin to polymerize (link together) which makes the wine taste softer on the palate. Tannins are not the only thing that softens with age in bottle, so do the acidity levels. The oxygen also helps to mellow the intense fruity aromas and flavors of the wine leading way to more earthy notes and savory elements.
4. Is there anything you can do to make a sub-par bottle of wine taste better?
I don't think there is anything a consumer can do to make a lower quality wine taste better — unless you have a killer sangria recipe. (Interviewer's note: challenge accepted.)
5. Are there certain regions that are producing high-quality wine at a more affordable rate than others?
Italy, Spain, and Portugal are a few of my favorite regions to find affordable wines for very good quality. Portugal, for instance, is a perfect example of a country that is crafting some seriously amazing red blends for under $10. From what I've heard, there is a strong initiative in Portugal to promote viniculture (cultivation of grapevines for winemaking), and the Portuguese government is helping to subsidize agriculture and viticulture which, in turn, is lending to the high quality of wine flowing out of the country for extremely reasonable price points.
6. Say you have a fancy dinner you're attending, or you're meeting your future in-laws for the first time, and you're in charge of buying a bottle of wine for dinner. You know nothing about wine and don't have the budget for a expensive bottle. What should you do when you get to the store?
You should always feel comfortable discussing price points with a wine associate at a retail store.  Everyone has a budget and it is important to be clear and confident about what yours budget is and what your expectations are. After establishing your comfortable price range, I would tell the wine associate what style of food is to be expected. If you know the menu, that is even better. I would also try to let the wine associate know if there are any personal preferences. Do you know if they like red or white wine? Are they Italian wine lovers, or do they prefer domestic wine? Also let them know if your future-in-laws have adventurous personalities or if they are more reserved. The personality of the individual you are buying for will really help dictate the style of wine that might be best for the occasion.
7. Is there anything you would recommend saying away from? Or wines that people usually stay away from but shouldn't?
Wine is all about personal preference and every brand and wine genre has its place. It really depends more on the person and what their needs are in that moment. On that similar notion, there are a lot of people who have a poor perception regarding box wine and I think that is a real shame. There are some really good quality box wines out there and I recommend box wines to customers who enjoy having a glass of wine in the evening and do not want to open up a bottle of wine just for one pour. Box wines can last up to a month after being opened, and that can be quite cost-effective to someone buying wine on a budget and a lot less wasteful.
8. The best wine is the wine you love,  but if you're just starting to appreciate wine, you might not know that there's more out there than Pinot Noir, Sauvignon blanc, or Merlot. There's also Montepulciano d'Abruzzo or Nebbiolo, dozens and dozens I've never heard of or never would have thought to buy. What are the best ways to discover wines without having to purchase an entire bottle?
After I graduated college, I didn't have a lot of extra money to play around with but I wanted to learn more about wine, so I started a group (was mostly friends and coworkers) and we hosted wine potlucks where we would each bring a bottle of wine and sample the wines together and then vote on which one we liked the best. It was a great way to split the cost of wine and taste a bunch of things in a fun environment. I would also recommend checking out wine tastings at your local wine shops, asking for samples at restaurants (why not sample the wine to see if you like it before committing to an entire glass?), and attending seminars. At Julio's we have at least one free tasting/seminar going on each week. We also have a mechanized tasting bar that is free and open to the public; we call it the Angel-Share Tasting Room. (Inverviewer's note: the Angel-Share is amazing.)
9. Do you have any recommendations for wines in the $20 range? $15? $10 or under?
There are so many amazing values out there!  Here are a few of my favorites:
Under $20
Heumann Lagona Red Blend – Hungary $16.99

Chateau Unang Red Blend – Ventoux France $16.99

Domaine PilippeTessier Pinot & Gamay Blend – Cheverny France $19.99

Clos des Rocs Macon-Loche Chardonnay – Burgundy France $19.99

Aviary Cabernet Sauvignon – California $17.99

Under $15
La Tremenda Monastrell – Spain $14.99

Il Casolare Red Toscana – Italy $14.99

La Bouysse Carignan – France $12.99

L'Effet Pappion Grenache Blanc – France $11.99

Domaine de La Mayonnette Vermentino – France $14.99

Under $10
Paxis Red Blend – Portugal $7.99

Pedro Cancela Red – Dao Portugal $9.99

Tolenus Rosso Sangiovese & Montepulciano – Piceno  Italy $9.99

Albastrele Blanc de Cabernet – Mondolva $9.99

Dipinti Pinot Grigio – Italy $9.99

10. And finally… why is Rosé so delicious?
I am a Rosé lover and huge advocate to "Drink Pink!" Rosé is so delicious because it is the best of both worlds. It has elements of white and red wine. Rosé wines are supposed to be served chilled. On the palate it has a crisp and refreshing mouth-feel similar to white wines, yet the flavor and body is a bit bolder and showcases complex flavors that resemble red wine flavors (such as strawberry, raspberry, and cranberry notes – to name a few). Rosé ranges in color and body, some are light and fruity, while others are deeply colored and offer more power and tannins on the tongue. This collaboration of characteristics and wide range of flavors unique to rose is rose is such a delicious wine option. Not to mention, because Rosé is such a diverse wine it can easily be paired with a wide range of foods and served for a magnitude of occasions. Rosé is definitely the "in" wine right now, and for good reason!
Jackie is a recovering worrier and dreams of being a freelance writer. She is on Twitter and Instagram (and YouTube!).
Image via Unsplash