What To Look For (And What To Avoid) During Restaurant Week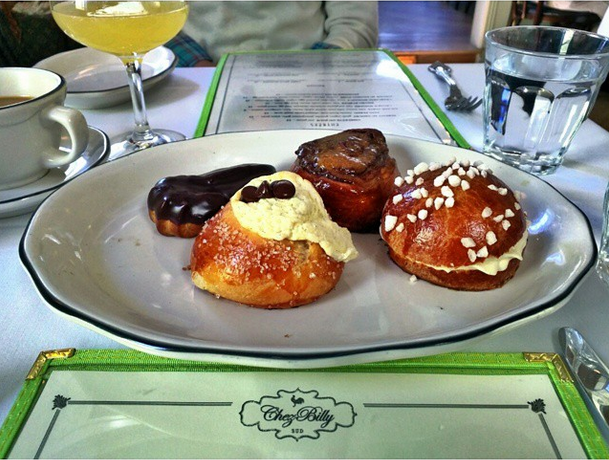 Every year, major cities participate in a delicious culinary event called Restaurant Week. For those who aren't familiar, Restaurant Week is not actually one, but a 19 day period — in several cities — when a variety of restaurants offer a prix fixe menu to their guests. It gives restaurants an opportunity to offer their patrons a taste of their best dishes.
Every year, my fiancé and I go to a few RW spots in NYC with our favorite couple. It's a tradition we started when we all moved here years ago. All four of us are big foodies, making it a habit of trying different restaurants every month. NYC is one of the best places in the world to feed into that habit (no pun intended). Now, because we're all in our mid twenties, one of us is in med school, another drowning in student loans, we don't always get to taste NYC's finest offerings. That's where Restaurant Week comes in.
Restaurant Week provides an excellent opportunity for us to try some outrageously expensive places for a fairly reasonable price. The deal is $38 for dinner or $25 for lunch, for a 3-course meal (that's appetizers, entrée + side, and dessert, oh my!). Dinners that would normally cost my fiancé and I north of $200, now are $80. The best part is we get to try some amazing dishes without breaking into sweats when the check comes to the table.
Sadly, there's a dark side to this tale. Some Restaurant Week spots can offer a pretty poor experience. The food tends to come out like a catered plate at a 400+ guest wedding – quickly prepared, sometimes cold, sometimes microwaved. It's not uncommon for these restaurants to serve over-cooked meat, mushy vegetables, and hardened chocolate soufflé: tragedies for fine dining. These places can leave a bad taste in a person's mouth about Restaurant Week, which in my opinion is one of the best events our city (and others) have to offer.
To prevent this from happening, here are a few guidelines that will help make your Restaurant Week experience one of the best:
Always look up the menu beforehand. Don't assume the restaurant will have any of its regulars on the Restaurant Week menu. Make sure they're offering you to taste some of their top performers, and make sure your mouth waters as you read the menu.
Read the reviews. People are really honest about their experiences at Restaurant Week spots, their reviews will let you know if its worth the $38 or not.
Only go to high-end restaurants. It's only worth it for really upscale places you wouldn't normally have the budget to go to. There are some restaurants you wouldn't even spend the full $38 on if you order off the standard menu.
Read the fine print. Some places may offer one portion for two or more people.
Restaurants that have ample availability are usually not worth going to. Go to a restaurant that you need to plan ahead for, or go at an off-hour. There's a reason it's so popular.
Watch out for add-ons. You may like what you see, but some places will slap an extra fee for some of their special items. If you're not into spending more than the $38 price fix, skip the restaurants that add the extra charge.
Don't discount lunch! It's the hidden gem of Restaurant Week, and it's the same as dinner, but only $25. Can't beat the price, plus it's an excellent excuse for fine dining in the afternoon.
Last but not least, go with good friends. It makes the experience more special, and (if you're into sharing) allows for everyone to taste different things on the menu. (shout out to my RW crew: Michael, Will and Lauren).
Stick to these guidelines and you'll be on your way to a delicious fine dining experience, without the scary bill.
PS: If you need a suggestion, David Burke Kitchen has the best Restaurant Week offering in New York City. They don't skimp out on the portions and offer up their star players on the prix fixe menu.
Cristina Calderin is on Twitter.
Image by Emil Caillaux.
Feel like you'll never save enough money to be a real person? So did Steph Georgopulos. Read about it in Some Things I Did for Money.