Your Local "Buy Nothing Group" Is A Spring Cleaning Secret Weapon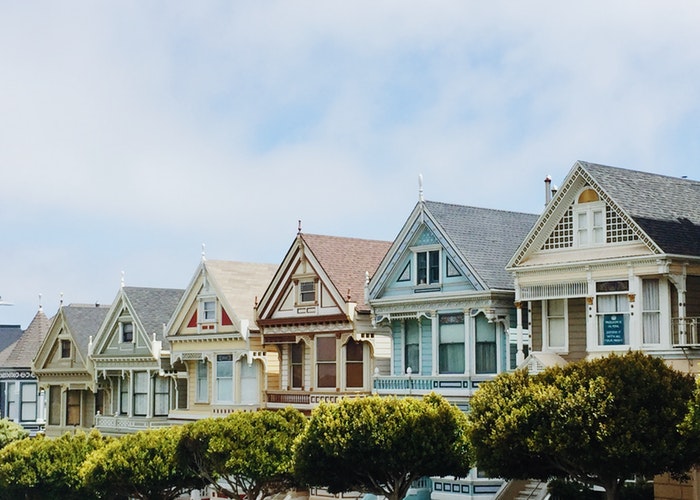 Have you ever put yourself on a "no-buy" regimen? Have you ever wondered what the best and most efficient way to donate the clothes you purged during your last decluttering spree? Would you feel comfortable asking your neighbor to borrow a bread pan or a cup of sugar if the recipe called for it? 
If any of these questions have ever crossed your mind, you'd benefit from an introduction to the Buy Nothing Project. For those unfamiliar with the initiative, the Buy Nothing Project is a hyper-local gift economy exclusively available through the convenience of Facebook. 
A huge part of the Buy Nothing mission is reducing the amount of spending, household waste, and clutter. As a Buy Nothing group administrator, it is my responsibility to not only facilitate community-building and respectful interactions within the group but also brainstorm initiatives to keep the group active. Examples of initiatives I've used include "Clear Out Your Junk Drawer!" and other themed challenges relating to decluttering specific areas of one's house. 
How to join a Buy Nothing Group
You can start your search for a Buy Nothing Group on their website, which includes links to Facebook pages for neighborhoods all over the world. If you don't have a group in your area, the Buy Nothing Project provides resources for how to start your own group — more on that in a bit.
To ensure the group really is hyper-local, all members are asked to provide the intersection of the cross streets nearest their home. Group admins then cross-check that intersection with the pre-set boundaries for their group. In addition to being asked for their cross-streets, potential members are asked to read and agree to the rules listed on the Buy Nothing page and confirm that they are 21 years or older. The age restriction is put in place due to the "participate at your own risk" nature of the groups. 
When I originally heard of the project in the fall of 2017, I eagerly searched for a group on Facebook. When I first joined the group, I had no idea what to expect. But within my first hour in the group, picked up an all-in-one picnic basket set, complete with ceramic dishware, real silverware — even wine glasses. Without the Buy Nothing Group, this lovely piece would have gone right into the trash, said the gifter. 
I picked up my new treasure from a neighbor's porch, and later that week, I put items out on my own porch for relative strangers to pick up. Within my first few weeks in the group, names and faces became familiar. Shortly thereafter, I would recognize these neighbors in the grocery store. These are people I probably wouldn't have gotten to know otherwise. Before I knew it, I was living in a community. 
When it came time to move out of that zip code, it was time to leave the group as well. My previous neighbors were sad to see me go, but I was able to get moving boxes for all of my items with just a simple ask, along with a brand new IKEA couch and a large woven rug, perfect for my new space. 
How to start your own group
Shortly after I moved, I learned that my new neighborhood didn't have a Buy Nothing Group, even though I hadn't moved that far away. But Buy Nothing Project places heavy emphasis on the hyper-local component of their gifting mission.
Taking note of the Buy Nothing void in my new neighborhood, I decided to start my own group. All potential Buy Nothing administrators take a low-stress, go-at-your-pace, Facebook-centered training to best learn how to operate their groups. After doing so, I set up my own group with the help of some of my area's regional volunteers. Setting up my group was very easy. I reached out to some other Buy Nothing Group administrators, who gave me access to document files that I was able to copy and paste into the rules and regulations section of my group as well as the necessary cover banner materials. 
After that, I invited friends and neighbors I knew in the area to join the group. Then they invited people they knew. Regional administrators shared the new group with people they knew in the area. Three years later and mostly by word of mouth, my group has several hundred members and at least one person posts a day.
The perks of Buy Nothing Group
Throughout my volunteer experience as a Buy Nothing administrator, I've seen families request baby formula for their children. I've seen initiatives started by friends of struggling families take in item donations from better-off people all across the neighborhood. I've seen children grow out of clothes and Halloween costumes that are then handed off to the newest neighborhood baby and I've seen their toys, bassinets, cribs, and highchairs go on to see new life all over town. 
I've seen–and been gifted–perfectly good furniture be picked up by new lovers. I've given away wine glasses that weren't my style anymore. I've helped my in-laws unload exercise equipment to people with resolutions to exercise more. I've seen 20 posts from one person in one day as they clear out their basement or attic on a weekend afternoon. I've seen families post that their grocery delivery was fudged and they received the wrong kind of milk or too many vegetables. 
In the months ahead as you begin your spring cleaning initiatives, consider a quick search for the Buy Nothing group in your neighborhood. As an international initiative, there are Buy Nothing groups all over the world. Not only will you get to know the people that share your zip code, but you'll be first in line to receive gifts you didn't even know you needed. On top of that, you'll meet the open arms of people who actually have a use for the things collecting dust in your home for years. 
Permanently logged on and always percolating, Ally Sabatina is a Philadelphia-based freelance writer whose parents wish she had just gone to law school. When she's not writing, she's watching too much TV, tweeting, texting, scrolling, cooking, lusting after cannolis and waiting for the next opportunity to go to the dog park. 
Image via Pexels
Like this story? Follow The Financial Diet on Facebook, Instagram, and Twitter for daily tips and inspiration, and sign up for our email newsletter here.