1 Month, 4 Stores: Exactly What I Spent On Groceries In June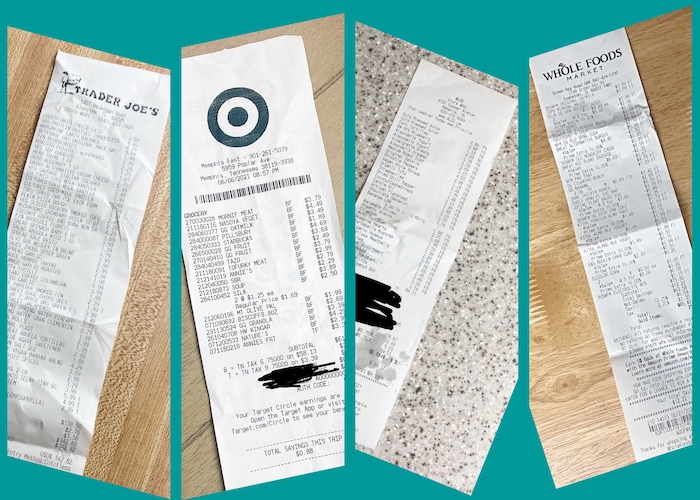 For the month of June, we present 'The Grocery Haul Challenge!'  hosted by Katie Brown of Katie Makes It Vegan. Each week, Katie will highlight her food haul from a different nationwide grocer (including their receipts)! At the end of the month, she'll do a store round-up, weighing in on the outcome of overall price vs. purchases, per store. Be sure to check out all recaps here!
If you had the chance to join me this month, you were able to see what I spent on a month's worth of groceries across four different grocery stores. I had a blast doing this for a couple of reasons. First, I am nosey myself; I like seeing what people buy and how much they spend on groceries. It always provides a good perspective and gives me ideas. Second, speaking of ideas, I always find it enjoyable to share my vegan finds and recipes. Whether you're new to veganism, in a vegan rut, or just curious about what vegans eat, I am always ready to talk all things vegan. 
Over the past few weeks, I visited Aldi, Target, Trader Joe's, and Whole Foods and did a week's worth of grocery shopping at each store. I want to give you my pros, cons, and favorite item(s) from each store, take a final look at what I spent and share some of my takeaways. Before getting started, however, I wanted to note that my prices might vary from a typical week's shopping since I am vegan. 
*If you're looking for non-vegan price comparisons, check out all four challenges here.
Week 1: Aldi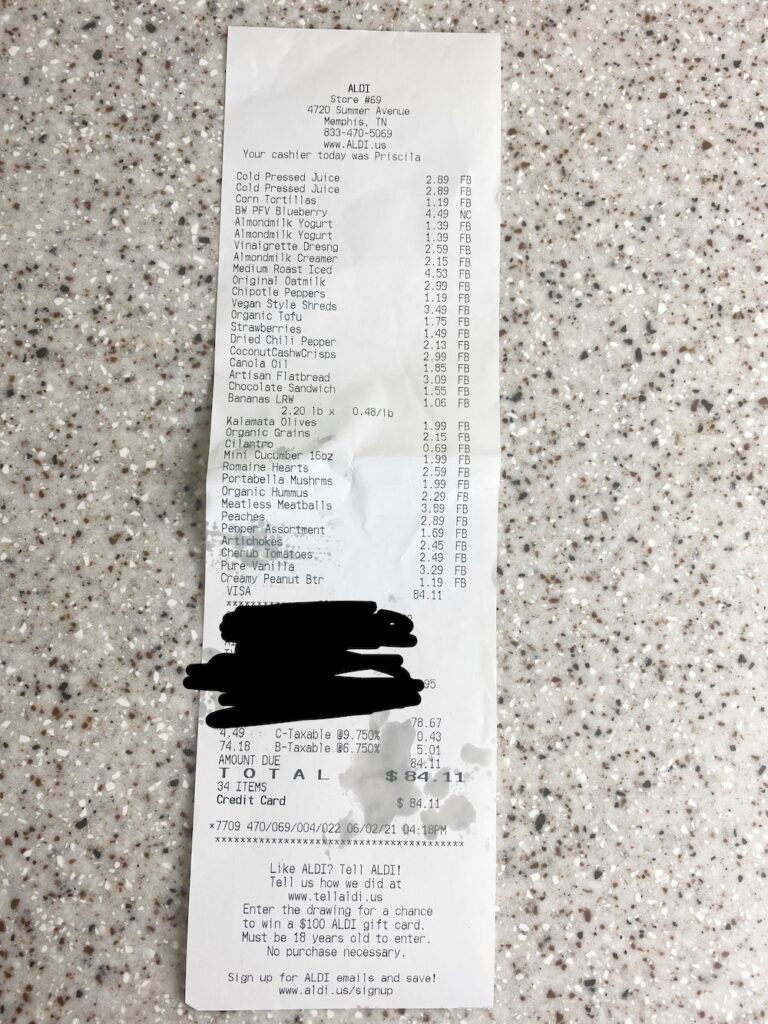 Pros: Cheap, accessible, some vegan options, GREAT produce
Cons: Product inventory varies by store, not all stores carry the same things, basically no-name brand products
Favorite Item: Artisan Flatbread
Let's start with one of my favorite grocery stores, Aldi. I will always sing its praises for three specific reasons: they're underrated, reasonably priced, and have great vegan products. Aldi has come a long way and has seen what seems like a full transformation. This week, I spent $78 on groceries, which basically had me covered for the week. I did have to round out my shopping to get some of my favorite vegan products (butter, faux meats, etc.) at another grocery store but by and large, this was one of my favorite shops. 
Week 2: Target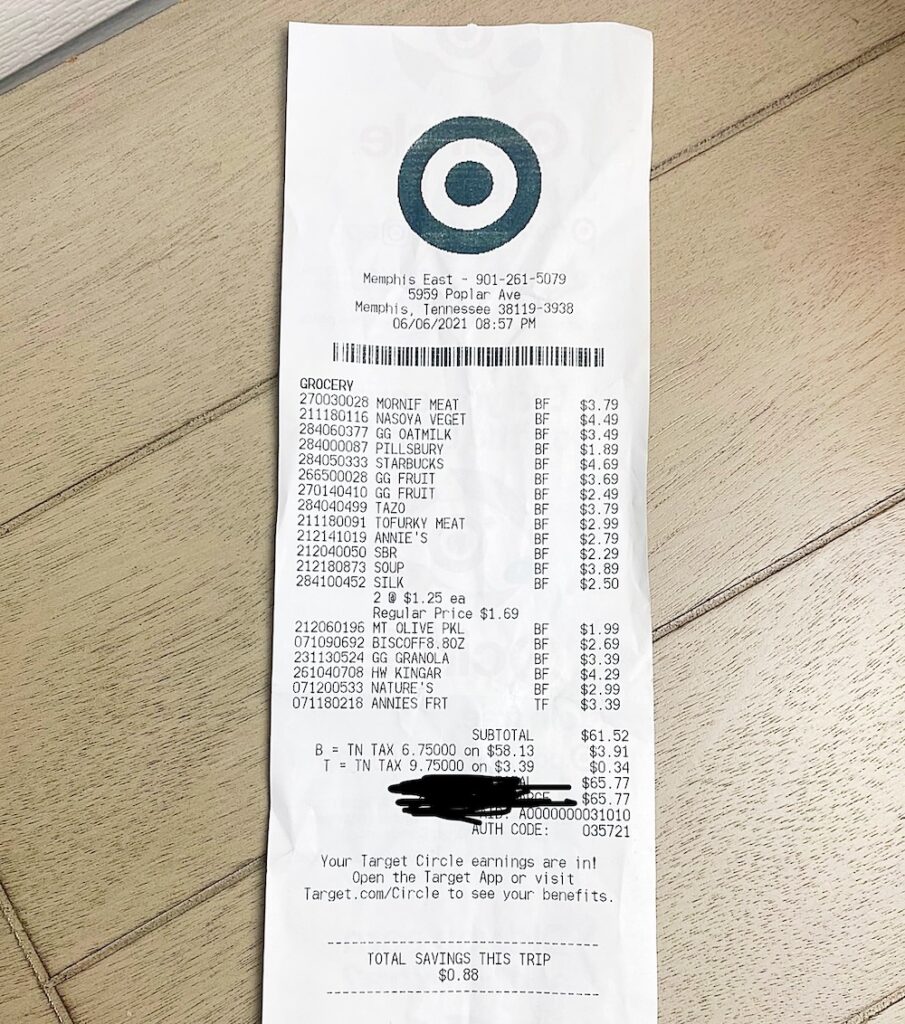 Pros: Convenient, affordable, it's Target
Cons: Not-so-great produce, cannot reasonably complete a grocery shop
Favorite Item(s): Thai Basil Vegetable Dumplings, Biscoff Cookies
Although Target is one of my favorite stores and arguably a favorite of many, it's not the best store to do an entire grocery run, in my opinion. I spent $65 this week but didn't have a terrible amount to show for it. But don't get me wrong; I would totally do it again! I like heading to Target to get some "vegan treats" and often use it for convenience. For example, if I need oat milk and I'm already in the store buying toilet paper and makeup wipes, I'll grab it here. I will always love Target but in the same vain, I will always have to round out my week's food haul elsewhere. 
Week 3: Trader Joe's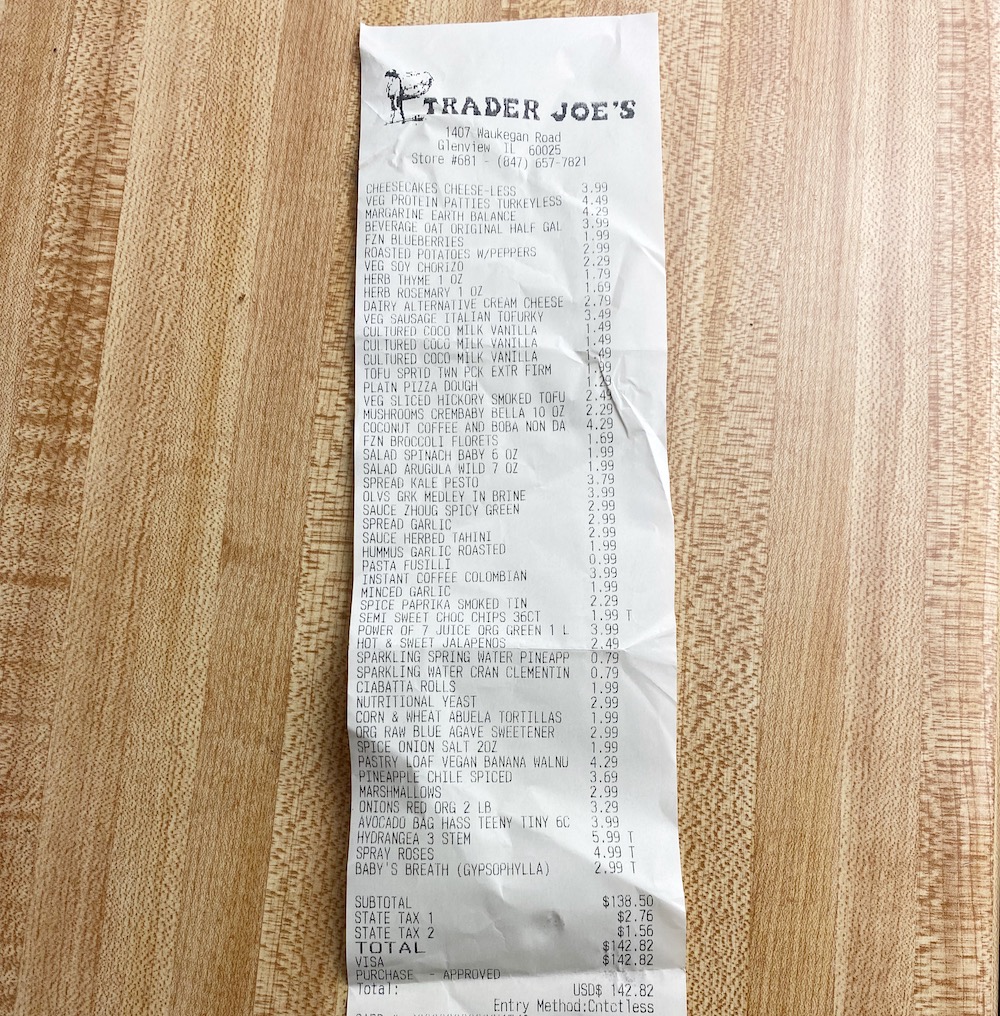 Pros: Versatility in items, TONS of vegan-friendly items, it's Trader Joe's
Cons: Some items can be pricey and this adds up
Favorite Item(s): Without exaggeration, everything (except for the Chili Pineapples) 
Trader Joe's is my favorite grocery store and in my opinion, the best grocery store out there (my Scorpio Moon won't allow me to ever be swayed from this opinion.) They have so much to offer and because of this, it is easy to mix and match ingredients and make a five-star meal at home. This week I went a bit overboard and spent $138 on groceries. This rarely happens but I ended up with this number because I bought my grandma flowers and was stocking an empty fridge. Either way, it was worth it because again — it's Trader Joe's. 
Week 4: Whole Foods
Pros: Great vegan product selection
Cons: Meh produce, can be overpriced
Favorite Items: Pad Thai, Vegan Croissants
I rounded out this series with a trip to Whole Foods. Over the years and especially while being vegan, I have really grown to love this store. There are a lot of vegan products to choose from and depending on which ones, it can be very affordable. My only problem with Whole Foods would be the produce. I find it to be hit or miss, with it usually being a miss. In my opinion, it's not worth the trouble. This week I spent just about $64. Although I did not do a full shop at Whole Foods, I was under my $100 a week allotment for groceries and was able to round out my shopping elsewhere. 
I hope you enjoyed this series and enjoyed spending the month shopping with me! I would love to hear your thoughts on what I had to say and anything you think I missed. I create a bunch of vegan content including recipe videos and grocery hauls like these on my YouTube channel Katie Makes It Vegan. I would love for you to check it out!
***
Katie Brown is a classical musician, podcaster, educator, and content creator. In addition to being a Fellow with the Memphis Symphony Orchestra and cohosting Classically Black Podcast, she curates her YouTube Channel "Katie Makes It Vegan," dedicated to making her formerly favorite foods vegan.
Image via author/Katie Brown