June Grocery Haul #2: My Week's Worth Of Groceries At Target (+Receipt!)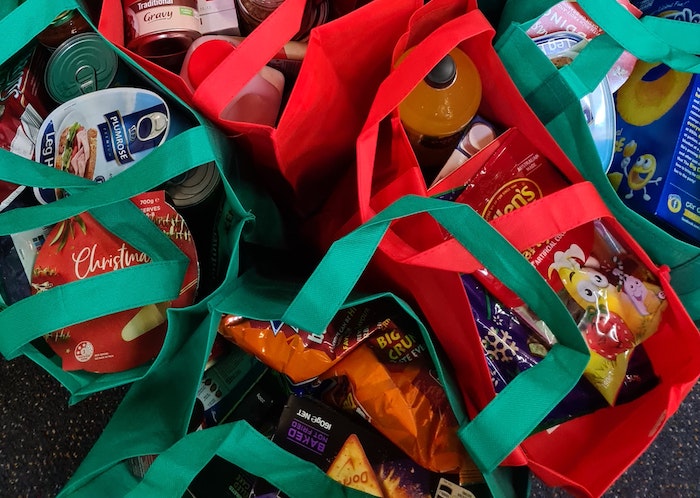 For the month of June, we're tracking what a week's worth of groceries looks like from four major market chains.  Every week, we'll highlight one shopper's food haul from a different nationwide grocer (including their receipts)! At the end of the month, we'll do a store round-up, weighing in on the outcome of overall price vs. purchases., per store. Be sure to check out all recaps here!
**Prices for this haul include vegan and non-vegan options and price differences for both.
This week I decided to do my weekly grocery shopping at Target. To be honest, I have not really done this before but with good reason. Target's grocery section has come a long way in recent years. What used to be a simple snack section (am I aging myself?) has blossomed into a full-grown grocery aisle. While Target has expanded their options, particularly in regards to their vegan offerings, I was not able to do a full week's grocery run here. To be fair, I suppose I could have, but I'll get into more detail about that later. Either way, I am going to show you what I bought, how much I spent, and some of the things I did with a week's worth of groceries from Target.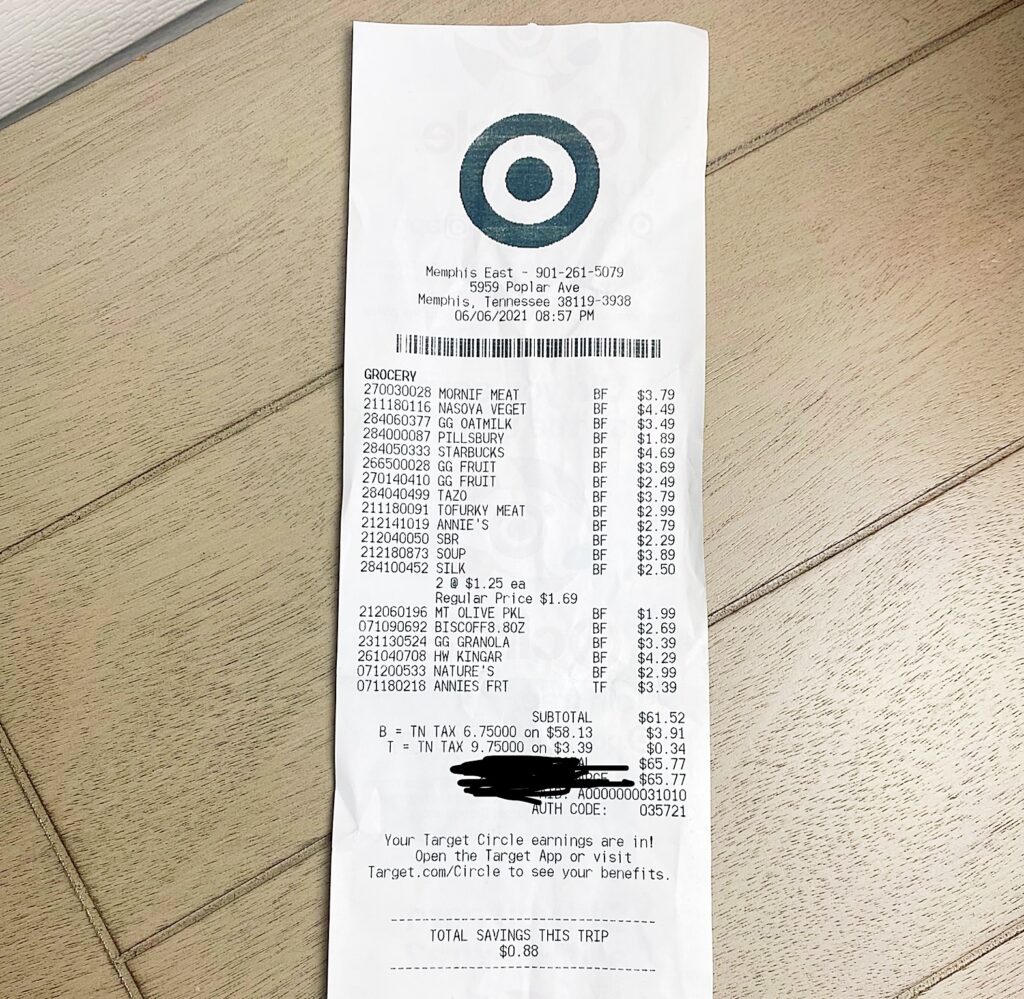 I spent $61.52 before taxes on my trip this week. I know, I know, that's a little pricey considering I didn't do a complete haul. But hear me out: first, I consider my grocery trips to Target to be "vegan goodie" trips. I can pick up some specialty items that I cannot get from my regular grocery stores like Kroger. Second, items I missed, like produce, are cheaper and more abundant elsewhere. Speaking of Kroger (and especially Aldi), it would be incredibly easy for me to stop by one of these places and round out my shopping for the week while staying within budget (I spend around $100 a week on groceries).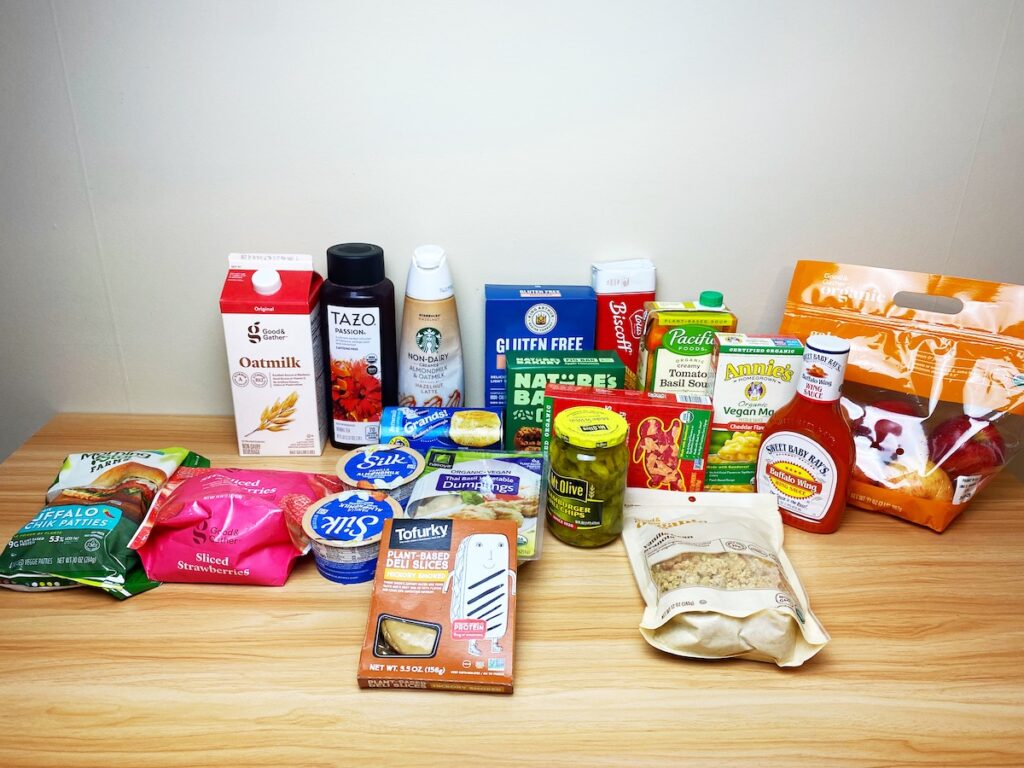 While it may appear there isn't a ton of stuff here, don't be fooled; I still managed to get some good protein selections (like Chik'n, Tofurkey, dumplings and such) and my milk and creamer for the week. And as always, there are some things that I feel are worth pointing out. Let me put you on.
Produce: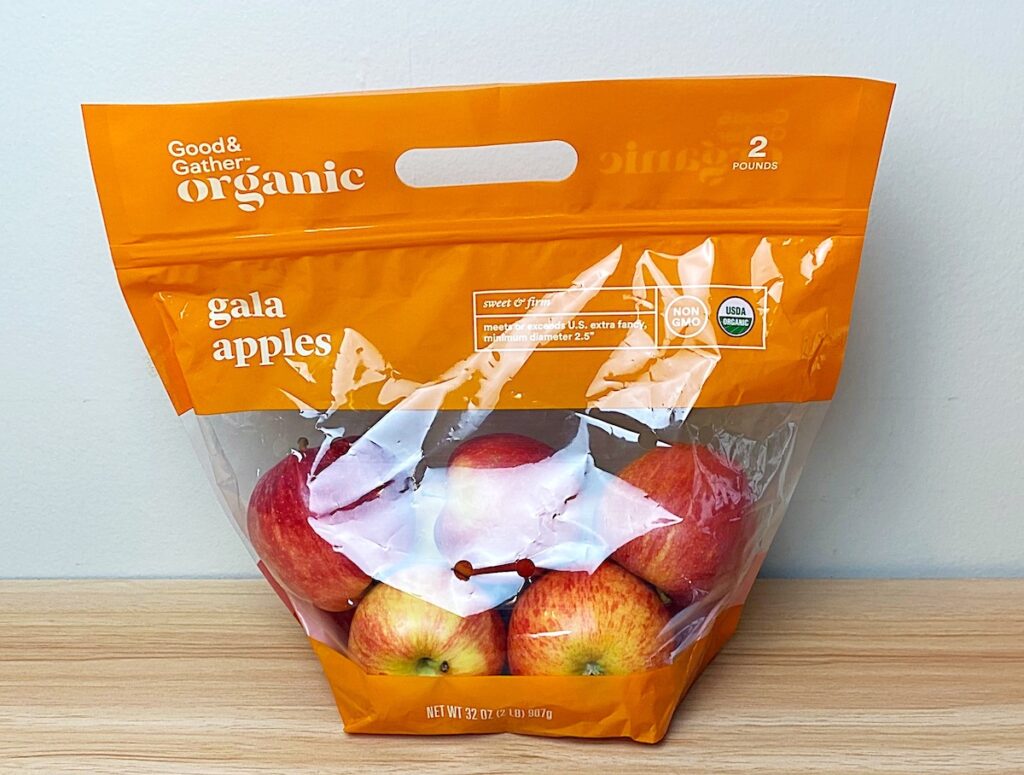 Let's get the easiest and notably most unexciting part of this haul out of the way. It's a little embarrassing how excited fresh, and I mean really fresh produce makes me. Like a bright, vibrant bunch of cilantro or fresh lemons? *Chef's kiss* However when I head to Target, I normally don't turn to the produce section. Overall, I find their selections to be quite limited (which is fair since you're most likely at Target for lotion and OxyClean). They have the basics like apples, strawberries, blueberries; but won't have fresh, leafy greens, herbs, or any fruits or vegetables that stray too far from the ordinary (like melons, special peppers, etc.).  
I did however pick up these Gala apples. I have been having a hard time finding these particular apples recently and was excited to see them. I believe these are the most superior apples and that is a hill I'm willing to die on. 
Beverages: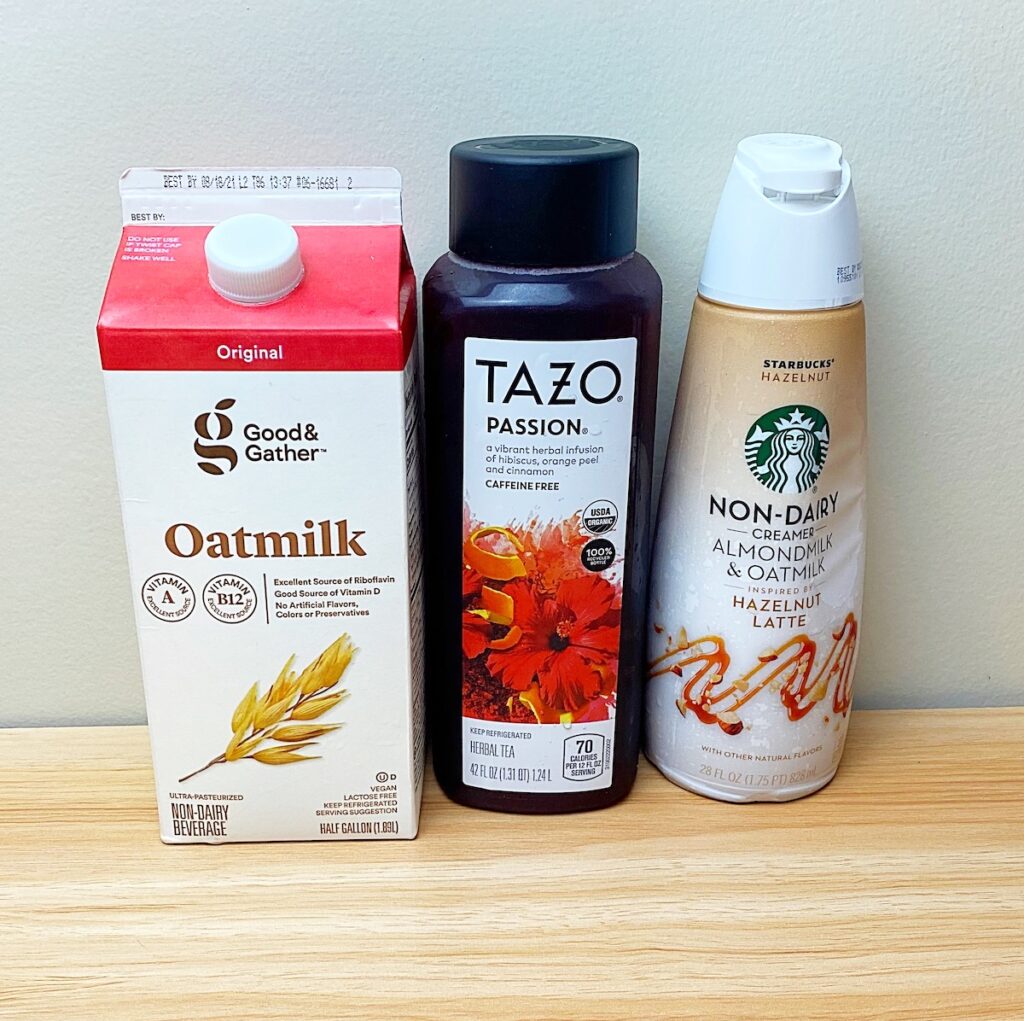 I'm honestly excited about everything in this picture but I'll be brief. Target carries a lot of different plant-based milks and it has been like this for a while. I remember tasting cashew milk for the first time after going vegan four years ago and purchased it from Target. With the recent surge in popularity of oat milk, I've noticed Target's brand "Good and Gather" starting to sell their version. This is one of my favorite oat milk brands and I would highly recommend. 
These Starbucks non-dairy creamers are excellent and are a little hard to find (I've only seen them at Target and Kroger. They also go fast!) I usually get the caramel one but decided to give this hazelnut one a try.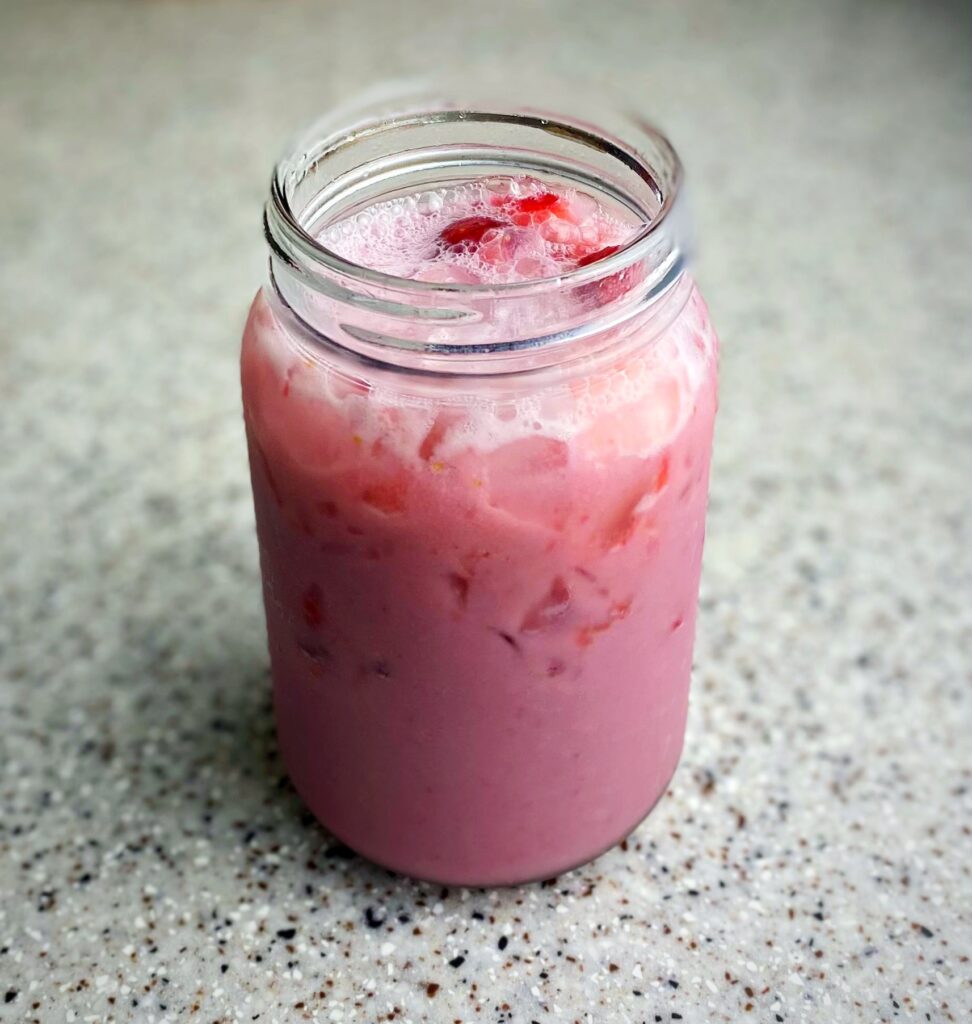 My homemade "Pink Drink."
One of my new Starbucks favorites has been a Pink Drink, add strawberry purée (thanks TikTok). Frequent trips to Starbucks are never friendly on the budget so I got so excited when I saw this Tazo Passion Tea. I was even happier when I saw it was vegan (disclaimer: a few of Tazo products are sweetened with honey so be careful of that if this is a concern for you). This Pink Drink was so good and really simple to make: I made a strawberry purée by blending frozen strawberries, maple syrup, and a bit of water. Then, I poured it in a glass with some ice, the Tazo tea, and a bit of oat milk. It was honestly perfect!
Frozen Foods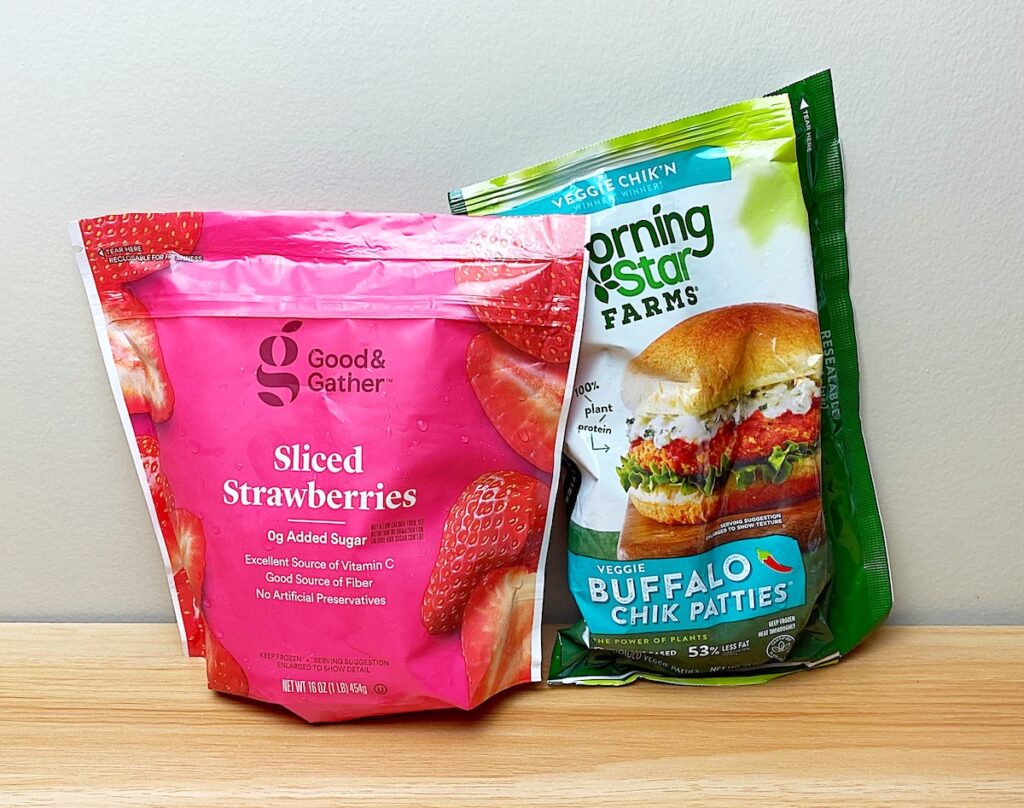 I did not pick up a lot here this time around but I did scoop up these Morning Star Buffalo Chik'n patties. I remember when Morning Star only used to make vegetarian products so as a vegan, I am happy to be included in their new product line!
If you know me in real life, you know about my obsession with brunch. I think it is a top-tier dining experience. However, when you can't make it out to your favorite spot, consider making this vegan chicken biscuit. Trust me on this one: a Pillsbury Buttermilk biscuit (more information on this below), a vegan chicken patty, and pickle slices. I'm telling you, it gives efficient and effective brunch at home.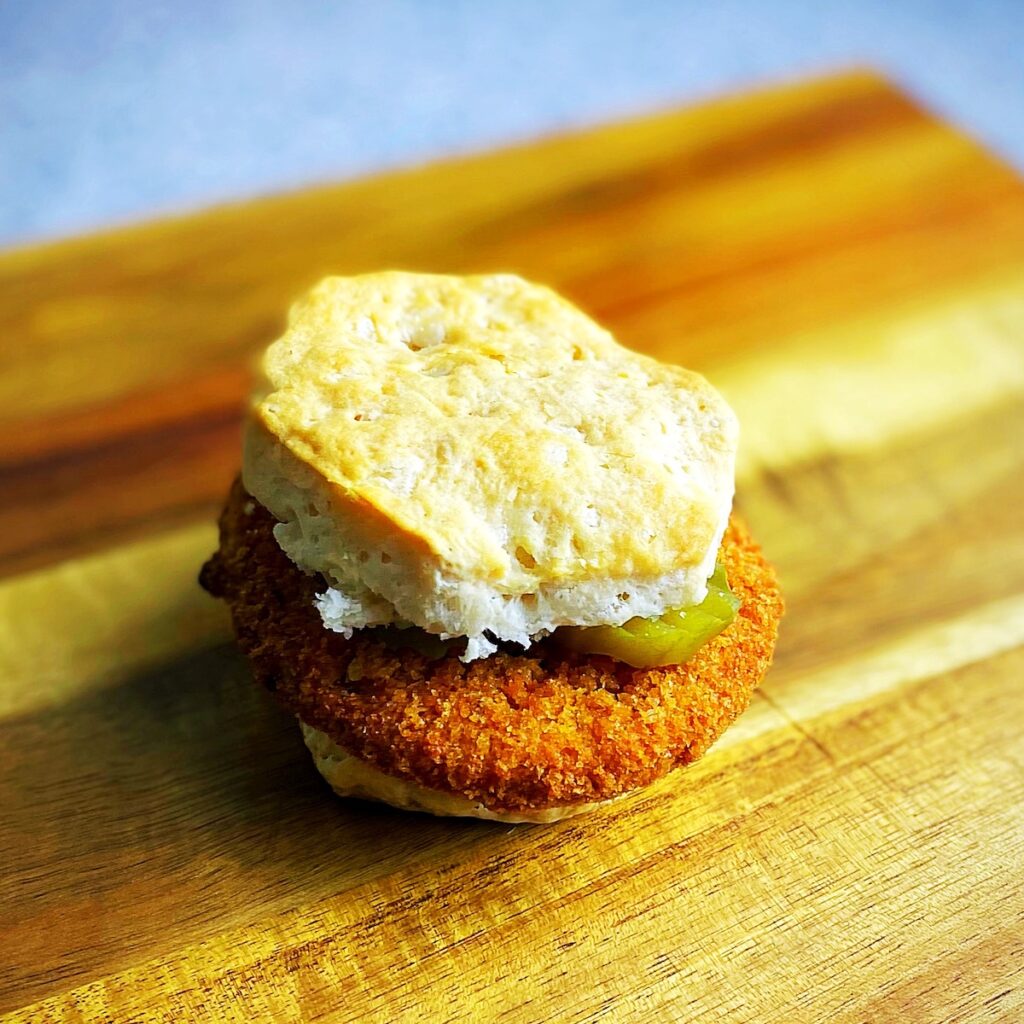 My homemade chik'n & pickles biscuit.
Dry Foods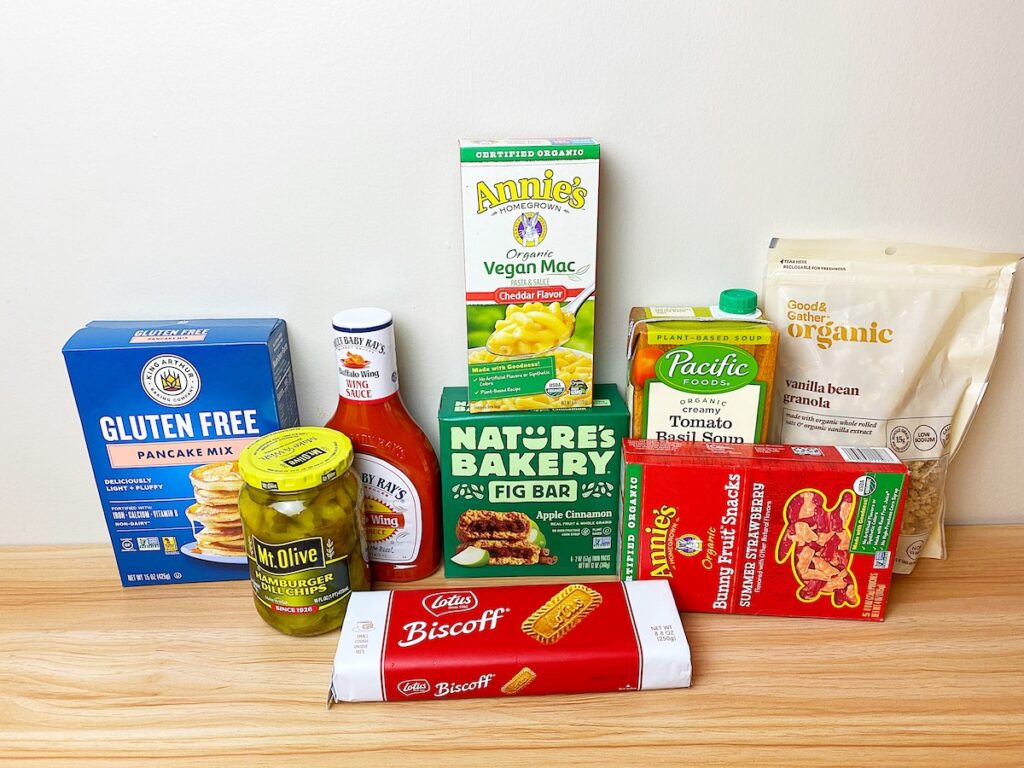 The next time you go to Target, I encourage you to take your time and mosey throughout the grocery aisles. There are a few hidden gems if you look closely. This is my first time picking up this King Arthur Gluten-Free pancake mix but I'm excited to try it. It is difficult finding vegan pancake mixes because of the inclusion of milk powder. But this mix is accidentally vegan (meaning the absence of animal products was not intentional) so it checks out!
Another rare find are vegan-friendly fruit snacks (which generally have gelatin in them). I love picking up these Annie's fruit snacks when I go to Target. Their use of carnauba wax makes them acceptable for vegans. And speaking of Annie's, I love that they carry a vegan mac and cheese. 
Refrigerated Foods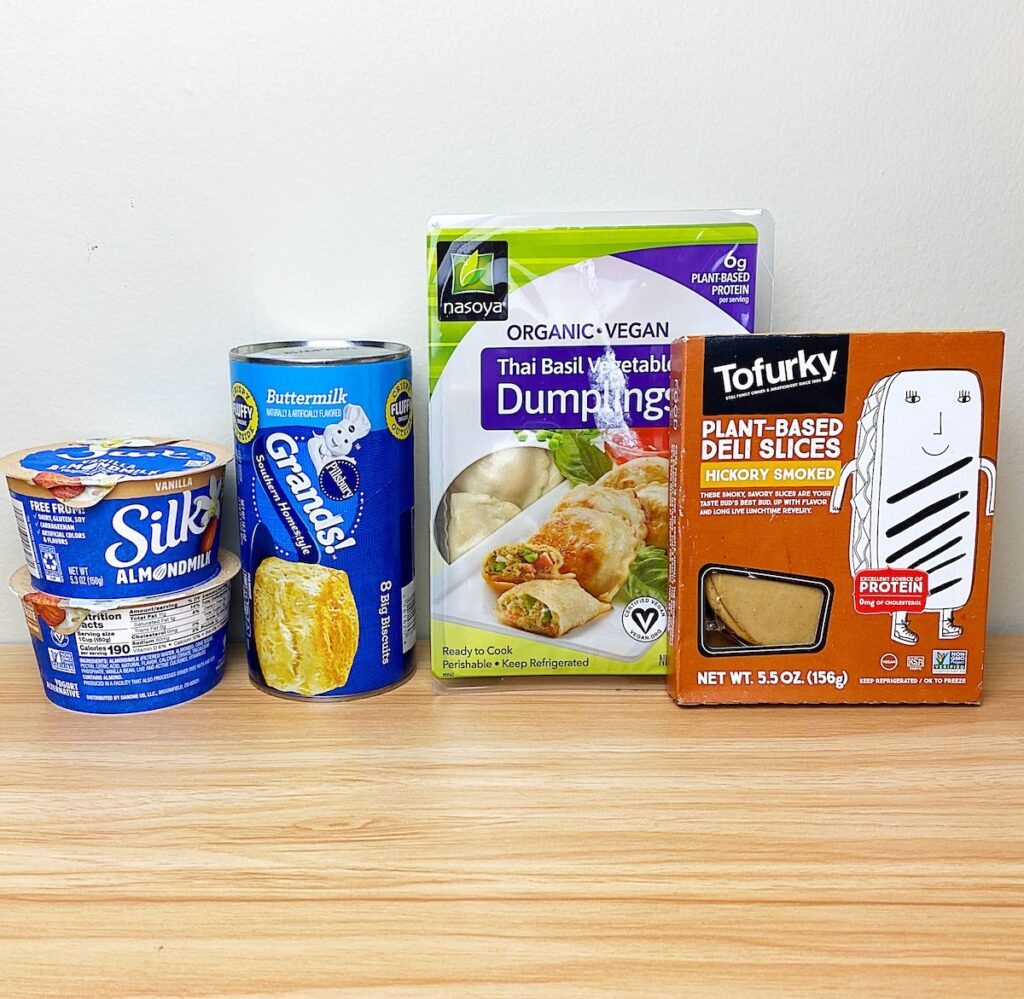 Target has a pretty expansive cold food's section. And within that section, they have a decent amount of vegan items. It is impressive. In their vegan section, you can find a few vegan cheeses, dips, and faux meats. One of my go-to items is the Tofurky Plant-Based Deli Slices. They come in handy when I need a quick lunch on a busy day. But the star of the show here for me would be these Nasoya Thai Basil Vegetable Dumplings. They are good straight out the pack but I like to treat them as a canvas. Take these to the next level by pan-frying them in a bit of sesame oil until golden brown. Then, deglaze the pan with soy sauce and some water, and then season with black pepper and garlic powder. You can also add a tablespoon or two of plum sauce to elevate the flavor profile. Seriously, 10/10.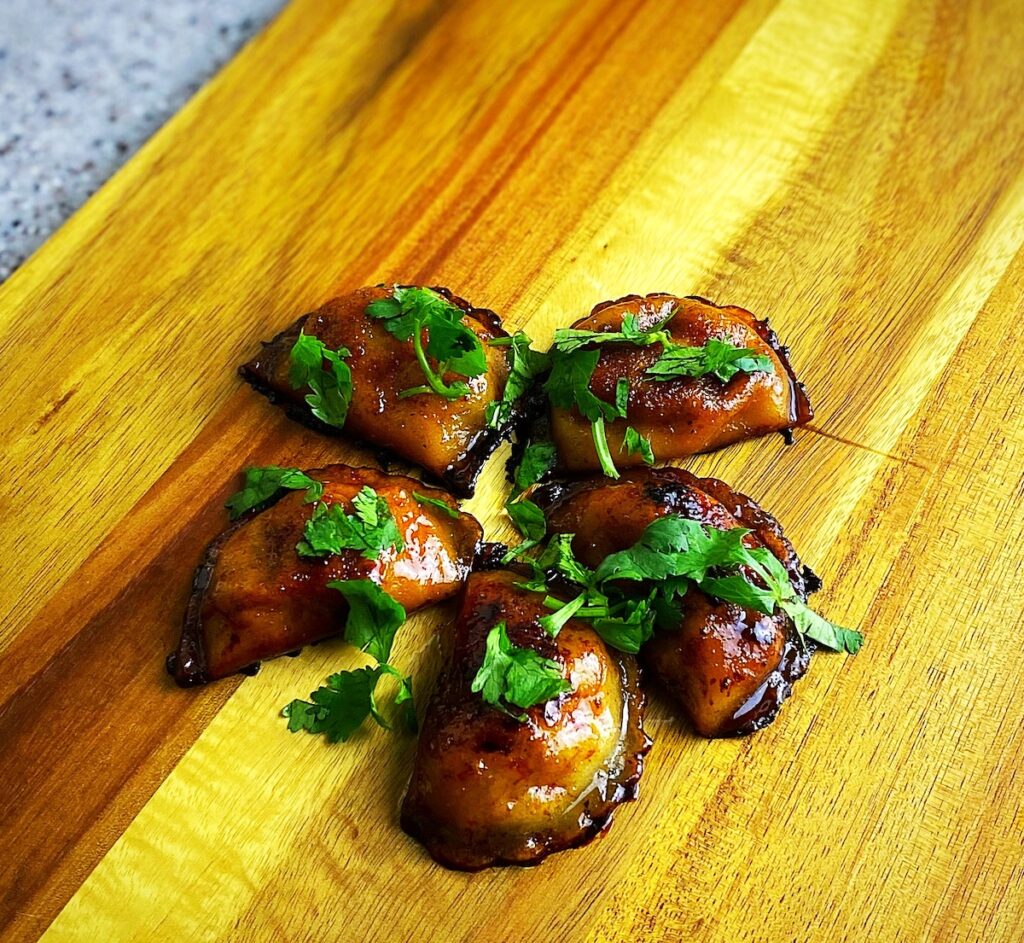 My homemade vegetable dumblings
And I know you're wondering about these Pillsbury Buttermilk Biscuits. They are another accidentally vegan item. And ironically, the original biscuits are not vegan. I don't know, I don't make the rules. I'm just here to share information. 
***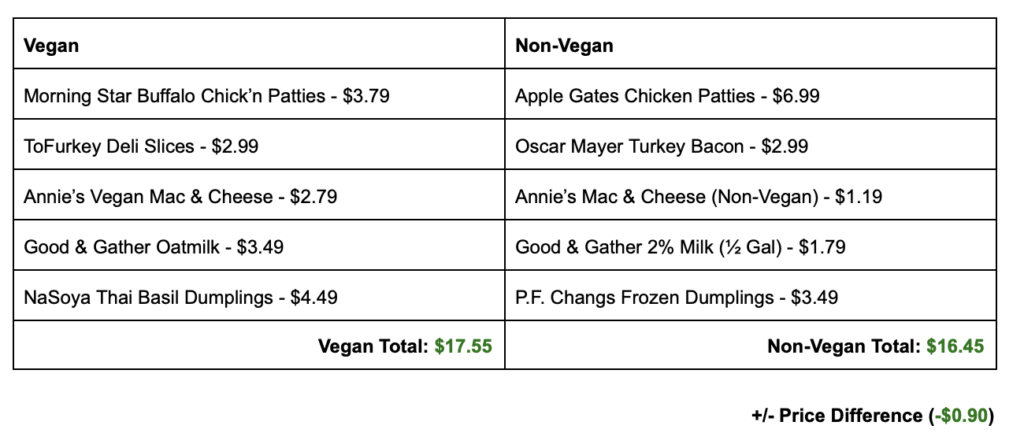 For this particular haul at Target, the price difference between the staple vegan options, compared to the prices listed on their site for non-vegan items, is only a difference of $0.90 While items like cow's milk cost about half the price of oat milk, non-vegan chicken patties cost a few bucks more than vegan chik'n patties. So in short, you spend some, you save some. Also, keep in mind that location plays a role in price variation, as well.
One thing I will never stop talking about is the importance of the relationship between accessibility and veganism. Opening people's minds to its benefits extends way beyond another tofu recipe or the newest plant-based meat. Rather, most of the time, the prospect of exploring this lifestyle has to be within reach. This is why I believe partnerships with the Impossible Burger and various fast food chains or Chipotle introducing "Sofritas", for example, are so important. Consumers are going to frequent these establishments anyway, so there may as well be a vegan option to try. This concept is not solely unique to fast-food chains but is also represented in "big-box" stores like Target. You're going to go there anyway (because who doesn't love Target?!) You might as well pick up something to eat while you're there.
Next time you're at Target, swing by the grocery section and see what you can find. And if you have never been to Target, I hope this inspired you to check them out! I would love to hear what some of your favorite Target items are and what you think I should check out!
Katie Brown is a classical musician, podcaster, educator, and content creator. In addition to being a Fellow with the Memphis Symphony Orchestra and cohosting Classically Black Podcast, she curates her YouTube Channel "Katie Makes It Vegan," dedicated to making her formerly favorite foods vegan. You can also follow her on Instagram.
Image via Unsplash