June Grocery Haul #3: My Week's Worth Of Groceries At Trader Joe's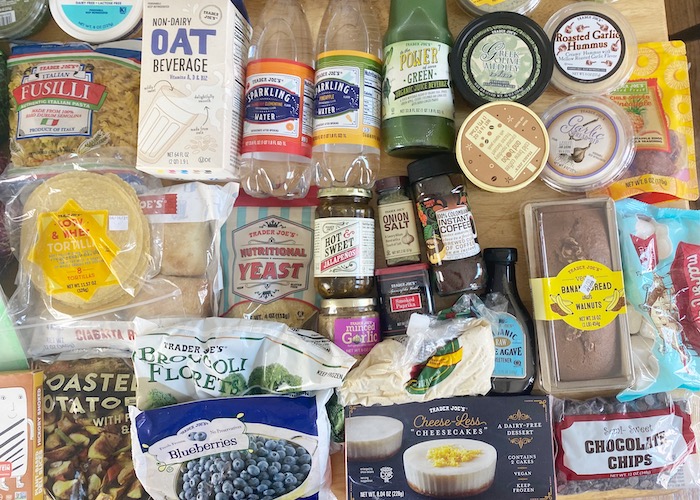 For the month of June, we're tracking what a week's worth of groceries looks like from four major market chains.  Every week, we'll highlight one shopper's food haul from a different nationwide grocer (including their receipts)! At the end of the month, we'll do a store round-up, weighing in on the outcome of overall price vs. purchases., per store. Be sure to check out all recaps here!
**Prices for this haul include vegan and non-vegan options and price differences for both.
Have you ever wondered on a bus,  errand-filled day, how much easier your life would be if there was a perfect grocery store? Well, do I have news for you! Trader Joe's is the best grocery store. And while I have debated this with several of my friends, this is simply a hill I am willing to die on. Trader Joe's offers creativity and originality in goods, great produce, fantastic vegan options, and reasonable prices. And unlike a lot of other grocery stores I frequent, I feel I can do a complete grocery trip here without having to supplement goods from other stores; this is so refreshing, especially being vegan. It's nice to have a one-stop shop and a guaranteed location to get most of the things I need.
Suffice it to say, I was overjoyed heading to Trader Joe's to do my grocery shopping this week; maybe a bit too overjoyed (I'll get to that in a bit.) I have not been in a while and was excited to stock up on some goodies. As always, I'll show you what I picked up as well as some of the recipes I made with the groceries. Before jumping in, however, I'd like to note that because I am vegan, there is some variance in the prices as compared to someone with an omnivorous diet.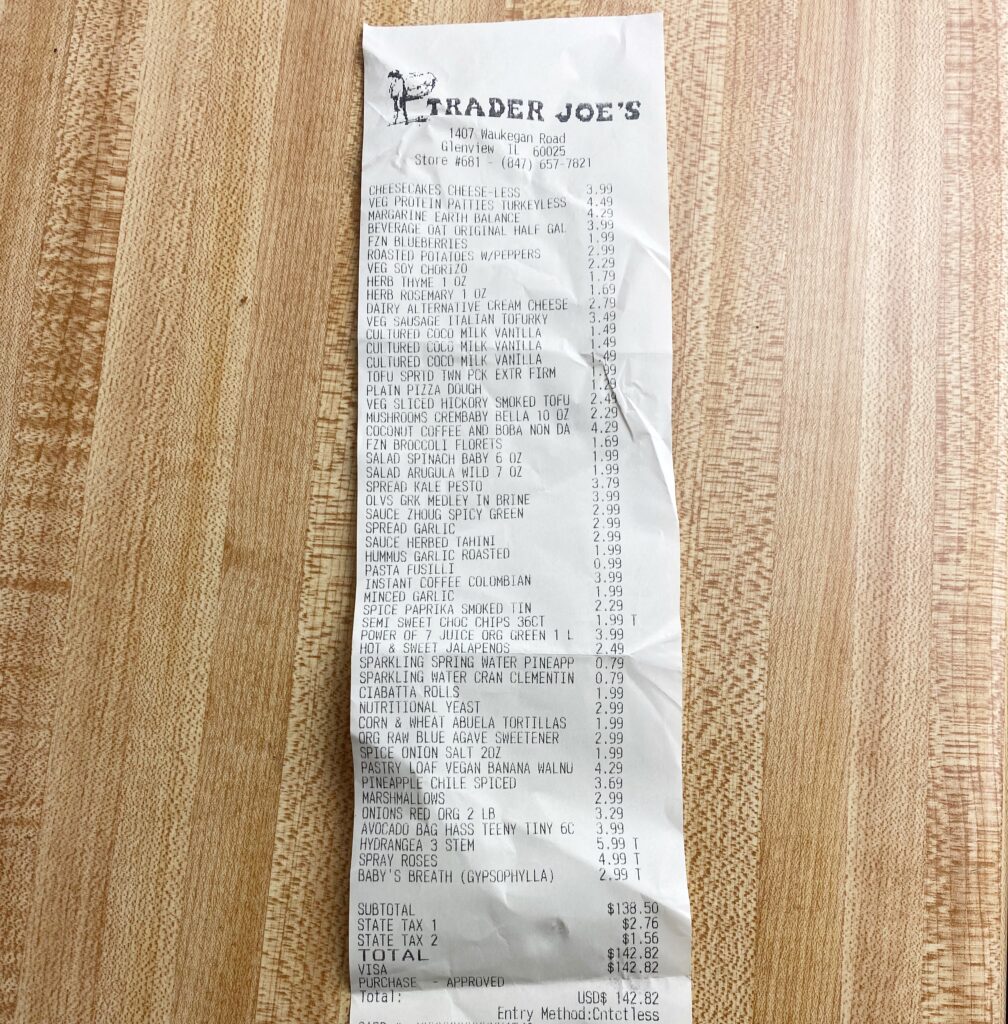 Okay, so I splurged a little too much this week, considering I typically spend about $100 a week on groceries. But hear me out — I have good reasons! 
First, let's get the most obvious one out the way: I was excited. I told you I haven't been to Trader Joe's in a while. Second, I had some "re-up" items on my list this week, meaning there were things that I had to restock on that I typically would not buy every week, such as vegan butter and seasonings (I'm visiting my childhood home for a few weeks and there's literally nothing here.) 
Finally, I brought my grandma some flowers. While I won't elaborate too much here, Trader Joe's is a great pick for a quick flower run. They have a large and beautiful selection (of course varying based on the time of year) and it's so easy to get creative. I mean, look how cute my arrangement came out!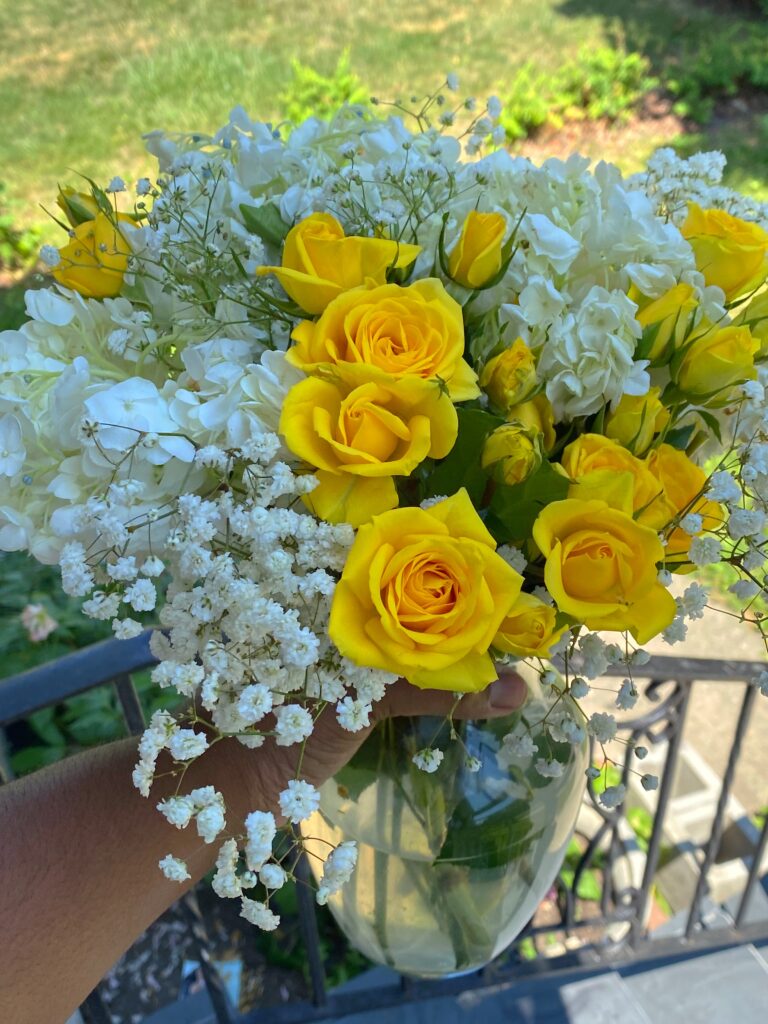 Yello' there 🙂
Also, since this was an exceptionally bigger haul, here are two views of my weekly round-up:
Haul Pic 1: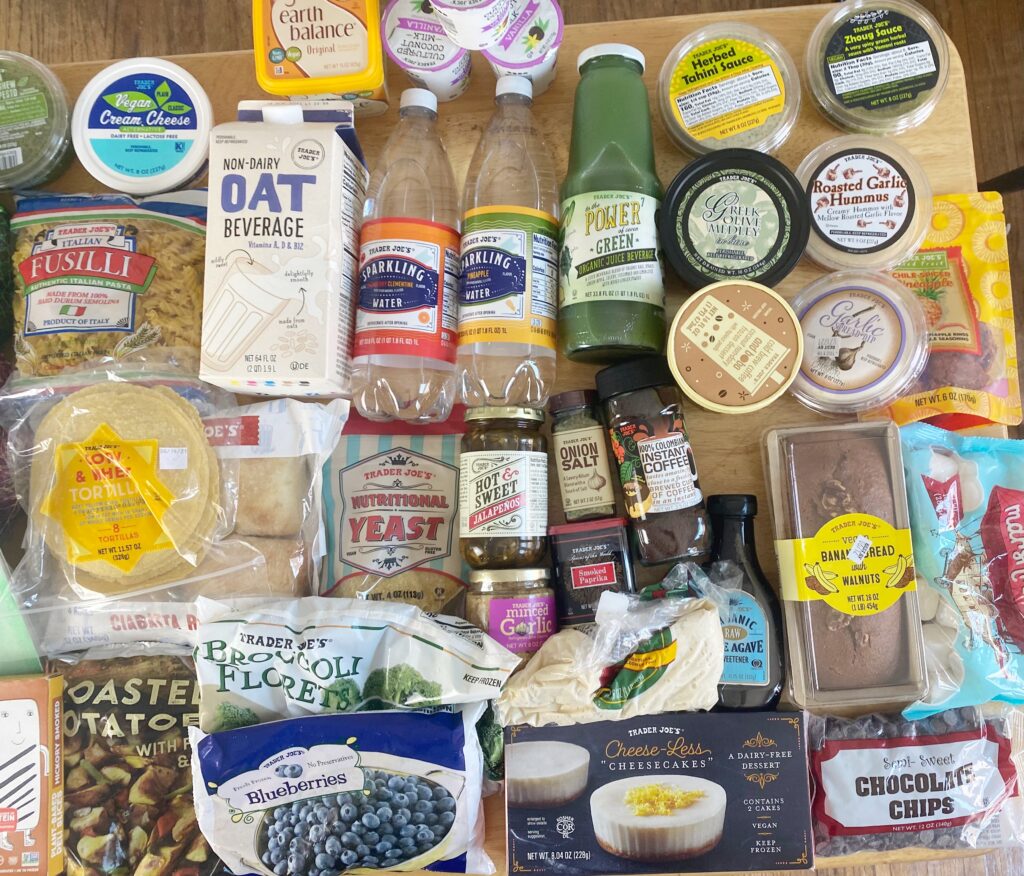 Haul Pic 2: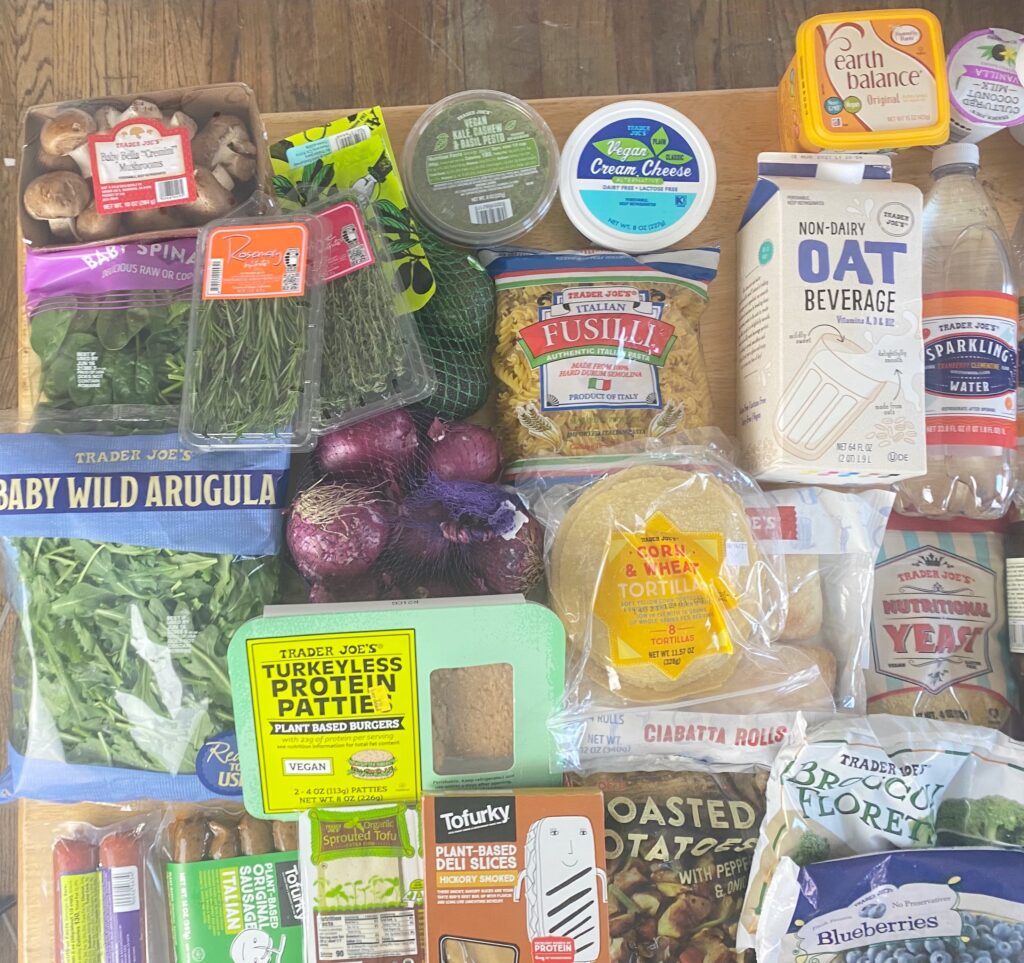 There's a lot here for me to get through but I am so excited to show you what I got! I separated my items into eight categories: Produce, Frozen Foods, Cold Items, Faux Meats/Protein, Grains, Desserts, Drinks, and Miscellaneous. Let's get into it!
Produce: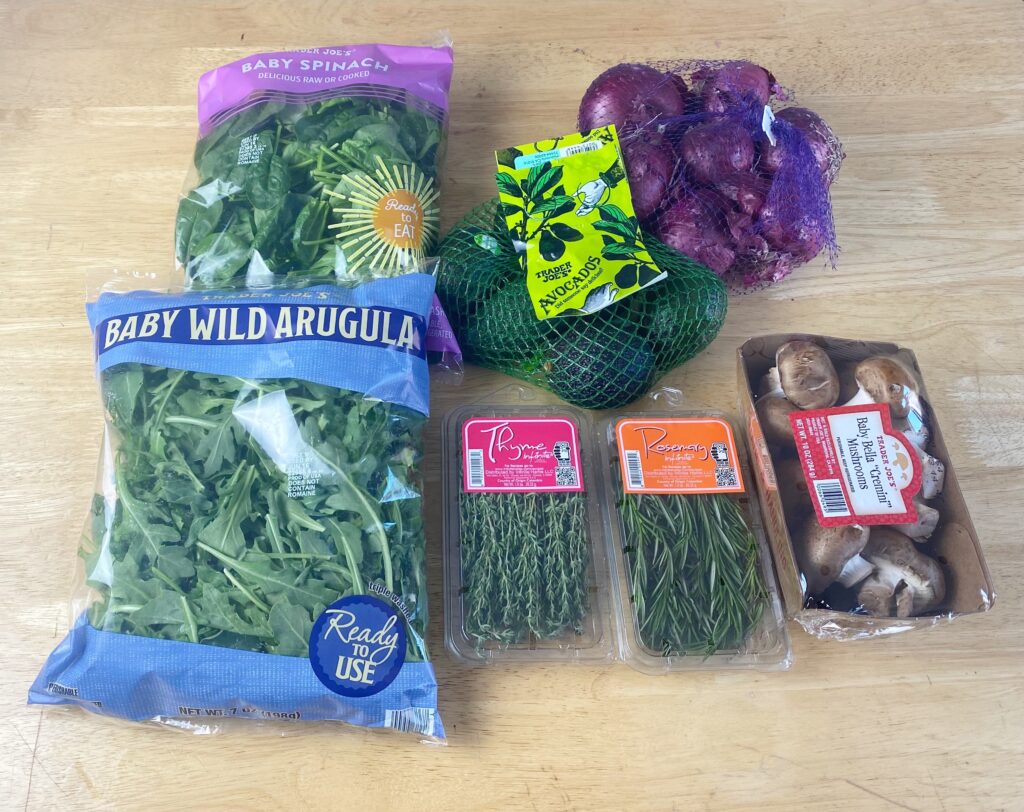 As stated before, I think Trader Joe's has some of the best produce. It's always fresh and there are so many options to choose from. This is also my go-to place to fulfill my arugula and avocado obsession!
Frozen Foods: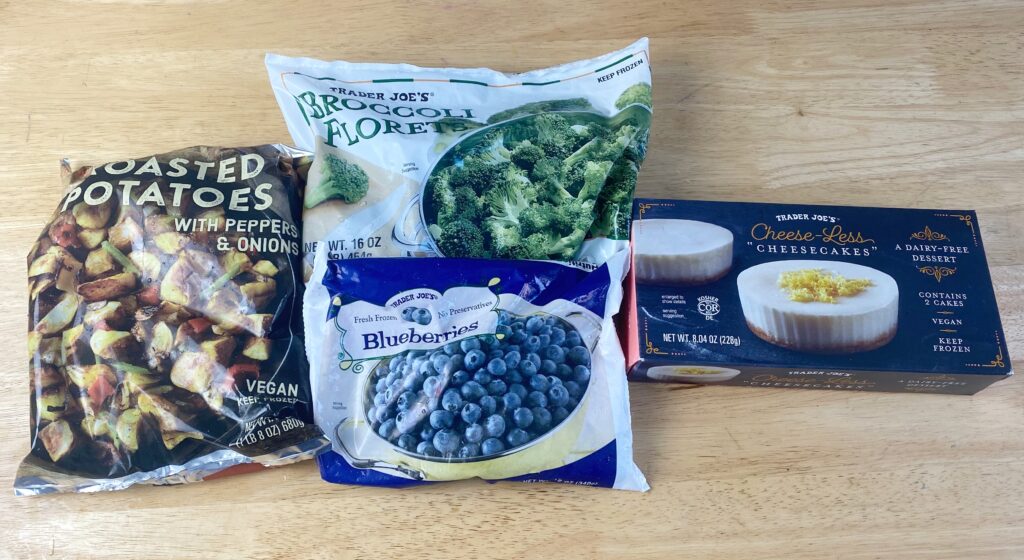 If you're familiar with Trader Joe's, you would know what their frozen foods section cannot be beaten. And sure, they have your typical frozen items like these frozen broccoli and blueberries, but when you really start looking, you'll see there is so much more. Trader Joe's carries several in-store brands of quick and easy meals. And when you learn to hit them with a little razzle-dazzle, you'll begin to feel like a chef; I'm talking a top-tier meal in the middle of the week. 
An item I'd like to highlight here would be the 'Roasted Potatoes with Peppers and Onions.' These simple and delicious breakfast tacos were the star of my weekend. I threw the potatoes into the air fryer and sautéed some sliced onions with the Soy Chorizo. I filled the corn and wheat tortillas with the potatoes, chorizo, sliced avocado, and a bit of Just Egg (not sold at Trader Joe's but I couldn't resist). I can't fully explain how bomb this was!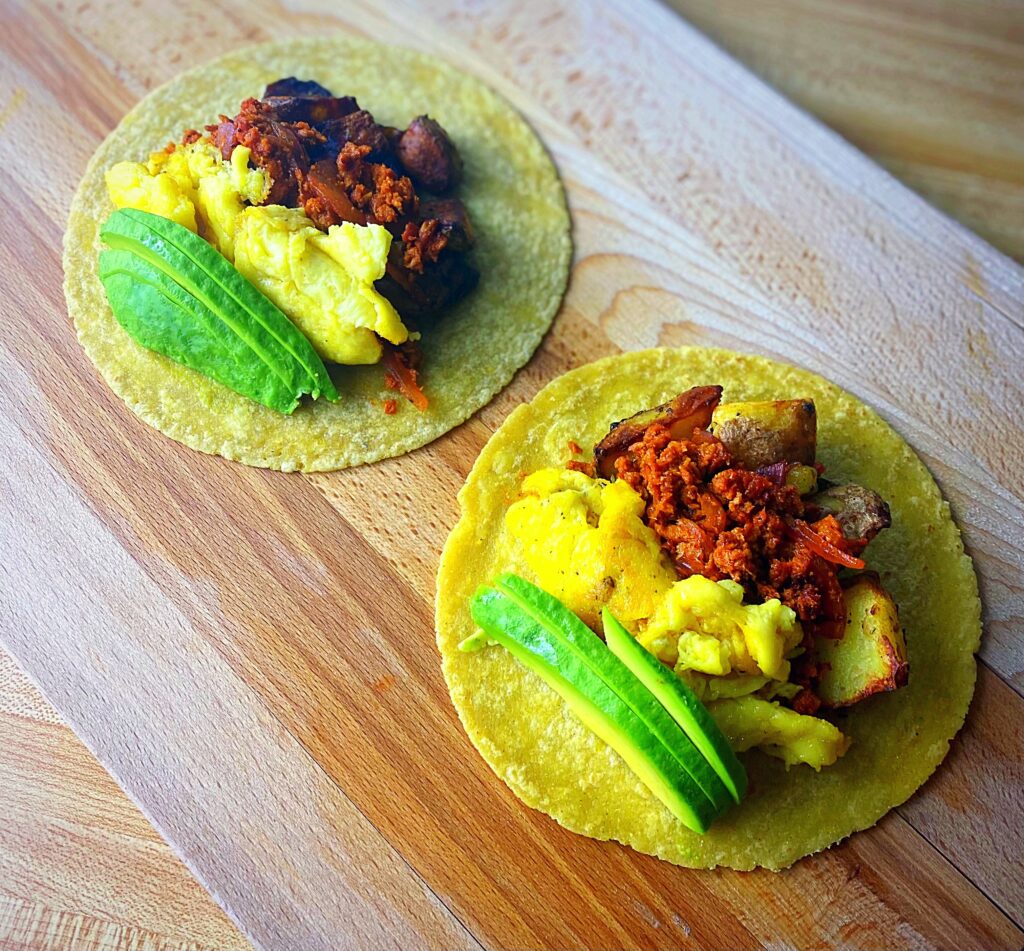 My homeade breakfast tacos!
It also can't go without saying how good these cheese-less Cheesecakes are. I was skeptical at first but they're pretty good for grocery store vegan cheesecake. Side note: that strawberry purée from my Target article would be an excellent addition here!
Cold Items: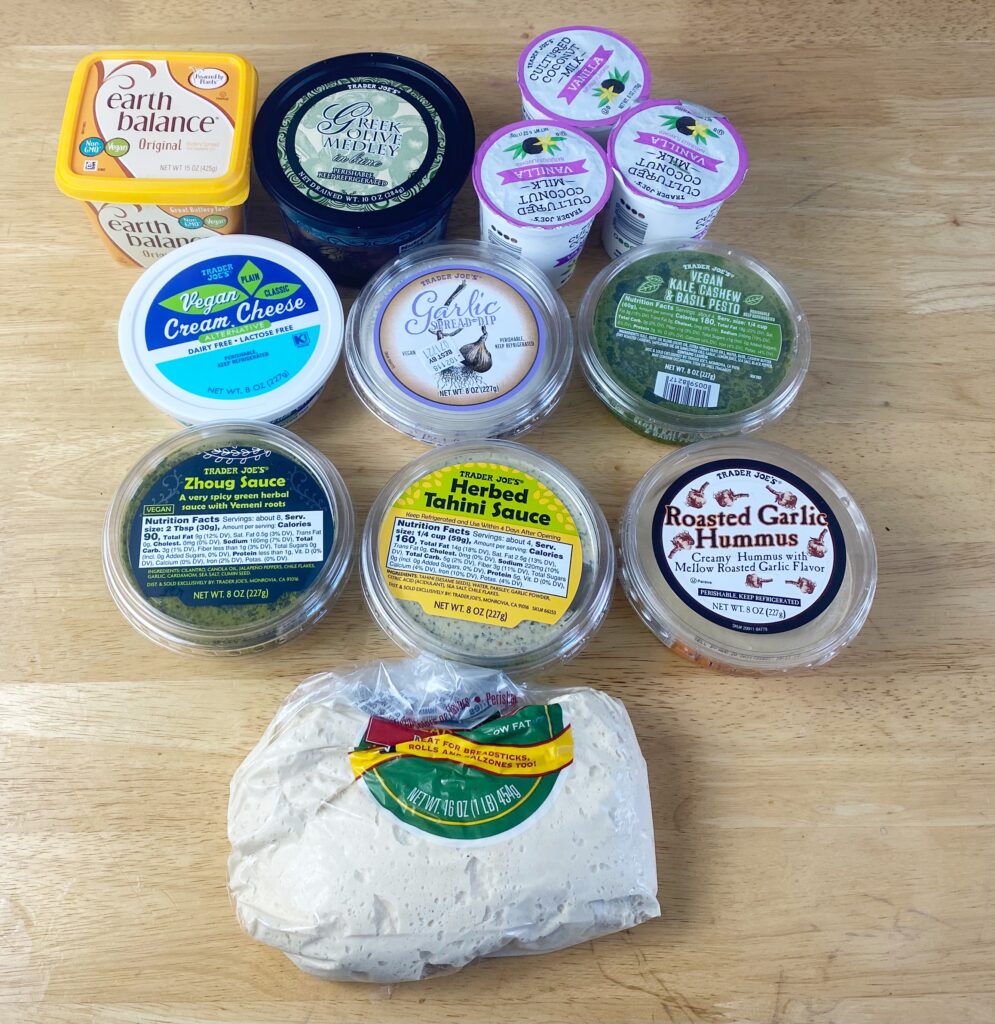 Perusing the cold section at Trader Joe's is one of my favorite things to do. Honestly, it's probably one of the best parts of the entire store. There is so much here! And when you activate your creativity and sense of adventure, you can craft some excellent meals. The Herbed Tahini Sauce and the Zhoug Sauce are fantastic additions to a protein bowl. Also, this pizza dough is so versatile. I have used it to make pizza (of course) but also calzones and Chicago-style pizza puffs. 
Faux Meats/Protein: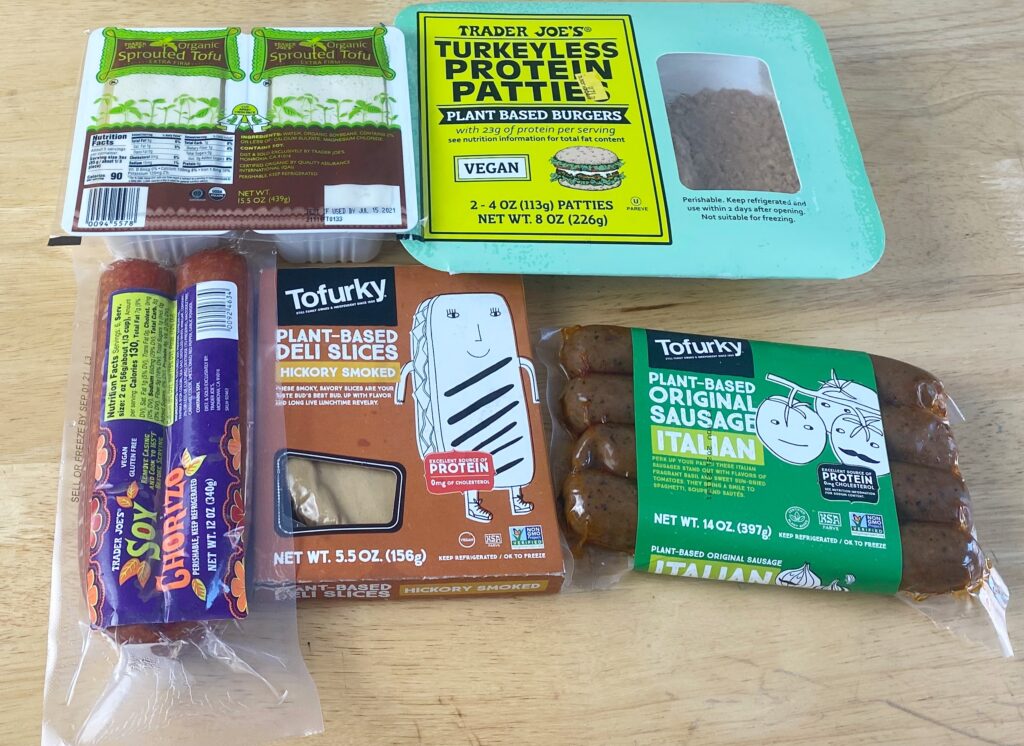 Trader Joe's has really stepped up their game over the past few years in regards to vegan options. And if faux meats are your thing, I would really encourage you to stop by your nearest Trader Joe's and have a look. Cross-pairing a few items from TJ's can really elevate your mealtime experience. I really have been enjoying these vegan turkey burgers so I baked one and placed it on a ciabatta roll with arugula, Zhoug sauce, avocado, sliced tomatoes and onions, vegan cheese, and vegan bacon (the latter two not available at Trader Joe's). I promise this will make you think twice about going out for a burger!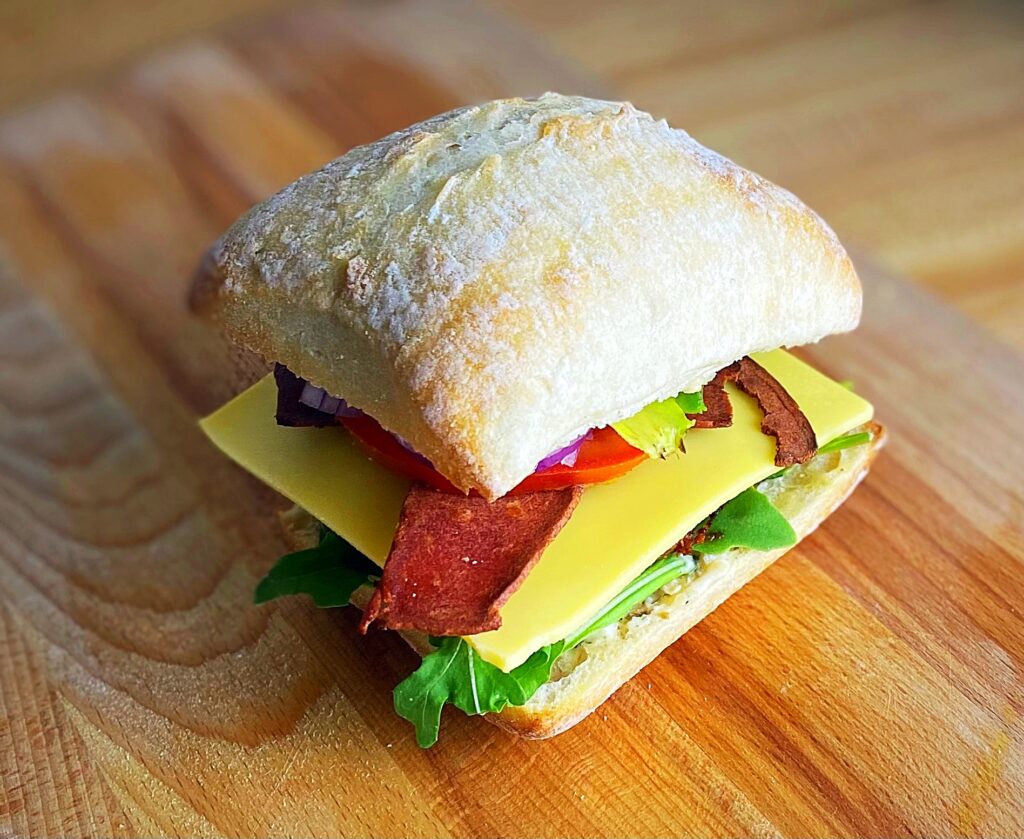 My homemade vegan burger with ciabetta buns!
Grains: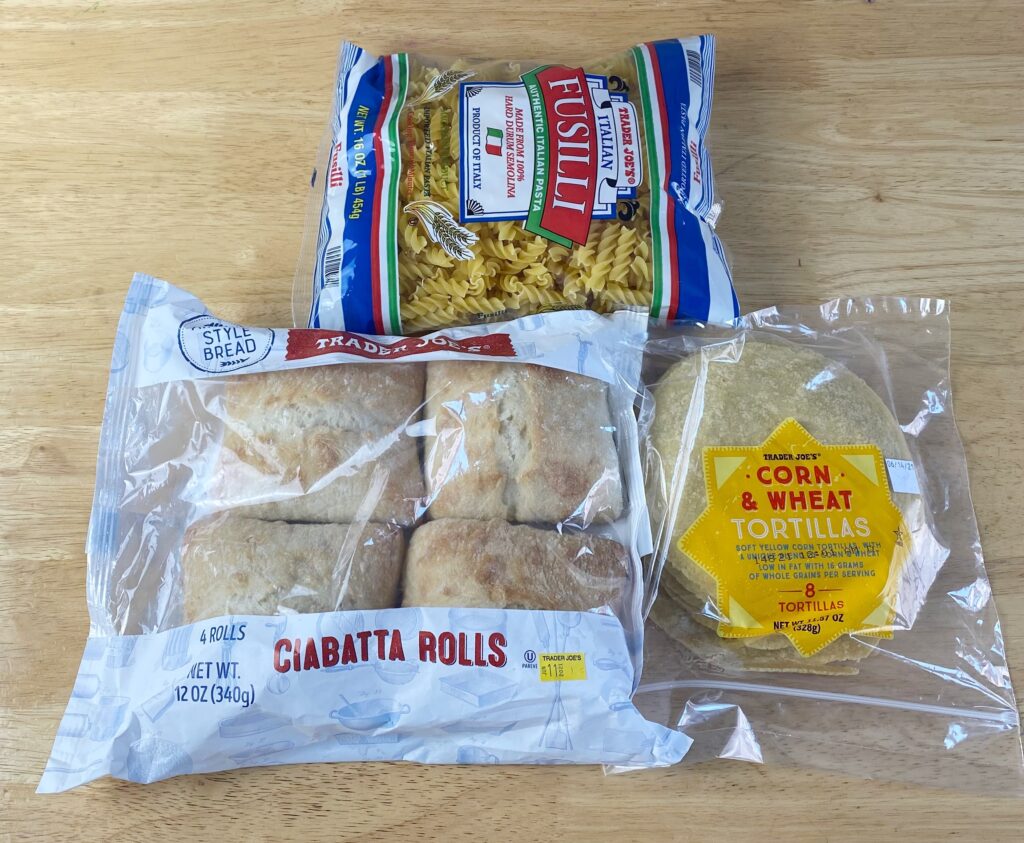 These ciabatta rolls are literally my favorite however I think ciabatta is a superior bread anyway. Although I have already mentioned these tortillas, I want to double back and confirm how delicious they are. The combination of corn and flour makes them denser but also a little fluffy too. 10/10. 
Desserts: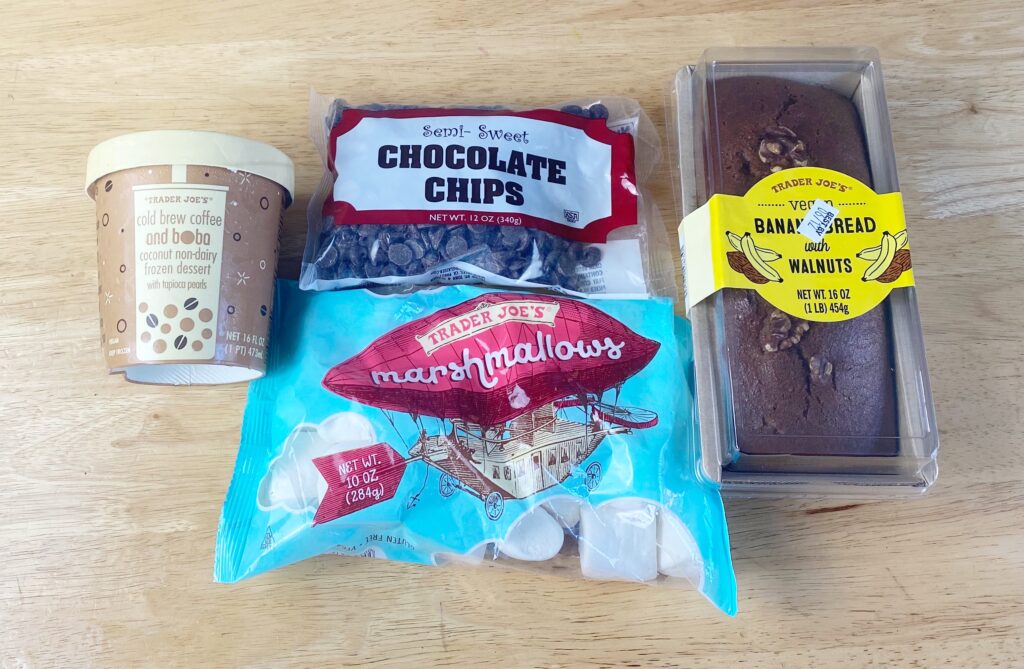 If you didn't know, you can see that I have a huge sweet tooth. And while I don't pick up these items every time I go to Trader Joe's, I wanted to show you some of my favorites. This vegan banana bread is amazing! I love to have it as a quick, indulgent breakfast with a cup of coffee. Also, this coffee boba ice cream was immaculate. Seriously, you should try it. 
Finally, how cool is it that these marshmallows are vegan?! I have written off marshmallows as a thing of the past since there are typically made with gelatin (a pig derivative) but was ecstatic when I saw these marshmallows a few years back. 
Since it's finally summer, I wanted to make a s'mores dip. I placed these chocolate chips in an oven-safe dish in a 350°F oven and allowed them to melt about halfway, stirring occasionally. Then, I topped it with some marshmallows and baked for about five minutes or until the marshmallows were melted. Since graham crackers aren't vegan (because they contain honey)I used some ginger snaps I already had at home.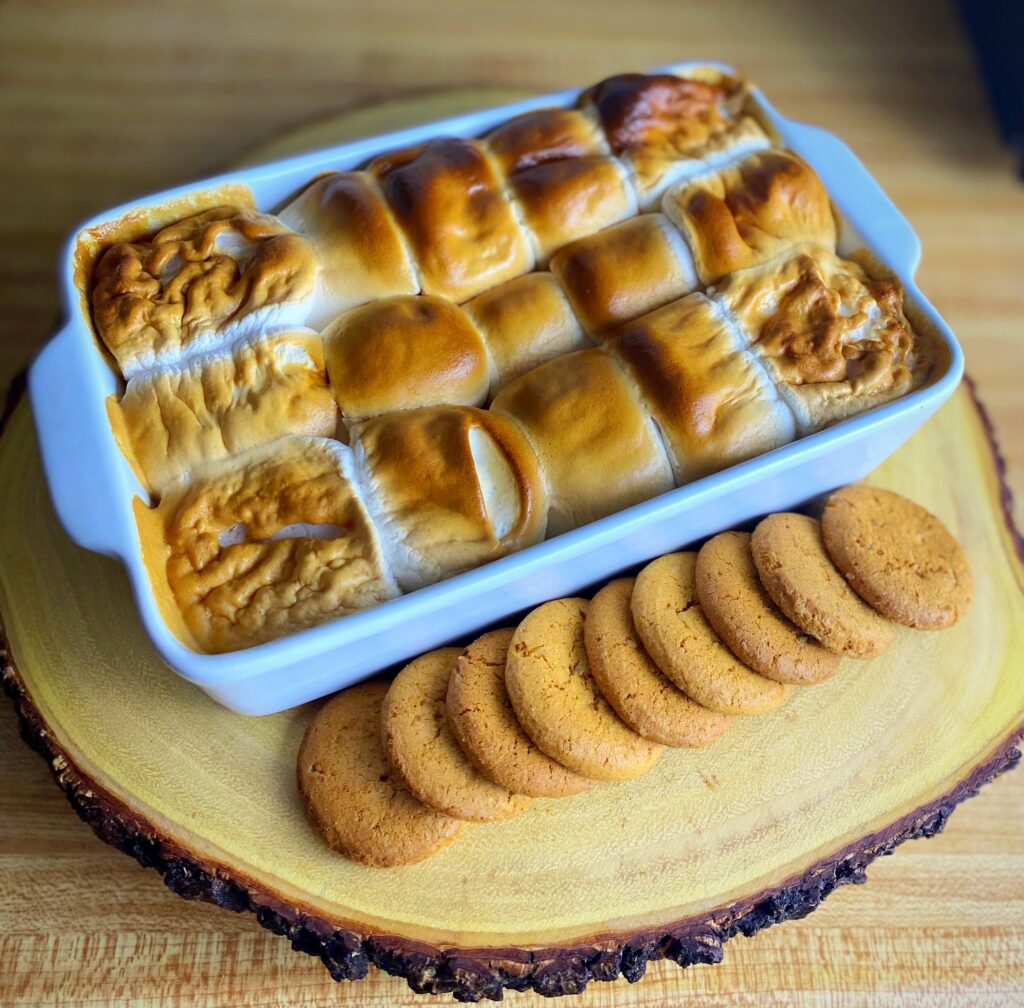 My homeade vegan s'more board
Drinks: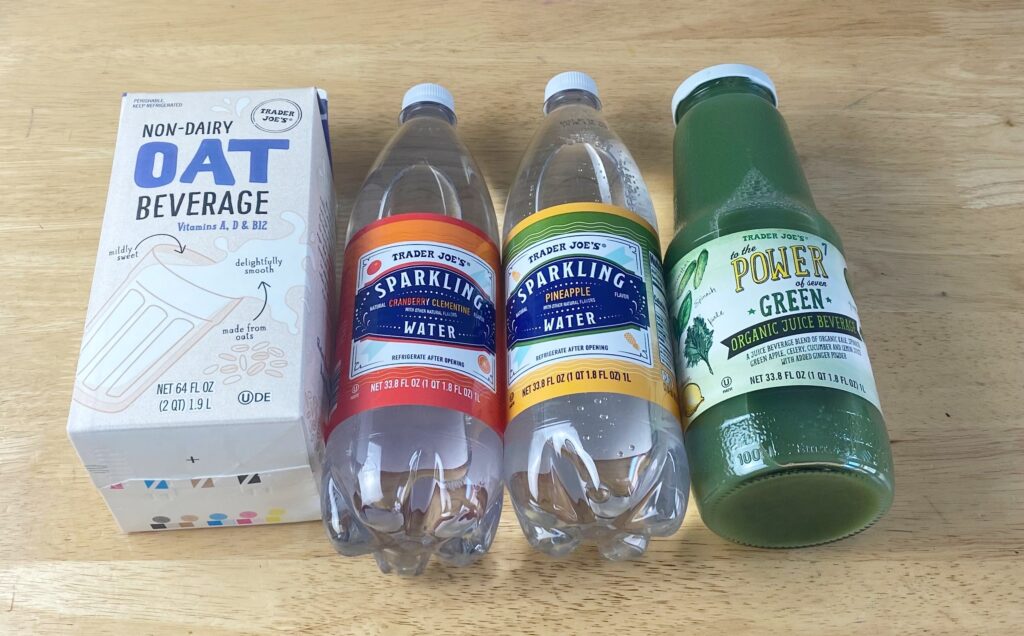 I want to use this as my moment to let you know Trader Joe's has the best oat milk, honestly better than any other brand on the market. It's thick, creamy, and versatile. Don't believe me? Give it a try! I also love picking up these sparkling waters and have wanted to give this green juice a try. 
Miscellaneous: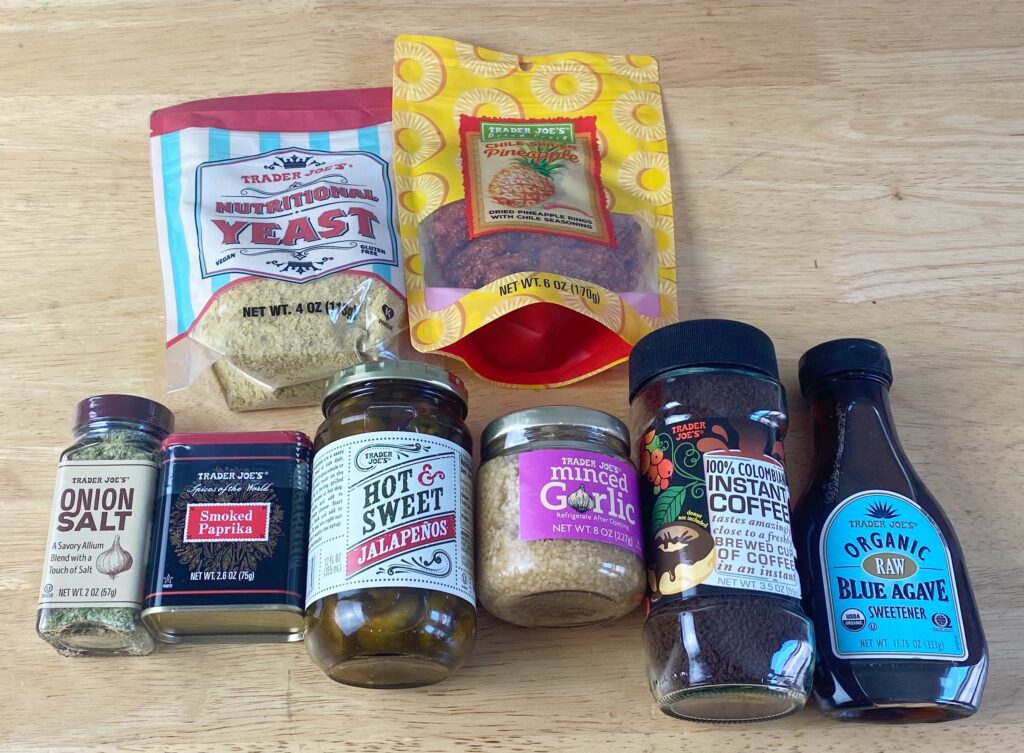 I don't want to lose credibility by talking about this instant coffee too much but it is so good! I mainly use it for my iced coffees because I find it works perfectly. Two spoons of this coffee plus one cup of oat milk, agave syrup, vanilla extract, and ice into a mason jar, shake it up, and boom. *chef's kiss* 
These Hot and Sweet Jalapeños might sound weird but they are one of my favorite items at Trader Joe's. Speaking of favorite items, I only buy my nutritional yeast from TJ's; it has the best taste and the best bang for your buck than any other brand that I've tried. And just in case you think I have been speaking in hyperbole for the duration of this article, I would not recommend these Chile Spiced Pineapples. I would give them a solid 2/10. 
***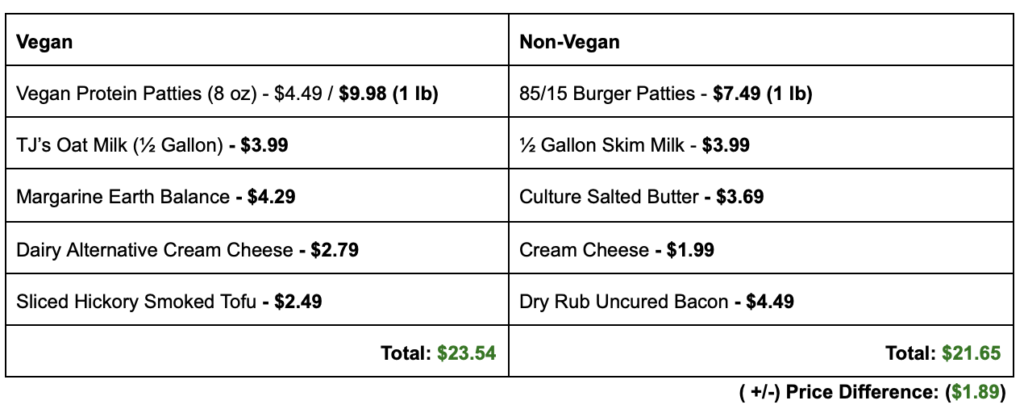 For this particular haul at Trader Joe's, the price difference between the staple vegan options, compared to the prices listed on their site for non-vegan items, is only a difference of $1.89. While items like their uncured bacon costs about twice as much as their smoked tofu slices, beef paittes are a couple bucks short for 1 lb compared to their vegan protein patties. However, both oat milk and skim milk cost the same.  So in short, vegan or not, you spend some, you save some. Also, keep in mind that location plays a role in price variation, as well.
While I'm sure my love for Trader Joe's is clear, I hope you were able to get some inspiration for your weekly shopping trip. And even though I went slightly over budget, with the versatility and variety of Trader Joe's offerings, I found no reason to eat out this week. If you enjoyed my take on these items and would like to see more, I have a vegan Trader Joe's Haul and a What I Eat in a Day from Trader Joe's on my YouTube Channel "Katie Make It Vegan". 
I would love to hear your thoughts on what I picked up and anything you thought I missed. Thank you again for reading!
Katie Brown is a classical musician, podcaster, educator, and content creator. In addition to being a Fellow with the Memphis Symphony Orchestra and cohosting Classically Black Podcast, she curates her YouTube Channel "Katie Makes It Vegan," dedicated to making her formerly favorite foods vegan. You can also follow her on Instagram.