June Grocery Haul #4: My Week's Worth Of Groceries At Whole Foods (Receipt + Haul)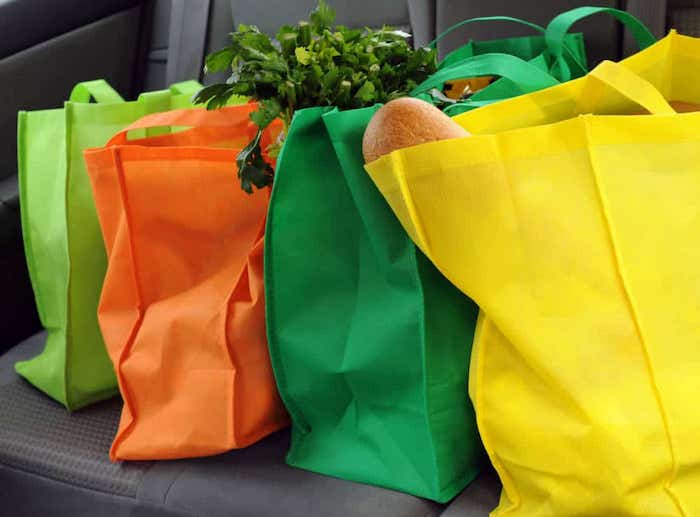 For the month of June, we're tracking what a week's worth of groceries looks like from four major market chains.  Every week, we'll highlight one shopper's food haul from a different nationwide grocer (including their receipts)! At the end of the month, we'll do a store round-up, weighing in on the outcome of overall price vs. purchases., per store. Be sure to check out all recaps here!
**Prices for this haul include vegan and non-vegan options and price differences for both.
One of the many discussions I have with my family, who over four years later still have trouble coming to terms with me being vegan, is whether veganism is expensive or not. And as I have discussed in my Dollar Tree article, yes veganism can be expensive. But that is true about any diet. If you ate filet mignon and lobster every day, your grocery bill would be expensive. But not a lot of people eat like that every day, and the same goes for veganism. Most people eat normally and indulge every once in a while. And while this won't help to strengthen my arguments with my family, Whole Foods is certainly a store I turn to for indulgence. I did pick up some more practical things along the way but I always have a great time shopping here for this reason.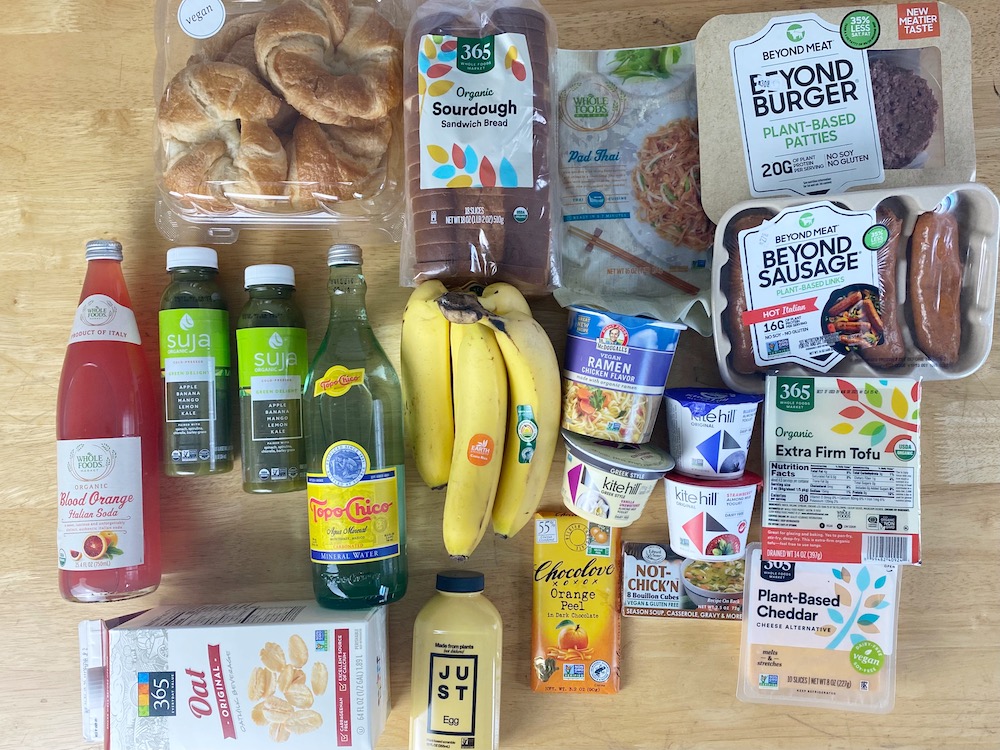 If you have learned anything about me through this series, you'll know that I am all for creating a top-tier culinary experience at home. I make sure I am never missing out on a great meal because I am vegan. And with the stigma of veganism presenting dull, bland, home-cooked grass, I am determined to help shift the narrative of what great vegan food can look like. 
I'm back at my childhood home for a couple of weeks this summer and picked up a few groceries to make some exciting dishes this week. As always, I will show you what I bought as well as give you some tips along the way. Before we get started, I wanted to note a few things. First, this is not a complete grocery haul (for a few reasons that I'll get into later). However, since I stayed under my normal budgeted amount for the week (around $100), I was able to round out my trip elsewhere. Second, I am an Amazon Prime member and because of their partnership with Whole Foods, I was able to save just over $12. Third, because I am vegan and only buy plant-based items, the amount I paid while shopping at Whole Foods will differ from someone who is not. Okay! Let's get to it!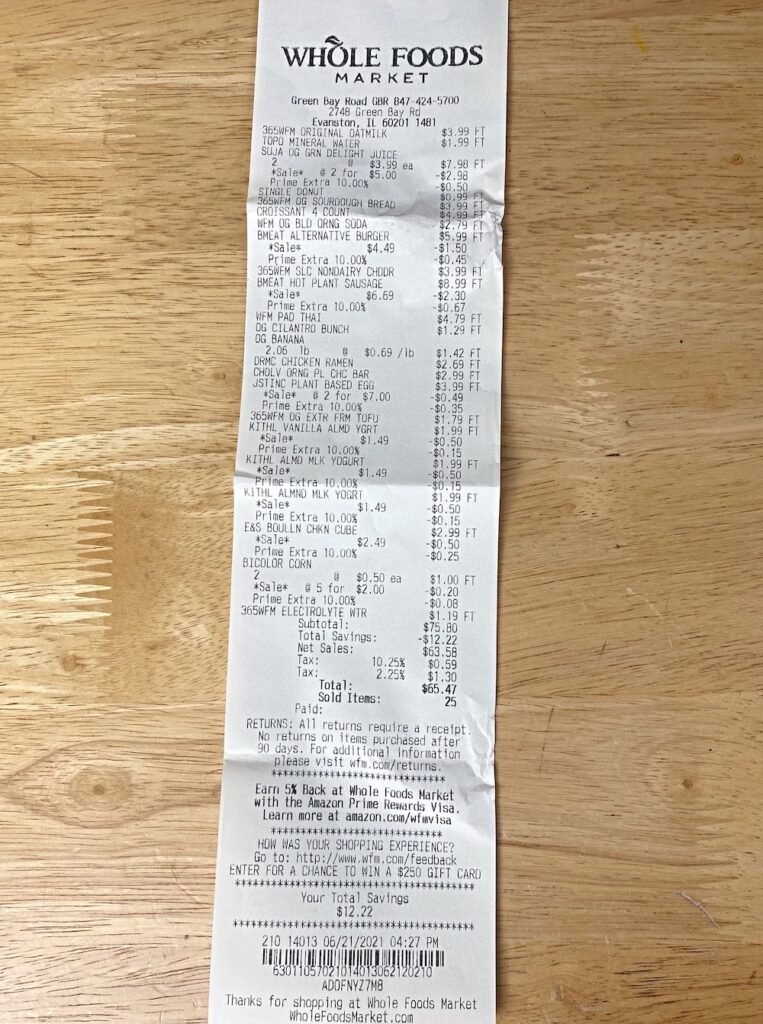 I spent a total of $63.58 before taxes at Whole Foods. And I know, this is kind of a lot but as I said before, some of the vegan specialty items like the Beyond Meat sausages are a bit pricey. They helped drive my final price up a bit. But trust me, it will all be worth it!
Produce: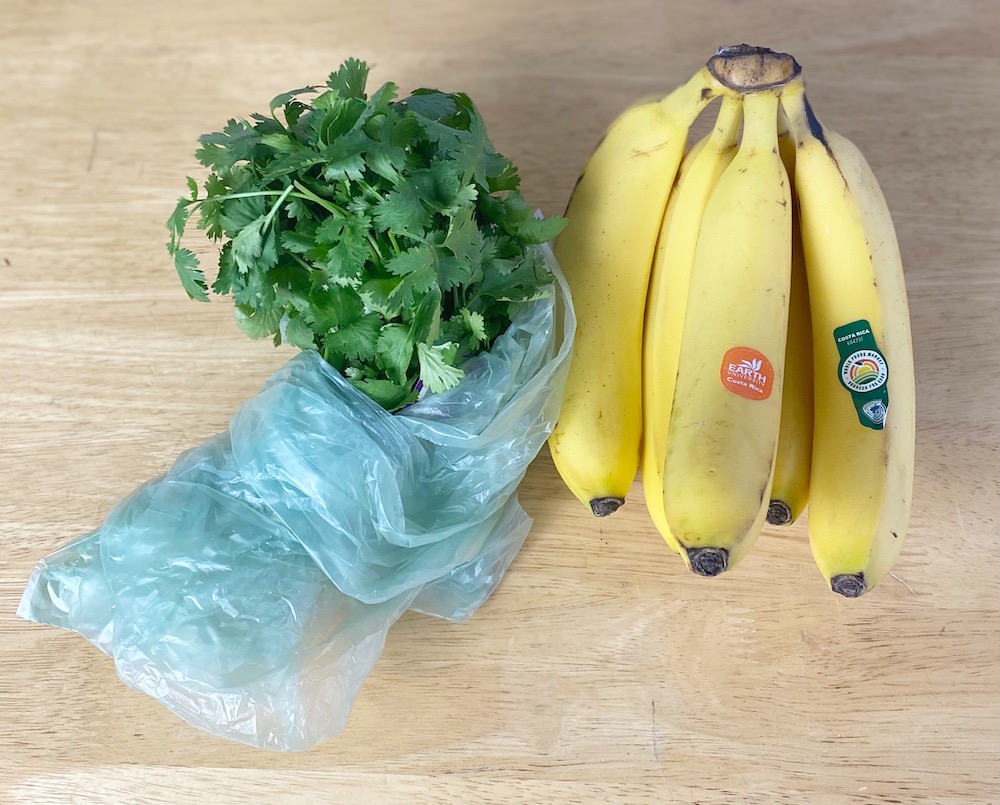 I'll start by getting the easiest category out of the way mainly because there isn't much to see here. I rarely buy produce from Whole Foods. The elephant in the room is that Whole Foods has the reputation for being expensive. This is both true and false. With that being said, I find their produce to be overpriced and low in quality. Goods are often wilted or brown and there's simply no reason to pay for damaged produce (especially if you have an Aldi or Trader Joe's in the area). At first I thought it was simply the location I was going to but I've seen this be true among several stores that I have been to over the past few months. I say all of this not to drag Whole Foods but just to highlight that everyone has their strengths. Bananas and cilantro are always safe items for me at Whole Foods. I usually skip everything else.
Bread: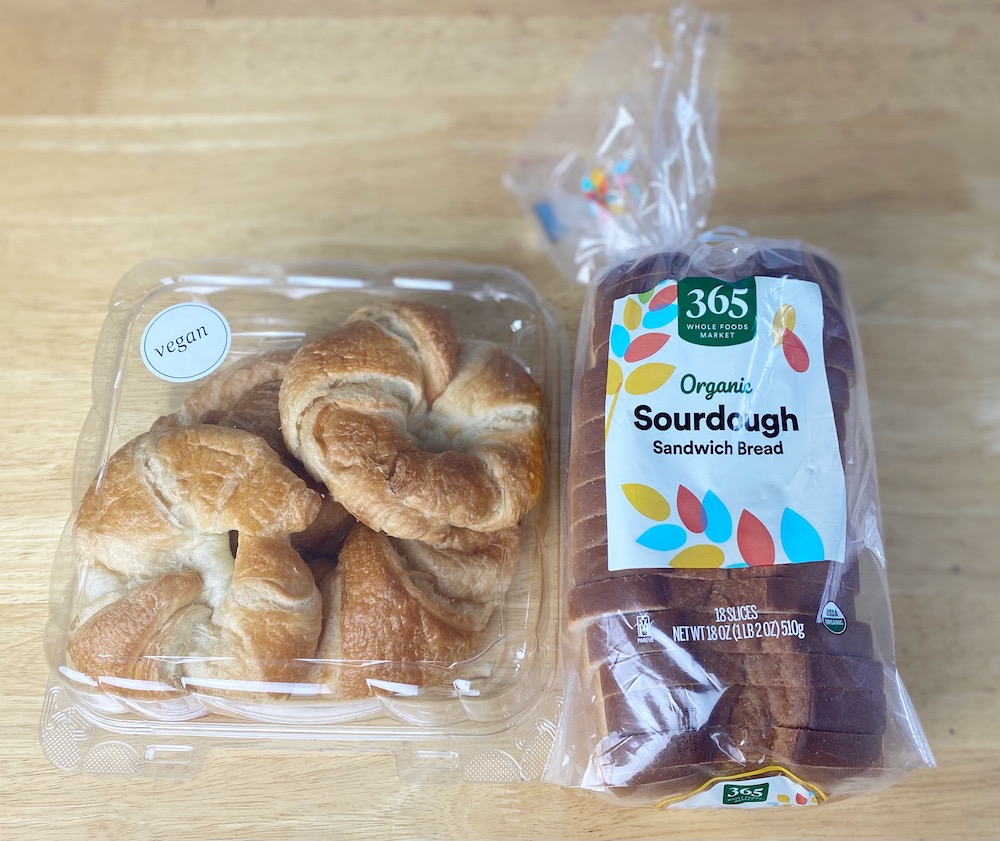 I'm not a huge bread eater but when I go to Whole Foods, I get a bit inspired. This vegan-friendly sourdough bread is my go-to for grilled sandwiches but the star of the show here are these vegan croissants. I remember when Whole Foods rolled these out last year and couldn't wait to get my hands on them. They are such a unique find since the flakiness of a traditional croissant is achieved through the layering of butter throughout the dough. These vegan croissants are good on their own but my favorite way to have them is as a breakfast sandwich. 
You simply prepare a bit of Just Egg in the microwave (I know, I know weird but trust me. It's fast and convenient) seasoned with the Onion Salt from Trader Joe's and black pepper, and heat a Hot Italian Beyond Meat sausage. Then, place the Just Egg, sausage, and a slice of vegan cheese in the center of the croissant, wrap it in foil, and bake for about 10 minutes. It's honestly perfect!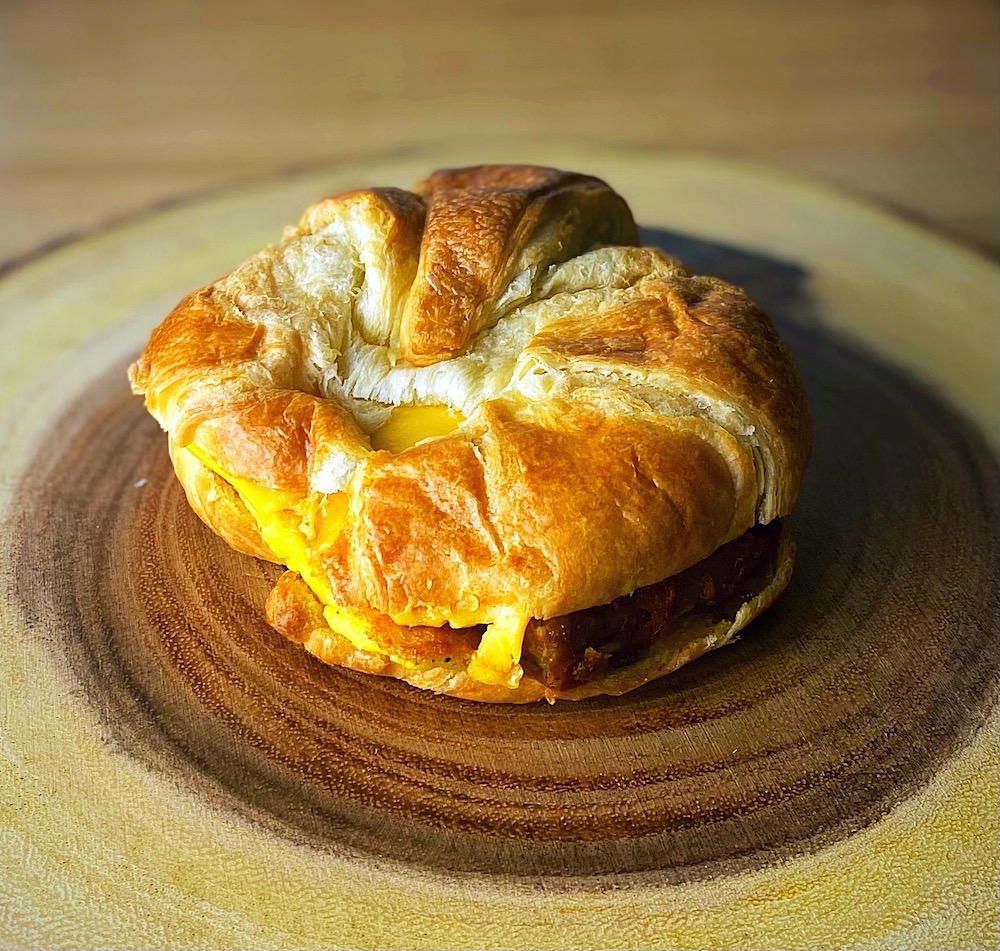 My homemade vegan crossaint breakfast sandwich
Vegan Specialty Goods: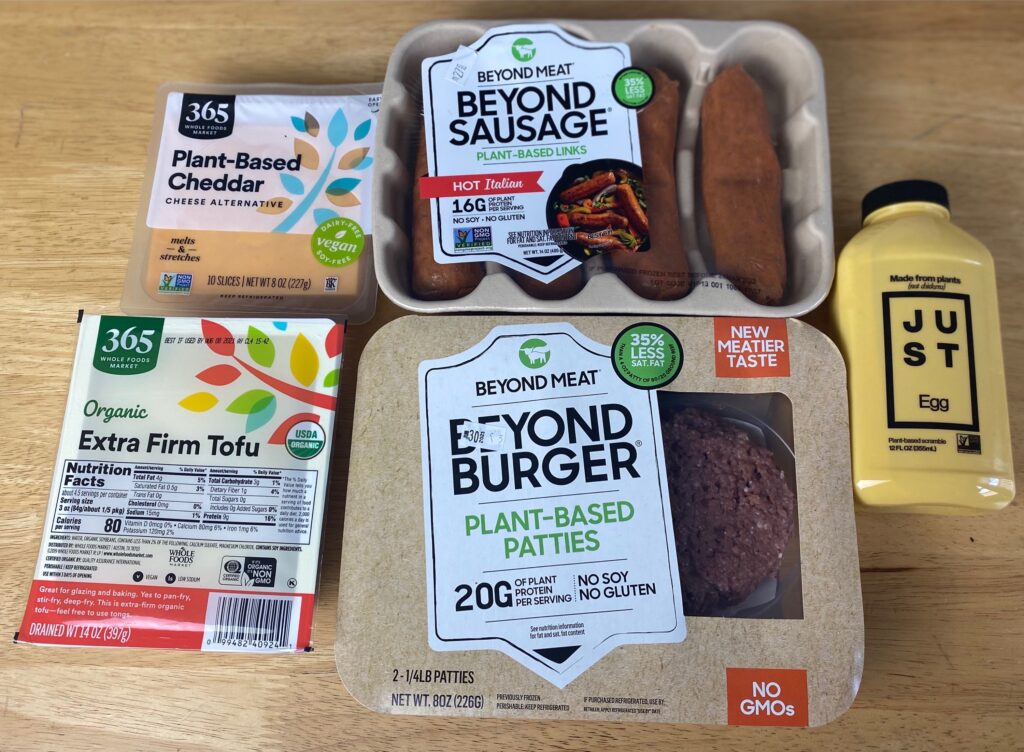 For someone just going vegan, I would recommend taking a trip to Whole Foods. Their plant-based meats and cheeses are extensive and to be honest, I can't think of another grocery store that trumps them in this department. This is my go-to place to pick up specialty items like these. They can be a bit on the expensive side but are worth the price if you don't buy them often. 
One of my favorite things to make for dinner as a treat is a patty melt and it's the best of both worlds: a grilled cheese and a burger. Best of all, it's easy to make. I prepare a Beyond Meat burger patty with my seasonings of choice in the air fryer. Then I butter one side of two slices of bread and lay them buttered side down into a medium-hot frying pan. I place a slice of cheese on both pieces of bread and allow the cheese to start to melt. Next, I put the burger patty on one slice of the bread and place the other slice cheese side own on top of the burger patty. I continue to cook the patty melt until the cheese is melted. You can stop here but this time, I put a little Frisco Sauce (I have a recipe for that HERE) in the center to mimic a Steak N' Shake Frisco Melt. You have got to try this!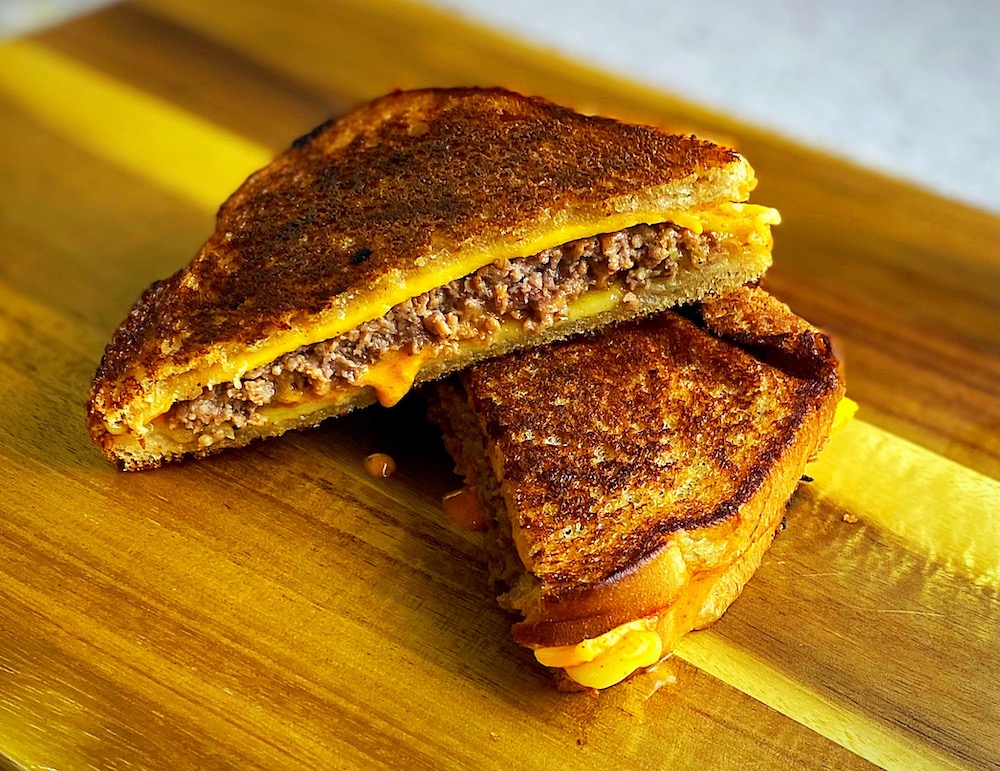 My homemade vegan frisco melt
Cold Items: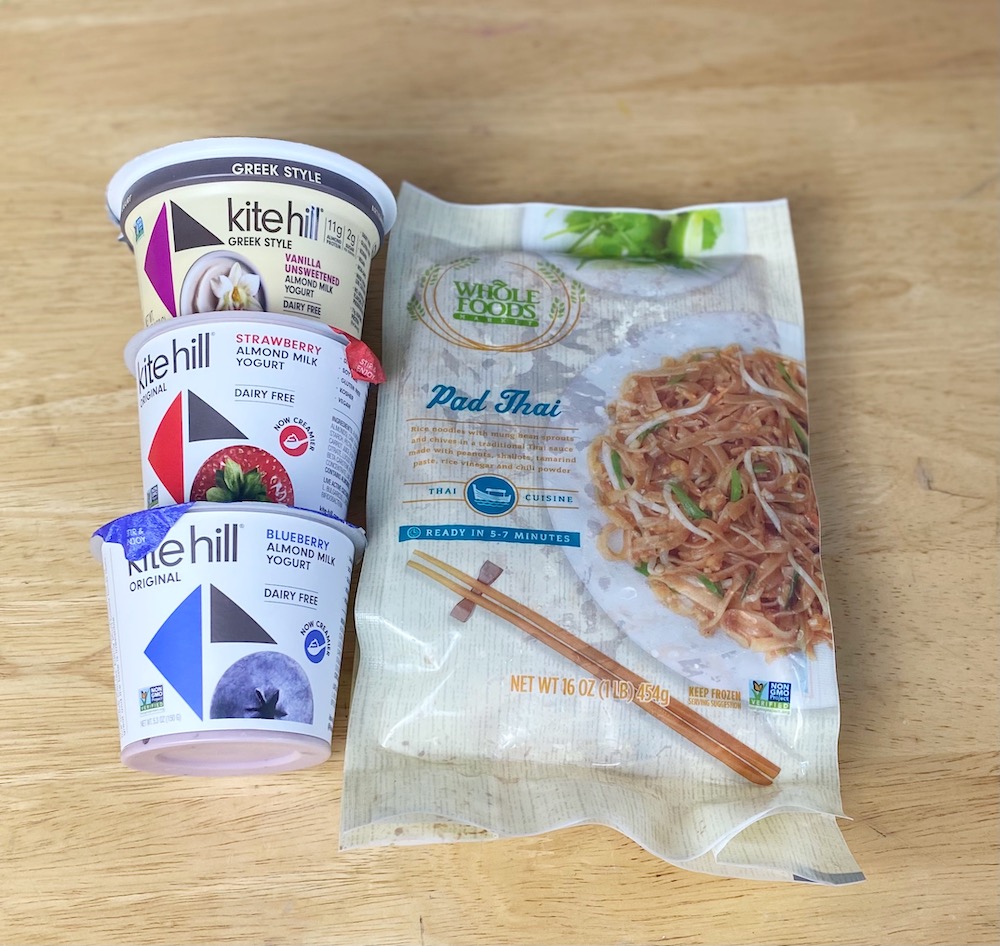 One of the skills I have mastered since becoming vegan has been taking "regular" items and transforming them into a five-star meal. This Pad Thai from Whole Foods is one of my favorite items in the store. I usually always have one in my freezer ready to go for when I need a quick but delicious meal. I'm sure it's good on its own (I wouldn't know haha) but let me tell you how I upgrade this:
Heat a tablespoon of sesame oil in a large pot and add the entire package of Pad Thai as well as a vegan protein of choice (I usually go for vegan shrimp from my local Asian market). Sauté until completely heated through. Move the Pad Thai to the perimeter of the pan and add a bit more sesame oil to the center of the pan. Then, add about a 3-4 tablespoons of Just Egg. Sauté the vegan egg until it is no longer runny. Plate the Pad Thai and top with chopped peanuts, cilantro, and chili oil. It's giving takeout, it's giving top-tier culinary experience at home. If you don't try anything else, you should try this!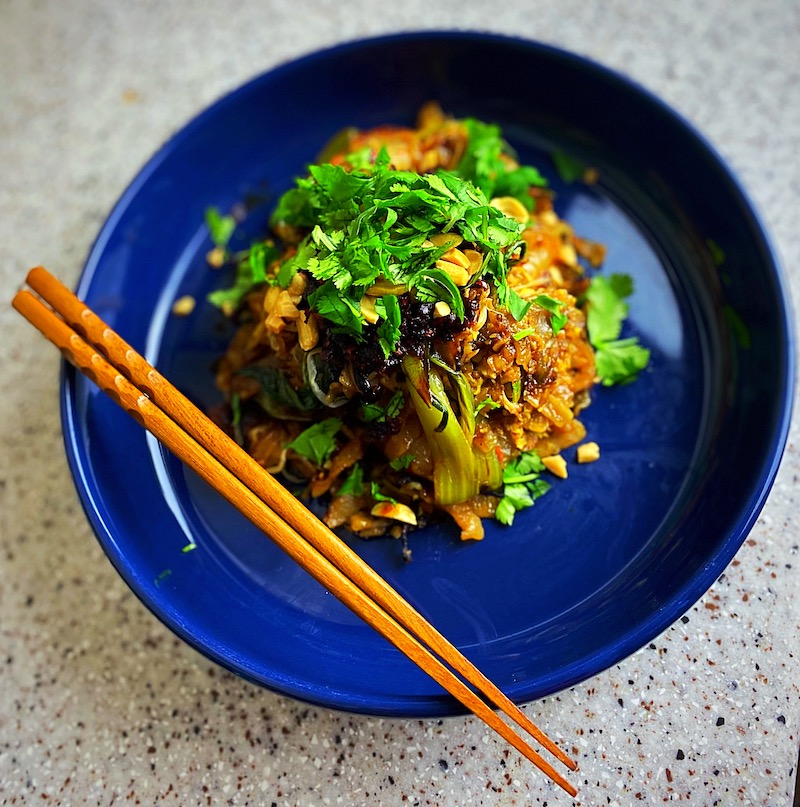 My homemade vegan pad thai
Drinks: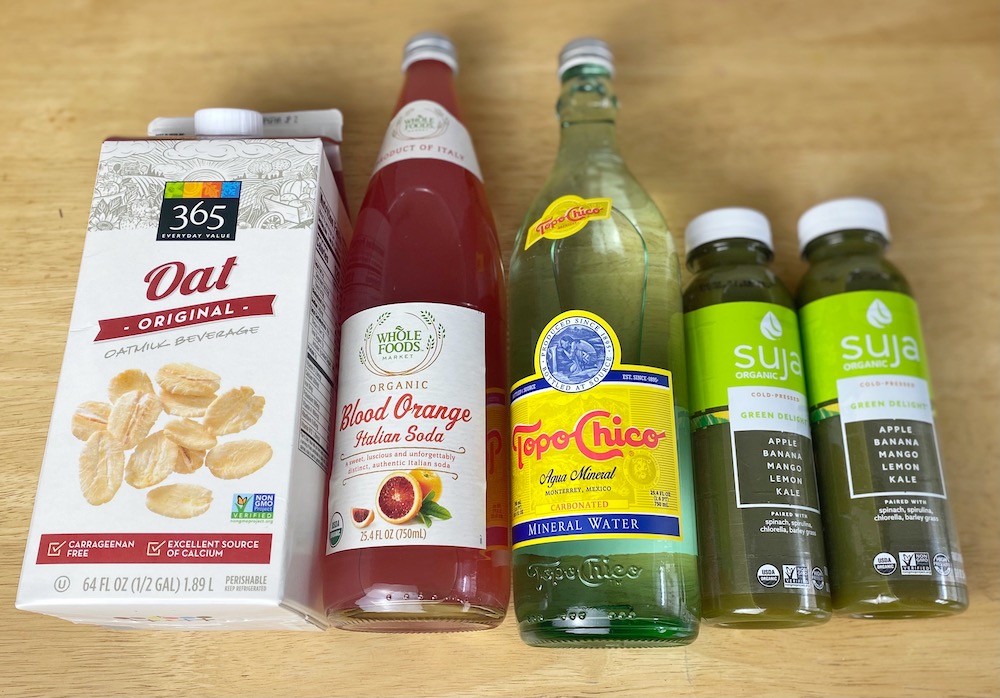 Whole Foods has great oat milk, only second to Trader Joe's. I usually pick up a carton whenever I go. I have also really been enjoying these Suja green juices. They are refreshing and taste as "Earthy" as other green juices. 
Miscellaneous: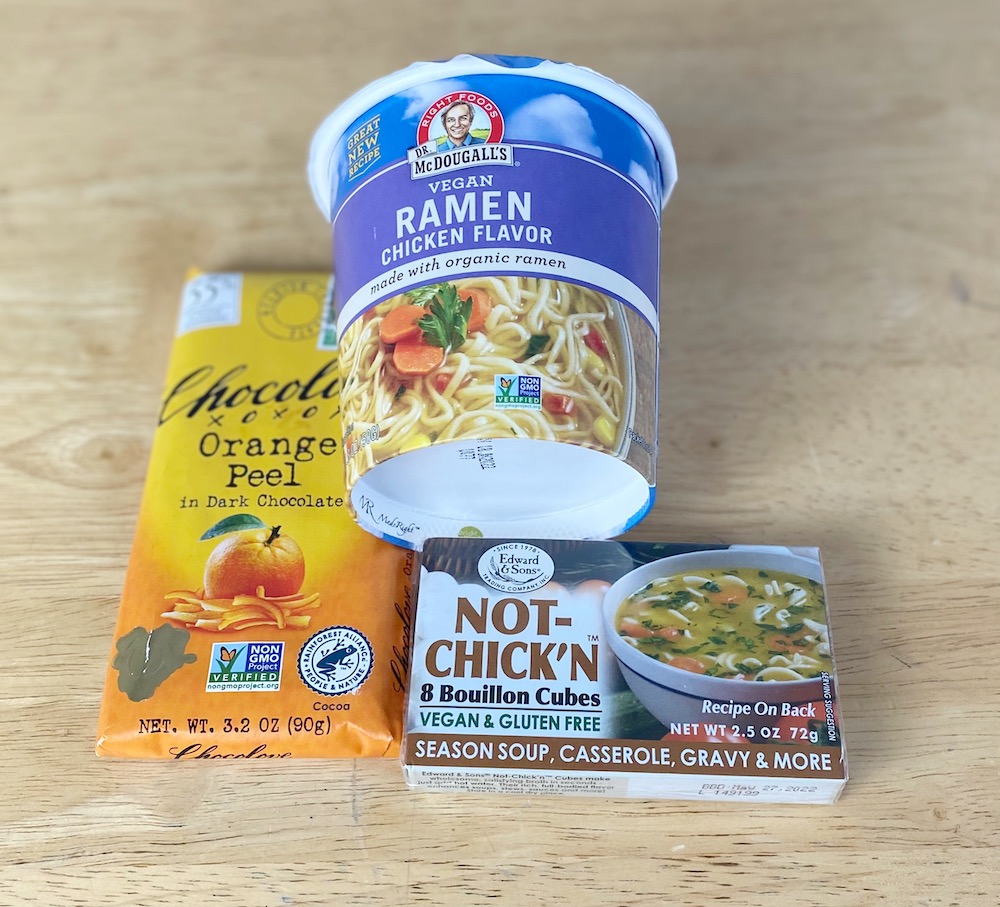 I wanted to share a few random things I enjoy grabbing while I'm at Whole Foods. This vegan ramen has come in handy a few times when I did not have time to make a proper lunch. I also love having this accidentally vegan chocolate with a glass of wine at the end of a long day. Even if dark chocolate isn't your thing, I would recommend trying this one. It is not as bitter and there are a wide range of flavors that are vegan-friendly to chose from. Finally, these vegan bouillon cubes are my secret weapon when it comes to recreating dishes that aren't inherently vegan like West African Jollof, Haitian Griot, and chicken-fried tofu (I do a lot of dish recreation on my YouTube channel "Katie Makes It Vegan")
***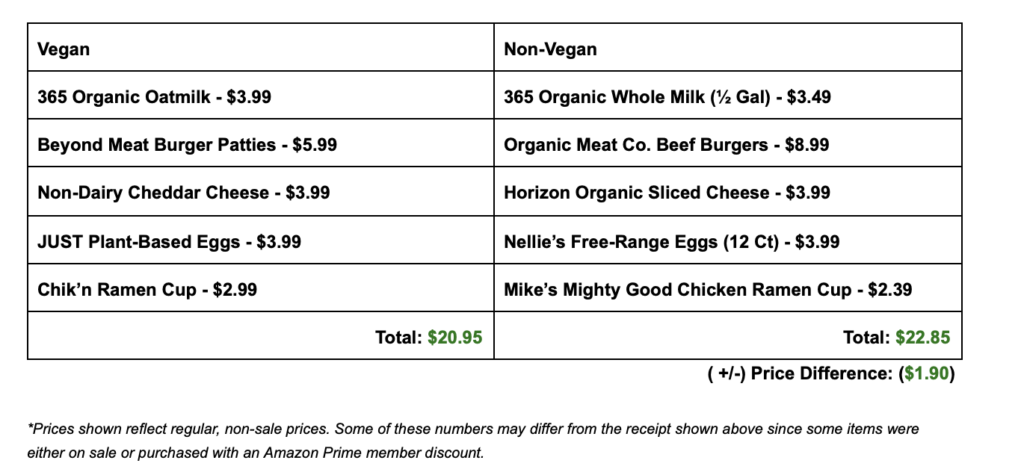 For this particular haul at Whole Foods, the price difference between the staple vegan options, compared to the prices listed on their site for non-vegan items, is only a difference of $1.9,w ith the non-vegan items actually costing slightly higher than the vegan options. While items like the Beyond Meat Burger patties cost about 40% less than beef patties, many of the other options (dairy, eggs, etc.) pretty much cost the same. So in short, you spend some, you save some. Also, keep in mind that location plays a role in price variation, as well.
I would love to hear what you thought about my trip to Whole Foods or about any grocery shop I have done for this series! I also hope I inspired you to buy a different item or try something new!
Katie Brown is a classical musician, podcaster, educator, and content creator. In addition to being a Fellow with the Memphis Symphony Orchestra and cohosting Classically Black Podcast, she curates her YouTube Channel "Katie Makes It Vegan," dedicated to making her formerly favorite foods vegan. You can also follow her on Instagram.
Header Image via Unsplash