10 Breakfasts You Can Prep The Night Before To Make For An Easier Morning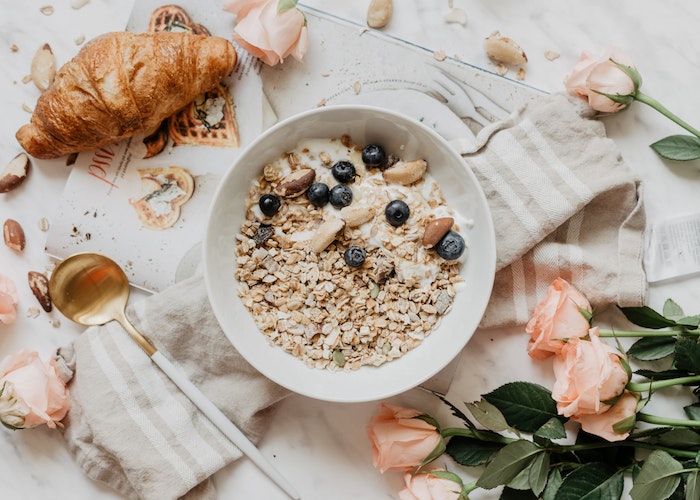 My typical morning looks something like this: snooze the alarm at least six times, drag myself out of bed begrudgingly, and transition into my living room work station. I am a total zombie until my second cup of coffee and I have a bad habit of getting out of bed until the last possible second. It's a habit that, perhaps unsurprisingly, has gotten much worse during the quarantine.
Whether you're a morning person or not, you might not always have the time or energy to make breakfast when you wake up. Due to my A.M. zombie status, sometimes having breakfast ready to go and prepped in the fridge makes my day that much easier. Luckily, there are so many filling food options that can be prepped ahead of time.
Read on for ideas on easy-to-prep breakfasts that will help you glide through your morning routine with more ease. 
1. Egg Cups
Super simple to make and easily customizable, egg cups are a cheap, protein-rich breakfast option. All you need to do is beat your eggs, grease a muffin tin, and add your eggs with whatever fillings you'd like before baking in the oven at 350 degrees, for about 20 minutes. I like to go with a veggie and additional protein, like broccoli and bacon, or cheese and onion for example. You can add pretty much whatever you have on hand when making this easy meal-prep option.
2. Energy Balls 
Consisting of just a few affordable ingredients, oatmeal energy bites are a perfect grab-and-go snack or meal. Using rolled oats and peanut butter as the base, there's a variety of fixings that can be added for flavor and texture. From chocolate chunks, to coconut flakes, to banana chips, there are tons of options to mix up these energy balls. Plus, they freeze super well too. This recipe requires no baking!
3. Breakfast Burritos
If you're one for a super filling breakfast, this option is for you. Breakfast burritos can be made 2-3 days ahead and stored in the fridge, as long as they cool down completely beforehand. Any combination of eggs, cheese, rice, beans, ground meat and veggies will make for a delicious meal that will keep you full and energized for hours, the next day. Tip: Leave your sauces on the side! You can dip your burrito into salsa, sour cream and/or guacamole on the day of, but beware of placing it into the burrito when prepping, as it may cause sogginess the next day.
4. Overnight Oats 
A tried and true meal-prep option, overnight oats have a great reputation for a reason. Oats are cheap, and you can add whatever seeds, fruit, nut butters, and milk you want. Made by soaking rolled oats in milk overnight, overnight oats can be made up and stored up to 3 days ahead of time. This article suggests some great flavor combos!
5. Pre-Frozen Smoothies
While a smoothie is pretty quick to throw together, you can still save prep and clean up time in the morning by making yours the night before. In my experience, freezing the smoothie overnight and then letting it thaw the next day retains the flavor better than keeping it in the fridge. This way, it'll be super cold and refreshing too. If you have freezer-safe drink containers, like mason jars for example, smoothies can be batch prepped and taken out of the freezer just about an hour before you want to drink them. If you're looking for a super affordable DIY option, check out this $3 recipe.
6. Breakfast Bars
Think overnight oats, but portable! Believe it or not, making your own breakfast bar isn't as hard as one might think, plus it's healthier than the store-bought options that are often loaded with preservatives. Breakfast bars can be prepped the night before, simply by tossing some of your favorite oats and seeds (as a base) into a bowl, adding some of your favorite fruits, mashing them together, then pressing into a pan to bake. Once the bars cool down, they are sliced and later stored in the freezer.
Popular ingredients include: oats (of course), coconut chunks, hemp and chia seeds, bananas and coconut oil. If you want to be more festive for the winter, add cranberries! You can also sweeten these naturally with honey or blue nectar agave. These make-and-freeze breakfast bars are vegan-friendly, perfect for breakfast on-the-go, plus they last up to a few months! Check out this delicious and
easy recipe here
.
7. Muffins
Remember these? Back in the days of IRL offices, I used to routinely grab a muffin on my way to work. Maybe you never forgot about muffins, but if you did, I'm here to remind you they exist and are great. Similar to energy balls, I love a muffin moment because they are so easy to grab and move on with your day (no mess required). For a hearty and healthy version, check out this quinoa banana recipe. 
8. Your Favorite Loaf
This is a super broad category; I think it should also include bread and cake (yes, cake). There's nothing better than pouring yourself a cup of joe first thing in the morning, and pairing it with flavorful loaf that's just waiting for you on the counter. My most ideal combo would be an Americano with my grandmother's banana bread. Or, a runner up would be this honey-yogurt pound cake with an iced coffee.
9. Savory Porridge
If you love overnight oats but are also getting tired of them, this alternative might be the switch up you need. Savory porridge can be made in two different ways. The first is using regular oatmeal with a bit of salt, and adding savory ingredients, such as garlic, a fried egg, onions or mushrooms. 
The second way to do this is by making congee, which is a type of rice porridge and a classic Chinese breakfast dish. Made by boiling rice with extra water until it breaks down into a more pudding-like texture, congee is a simple base that can be easily flavored by adding stock, and a variety of savory toppings. Here's how to make it.
10. Frittata
My mom used to make egg frittatas in the mornings when we had several guests to feed; she loved how simple yet delicious this meal was to prepare. Similar to egg cups, you can add any veggies or meat that you'd like. After whipping the eggs and greasing the baking dish, just mix everything together and pop into the oven. This piece outlines an easy and customizable process!
Ashley is a freelance writer and on-going contributor at TFD based in Toronto. An avid traveler, she recently returned home to Canada after two years living abroad in Vietnam and Japan. She loves to read, try new things in the kitchen and get outside. You can learn more about her work here and can follow her adventures on Instagram @ashley_corb. 
Image via Unsplash
Like this story? Follow The Financial Diet on Facebook, Instagram, and Twitter for daily tips and inspiration, and sign up for our email newsletter here.