10 Cold-Weather Reads For When You Need To Stay In And Save Money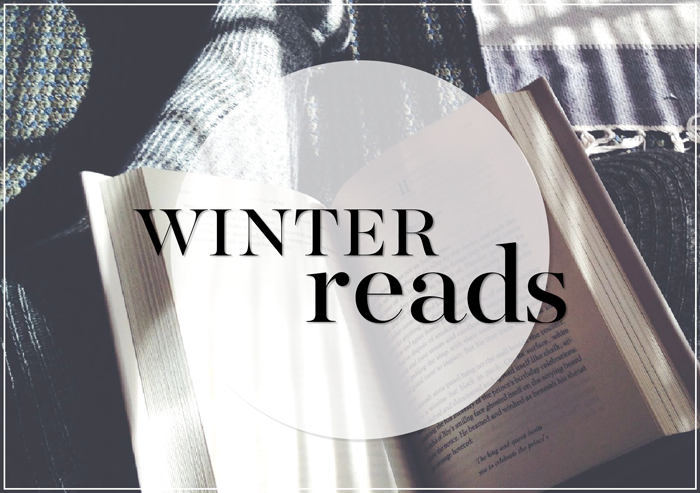 I spent the entire summer telling myself that by the end of the warm weather, I would stop spending money on going out, shopping at fancy food markets and day drinking, because I would stay at home more. I was wrong. It turns out that in the cold weather I'm actually more tempted to spend. In the summer, it's easy to wander around parks all day and sit outside. If it's cold, and I walk by a cozy looking coffee shop, my self-control vanishes as quickly as the sun does in the afternoons and I'll end up buying a coffee, a sandwich and a mulled wine, just so that I can sit inside. While in the summer just being outside was enough, now I'm constantly wanting to go to movies, eat at restaurants, or pay for exhibitions, just so I can find indoor activities.
To avoid spending, a lot of us end up staying in weekend after weekend binge-watching Netflix. This is fun, for a little while, but it can start to make you feel like you're losing brain cells if it goes on too long. A good alternative is putting away your laptop and settling in for a night, or an afternoon, under a blanket with a good book that takes your mind off the outside world. When it's too cold to even consider going outside, lying on the couch with a story about a new place, or new ideas can make you feel like you're experiencing something other than your living room, all without taking off your pajamas. The price of one book can give you many cozy nights in, with something to think about and something to share with friends. Furthermore, you can find most of these books used, for under $10. To watch your spending, I'd recommend only picking your favorite from this list, and buying it used, or checking your local library to see if they have any of these finds.
In June, TFD did a summer reading list. So, because it's almost November, I thought it was time for a winter reading list as we prepare for the chilly, gray months. Here are 10 books, that I've read in the last few years, that have taught me something, made me think, and gave me many enjoyable hours.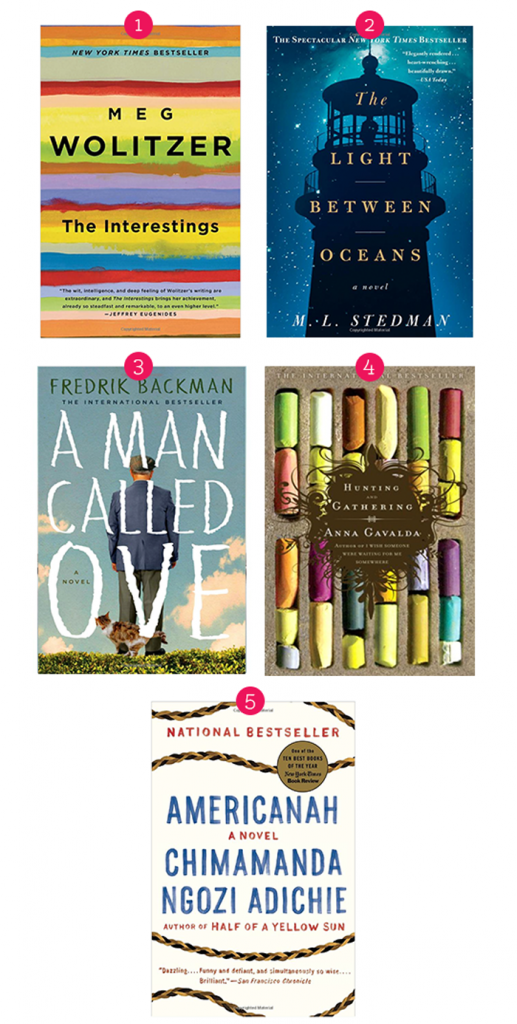 1. The Interestings, Meg Wolitzer. I read this one just a couple of weeks ago, and I was instantly as invested in these characters' lives as much as I am invested in my own life. Each character is believable, engaging and flawed, and they're all pursuing their teenage goal to remain interesting. The story traces their relationships and lives from a camp for artistic teenagers through to their adult years, following their creative pursuits, both successful and forgotten. It's engaging, surprising, and perfect for anyone who's trying to figure out life.
2. The Light Between Oceans, M.L Stedman. As beautifully written as it is heartbreaking, this is a novel about the difference between right and wrong, and how they often look the same. It's set on a stormy, remote island and is the perfect dramatic tale of love and family to help you ignore the freezing rain outside.
3. A Man Called Ove, Fredrik Backman. I love Backman. He creates beautiful characters and heart-wrenching novels about them. This is a sweet, funny read about unexpected friendship and a grumpy little man named Ove who you won't want to say goodbye to.
4. Hunting and Gathering, Anna Gavalda. I loved this one so much that I've given it to many of my friends over the years. It's set in Paris, and is about a collection of seemingly clashing personalities who come together and inadvertently help each other find meaning and purpose, creating a family on the way. It's heartwarming, honest and quintessentially French.
5. Americanah, Chimamda Ngozi Adichie. Everything I've read by Adichie is mind-blowingly good, and this was the first one of her books I ever picked up. I couldn't stop thinking about it, and I just wanted all my friends to read it so that we could discuss it. It will make you think differently about race, gender and the idea of class — all while reading an overarching epic love story spanning three continents. It's honest, challenging and you'll come out feeling like you've learned something.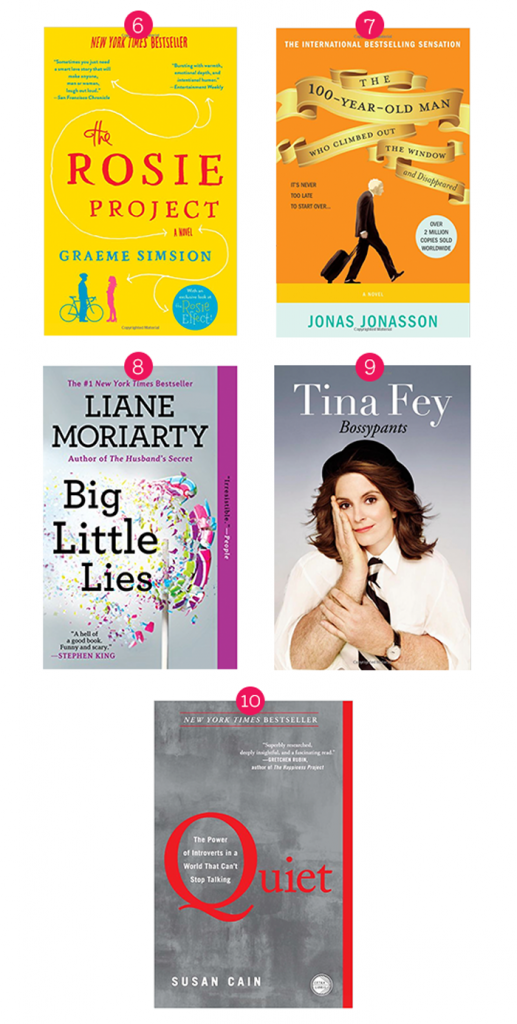 6. The Rosie Project, Graeme Simsion. This one (and the sequel) is as feel-good as a book can be without crossing the line into mushy. It's an unexpected pairing, with dry humor and just enough romance. I have yet to meet someone who didn't like it.
7. The 100-Year-Old Man Who Climbed Out the Window and Disappeared, Jonas Jonasson. I genuinely laughed out loud multiple times as I followed the character escaping from his nursing home in his slippers to go on his final journey, leaving a path of chaos behind him while reminiscing about his adventurous youth.
8. Big Little Lies, by Liane Moriarty. Moriarty is an Australian author, and the way she portrays suburban Australian family life is unnervingly accurate. She also wrote The Husband's Secret, and this is along similar lines. It's about intertwining lives, the past resurfacing, shocking secrets, and all the drama and politics that exist within a primary school. It's easy to read, dramatic and very surprising.
9. Bossypants, Tina Fey. Lately I've started reading biographies of women I admire or who have been successful in their field, hoping that I'll magically become just like them. Tina is one of the funniest women around, very successful, and doesn't hold back in this story of how she got to where she is. It's also a closeup glance into everything you've ever wanted to know about "30 Rock."
10. Quiet, Susan Cain. I'm usually not into non-fiction, other than the occasional biography, but this non-fiction piece focusing on psychology is interesting and very accessible. If you're at all introverted, it will probably give you more than a few light bulb moments. And also, there's something that feels very adult and self-indulgent about learning in your spare time just for the sake of learning.
Pippa is an Australian who is deeply in love with London. You can find her reading in parks and overstaying her welcome while writing in coffee shops. She writes here and is on Instagram.
Image in graphic via Unsplash