12 Hot Reads I'm Taking To The Beach This Summer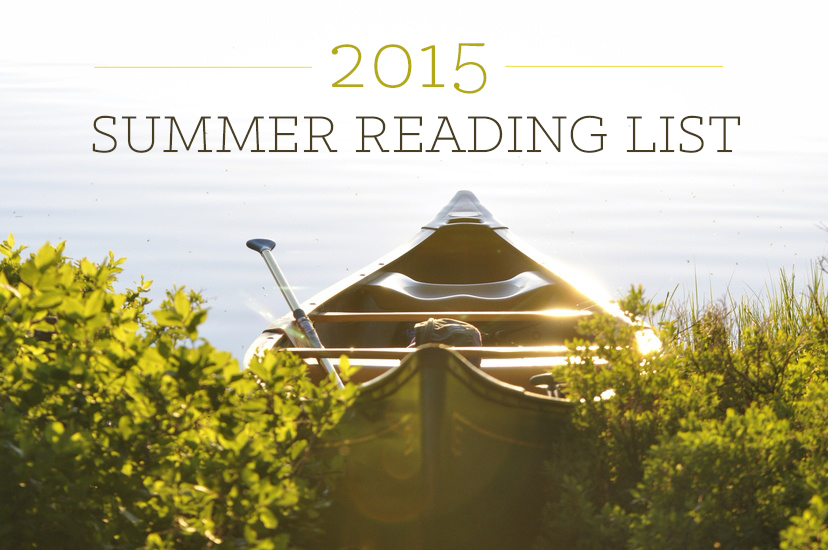 Reading is a cheap and perfect hobby for summer entertainment. Who needs an afternoon at the bar downing fruity cocktails when you've got a juicy novel tucked away in your bag? All you need is decent weather and access to a local park where you can plop down, read, and enjoy being outdoors. I used to dread being handed the required summer reading list in middle and high school, but as an adult, I can't think of a more ideal way to spend a summer afternoon than outside leisurely reading through a great novel. The other afternoon, I found myself on hour two of reading Stone Mattress by Margaret Atwood (a book I couldn't recommend more highly) on a park bench. It was one of the least expensive afternoons I've had in a long time, and I felt happier and more content than I had all week (it had been one that was largely spent working and cocktail-ing out with friends spending $$$..a slip up, but I'm not perfect). A day where I can ~feed myself~ with a good book that will stay with me and fulfill me in ways that going out cannot, is just what I need from time to time.
A few weeks back when I posted the top cookbooks I enjoy reading, I briefly talked about how purchasing hard copies of books can be prohibitive. But, it's essential to keep in mind that the books below do not need to be purchased new. In fact, they shouldn't be! I always use discounted sites like Half.com, Thriftbooks.com, BooksAMillion.com, and Alibris.com to purchase used books at a discounted price. For my 12 summer reading picks below, I've included links to the Kindle editions as well, since they are cheaper, and you don't have to worry about ruining the pages of the book when out at the beach. Take a look.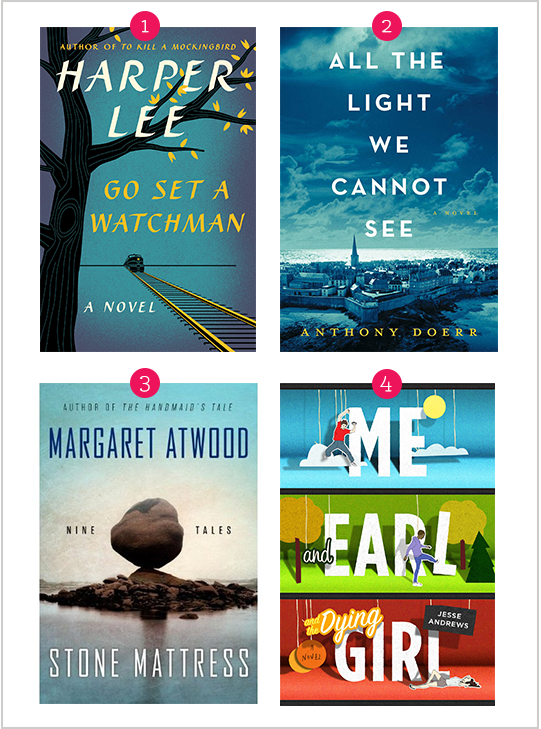 1. Go Set A Watchman by Harper Lee. (Kindle edition here) One of the most anticipated reads of the summer that is set right after To Kill A Mockingbird ends. (Available July 14th)
2. All the Light We Cannot See by Anthony Doerr. (Kindle edition here) I've been meaning to read this ever since I heard a segment on NPR about it last year. It just won the Pulitzer Prize for Fiction, so this summer is as good a time as any to read it!
3. Stone Mattress by Margaret Atwood. (Kindle edition here) I've read nearly every Margaret Atwood book, and I love them all. Stone Mattress is quickly becoming another favorite, and I'm about half-way through. I highly recommend this book!
4. Me And Earl And The Dying Girl by Jesse Andrews. (Kindle edition here) They're turning this book into a movie, and it's gotten a ton of praise and critical acclaim. I'm excited to read the book before the movie hits theaters, so this is one I'd love to get through by the end of the summer.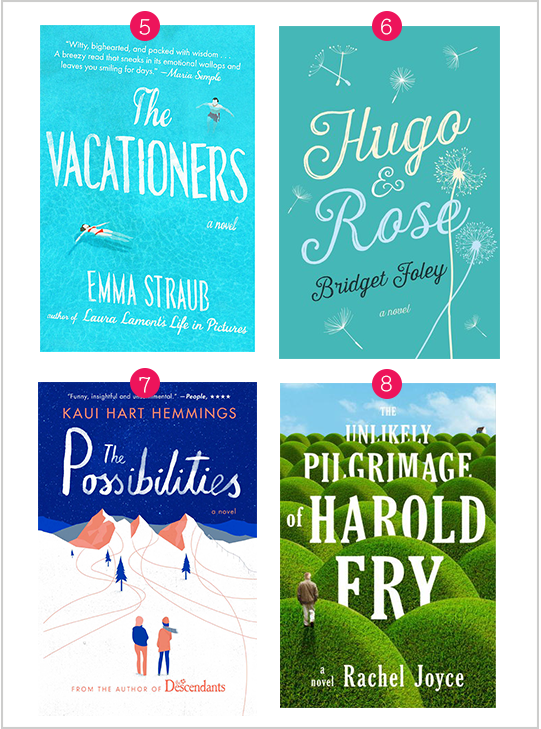 5. The Vacationers: A Novel by Emma Straub. (Kindle edition here.) A perfect vacation book to read on vacation, about a vacation. You'll fit right in the pages of this sun-drenched novel as you sit with your toes in the sand.
6. Hugo & Rose by Bridget Foley. (Kindle edition here) This book caught my eye because it's described as, "a surrealist dark fairy tale that will make you think about the nature of soul mates." This book sounds right up my alley and is one that you should definitely check out.
7. The Possibilities by Kaui Hart Hemmings. (Kindle edition here) This book is by the same author who wrote The Descendents. This novel, about grief and of the aftermath of a tragedy, gets incredibly high ratings — a 4.5/5 star rating from Barnes & Noble, and appears to be a fantastic summer read.
8. The Unlikely Pilgrimage Of Harold Fry by Rachel Joyce. (Kindle edition here) One of my favorite bloggers recommended it awhile back, and I trust her judgement on books completely. From reading the book jacket cover and reviews online, this novel appears to be a very worthy summer reading candidate.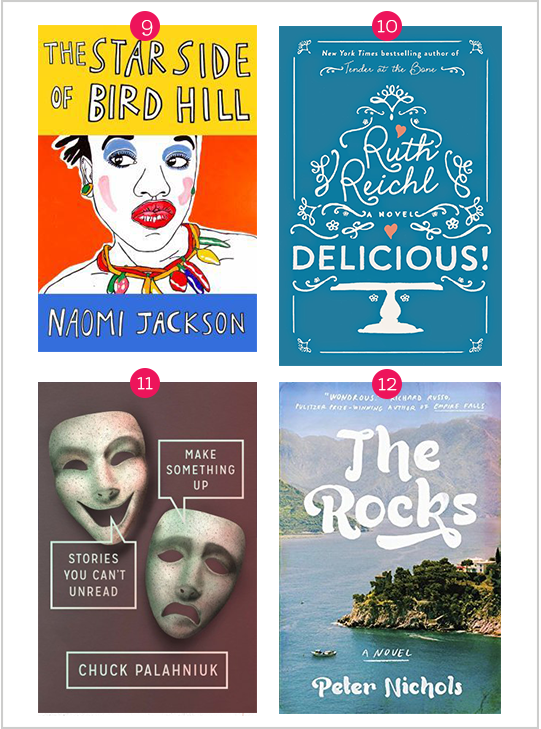 9. The Star Side of Bird Hill by Naomi Jackson. (Kindle edition here) This coming-of-age story of two sisters, who are exiled from Brooklyn to Barbados to live with their grandmother, provides a view into a rich culture and provides wonderful character development. (Available June 30th.)
10. Delicious!: A Novel by Ruth Reichl. (Kindle edition here) The reviews on this book sound great, and I love that it's written about a young and ambitious (yet incredibly ammeter) cook who is trying to navigate the food industry.
11. Make Something Up: Stories You Can't Unread by Chuck Palahniuk. (Kindle edition here) From the author who brought you Fight Club, Palahniuk delivers 21 stories and one novella within his latest book where reviews say he captures, "the absurdity of both life and death which are on full display."
12. The Rocks by Peter Nicols. (Kindle version here) Reviewers call it an anti-romance story that deviates away from what one would assume would be a typical love story. The premise of the novel hooked me — a story that spans decades and tells the tale of two honeymooners who fall out of love. The novel is set in the Mediterranean which provides the perfect backdrop for a quintessential summer read.
Happy summer reading!