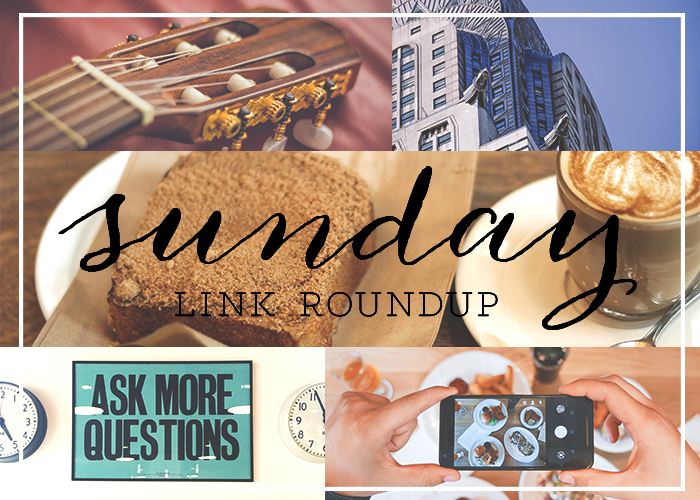 1. October is flying by quicker than I can handle, and this Ultimate Fall To-Do List is helping me slow down and enjoy every minute.

2. I feel like Sundays inevitably become my unintended 'podcast day,' since I listen to them religiously while I cook, clean, and hang out. This gallery of the best Sunday show podcasts is an awesome resource, if you, too, are a heavy Sunday listener.
3. An interesting question — Is It Legal For Harvey Weinstein's Contract To Have Potentially Allowed For Sexual Harassment?
4. The most perfect, comfort food dish to make during a stormy fall evening — carbonara polenta.
5. If you're feeling under the weather (similar to the way I was feeling all last week), a rich, brothy, chicken soup is just the thing you need to bring you back to life. This chicken, ginger, and bok choy version is incredibly delicious.
6. "The slow pace of Blade Runner 2049 is proving a challenge for many viewers, and so far the movie hasn't attracted an audience that extends much beyond fans of the original. " <– from a review of Blade Runner 2049, a movie I'm really thrilled to see after learning to love the original.
7. If you're looking to trade in your iPhone and need helping figuring out how to clear all data and photos from it, check out this helpful guide.
8. I've spent the last 48 hours spent in Newport, RI, celebrating my sister's bachelorette party, and if you live on the East Coast it's a great weekend trip to take. This article and this article provide great suggestions for how to spend your time there.

9. As TFD prepares to move into our new office next month (!!!), I'm reading up on tips for making one's desk more ergonomic.
10. ICYMI — an article that we ran on the site last week, which I absolutely adore 5 Lessons Millennial Women Can Learn From Watching Younger.