11 Easy Ways To Switch Up Your Skincare Routine To Avoid Super Dry Skin This Winter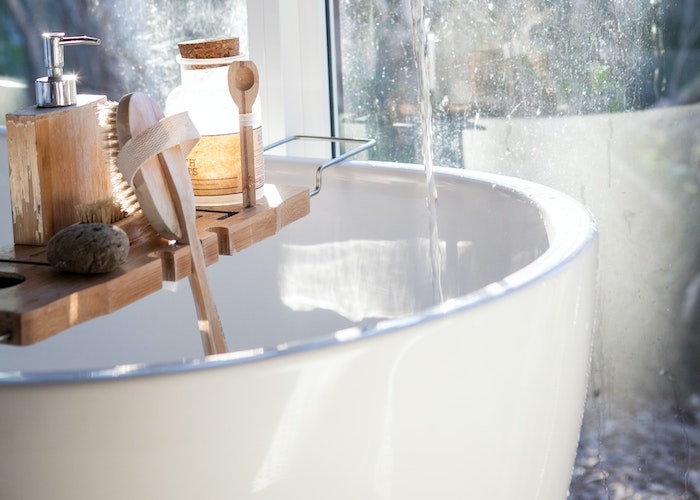 'Tis the season for flaky, dull, dry skin. Oh what joy, etc.
Almost everyone deals with dry skin come winter, especially if you live somewhere that gets really, really cold. A combination of low temps, wind, and using the heater constantly can wreak havoc on your body (I will never not think of Lubriderm's crocodile skin commercial from the '90s). Think sandpapery elbows and knees, chapped lips, and cracked hands, especially since we've been overzealously washing and sanitizing them this year. It's hard to get through the winter season without feeling like your skin could crack at any moment. But that's where a dedicated winter skincare routine comes in, and you'll only need to add a few extra products to your beauty arsenal; that is, if you don't already own them.
Here are some special steps you can take with your skincare routine this winter to ensure your face (and body) stays nourished.
1. Take exfoliation much more seriously.
Exfoliating sloughs off dry skin that makes your face look dull and sometimes even rough-feeling or prone to peeling. According to the American Academy of Dermatology, exfoliating also helps serums and moisturizers work more effectively by clearing and cleaning your pores, for better absorption of said products. You can also use a chemical peel (which I'll get to in a second). Once you've scrubbed away dead skin, your face will look brighter and feel softer. However, be careful not to over-exfoliate with harsh scrubs; you don't want to use anything too abrasive because you can end up irritating your face. One of my favorites scrubs just so happens to also be budget-friendly — it's Aveeno's 60-Second Soy Extract Shower Facial Cleanser.  It's a cleanser-exfoliator combo that scrubs away dead skin, clears out pores, and leaves your skin super soft and healthier-looking.
You can also try a chemical peel.  It's actually more gentle than a scrub, despite the word "chemical"). My forever favorite is Dr. Dennis Gross' Alpha Beta Universal Daily Peel. It's pricey but worth it. And since I don't use it daily, I can stretch out the box for several months. The two-step mini-facial comes in a little packet — you take the first damp-wipe (which is soaked in glycolic, salicylic, and lactic acids) and apply it all over your face and neck. After letting your skin dry, you take the second wipe, which is formulated with retinol and resveratrol and that counter-balances the acids, leaving your skin hydrated and soothed.
2. Stick with gentle cleansers that don't totally strip your skin of its natural oils.
I normally prefer a cleanser that gets really foamy and strips my skin of all its grime and oil, but if I'm tackling dry skin, I have to tone down the squeaky cleanness and opt for a more hydrating cleanser. My go-to has been Fresh's Soy Makeup Removing Face Wash (even when I'm not wearing makeup) because it manages to leave my skin feeling clean but not dry. I also love Trader Joe's all-in-one cleanser, which is great for sensitive skin and pretty cheap.
3. Serums, serums, serums.
For the winter, your skin has to layer up, too. Regardless of the season, I always use a serum to achieve that ~dewy~ look, but I make sure to use a thicker formula during winter. Avene has a great hydrating serum that's generally my go-to for a few months. Serum is way more effective if your skin is already exfoliated (it absorbs better that way, and your skin gets to slurp up all the awesome nutrients), so make sure that's always your first step.
4. Switch to heavy-duty moisturizers.
Pivot away from the gel and water-based moisturizers that are ideal for summer, and get yourself a tub of something super dense that'll kind of make your face feel like you just smothered it in sunscreen. Your winter moisturizer should be that thick. First Aid Beauty's Ultra Repair Cream has never, ever failed me. The formula is super calming on top of being hydrating, so if you're also dealing with red, pissed off skin, I always recommend First Aid's moisturizer. And make sure to apply at least twice a day — once in the morning, and once at night, or after every time you wash your face — although during winter you should try to avoid washing your skin more than twice a day.
5. Steer clear from masks that dry you out.
If you're dealing with breakouts and normally use a charcoal mask that helps zap your zits, opt for a spot-treatment that localizes the application versus putting your entire face through the Sahara. Clinique has a potent acne clearing gel (formulated with salicylic acid, witch hazel, and laminaria saccharina extract). I've been using it since high school, and all you need to do is dab a tiny bit of it to your zits and you'll see the inflammation go down by the morning. You can also try the Mighty Patch, which is like an anti-acne sticker you put on at night and it sucks all the gunk out of your zit (#glam) while you sleep.
6. Facial mists are your friend.
Don't hesitate to mist your face throughout the day like the fancy heiress you were meant to be. It's like a gulp of water for your skin, and it really is helpful if you need more help in the hydration department. Mario Badescu's rosewater facial spray is loved for its ultra-moisturizing and gentle formula and its rose-y (but not cloying) scent.
7. Remember to still apply sunscreen.
Always. Wear. Sunscreen. Just because it's winter, doesn't mean the sun's UV rays are any less potent. No matter if it's sunny or crappy and gray outside. Whenever dermatologists are asked what is the number one way to prevent aging skin (not that aging is bad!), they almost always will tell you: Wear sunscreen. That's because the sun is really damaging if you're not protected from it, no matter the season. Me, personally, I don't have a special "winter" sunscreen. However, since you're already layering serum and an extra rich moisturizer, you can keep using your go-to sunscreen, or SPF-enriched beauty product.
8. Get yourself somebody (and lip) scrubs.
The rest of your skin (your arms, legs, butt, etc.) are probably just as parched as your face. Aside from upgrading to a heavier lotion, you should also get a scrub for the shower — for the same reasons you'd exfoliate your face. You want to scrub all that dead, dull skin off and then lotion up to keep yourself soft and hydrated, from head to toe. I am into this brown sugar scrub as of late because it makes me smell like a cookie, but the choice is yours (and body scrubs can typically be more course since your arms, legs, elbows, etc. aren't as sensitive as your face). An almost free, DIY version of this is taking sugar and coconut oil and mixing them until you have a thick consistency. Warning though — if you tend to break out on your chest or back, just watch out, because this can be pore-clogging if used too often.
9. Use lots of body and hand lotions.
I apply body lotion after I shower. Vaseline's Cocoa Radiant body lotion is suuuuper luxurious and buttery, and it's pretty cheap too, so I don't feel bad about really going to town on every square inch. My hands always get dry in the winter, but especially with all the hand-washing and sanitizer slathering, they need some extra love. Someone on Twitter recommended Body Shop's Hemp Hand Protector, and this hand cream did not disappoint (and if you're wondering — no, it does not smell like weed.) I used it for about six months — almost daily — until it finally ran out on me, so you get a pretty generous amount.
10. A humidifier doesn't hurt.
You may already have a humidifier because it helps you breathe better at night, but it can also help your skin out, too. A small humidifier like this one can sit on your nightstand and emit humidity into the air, partially offsetting the arid environment, which, in turn, can help your skin retain moisture. I like to use essential oils in mine for funsies and because it also helps me relax.
11. Also see: A silk pillowcase.
Sleeping on silk might sound kind of uppity, but it really does impact your skin and hair. Since cotton is so absorbent of a material, you're more likely to wipe off your skincare products on your pillow while you sleep, versus a silk pillow case that doesn't cause as much friction. It's also been known to decrease fine lines and, depending on the texture of your hair, keep frizz at bay. You don't need to spring for the super expensive ones to get one that works.
***
FYI: If you have specific skin conditions such as cystic acne or rosacea, for example, you'll probably want to talk to your dermatologist before switching things up from your normal routine.
Gina Vaynshteyn is an editor and writer who lives in LA. You can find more of her words on Refinery29, Apartment Therapy, HelloGiggles, Distractify, and others. If you wanna, you can follow her on Instagram or Twitter.
Image via Unsplash
Like this story? Follow The Financial Diet on Facebook, Instagram, and Twitter for daily tips and inspiration, and sign up for our email newsletter here.