12 Professional 20-Somethings Share How They Make Extra Money On The Side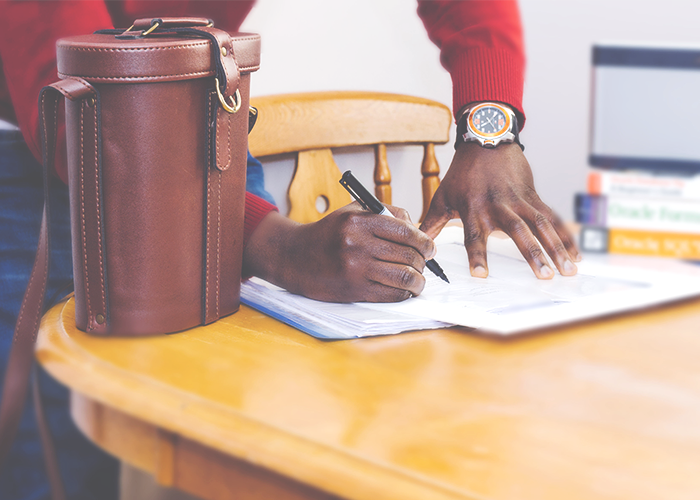 Side hustles are becoming more and more popular among young professionals, especially because so many 20-somethings are trying to lay down roots in popular (and expensive) cities. It's not always easy to find a part-time gig with flexible hours to supplement your day job, and it's especially challenging to find one that pays enough to make it worth the extra effort. It seems to me that the trick to a successful side gig
is to pursue a field that aligns with your passions. While it's true that your full-time career and your passion don't need to be one and the same
, it's helpful to choose a supplementary job that you are genuinely and unabashedly excited about. Personally speaking, when I sit down to work on a freelance writing assignment, it never quite feels like "work," in the traditional sense of the word, mainly because I love doing it. It's fun, and I get paid, so it's a win-win situation.
I spoke with 12 very different young professionals in all types of industries to learn about what they're doing on the side to feed their souls, and their wallets. Here's what they had to say!
1. "I work as a choral director for two different schools and as a music coordinator for a church. As my 'side hustle,' I also freelance as a music director/accompanist/vocal coach in the Boston area for theater companies and schools. I have upwards of four to eight jobs a year! It's been important for me to do what I love in order to be happy. It means that I may always be a part-time teacher, or count on my amazing connections to find opportunities in the music/theater industry. I am financially comfortable and I may not have a house or a better car, but I feel so rich in the other aspects of my life that it makes me appreciate the things I do have." — Sam
2. "I work full-time in marketing, and am also as a freelance writer and editor for artists who self-publish. After losing my cousin to a drug overdose in 2006, I have made it my mission to raise awareness through my writing about how drug addiction affects entire families. My article series, The Other Side of Addiction has been well received, with many of the pieces going viral. I am donating all my royalties from my latest poetry book, Stuff I've Been Feeling Lately, to The Willow Tree Center in New Jersey to help an organization whose purpose is to assist families where addiction is present. I hope that I am able to use my side gig to help those who are dealing with this illness feel a little less alone." — Alicia
3. "I'm an accountant, and I do accounting and human resource work for a small restaurant business on the side. My girlfriend's brother and his friend wanted to buy out a local café, but they didn't know where to start. I helped them set up their own LLC, read over the purchase contract, and find financing to acquire the business. I have been working side-by-side with them since day one to ensure that they remain profitable and that they are taking care of their employees correctly. It ties into my career as an accountant and gives me valuable experience, but it always feels good to help out friends while making a little extra income on the side." — Patrick
4. "I graduated college last May with a degree in finance and was only able to find part-time work as a financial analyst. In order to pay the bills, I took up a job at Francesca's Collections as a boutique associate, which is just your general, run-of-the-mill retail job. After a couple months, I got promoted to Key Holder and I now have a ton of new responsibilities. I'm in charge of opening and closing the store and registers, making bank runs, and acting as manager when the assistant or general manager are not available. But a huge — and fun — part of my job is creating visual guidelines for the store. I spend a lot of time putting together clothing racks in accordance to style, color, and theme, as well as dressing mannequins to reflect the ideal look for each collection we have. Working retail typically means evening and weekend work, as well as long hours on your feet, but this side gig has definitely become more than just extra money for me, and I've grown to absolutely love it." — Kimberly
5. "Throughout my early 20s, I spent a lot of time focusing on what I felt like I should be doing. I applied for graduate programs and set my sights on jobs that sounded good on paper. Essentially, I valued the ways things looked on the outside more than how decisions felt on the inside. While I can still appreciate the practical realities of fiscal responsibility, and doing what needs to be done to pay the bills and save for the future, I'm also more mindful now of how important it is to do things that satisfy my soul. I recently co-founded and launched a lifestyle blog with my sister-in-law where we share relevant topics — like food, fashion, and fitness — that are of interest to us. Writing is one of my favorite ways to connect with others and it fulfills my passion to express my feelings creatively." — Kate
6. "I work as a service dog trainer on weekends. Animals have always been a big part of my life, and training encourages me to become involved with my community in a way that binge-watching Netflix with my cat does not. Each weekend, there are new experiences to be had, new places to go, and new things to see. The goal is to train an animal who will one day open up someone else's world, but honestly, the process in and of itself also opens up mine." — Erin
7. "By day, I'm a full-time graduate student, a part-time shop associate at a design museum in New York City, and a research assistant at my school. But when all is said and done, my true passion has been my jewelry line, Temerity , which I've been designing and producing for the past five years. I love the design process, the freedom of working in my own studio, the pleasure that comes with connecting to customers (both through my own shop and through the retailers I work with), and the beauty of the finished product. Though my schedule can get quite hectic — especially when finals and the holidays are within weeks of each other — I really feel that the things I do outside of the studio make me a stronger and more capable designer and businesswoman." — Roberta
8. "Currently, I'm working in the communications department at an independent school, and I work as a freelance photographer on the side. Being able to shoot portraits and weddings as an alternative source of income allows me to focus on the craft itself. It can get messy when you're mixing creative arts and self-expression with a 9-to-5, but being able to pursue photography simply because of my passion brings a whole new level of enjoyment, and the extra income allows me to reinvest in myself. Not being driven solely by income allows me to work at my most creative level, and it lets me focus on why I enjoy it in the first place; I love connecting with people and creating beautiful images." — Connor
9. "Teaching theater workshops and classes to children of all ages has been a side gig of mine since I realized my theater degree qualified me for such a job. All those warm-up games we learn as undergraduates are completely adaptable to children — and it's a lot of fun for kids to dip their feet in the performing pool! I've led themed workshops at birthday parties and Girl Scout events, and I've taught after-school classes ranging from thirty minutes to two hours long. Once you get hired with a reputable children's theater company in your area, which will most likely involve a background check and some training in their teaching style, opportunities abound. Pay is usually quite high, but make sure you pay attention to whether they are taking out taxes or not." — Deanne
10. "As my fiancé and I are planning a wedding, and want a house and kids in our future, we have made savings a huge priority, and we are always trying to find ways to make extra money. We both have extremely demanding jobs, so finding a side gig was not easy. However, three years ago, I found my absolute perfect match as a marathon running coach for Team in Training. Team in Training prepares individuals for endurance races while helping them fundraise for the Leukemia and Lymphoma Society. To me, this is the perfect gig because it allows me to work out while coaching incredible individuals that are raising money to help find a cure for cancer. Philanthropy, working out, and helping others reach an incredible milestone of conquering 26.2 miles has created a job that provides connection and inspiration, as well as some extra cash in our pockets! Go Team! " — Lauren
11. "During the week, I'm an account manager at an educational travel company. But on the weekend, I'm a zombie. I work at a team-building organization in the Boston area called 'Trapped In A Room With A Zombie.' Basically, you're trapped in a room with one hour to solve clues and escape, AND there's a zombie chasing you! It's a lot of fun and helps me channel my aggression from my day job." — Jess
12. "I work full-time, and I drive for Lyft and Uber for extra money. I would love to be able to hold down a steady part-time job after work to make more money, but my schedule is too unpredictable. I like driving for a ride share service because I can just turn the app on whenever I want, and work for as long as I want. How much money I bring in varies, depending on what time of day I drive, or how many other drivers there are on the road. Sometimes I make $25 an hour, and other times it's closer to $12 an hour." — Eric
De is a New Yorker turned Bostonian and a lover of all things theatrical. In addition to writing, she is an actress/singer/dancer/teacher and owner of the fluffiest cat imaginable. She is on Twitter.
Image via Unsplash