13 Satisfying & Chic Organizational Products For Your Inner Type-A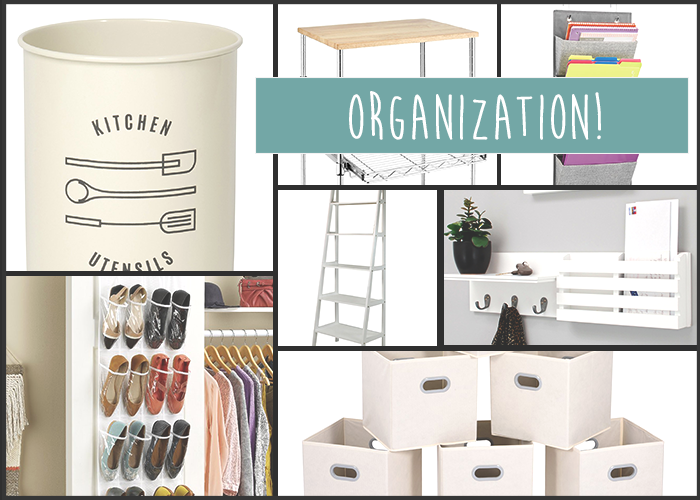 When it comes to most things — work, hobbies, my social calendar — I would definitely not identify myself as Type-A. I am not a perfectionist by any means, and while I definitely work hard, I usually reserve the "super-hard work" for bursts before a deadline, rather than spread out evenly throughout my day (even if I know it would make my overall schedule a little more manageable). There are definitely places I could be improving my efficiency and balance, but considering I used to be a complete mess with decimated credit who was constantly getting fired from jobs, the fact that I do all my work each day and am responsible about my personal obligations feels like a huge achievement. I can be a Type-B and still kick ass.
That being said, one area in which I've found a love for organization has been in my home. I used to be extremely messy, and almost never took care of my belongings or kept them in an organized, easily-accessible way. But over the past few years, I've found a serious love for making my home beautiful, keeping it (reasonably) clean, and finding new ways to make it an efficient, peaceful place where I get work done. I'm a firm believer that keeping a tidy and intuitive house does wonders for your productivity, confidence, and overall sense of responsibility — and I feel like the perfect example of that. So for this week's Amazon Prime roundup, I focused on chic, organization-driven items for you home to bring out your inner Type-A, and make your living space somewhere you want to be, and to do your best work in.
1. A SIMPLE UTENSIL HOLDER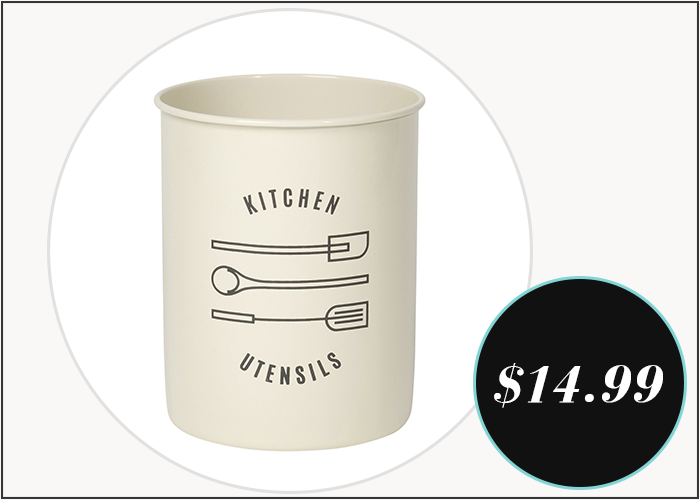 If you are someone who loves to cook (and you should be, this is TFD after all!), and especially if you have limited kitchen space, a nice utensil holder is a good friend to have. It keeps all of your heavily-used tools right at hand, and frees up your drawers for other things, such as more storage or regular silverware. Having a kitchen full of intuitive, easy-to-reach cooking items has increased my home cooking routine (and thus money-saving routine) from 2-ish days a week to 4-5 days a week, simply by making me enjoy my kitchen more. | Now Designs Utensil Crock, Ivory
2. A CHALKBOARD CALENDAR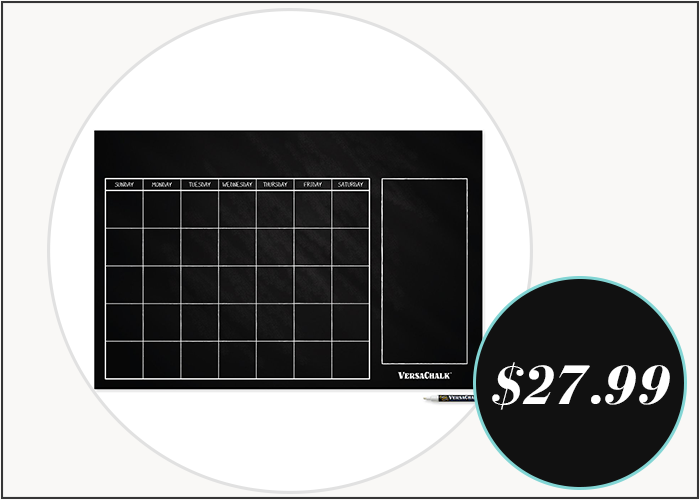 It's inexpensive, easy to put up, super cute (especially when you make or paint a nice little frame around it!), and helps you keep your month manageable and productive. If you are doing things like taking on a side hustle, looking to get into a new hobby, want to remind yourself to do something, have a big project coming up, or want to plan out a special savings goal, a wall calendar is your best friend. Having things in front of you, instead of somewhere lost on your phone/computer, makes all the difference. | Wall Chalkboard Calendar by VersaChalk (24″ x 36″, Classic)
3. A SIMPLE COSMETIC STORAGE UNIT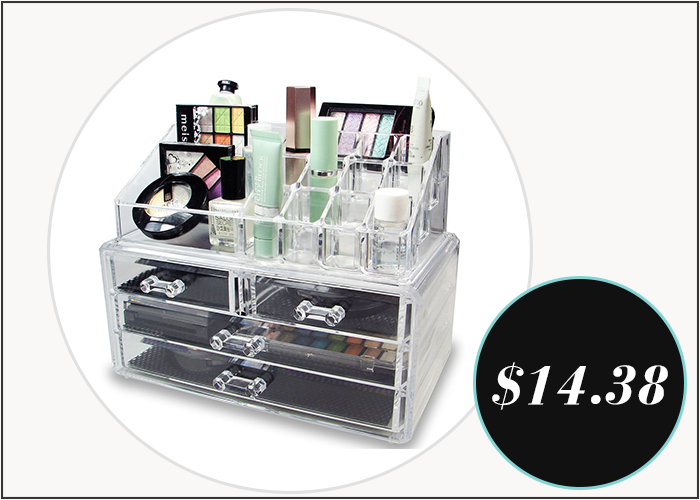 Whenever I post a picture of my little makeup table, which has two of these makeup storage thingies, people are always like "So cute! Where'd you get those things?" and I'm like "Girl! Amazon, for like no money!" These things are cute, super-practical, and instantly make your getting-made-up space look intentional and chic. | Ikee Design Acrylic Jewelry & Cosmetic Storage Display Boxes Two Pieces Set.
4. STORAGE CUBES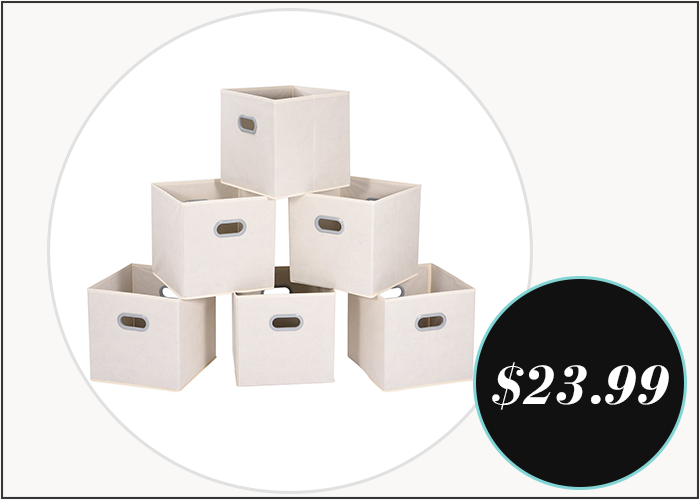 Basically, once every few years I get a set of these, and they serve a million different purposes around the house as needed. Everything from storing the tin foil/ziploc bags/wax paper-type stuff in the kitchen, to holding scarves in your closet, to dotting a bookshelf so you can use it for storage without your shit being all out there and visible, they always serve a purpose. | Set of 6 Cloth Storage Cubes, MaidMAX Nonwoven Foldable Collapsible Cloth Organizer Basket Bin with Dual Plastic Handles, Beige
5. A KITCHEN-SINK SPONGE CADDY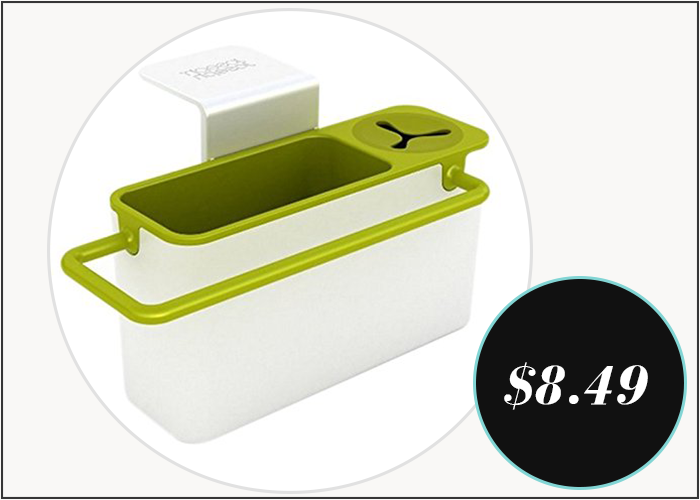 This lil' trinket does the triple-duty of saving counter space, keeping your sponge as un-gross as possible, and looking nice. They come in a million different materials and shapes, from stainless steel to bright-colored plastic or mesh, and will fit on basically any sink. Upgrade your sponge-slash-dish scrubbing wand life! | Moldiy Sink Caddy, Kitchen Soap and Sponge Holder
6. NEXT-TO-THE-DOOR CONVENIENCE CUBBY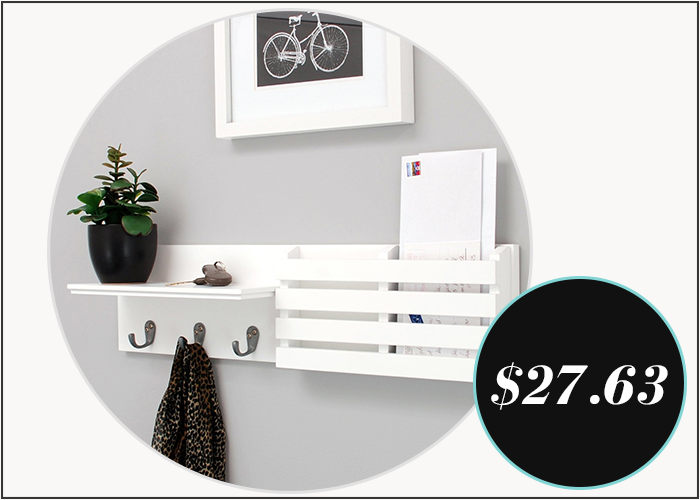 Look, let's be honest: we all need something like this by our door, to keep our coats/keys/umbrellas organized, leave things for ourselves that need to be picked up onthe way out, hold the mail we need to deal with or leave for someone else, and generally keep our door-area organized. These things are also damn cute, in my opinion, and thus fall into my favorite category of item: convenient, practical items that also serve as home decor. | nexxt Sydney Wall Shelf and Mail Holder with 3 Hooks, 24-Inch by 6-Inch, White
7. CLOSET SHOE HANGER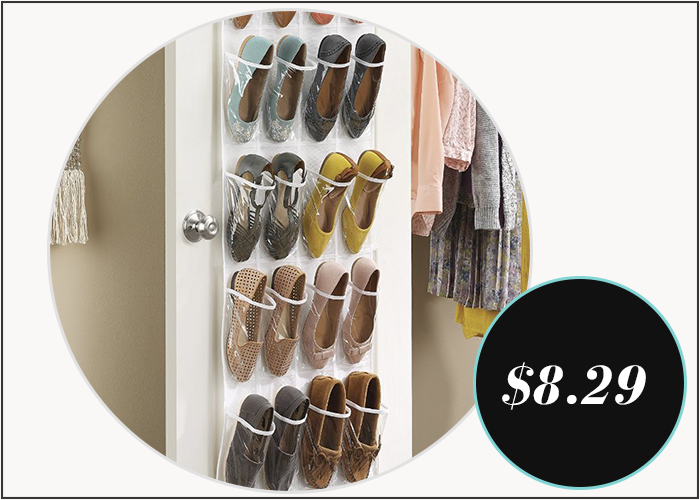 It should probably go without saying, but seriously: get those shoes off the floor and into an organizer, and start freeing up that closet floor space for more important things, such as off-season clothes storage. Yes, this may be most applicable to people living in (usually small) apartments, but it's still a good idea nonetheless in terms of organization. | Whitmor Crystal Clear Over The Door Shoe Organizer
8. A LADDER SHELVING UNIT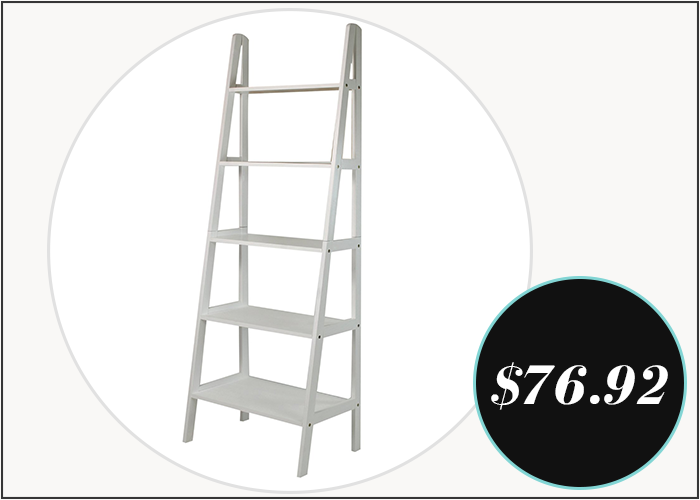 I love these things so much because, as I mentioned, there is nothing better than the home decor item that serves a serious purpose. Use this ladder bookcase for any kind of storage, from purses to the above linen boxes to books to office supplies. And when you get tired of it in one room, put it in another, because it's hella moveable! | Casual Home 176-51 5-Shelf Ladder Bookcase
9. A HANGING PAPER HOLDER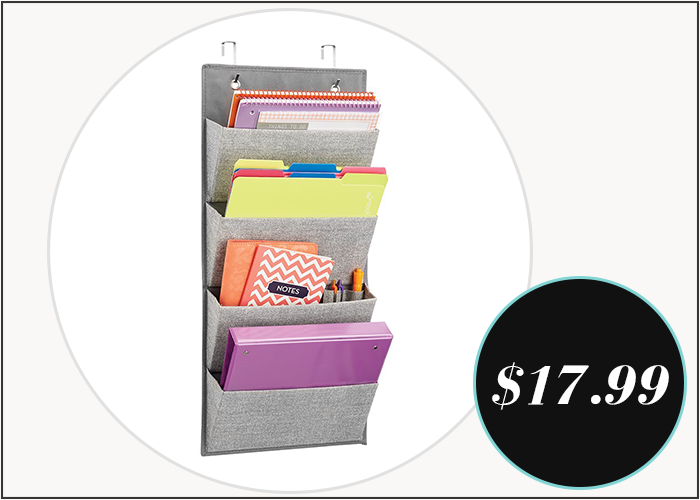 I was recently going through my bookshelf, when it dawned on me that I have several years' worth of important legal/tax/business papers, and no remotely efficient way to store them. So I found this thingie, which is chic, simple, and exactly what anyone needs if they have important papers they need to not lose. | mDesign Wall Mount/Over the Door Fabric Office Supplies Storage Organizer for Notebooks, Planners, File Folders – 4 Pockets, Gray
10. A SUPER-CONVENIENT KITCHEN CART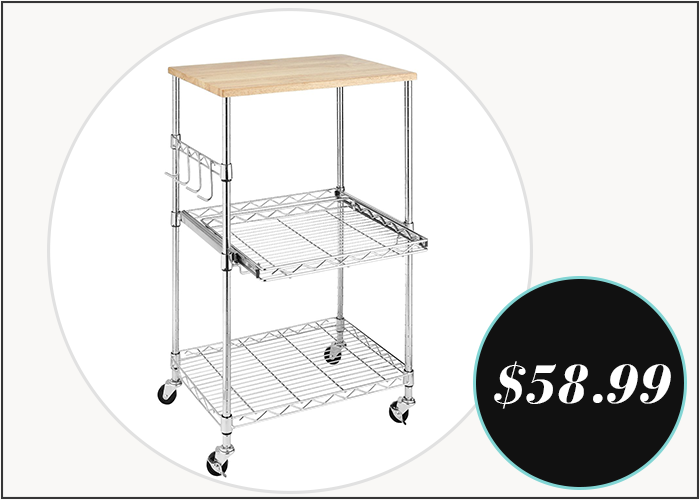 Do you live in an apartment with limited kitchen space? Then the best gift you can give yourself is a cost-efficient little cart that serves as extra storage, extra (moveable!) counter space, and look cute as hell, especially when you hang a lil' tea towel from it and store a few wine bottles on the bottom rack. | Whitmor Supreme Microwave / Kitchen Cart, Wood & Chrome
11. MASON. FUCKIN. JARS.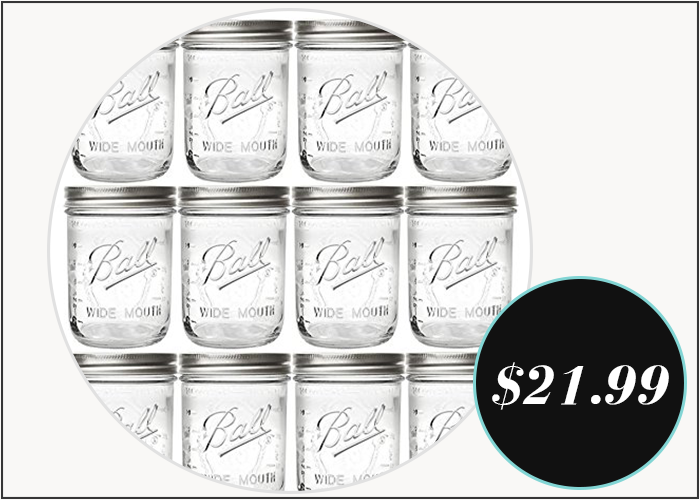 I use wide-mouth mason jars for everything from drinking, to storing bathroom counter stuff like q-tips and toothbrushes, to keeping espresso grounds fresh, to holding flowers. Seriously, there is no bigger return on investment for home goods than getting a bunch of mason jars — you will find endless uses for them, and they're basically indestructible. And they cost like $1.50 each. And yeah, come on, they're cute. | Canning Bundle – Wide Mouth Glass Mason Jars 16 oz, Canning, Freezing, Storage & Preserving Jelly / Jam Jars. with Metal Lids and Bands [12 Pack] – Bundled with Cloth
12. A MAGNETIC KNIFE STRIP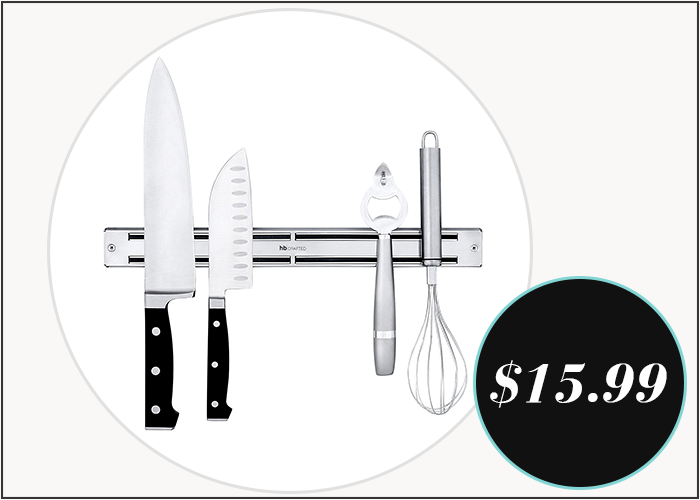 If your knives are knockin' around some drawer, getting all dull and ruined, get one of these little strips. They cost very little, look super ~chef-like~, and are extremely efficient for storing knives (especially with limited counter space). | HB-Crafted Magnetic Knife Holder Kitchen Utensils Organizer Bar New Slim 13.5″ Design Extra Strength Magnet Strip & Stainless Steel Rack Holds Gadgets Tools Knives Securely Satisfaction Guarantee 100%
13. A DRAWER ORGANIZER CART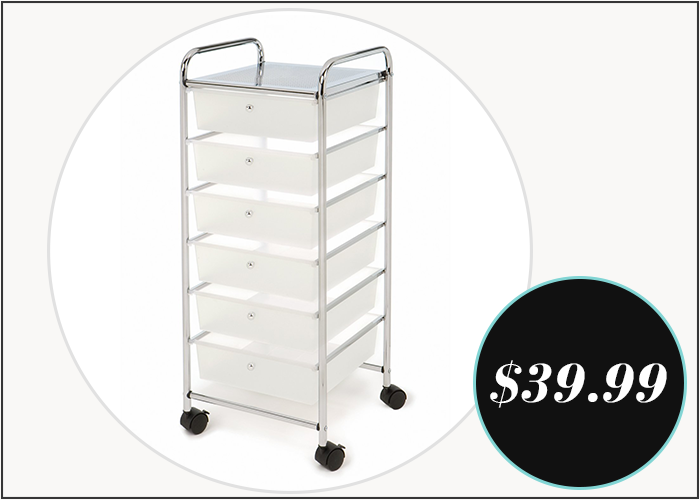 Everything from the bathroom to the bedroom to the home office to the inside of a closet can be easily and cheaply improved with the addition of one of these simple drawer carts. Identify the place in your house where you have essentially "junk cupboards" and "piles of things," and upgrade it immediately with a lil' cart. It's shocking how much any space can become immediately more chic, intentional, and functional, just by adding just one big organizational unit. | Seville Classics 6-Drawer Organizer Cart, Frosted White