14 Cheap Or Totally Free Things To Do For A Partnered — Or Single — Valentine's Day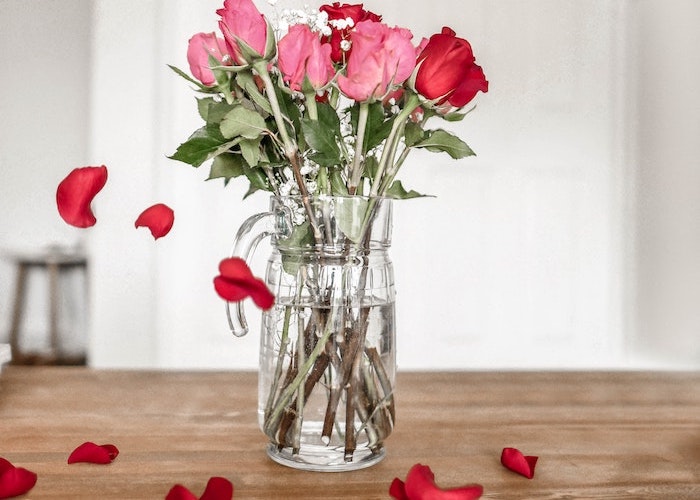 Like all things during this pandemic hell fest we've succumbed to, Valentine's Day will not be the same. Even if you loathe Valentine's Day, at least you usually have the option to go out to eat, go to the movie theater, see a concert, or attend a wine tasting. Not this year — or at least, not without some major safety restrictions in place. 
If you're celebrating, though, it doesn't mean you have to totally cancel V-Day. After all, this year, it's during President's Day weekend! You can do something on Sunday and then (hopefully) have the next day off! Let's just say, if you did want to polish off a bottle of wine with your partner or by yourself, this is the weekend to do it.
But there are more things you can do on Valentine's Day than just guzzle down adult beverages. And they don't have to be expensive! 
Cheap Or Totally Free Things To Do As A Party Of Two:
1. Take a drive
Depending on where you live, you probably know of a scenic route or cool neighborhood you can drive by. On Christmas Eve, my husband and I made a date out of driving to all the fancy neighborhoods we definitely do not live in. Hot chocolates in hand, we blasted Christmas music while checking out all the houses with intense Christmas decorations (and also marveled at some pretty architecture in Pasadena — we even drove by the house the Drapers lived in in Mad Men). This was totally free, it was romantic, and we got to get out of the house (while still wearing our pajamas). You and your beau can do the same thing for V-day and, while you may not go for the Christmas deco, it's still fun being a house hunter and browsing mega-mansions, lush landscapes and more!

2. Learn a new game together
Something my husband and I have been doing is breaking from our nightly TV show-watching routine and playing a game of chess. Okay, yes we were inspired by Queen's Gambit. Yes, we are both not super skilled. But it's a lot of fun to do something a little competitive together. We already had a chess set, but if you want, you can always play by creating a free account on Chess.com. You can also play other games, too. 
3. Cook and/or bake something new together
I know, I know. It seems like all we've done in 2020 and 2021 is lean into our inner budding cookbook author self (who knew tahini was so versatile and sounded so sophisticated on Instagram?!). But it's Valentine's Day, and you could make the dinners you always make — or you can challenge yourselves and make a really fancy pizza, grill some steaks, or make a pasta sauce from scratch. You probably have the time. Enjoy it together in the kitchen.
4. Have an indoor (or outdoor) picnic
Do it for lunch, brunch, or dinner: Lay out a blanket in the living room (I was going to suggest the porch or backyard and then I realized, duh Gina, it's SNOWING everywhere right now) and enjoy an easy meal like sandwiches, chips, or a platter of veggies and dip you either got from the store or prepared yourself.
5. Do a spa night
You can always book a couples' massage if that's something you can do right now. But professional massages can be pricey, and if you're trying to save money, you can always DIY it. Take turns giving your partner a massage and receiving one (not sure how to give a massage? Me either — I just YouTube'd it). Do masks. Ask your partner to paint your toe nails and/or paint theirs. Light all the candles or turn your essential oil diffuser on. Make tonight zen AF.
6. Go stargazing 
Use a free app like Night Sky to help you identify stars and planets. If you live somewhere with an especially clear sky, this'll make for a fun and gorgeous night.
7. Play karaoke
Did you know that you don't necessarily need to book a karaoke room or have a karaoke machine to sing karaoke? There are a bunch of free apps that exist, so you can sing to your heart's content in your living room.
8. Go to your favorite place and make out in the car
Pretend you're 18 again. Imagine: You just got your license. Your parents warned you to come home before 10 p.m. (You do not listen to them.) You take your mom's car and pick up your partner and head to a beautiful lookout point and you spend the night making out and not talking about work. Ah, romance.
9. Plan a trip to the museum 
Museums have been generally considered safe, since nobody is really allowed to touch anything anyway, and unless the museum is really hyped up (like The Broad in Los Angeles) it's usually pretty empty. And museums and art galleries are usually either cheap or free. Get cultured and get out of the house — win-win.
And while we're not going to list it because it's fairly obvious…sex is also free! Enjoy yourselves!
Cheap Or Totally Free Things To Do On Your Own:
1. Make a night of luxurious takeout and a TV binge-fest
My favorite way to treat myself is to allow myself to watch as much TV as I want (with the condition I am not worried I'm being too lazy or that I could be working — it takes a little self-coaxing sometimes) and order as much takeout as I want. The cost is as much as you want to spend on takeout (which, yes, can be pricey). You can also get a really delicious frozen meal from Trader Joe's or grab something pre-made at the grocery store for something cheaper but still low-fuss.
2. Take a bath with the works
Sadly, my bathtub is shallow and the drain plug is finicky, so I haven't been able to enjoy a bath in a while (or if I try, it's kind of like sitting in a big puddle that smells like lavender). But if you have a nice, steep tub — take advantage of it. Make sure you have some bubble bath or epsom salts on hand, as well as some candles and a book or magazine. Put together a relaxing playlist, and soak away.
3. Browse through Zillow 
Admit it: We were all doing it before the SNL parody commercial. Browsing through all the mansions we could technically either afford or save up to buy if we lived in the middle of nowhere. Let yourself drool over the kitchen islands, walk-in closets, hardwood floors, well-thought-out architecture, and bathrooms that are clearly not flipped. Not an IKEA cabinet or counter in sight. Sooo sexy.
4. Make brownies from the box all for yourself
You could make a dessert from scratch, but sometimes, it feels better to just dump a bunch of powder into a bowl, crack an egg, pour a cup of canola oil and throw the lightly whisked batter into the oven while you re-watch an episode of WandaVision. And when the dessert comes out, you can just eat it with a fork. No servings, because why would you need to? All the brownie points to you.
5. Organize a Galentine's Day over Zoom
Are we still seeing friends over Zoom or have we given up? If you haven't gotten totally sick of virtual meetups yet, get some of your friends together over drinks and catch up. Or maybe this means one really good friend. Especially if you haven't socialized in a while, it's therapeutic and healthy to get some friend time in.
Bonus:
Half-off on the 15th!
Fun fact: February 15 is "Singles Awareness Day." So go to Target or any other and get all the Valentine's Day candy half off. And don't share it with anyone. Obviously. Now's the time to unapologetically get all the bags of Reese's Cups and the heart-shaped Dove chocolates which you still aren't sure whether or not they're related to the soap brand — because all of it is on sale! It's possible you can also order them online if you don't want to risk the exposure. 
Gina Vaynshteyn is an editor and writer who lives in LA. You can find more of her words on Refinery29, Apartment Therapy, HelloGiggles, Distractify, and others. If you wanna, you can follow her on Instagram or Twitter.
Image via Unsplash