14 Maternity & New Baby Spending Essentials: When To Splurge, Save, Or Skip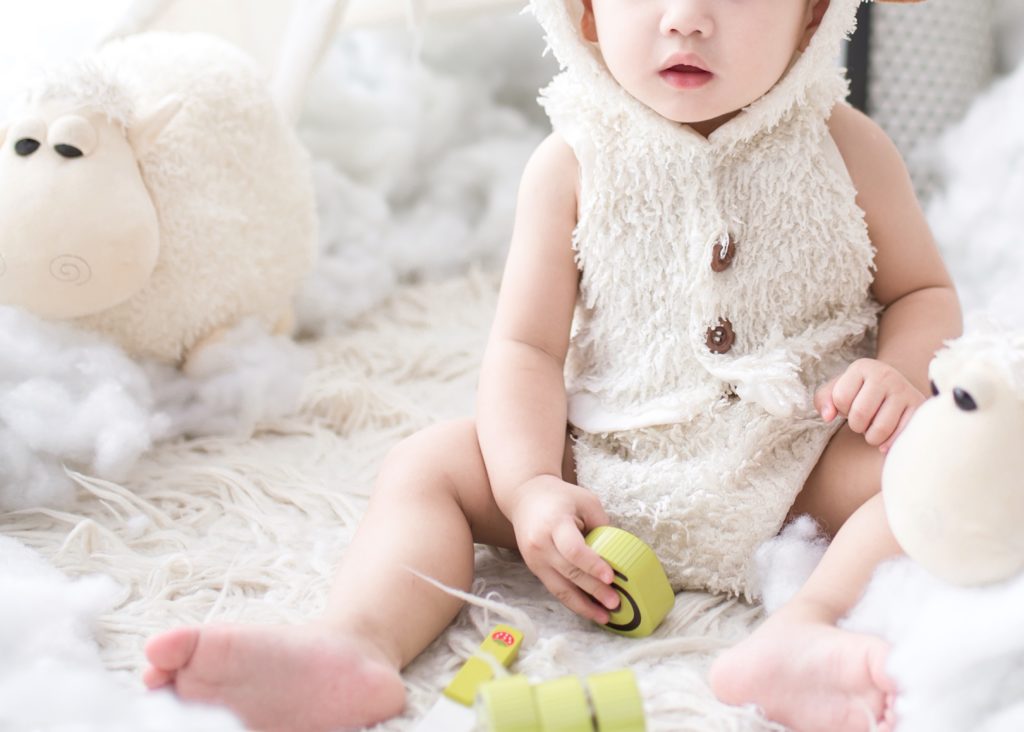 Let me start off by saying every pregnancy and baby is different depending on life circumstances, health situations, and comfort level, so in no way do I mean to tell you what to do. However, after having two kids, these are the items that I would recommend to spend some extra money on, what to find cheaply, and what to avoid altogether.  
Maternity
1. Jeans: Splurge
Trust me ladies: you will be living in leggings as much as possible, but you will have those occasions where a nice pair of jeans are necessary. I learned this the hard way. I tried to make do with a couple of thrifted pairs of maternity jeans, which didn't cut it in my first pregnancy. During my second pregnancy, I kept meaning to find a pair, but I didn't look hard enough (I live in a small town) and nothing I found fit well. I later found some great ones at H&M and even a couple at Target, but by then, it was only a month from my due date and I made do with what I had. If you wear dress pants for work now, buy a black or grey pair of those in maternity as well. You will get plenty of use out of them to make it worth spending more on a new pair that you feel great in. Just buy the dang pants and thank me later!
2. Belly Band: Splurge
Again, something I found out the hard way and suffered through two pregnancies without. I had a bulky Velcro version that was uncomfortable and showed under my clothes (not cute!), and a cheap stretchy one that was useless. I wish I had put the money I spent on those towards a decent band that was seamless, supportive, and comfortable. 
3. T-Shirts: Save
One thing I did do right was to invest in some decent maternity tees (long- and short-sleeved). It can be thrifted or picked up new at a decent price (a t-shirt is a t-shirt, regardless if it's $5 or $45). I wore a tee every. single. day. They are just so versatile. Use it alone, or throw a sweater/vest/jacket/tunic over it. It was easy to dress up with some chunky necklaces or a cute scarf. Don't waste your money on new sweaters, blouses, or tunics.  
I was lucky and worked in a business casual workplace, so I could get by with a dressy pair of jeans or leggings (please, please, PLEASE make sure your leggings are not see-through — do the "bend-over in front of a mirror check" or ask your spouse/a trusted friend!). A few of my jeans fit into my second trimester (hint: hair tie/rubber band trick), and stretchy skirts were my friend. You don't need to buy as many maternity clothes as you think! Grab a few items from the thrift store if you want, but you'd be surprised at what you can make work from your regular wardrobe. And if you only have two pairs of pants that look decent and are comfortable, people will forgive you for wearing them three times in one week. Just say you bought multiples, or just ignore them, because really, they don't want to mess with the hormones that are raging in your whale-shaped body anyway. 
Okay, okay, I'm sure if you're reading this, you have read all the articles on DIY stretch mark cream and the miracle of coconut oil. I'm here to tell you, stretch marks happen. They just do. I had purple tiger stripes in both of my pregnancies, and I tried everything! Some of us may win the genetic lottery and get by without these battle scars, but most of us aren't so lucky. 
During my first pregnancy, I was super diligent and put coconut oil on every night and tried homemade scrubs and other remedies. And guess what? Stretch marks. And a note on coconut oil: They say it won't stain clothes. They lie. Luckily, I wore old t-shirts to bed, so it wasn't a big deal to throw them out. The second time around, I only used the Palmer's when I happened to remember, and my stretch marks were the same as the first time around (which reinforces my opinion that it's genetic). I do, however, think the Palmer's helped post-partum in reducing their appearance. It's pricier than the DIY or alternative options out there, but it's worth it in my book.    
Babies
5. Swaddle Blankets: Save
Skip the fancier/expensive versions, because you'll want a handful of them. Cheap swaddle blankets are so versatile. Use them as a tight swaddle (a must-have skill obtainable on YouTube), use as a light throw blanket or nursing cover, or use as a sunshade over a car seat or stroller. I have heard that some babies love the Velcro swaddles, but both of my littles were fine with the swaddle blanket, and I'm glad I didn't waste money on the other ones. Double bonus, ask your grandma or aunt who sews to throw a few together. They're super easy to make, or so I'm told. 
6. Breast Pump: Splurge
Here's the deal: I didn't intend for this purchase to be such a big deal. I had every intention to breastfeed my kids. But they/my boobs/fate had other plans. I ended up exclusively pumping for both of my babies (7 months and 8 months). It isn't exactly fun. Luckily, the pump I had randomly chosen carried me through. However, if I were to do it again, I would go with a more mainstream model (AKA Medela) just so replacement parts would be readily obtained. I had a very panicky situation when I thought I had lost a part and couldn't find it at my nearest Walmart. Also, check with your insurance before you purchase! A lot of plans cover the cost of a pump, but have stipulations on which kind. 
A note on pumping bras: If you do end up pumping for your little one, whether exclusively or not, a hands-free pumping bra is highly recommended. Again, something I learned the hard way. Twice. I figured the first time, exclusive pumping was a fluke, so I put off getting a pumping bra. I was wrong. I should have bought it the first time, and I should have bought one the second time around. I didn't, and I'm still kicking myself. And the whole DIY version – skip it (obviously!). Just buy one, even if it's a cheapie for just-in-case.
7. Bottle Warmer: Save
Along the bottle-feeding theme, find a good bottle warmer. When I say good, I actually mean fast. Ours was a little steamer that you add a bit of water to and it heats the bottle super quick. When your hangry baby wants milk, you don't want to wait around. Trust me on this one. And good doesn't mean expensive. You can pick these up for a very reasonable price, just check reviews!
8. Baby Food Blender & Storage: Skip! 
Don't get sucked into this: they are all just miniature blenders. Use the Magic Bullet or blender you already have. And to be honest, buying a few jars at the store is your best bet initially since they eat about six bites anyway. (Okay, I mean eat about one spoonful and blow raspberries with the rest and splatter everything in a 10-foot radius.) And if you get a few jars, reuse them for if/when you do make your own. We also used a cheap hand grinder when we started feeding our kids "real food" — they are super handy and clean up easily too. 
9. Snap Bibs: Splurge
Do not, I repeat, do not, buy Velcro bibs! My kids lived in bibs (hello, bottle feeding and drooling!). Every time I did laundry, even if I was careful to Velcro the ends, they always got caught on other clothes and ruined a few things. I always say whoever invented Velcro bibs never did laundry! Plus, the Velcro rubs on your poor helpless babe's neck and that's just not okay. Find or request adjustable snap bibs, even if they're a little more expensive.
10. Sleepers: Save (but be selective!)
Okay, this one is from my husband. Snap sleepers are from the devil. Who in their right mind can match up those dang snaps correctly, much less when you wake up bleary-eyed at 3 AM, for the fifth time that night!?!? Exactly. Buy (or request) the zippered sleepers. And a note on baby clothing: second-hand is totally fine! Check for the typical poop and spit-up stains, but otherwise, "used" baby clothes are typically in great shape, since babies outgrow them so quick and all they do is wiggle around with their cute pudgy thighs and cheeks.  
11. Crib: Skip
One of our best decisions was to NOT buy a crib. Yes, you read that right. We bought a Pack 'n Play that came with the raised insert, as well as a vibrating bassinet. Best deal ever. We traveled a lot, so the Pack 'n Play was a must; the crib wasn't. We used the bassinet both day and night for the first couple of months. Both of our kids loved the vibration, but there are a few different options out there. We then switched over to the raised mattress setup just so you save your back as long as you can. From there, it was just the regular Pack 'n Play which we kept our oldest in until age 2 when we transitioned to a regular twin bed (again choosing to skip on the toddler bed phase).
12. Car Seat & Stroller: Splurge
We should have known. When it comes to car seats, you really should buy once, cry once. We found a steal on a car seat/stroller combo and found out the hard way that was not the right decision. You want a quality car seat that is simple to use. Period. You also want a decent stroller, even if its second hand. Jogging strollers are made so much better and have a much smoother ride. They really are worth the extra money. Plus, you look like the active, "get your body back" mom even if you are just walking to the mailbox and back. We ended up getting a double BOB off Craigslist when we had our second and I'm mad we ever wasted our time (and money!) with our first cheap stroller. There is a world of difference. And even if you think you won't need a double stroller when you have subsequent kiddos, you will. I thought the same thing, and I was wrong, so wrong.  
13. Monitor: Skip
We had both of our kids sleep in our room for the first three months. Obviously, when you're in the same room you hear every little noise your child makes. Or at least moms do, dads seem to be oblivious half the time, or so was my experience (lucky them!). After the three months, they moved into the room across the hall and by then they weren't needing to feed every half hour and made it clear when they were awake and needed something. Neither of us wanted a monitor to wake us with every sigh or position shift. I totally realize this is a comfort thing for many parents and a monitor would obviously be more necessary if the nursery was further away from your room. Also, health situations would play a major role in this decision as well. 
14. Swing: Save
Believe me when I say there will come a time when you just want to put your adorable little barnacle down, whether to finally make a real dinner or just to go to the bathroom for two minutes alone. Enter your new best friend: the baby swing. We didn't have one and weren't planning on getting one with our first because we were about to move. And then it became an emergency because I couldn't stand one more second of baby-wearing! So we found a very generic, battery-operated, no bells and whistles swing at the second-hand kids store. This was THE BEST $25 we spent on our little ones.  Of course, you could get a fancy swing that bounces, sways, and hops around like a kangaroo, but really, a simple swing will do the trick. And they are very reasonable if you find one used.   
Making the most of your baby budget
Obviously, babies are expensive. When looking at the thousands of articles on what to put on a baby registry, it can be overwhelming and you look at your spouse with dollar signs reflecting in each other's eyes. But talking from experience, it doesn't have to be that way. Do your research, look second-hand, and repurpose what you have. Sure, you're going to have to spend money, but maybe not as much as you think. Be choosy. Spend money where it matters and save it on things that don't matter. Because you could always use that money later on diapers. Or their college education. Or diapers.
Jessica is a busy stay-at-home mom of a toddler and newborn, and wife to an Air Force acquisitions officer. Her days are filled with diapers, crying and whining, cooking, cleaning, and plenty of coffee! With any spare time, she is constantly reading: blogs, TFD, and books, books, books. She calls the mountains home and tries to find balance in each day: with food, exercise, self-care, and spending.
Like this story? Follow The Financial Diet on Facebook, Instagram, and Twitter for daily tips and inspiration, and sign up for our email newsletter here.