14 Spring Cleaning Supplies To Make You Feel Incredibly On Top Of Your Sh*t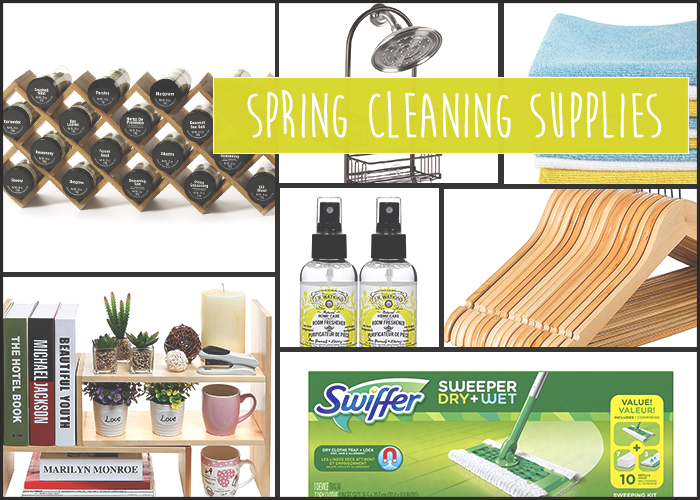 Spring is, as of today, officially here. (!!!) And as someone who lives in New York, and therefore experiences yearly the kind of cruel winter that claws at you throughout all of March and most of April, I am cautiously optimistic about what this will mean for the immediate weather. There are no buds on the trees yet, outfits are still capped off with wool coats, and only when you are standing directly in the sun does it feel like you may someday soon be enjoying a glass of rosé on some kind of terrace or picnic blanket. Spring is a fickle time here in New York, at least when it comes to everything outside your apartment.
But in one's apartment, these heady first days of spring mean one thing (at least for us): serious spring cleaning. As we've recently moved into our place (by far the most wonderful place I've lived in my young adult life — I am in a constant state of delirious happiness about it), the cleaning was easier this year than usual. But the cleaning still gave me that humming sense of accomplishment, that desire to keep everything in its perfect place, be more productive and harmonious in my surroundings, and to take better care of what I have. I have always been a firm believer in the theory of "keep a better home, be a better self," and never has it felt more true than in this apartment which I absolutely adore. I've done some serious purging out of necessity (moving quickly makes you realize how much of your belongings you don't need), but I've also acquired a few new things to keep my home as clean, beautiful, and zen as I want it to be.
So, in the spirit of getting your spring cleaning off to its best possible start, here are 14 spring cleaning essentials to get your home in tip-top shape for the (hopefully) warm weather.
14 Cleaning & Organization Supplies For Spring Cleaning
1. UNDER-BED STORAGE 
We've recently had to give up our bed with built-in storage because it simply did not fit in our new bedroom. To replace it, I got several of these under-the-bed storage boxes, which I find perfect for the task. They're compact, transparent (so you can see what you're getting at), dark (and therefore discreet), and easily foldable for if and when you don't need to use them. Highly recommend. | ClosetMaid 31495 Under-Bed Fabric Storage Bag, Gray
2. NICE WOODEN HANGERS.
Some may disagree, but I have found in my own life that going from "person who treats their closet like a catch-all disaster zone" to "person with a soothing, organized closet" is often as easy as getting nice wooden hangers. Since investing in a pack of these babies, I have found myself taking much better care of my clothes, enjoying the process of keeping my closet organized, and therefore much more rarely experiencing that awful "I have nothing to wear" feeling. My closet has become my happy place, in large part thanks to investing in some good hangers. | AmazonBasics Wood Suit Hangers – 30 Pack, Natural
3. FLOOR-CLEANING STARTER KIT.
It may sound crazy if you are generally on top of your cleaning game, but there are actually a lot of people out there who don't have the basic broom/dustpan/mop/bucket kit. If you are one of those people, and also cramped for space and/or lazy about buying it all, this is the bare-minimum place to start. It's not great, but it gets the job done at an extremely affordable price. | Swiffer Sweeper Cleaner Dry and Wet Mop Starter Kit for Cleaning Hardwood and Floors, Includes: 1 Mop, 7 Dry Cloths, 3 Wet Cloths
4. NICE ROOM SPRAY.
Keep one of these in your bathroom, one in your kitchen. You never feel like you need some good-quality, not-cloying room spray until you do. | J.R. Watkins Room Freshener, 4 fl oz, Lemon (6 pack)
5. AN ENTRYWAY ORGANIZER
I had to recently get rid of our little entryway hook thing because the mirror that was part of it shattered in our move. Since that point, our living space has become a little coat/key/mail/leash/miscellaneous graveyard, and I constantly feel that "ugh, why is it so messy in here?" feeling, which I never used to feel. I'll be getting one of these this weekend for our entry hallway, and restoring our lovely apartment to its natural state of organized harmony. (A little shoe rack to put underneath it is also a great idea if you are a shoe-off kinda household.) | Kiera Grace Kian Wall Shelf with 5 Pegs, 24-Inch by 5-Inch, White
6. A FRESH SHOWER LINER
Take a good look at your shower curtain/liner. Is one or both of those things really grimy and gross and vaguely brown? Treat yourself to some of the best eight dollars and change you will ever spend: get yourself a fresh liner and stop feeling like a dirty goblin every time you take a shower. | InterDesign Mildew-Free PEVA 3 Gauge Shower Liner, 72 x 72 – Inch, Clear
7. A NOOK & CRANNY DUSTER
One thing that I have realized as I have grown up and therefore started accumulating things like a bookshelf, a bar cart, end tables, etc, is how much fucking DUST can be in a house at one time. I try to be pretty rigorous about dusting once a week, and even that isn't really enough to stave off the allergies, as well as the general grimy feeling. Keeping an agile, fluffy duster at your disposal to get all those nooks and crannies means less grossness, and less money spent on Benadryl. | Pure Care Microfiber Duster with Extension Pole,Flexible, Bendable, Washable, Lint Free, Hypoallergenic Large Microfiber Head, Includes Lightweight Telescopic Pole, Saves Time & Money
8. A CHIC SHOWER CADDY
I fully admit that I keep forgetting to buy a shower caddy, and I keep having to remove the gross layer of scuzz that constantly lines my tub edges because I'm storing all of our shampoo/wash/shaving cream bottles there. Consider this my personal wake-up call. | mDesign Extra Wide Metal Wire Bathroom Tub and Shower Caddy, Hanging Storage Organizer Center with Built-in Hooks and Baskets on 2 Levels, Rust Resistant – Satin
9. CHALKBOARD WALL SUPPLIES
It may seem a bit odd, but I am a firm believer in the power of keeping convenient, organized lists in front of your actual eyes in your actual, physical space. Something about it is much more powerful than something written on your phone or computer, and if you do it right, it essentially functions as a free, useful piece of decor. A chalkboard wall in the kitchen for things like grocery lists or meal planning, or in a home office to keep your work organized, and makes you more productive, less likely to waste or forget purchases. Plus, they are cute as hell. | Krylon K05223000 Chalkboard Paint Special Purpose Brush, Black, Quart
10. A DESK ORGANIZER
If your desk is a chaotic mess, your work will be, too. Seriously, start treating whatever your go-to home workspace is with as much care and consideration as you treat your actual work, and watch both flourish. A simple desk organizer, maybe a candle or plant, and you're already way ahead of the game to making a space that feels like somewhere you actually want to get shit done, instead of goofing off. | Adjustable Natural Wood Desktop Storage Organizer Display Shelf Rack, Counter Top Bookcase, Beige
11. A STYLISH PAPER SOLUTION
People don't have filing cabinets anymore, which is really weird, because keeping track of important papers is basically task number one in being a functional adult. If you don't have a smart, organized place to store all of your documents, you are almost bound to lose some of them. And there's no time better than tax season to remind ourselves of how bad that shit can possibly be. | Internet's Best Collapsible File Storage Organizer | Decorative Linen Filing & Storage Office Box | Letter/Legal | Grey | 2 Pack
12. CLEANING TOWELS
Having cleaning cloths always at the ready means not wasting a whole roll of paper towels every time you want to do some serious cleaning. Rags like these are perfect — the right amount of texture to both scrub and polish, plus you can just toss them in the wash when you're done with them and don't care if they get all stained and disgusting (like you would actual, decent bath or kitchen towels). Voilà.| AmazonBasics Microfiber Cleaning Cloth – 24 Pack
13. WOOD FLOOR CLEANER
People often seem to forget that wood floors require their own type of cleaner to stay both actually clean, and actually nice-looking. Get a bottle of this stuff, it'll last you months and keep your floors always looking new (and not getting quietly eroded by using totally inappropriate floor-cleaning products on it). | Bona Hardwood Floor Cleaner Refill, 128 oz, Clear
14. A COMPACT SPICE SOLUTION.
Spring cleaning is about making your home into the best, most productive and useful version of itself. That means making money-saving and good-for-you tasks (such as frequent home cooking) a more accessible thing. If you do little else in your kitchen in terms of streamlining, get an organized caddy/shelf/rack for your seasonings. Keeping your cooking arsenal stocked and in plain sight means recipes feel more attainable, cooking feels more fun, and your kitchen itself feels like less of a stressful mess. It's a small upgrade, but one that makes all the difference. | Kamenstein Criss-Cross Bamboo 18-Jar Spice Rack with Free Spice Refills for 5 Years
This post was originally published on March 21, 2017, and has since been updated.