14 Versatile Basics For Creating Your Professional Wardrobe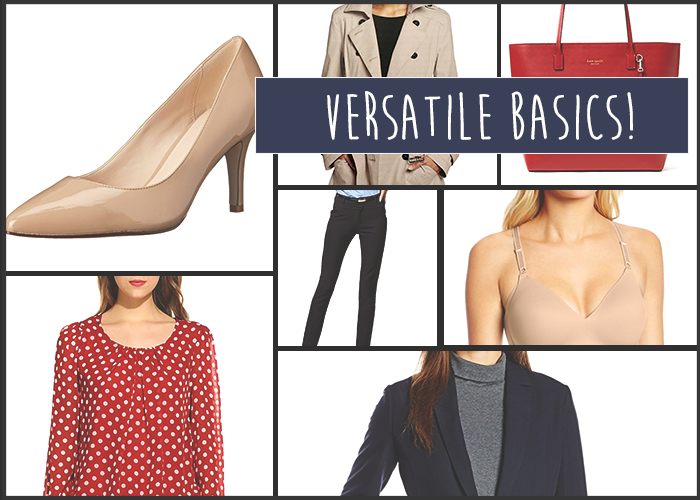 When the ol' TFD team was discussing what to do for our next Amazon Prime roundup, we cycled through a lot of hyper-useful, but not terribly fun, options. We thought about doing things like cleaning products that are good to buy in bulk, and that's a worthy endeavor, but come on. It's been a tough couple of weeks for everyone, who wants to spend their time aggregating good deals on Swiffer pads and leather cleaner? We decided that the roundup that hits the perfect note between "actually useful" and "fun to put together, and to read" would be the basics for creating a professional wardrobe.
Based on the data harvested by our crack team of analytics masters (Annie), we know that most of you already have finished college and are working some kind of full-time job. And we assume that, because of this, you probably already have something resembling a professional wardrobe. But a) filling in the basics you might be missing is always a worthy endeavor, and b) many of you may not yet be working that hallowed 9-to-5, in which case a wardrobe like this is essential for everything from the interview process to the last day on the job.
While I'm still accumulating or repairing things here and there, I have a pretty functional and comprehensive work wardrobe, which feels good and right for a small business-owning woman of 28. I almost never have a "What do I wear??" feeling when preparing for a professional engagement, and am frequently in professional situations that run the gamut from "friendly networking drinks" to "pitching a client on their turf." I feel confident in my ~work lewks~ and, combined with my short-and-manageable hair, I finally feel qualified to lay out some of the basics I highly recommend to any woman looking to start (or fill out) a solid professional wardrobe.
So, without further ado, the 14 basics every woman should have in her professional wardrobe arsenal.
1. A CLASSIC NAVY BLAZER.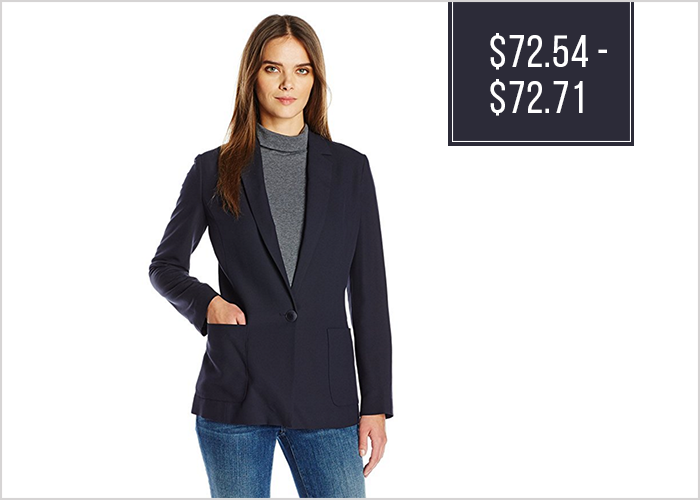 Without a doubt, the item I use most heavily in my work rotation is my navy blazer (I got mine a few years ago from Ann Taylor, and have never looked back). It's a flattering, incredibly versatile item that can be easily dressed up or down, keeps you the right level of warm to take you through pretty much all seasons, and makes basically any outfit feel intentional. Get a higher-quality blazer, because you'll want it to last for years, only needing a good dry cleaning every so often to keep it in tip-top shape. | Armani Jeans Women's Single Button Blazer, Navy, 42
2. A WHITE BUTTON-DOWN.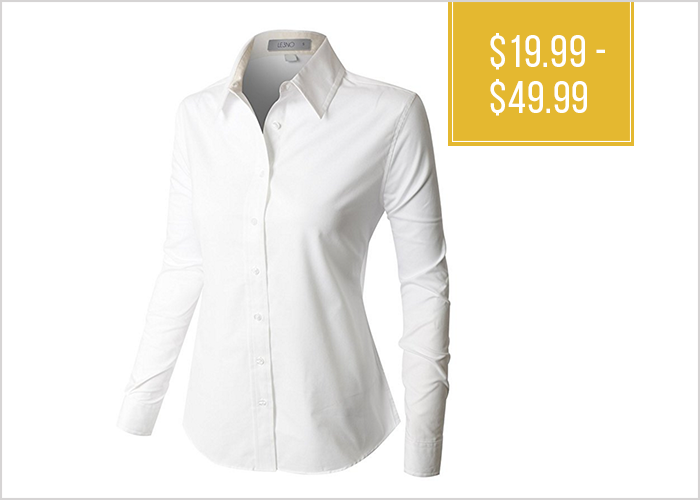 If you don't have a crisp, well-fitting white button-down shirt, wyd bb? Seriously, everyone needs one of these in her work wardrobe, because it goes with literally everything, always looks chic and put-together, and isn't the end of the world to replace. (I never spend too much money on these, because even with high-quality care, they are bound to look dingy and/or stained within a year). Keeping a crisp, (relatively) new white shirt on hand is a professional must. | LE3NO PREMIUM Womens Easy Care Long Sleeve Button Down Work Shirt
3. MID-RISE NUDE PUMPS.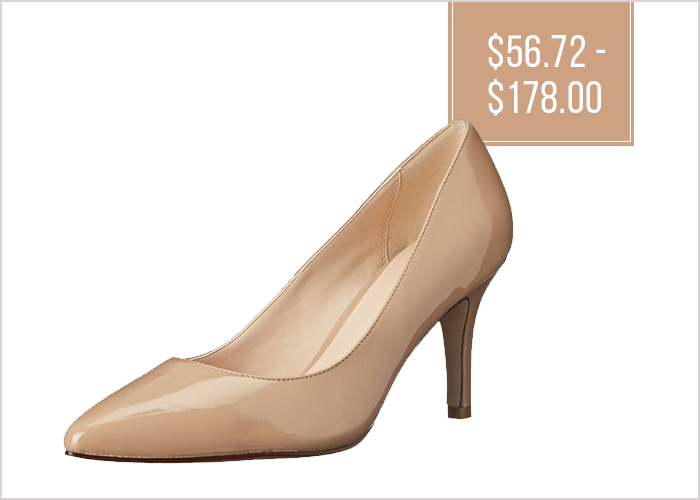 Get thee some patent nude pumps that are a manageable-yet-chic height, put your favorite gell-y insoles in them, and get ready to be chic af. Nude patent pumps are easy to maintain, go with LITERALLY everything in your wardrobe, and always look put-together. These are always worth the extra money to make sure you get the right pair, which you can walk in all day without feeling like you want to chop your feet off at the ankles. I usually go through a pair once every two years from basic wear and tear, but they'd last longer if I didn't wear them so damn much! But I do because they are SO CHIC. | Cole Haan Women's Juliana 75 Dress Pump, Maple Sugar Patent, 8.5 B US
4. CRISP, SIMPLE SLACKS.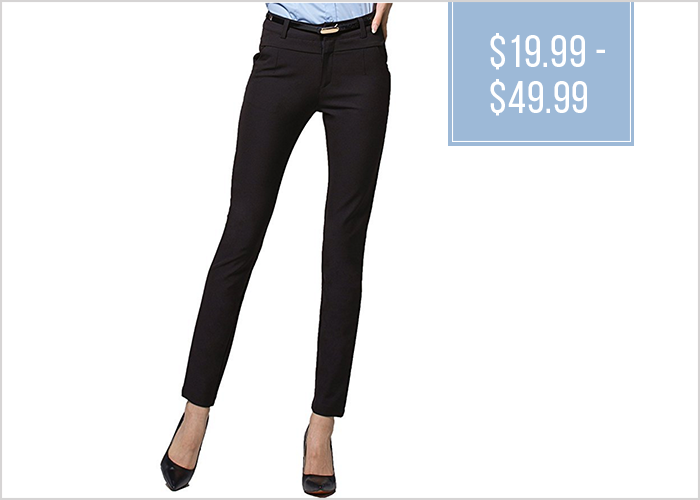 Some well-fitting, slim-fit slacks in a simple color (I am partial to khaki, red, navy, and black) are of the essence for the sporty-yet-feminine working woman. They look fabulous with heels or smart flats, they are as comfortable as jeans when worn properly (this item is more than worth a little tailoring), and they allow you to blend into even the most formal situation without feeling stuffy.| Women's Mid Rise Fit Plain Front Skinny Dress Pants (L, Black)
5. A BASIC BEIGE TRENCH.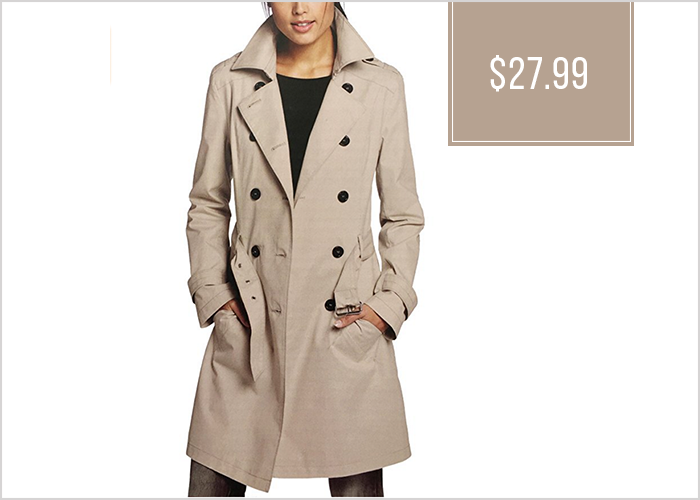 Everyone needs a basic beige trench. There is something so effortlessly chic about the beige trench, so simple and classic. It's a piece that never ages, goes with everything, actually serves a purpose (great for rainy and lightly-chilly days), and can blend all the way into early summer if you cuff the sleeves. I recommend getting one that goes about halfway down the thighs, for maximum versatility and chic — the short ones don't look as put-together when worn with a skirt or dress that extends way past its hemline, and the long ones can be unruly. | S Curve Women's Double Breasted Trench Coat Beige EU 36
6. CLASSIC WRAP DRESSES.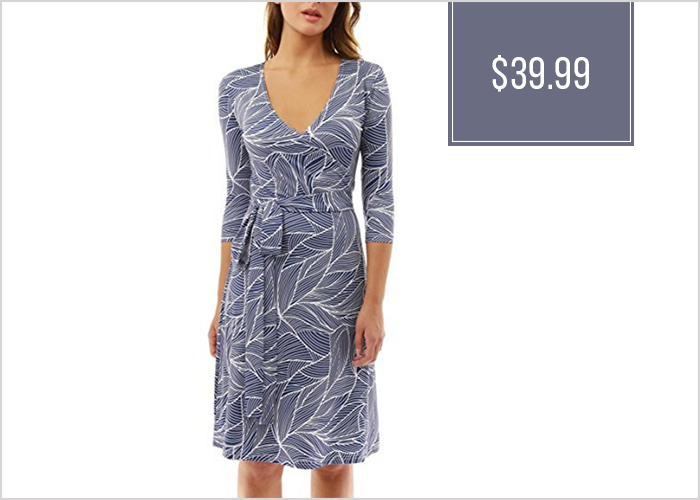 Let's face it, sometimes you're feeling bloated and sad, but you still want to look pretty and professional. These are perfect moments for a nice wrap dress, worn with some Spanx underneath for smoothness, and whatever shoes you prefer for this scenario (everything from heeled boots to wedge sandals look great with wrap dresses, depending on the season). I swear by my collection of neutrally-patterned wrap dresses for always pulling me together in moments when I just want to be a sad ball of bloat.| PattyBoutik Women's Faux Wrap A Line Dress (Navy Blue and White10 L)
7. SPANX.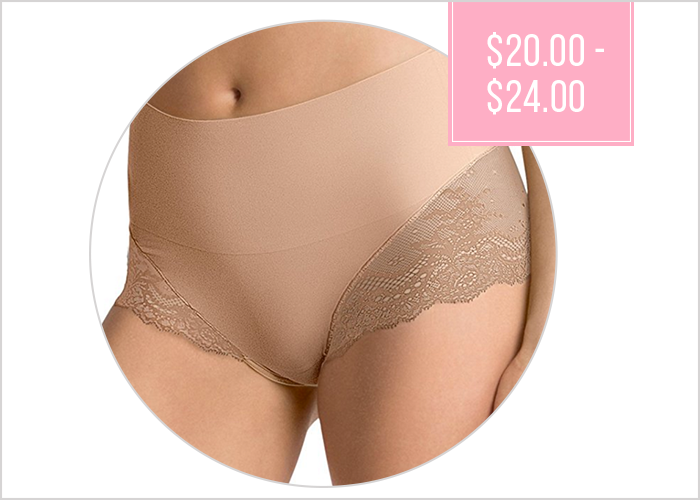 Look, as mentioned in the last item, sometimes we all need a good pair of Spanx. (Am I body-shaming? I don't care. Sometimes we all want to be smooth and contained.) I'd invest in at least one or two pairs of the regular panties with the high-top, for all your more constraining professional needs, or that day when you're feeling like a pillowcase full of sodium and have a big presentation to give. | SPANX Women's UndieTectable Lace High Hipster Briefs, Soft Nude, Medium
8. A GOOD INVISIBLE BRA.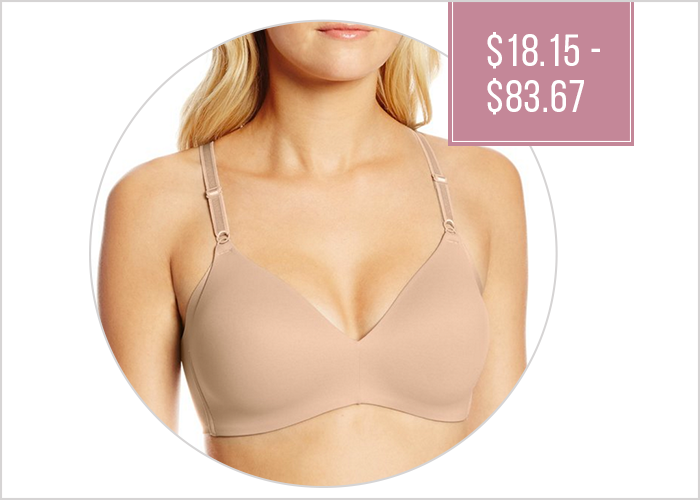 On a similar note, whether it's for wearing underneath a white button-down, a silky blouse, or a clingy dress, one must always have a bra in her skin tone with very little in the way of seams or wires, so as not to create unfortunate, rogue boob shapes, or to have that Carrie Bradshaw phenomenon of a bright pink bra standing out from underneath a crisp white top. That look may be cool for your friend's birthday at a Meatpacking District bar, but it's not even remotely cool for the office. | Warner's Women's No Side Effects Wire-Free Contour Bra, Toasted Almond, 38B
9. A SIMPLE, NEUTRAL CARDIGAN.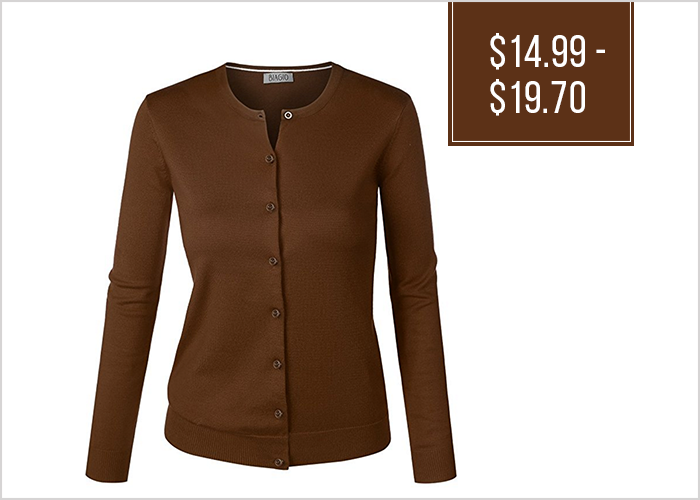 Anyone who has ever worked in an office knows two basic truths: one, always write your name on your food if it's in the communal fridge, and two, it gets really cold at random times when you are totally unprepared for it. Basically, the months of April to October in most offices are "debilitating levels of air conditioning season" and, not even addressing the obvious environmental impacts, it makes for an extremely unpleasant experience if you are not always prepared. To that end, keeping a simple cardigan in a neutral color (black, brown, beige, heather grey, etc) in your desk means you will never be caught without something to throw over your shoulders when your teeth are chattering in the middle of July. | BIADANI Women Button Down Long Sleeve Basic Soft Knit Cardigan Sweater Mocha Small
10. A SIMPLE, STRUCTURED TOTE.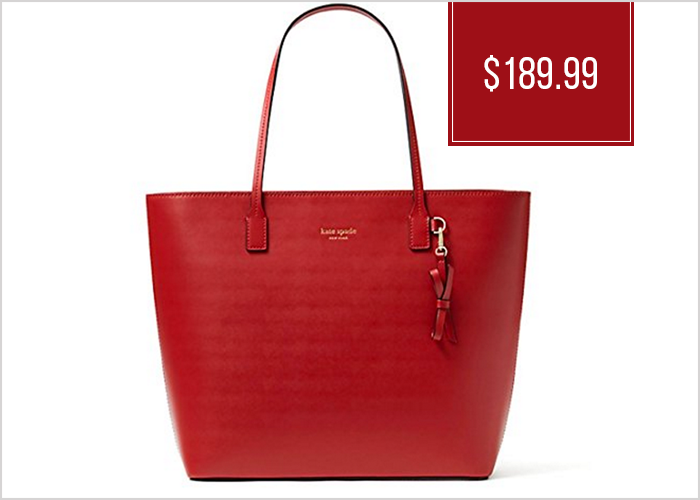 A chic, simple, yet very sturdy (and high-quality) leather tote is probably one of the most important purchases you can make for your office wardrobe. From storing your laptop to having enough room for a scarf, tupperware, makeup bag, and the rest of your odds and ends, to looking chic with basically any kind of outfit (day or night), this is the bag that everyone needs on hand. I highly recommend going higher-end on this, as it's something you'll be using on heavy rotation for most of the year, and the last thing you want is to be walking into a meeting with a bag that's fraying all along the straps. | Kate Spade Sawyer Street Tori Smooth Leather Tote Shoulder Bag Purse Handbag (Dusk Blue)
11. PATTERNED SLACKS.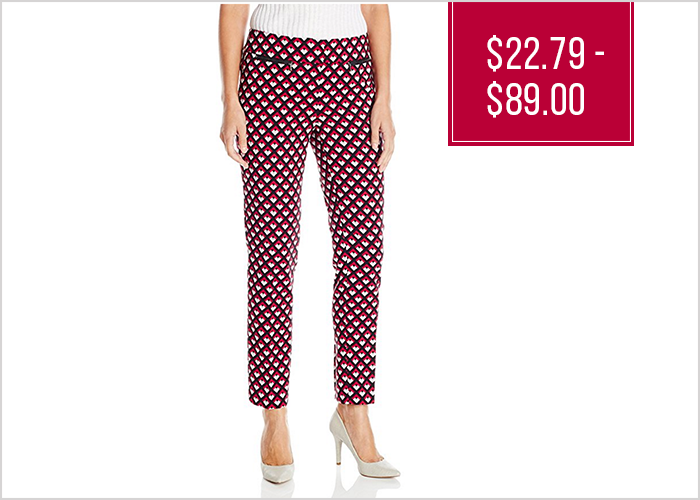 I cannot extoll the virtues of patterned slacks enough — they are comfortable and functional, yet they make an otherwise-boring outfit look ~saucy and fun~, and they manage to make what is otherwise a pretty standard professional wardrobe feel vaguely fashionable. A couple good pairs of fun, brightly-patterned pants are the kind of things you'll find yourself wanting to wear outside the office, because what is more chic at a Sunday brunch than cute motif pants, a white top, and some cute heels or flats? Nothing, I tell you! | Nine West Women's Printed Twill Pant, Ruby Pink/Multi, 4
12. CHIC BLACK FLATS.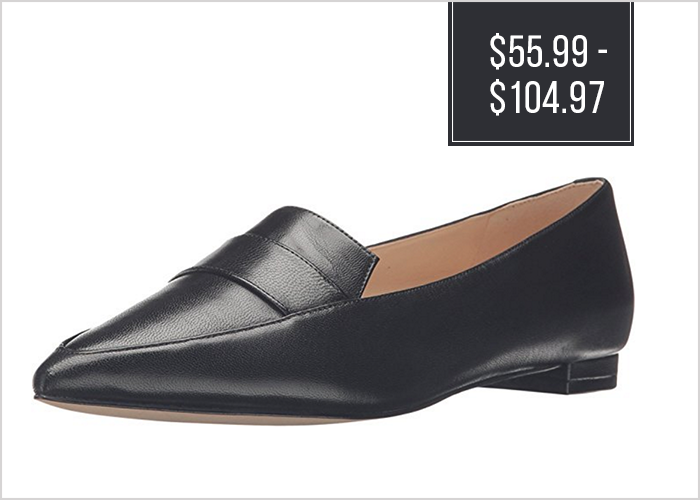 Everyone needs a pair of resilient, well-structured black flats which bridge the gap between loafer and regular flat (and therefore are much more weather-versatile). These shoes basically become the catch-all go-to for any situation in which you want to look Inès de la Fressange put-together, but do not want to be in heels all day (even sensible ones that don't hurt so much). I basically go through a pair every other year because I wear mine so frequently, and that's counting the fact that I get relatively nice ones! But this item is definitely a place to spend a bit more, because with a really good pair, they can last for several years of heavy wear with only one resoling in-between. | Nine West Women's Adley Black Loafer 10 M
13. A SILKY BLOUSE.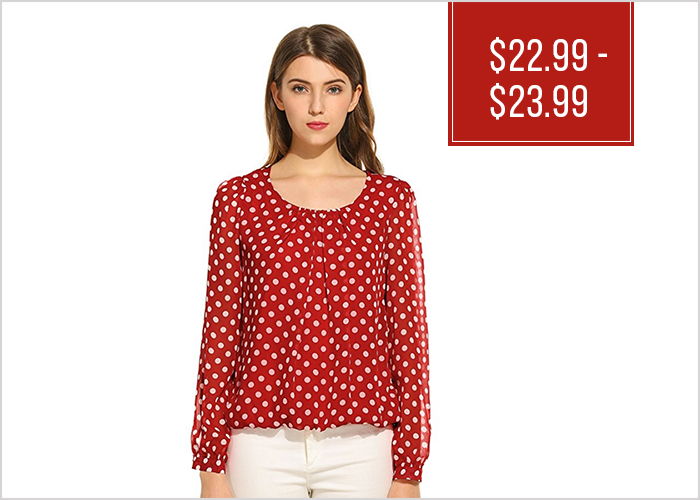 Sometimes you want to feel more feminine and fancy-free than your traditional button-down allows, but you are also not trying to wear a dress — understandable! For those moments, some nice jeans or slacks paired with a silky blouse (patterned ones are the best, imo!) feels just as fun without being so difficult to wear. These are pretty much universally-flattering tops, and under a blazer look sharp as hell while feeling basically like pajamas. | Meaneor Women's Polka Dot Chiffon Blouse Pleated Loose Blouse Tops Red M
14. A SIMPLE SHEATH DRESS.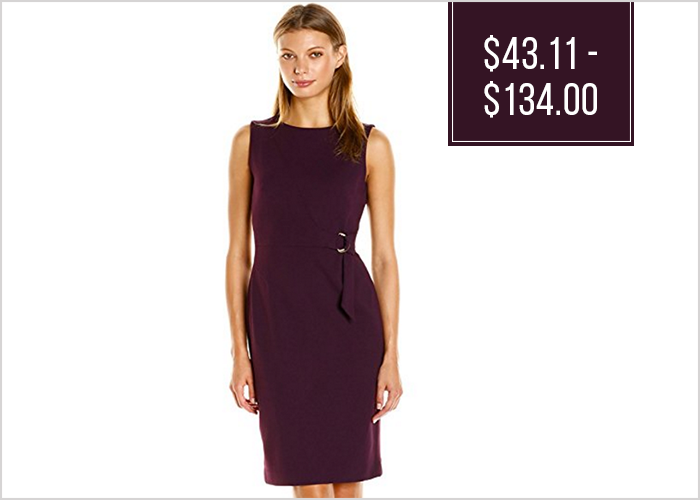 You really know you've entered Grown Professional Woman territory when you have your simple, elegant sheath dress in an understated color, good for everything from important meetings to date nights to just generally looking extremely badass and Olivia Pope-esque when you need a confidence boost. And this is just my humble opinion, but I believe no one makes them better in a reasonable price range than Calvin Klein. I've had a few Calvin sheaths for years, and they've held up beautifully (and always look in-style). It's a simple purchase, but one that makes you feel so damn grown up, which is — if we're being honest — the best part about creating your professional wardrobe. |
Calvin Klein Women's Sleeveless Sheath Dress with Hardware AT Waist, Aubergine, 4